AdventureSmith Founder and President Todd Smith shares his insights in this Belize Catamaran Charter Cruise review. Read about his 9-day Southern route aboard the 8-guest Belize Charter Yacht Tranquilo, with active-yet-relaxing days, unforgettable food and lasting family memories.
For ship details, read his Expert Aboard: Belize Charter Yachts post.
"How far away should I be when I pull the trigger?" I asked our guide Manny as he handed me the spear gun. "About four or five feet," he said. I swam slowly, watching the silvery barracuda that hovered just below the surface of crystal-clear waters. It showed no fear as I stalked it. Or was it stalking me? Impatiently I took my shot and the fish understandably bolted. For the remainder of our snorkel, Barry—as we had now named him—kept a respectable distance between himself and us. Spearfishing became a favorite activity of the adults and kids alike.
IN THIS POST:
Why Visit the Belize Barrier Reef
Why Take a Cruise
When to Go
Where to Go & For How Long
A Typical Day On Board
Highlights
Belize Ruins & Rainforest
Sailing: The Best Way to Explore Belize
Why Visit The Belize Barrier Reef?
Belize is home to the second largest barrier reef in the world. Recognized as a UNESCO World Heritage Site for its outstanding universal value, the reef stretches nearly 200 miles along the length of the entire country. Nearly 450 cayes (pronounced keys) and islands are contained within the reef and its atolls.
Belize's reef is home to an astounding diversity of life including 70 hard corals, 36 soft corals, 500 species of fish and hundreds of invertebrates. Other common animals include sea turtles, dolphins, manatee, red-footed boobies and other sea birds. No trip to Belize is complete without an exploration of the reef and a Belize Catamaran Charter Cruise is the best way to experience it.
What follows is an overview of my experience on a 9-day cruise, along with tips and advice for anyone considering a Belize cruise. Learn why catamaran sailing is the best way to explore Belize's amazing reef.
Why Take a Cruise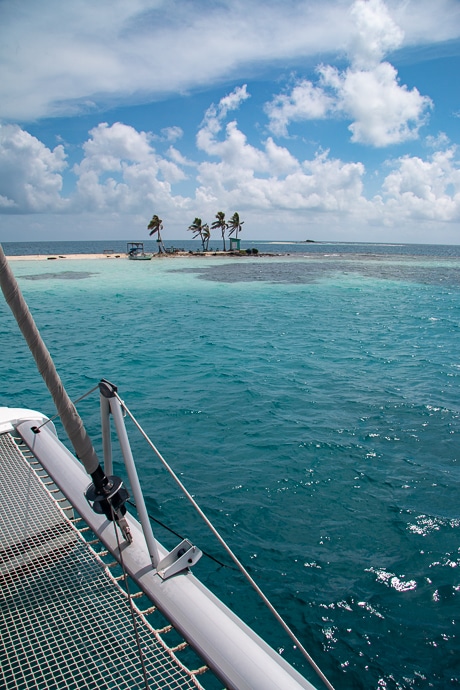 Nearly 150,000 travelers visit the Belize Barrier Reef each year. The vast majority of them stay in the popular resort towns of San Pedro, Caye Caulker and Placencia, using day boats to access the reef. The reef's proximity to shore is as close as 1,000 feet in the north to as far as 25 miles offshore in the south.
Since a boat is required to access the reef, being on a multi-day cruise is a tremendous advantage. You will spend numerous days and visit a variety of locations. A cruise will access areas of the reef that are out of reach of day tours. On most day tours you spend more time getting to the reef than you do exploring it. A Belize small ship or yacht cruise is the best way to maximize time exploring the reef up close.
When To Go
The Belize climate is tropical and suitable for travel year-round. The dry season runs from December through May. The wet season is June through November, although travelers can expect rain any time of year. Caribbean trade winds blow consistently throughout the year, making Belize a splendid choice for a sailing adventure. For more details see the best time to visit Belize.
Where To Go & For How Long
With a private charter you can decide where to go. Of course, most travelers are not experts on the Belize barrier reef. So deciding where to go and how many days you will need can be a challenge. We'll use our expertise to get you started then you'll complete a questionnaire indicating your interests and activity level. Ultimately, you'll plot your course with the captain based on this information and the current wind and weather conditions. Choosing your itinerary is part of the fun of a Belize charter cruise.
Here are some starting points, including our two sample itineraries:
The 7-Day Northern Itinerary has a focus on the popular towns of San Pedro and Caye Caulker, combined with visits to the spectacular Hol Chan Marine Reserve and other idyllic cayes and reef in Northern Belize.
The 10-Day Southern Itinerary travels south along remote reef and cayes, to the enchanting village of Placencia and back.
Venture beyond the reef to outer islands and atolls during the dry season when the winds are calm. This is popular with travelers seeking the best snorkeling and diving. This option requires some coordinating because it is difficult to resupply the boat so far from the mainland.
My route was a variation of the southern itinerary. We wanted an active exploration focused more on reef than on visiting towns. Our goal was to reach the secluded Silk Cayes and schedule a rendezvous SCUBA diving excursion on the outside of the reef.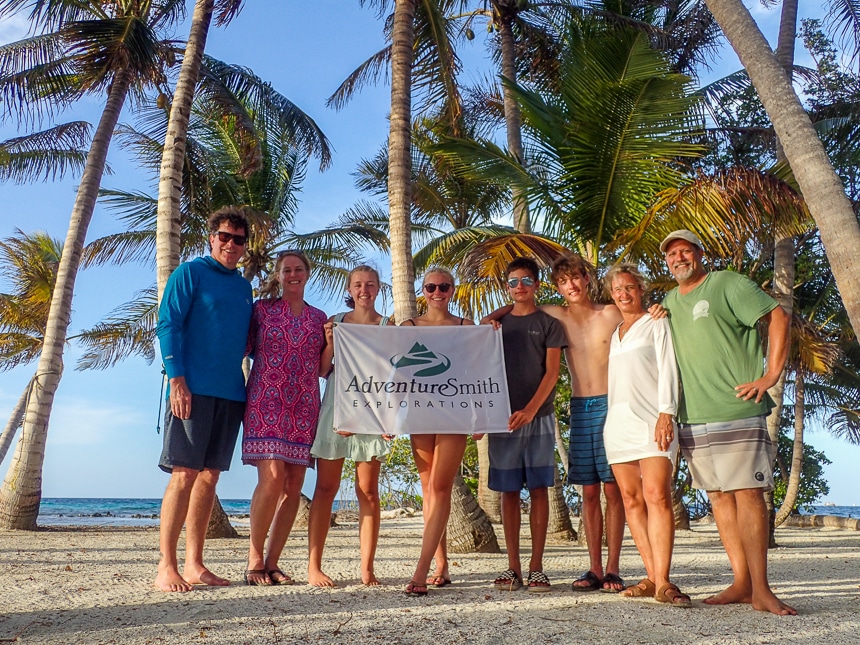 Swim, Paddle, Snorkel, Sail, Repeat:
A Typical Day On Board
Our travel group consisted of two families with four adults and four teenagers. I was concerned that the itinerary might prove repetitive with so many snorkel and caye stops. That worry turned out to be unfounded as every day was unique with new things to see and do. Our days were action-packed with no shortage of activities to choose from.
Swimming & Breakfast
We would typically wake up about 7:00am and go for a quick swim to start the day. After a cup of delicious Belizean coffee, we would enjoy breakfast on deck. During breakfast our captain would outline the plans for the day.
Sail & Snorkel
After breakfast we would sail to our first snorkeling spot for the day. We snorkeled at least two times each day and often more. Each snorkeling excursion lasted about 30-90 minutes.
While we never got cold, my wife was thankful she had brough her wetsuit top, which helped her stay in the water more than 30 minutes. The average water temperature in Belize is about 82 degrees F. Read more of our snorkeling tips for small ships.
Lunch & Reposition
After our morning activity we were back on board for lunch and repositioning. Often, we would make our longest run midday. If wind and schedule allowed, we would travel under sail the entire time. If not, we would cruise under motor power.
This transit gave us some down time each day. Some would nap on deck or read. Card games were popular. It was nice to have a bit of a siesta during the heat of the afternoon. We never felt bored and a bit of down time, cruising the blue waters of the Caribbean, was welcome. Occasionally dolphins would join us. Or the peaceful cruise would be interrupted by the excited shouts of "fish on!"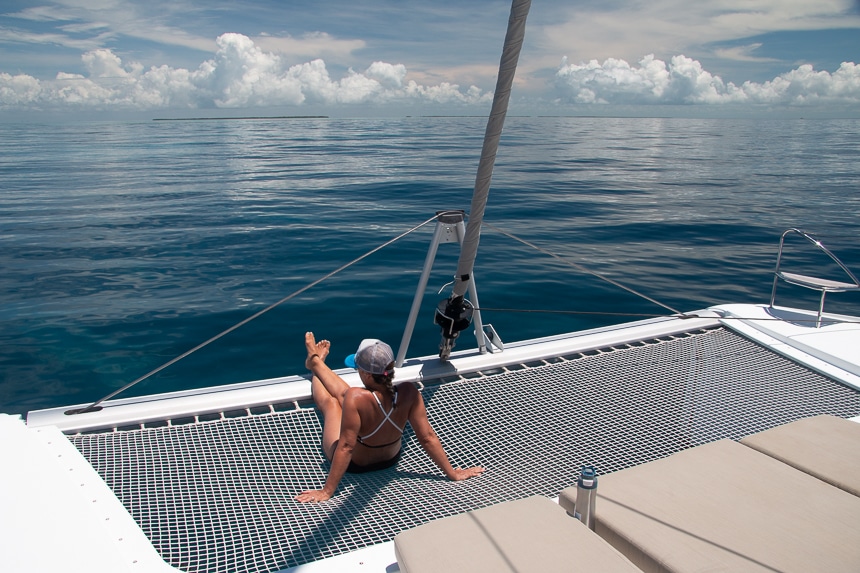 Fishing
Our captain Manny had two fishing lines in the water whenever we were underway. Over the course of the trip all eight of us had the chance to catch a fish. World-class fly fishing for bonefish, permit and tarpon is also available as an added option. Similar to SCUBA diving, a guide will rendezvous with the yacht to take guests on a half-day or full-day fishing excursion.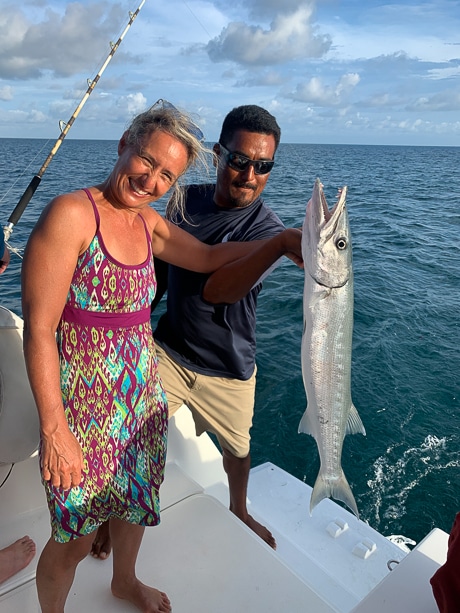 Snack & Swim, Snorkel, Kayak or Paddleboard
We would arrive at our anchorage in the afternoon. It was important to the captain that we arrive with plenty of daylight for him to anchor safely. Usually about this time an afternoon snack was served. Upon arrival we would often take another swim or snorkel nearby. If the weather permitted, we would kayak or paddleboard.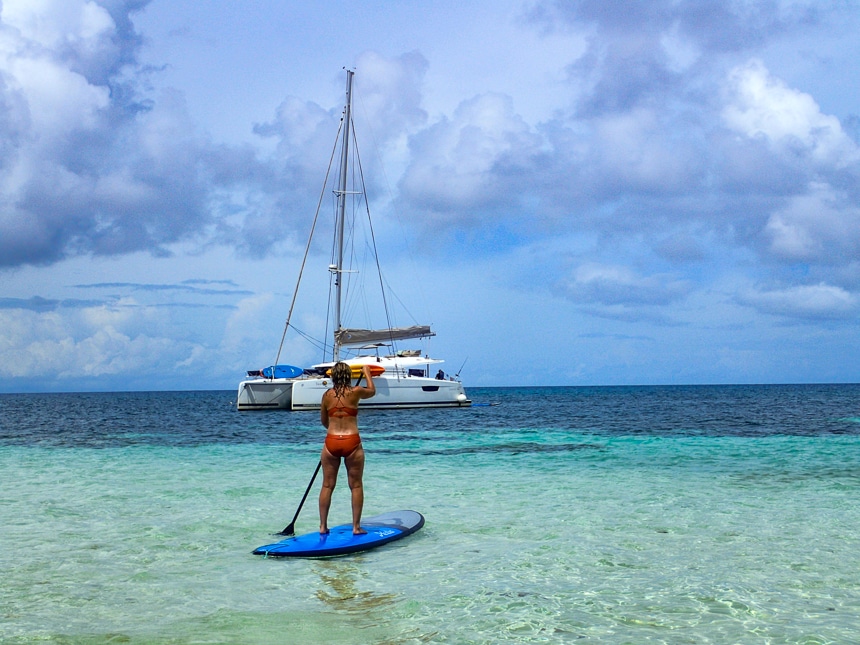 Shore Time
Often our anchorages provided a chance to go ashore. Sometimes, like on Tobacco Cay, there would be a small resort with a restaurant or a bar or a local fishing village to explore. Other times it might be just a secluded, postcard-perfect island caye. Most were a true tropical paradise.
Frequently we would swim ashore but sometimes Manny would drop the skiff and ferry us to the beach or to a dock. We would bring a Belikin beer or a tropical drink, dig our toes in the sand and watch a beautiful sunset over the Maya mountains on mainland Belize.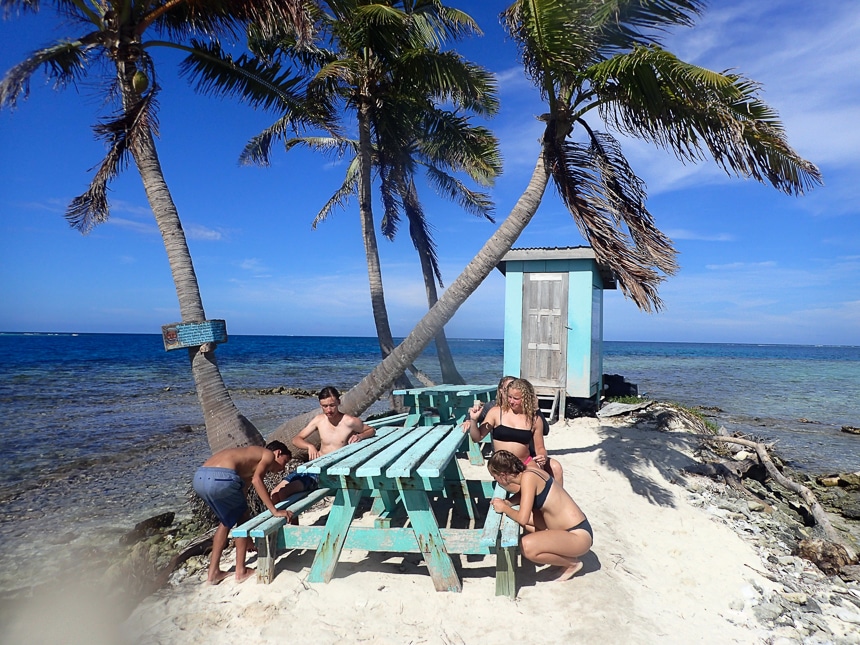 Dinner & Stargazing
Dinner was an anticipated event each night. Our Chef Kainie served creative, colorful and delicious cuisine. After a full day of activity, we were hungry. Meals were served outside. Underwater lights on the stern of the yacht provided ambiance and attracted marine critters such as barracuda and eagle rays who would dine along with us.
After dinner, if weather allowed, we would retire to the bow deck or top deck to view the stars. Unimpeded by the lights of civilization the stargazing was magnificent. If the stars were not out there was usually a show of lightning from a tropical thunderhead in the distance.
Belize Sailing Highlights
In addition to daily snorkeling, sea kayaking, stand-up paddleboarding, fishing and shore visits, we had a number of highlights worth mentioning.
Lobster Hunting
Our trip coincided with the opening of lobster fishing season. Lobster season runs from July through February each year. Our captain Manny was even more excited than we were, and he must have had a secret location in mind for this special day. So, our first snorkel experience on the Belize barrier reef turned into a lobster hunting frenzy.
Manny showed the kids how to spot the spiney lobster antennae sticking out among the rocks. He taught them how to flush them out of their crevices and then spear them. While he did most of the heavy lifting (free diving) the kids each caught at least one lobster. All told we caught 24 lobsters that day. Our chef Kainie had so many ways to serve the sweet meat that we enjoyed lobster the rest of the voyage. Lobster tails, lobster tostadas, lobster ceviche, lobster dip and lobster stew were among the favorites.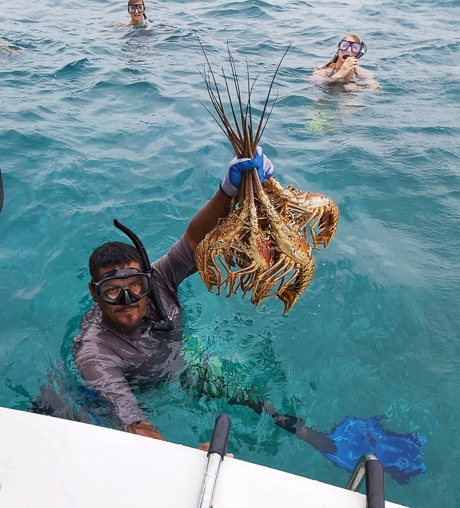 SCUBA Diving
Two of our group were certified divers but the rest were not. All were eager to give it a try. These yachts do not carry SCUBA equipment on board. But interested divers can schedule diving at many locations throughout the trip. Be sure to note in advance if you are interested in diving and how many days. This will be factored into your itinerary planning and scheduled in advance.
Our dive was at the Silk Cayes Marine Reserve with a dive operator out of Placencia in Southern Belize. They arrived on a dive boat from Placencia and we met them at the scheduled time after a short morning sail. The excursion began with a resort dive.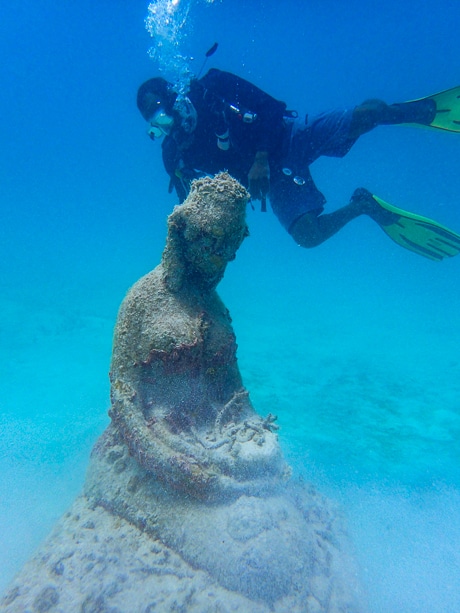 A resort dive is a SCUBA experience for non-certified divers. It includes all the equipment and training you need. Guests receive a basic training from a certified dive instructor. First you will learn and test your skills in shallow water. Then the group moves to slightly deeper water up to about 15 feet deep. This is then followed by an open water dive to a maximum of about 40 feet. The half-day excursion cost about $200 per person.
Once our training was complete it was time for the open water dive. The guides took us on a short but rough boat ride to the White Hole—a wall site on the outside of the barrier reef. We dove to a depth of about 40 feet along the reef wall. From here you could peer into the deep blue of the Caribbean Sea, where the wall drops off to about 1,000 feet deep. The sea life was incredible and different than what we had seen snorkeling. On the dive we saw an octopus, lionfish and larger schools of fish. As a certified diver it was a joy to see my kids and friends, who had no previous experience, enjoying diving. One does not become certified after a resort dive, but it certainly plants the seed. My kids are clamoring to become certified and go on more dive trips.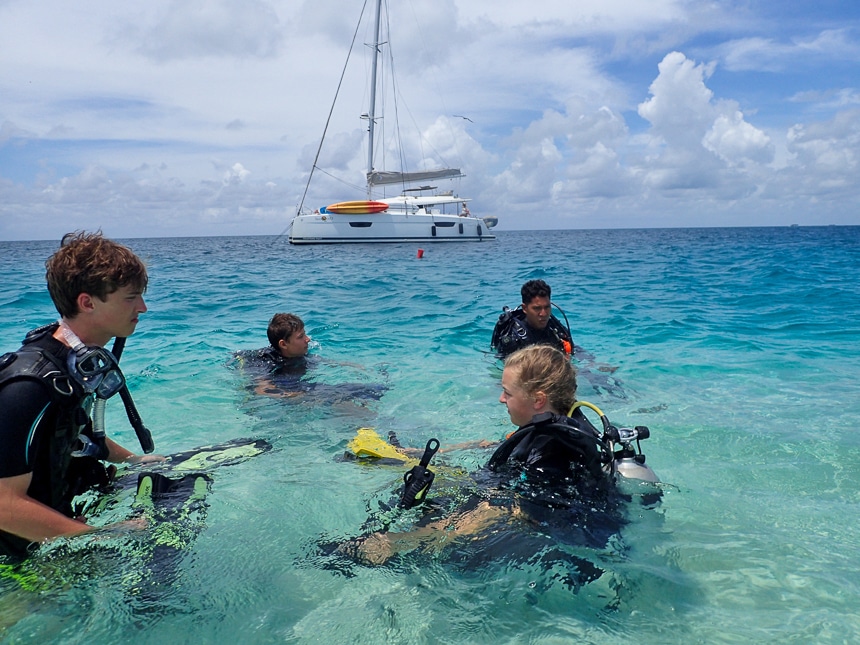 Placencia
After a morning at the idyllic Ranguana Caye, we proceeded about two hours to Placencia. On our 9-day cruise it was necessary for the crew to re-provision the boat, most importantly with ice and fresh water. Having taken quick "navy" showers for days, everyone took a nice long shower once we hit the dock.
Placencia is a charming, low-key fishing village located at the southern tip of the Placencia Peninsula in southern Belize. The lagoon separating the peninsula from the mainland is home to dense mangroves, manatee and crocodiles. Land tours to the Cockscomb Basin Wildlife Sanctuary and boat tours to Monkey River can be arranged.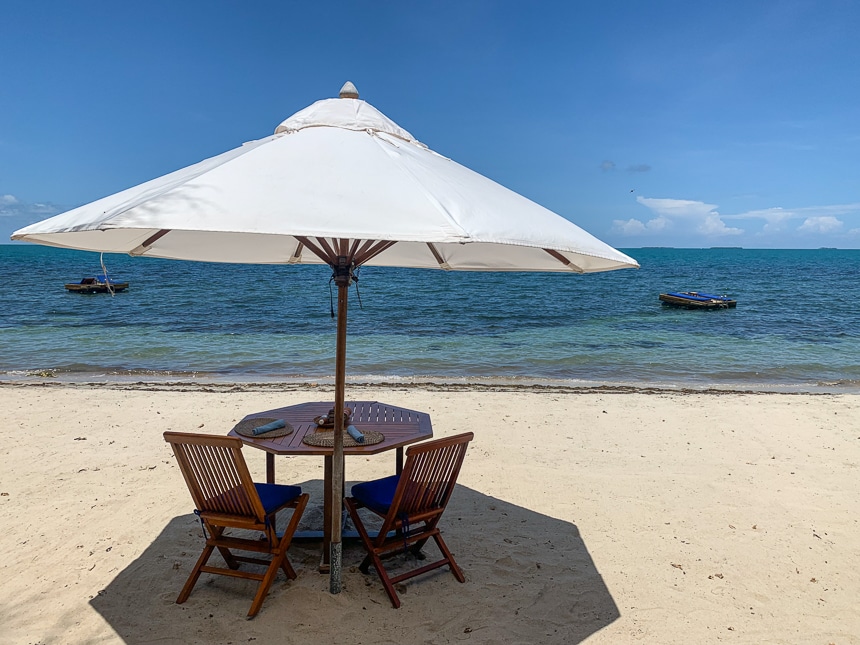 Uniquely, most of the town is accessed by a sidewalk lined by funky shops, small homes, eco resorts and restaurants. We took a walk, did some shopping and enjoyed being on the mainland for the first time in days. This evening we ate ashore in a wonderful local restaurant. We walked the beach after dark until rain forced us back to our boat where we spent the night tied to the dock in Placencia.
The next morning, we rented souped-up golf carts to explore further up the 19-mile peninsula. We passed through the colorful Garifuna village of Seine Bight, a hub for traditional drumming and dancing. We visited the resort town of Maya Beach and saw large new developments obviously attracting expatriates from the U.S.A., Canada and Europe. Along the way we spotted lots of birds and a family of coatimundi.
Lunch at a high-end resort was delicious but expensive. Compared to our authentic dinner the night before, we realized that on shore you pay significantly extra for the view—a view that could not compare to any meal we'd had on our boat. This helped us appreciate the value of our private charter cruise. After lunch we eagerly returned to Tranquilo to resume our sailing adventure.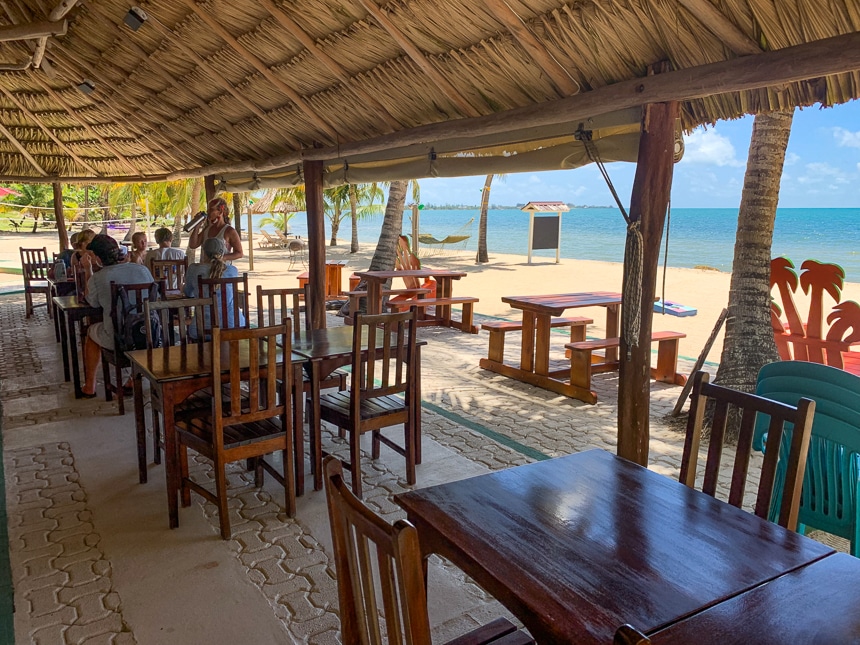 Sharks, Rays & Turtles
In Northern Belize, at the Hol Chan Marine Reserve, there is a famous snorkeling site called Shark Ray Alley. It turns out there is a Shark Ray Alley in the southern reef as well. One afternoon Manny pulled the boat into a non-descript anchorage with a shallow sandy and grassy bottom. It was not the azure blue and coral environment we had come to expect. There were a couple of local fishing boats anchored nearby with men aboard cleaning the day's catch. Manny encouraged us to snorkel in between the fishing boats to see what we could find.
After being in the water for only a few minutes, we saw it: a large nurse shark lurking nearby. The sight gets your adrenaline pumping. Soon there was another, and another. Then a huge horseshoe ray appeared; it had a wingspan as large as my outstretched arms. Smaller rays appeared. An eagle ray glided by. There were dozens of large animals near our group; so many it was hard to tell which way to look.
Not being accustomed to swimming with large animals, let alone sharks, the group was a bit nervous. Nurse sharks do have teeth, but they are bottom dwellers and are mostly harmless to humans. They seemed content to clean up the bycatch the fishermen were tossing overboard. Once I assured the snorkelers that the sharks were not a threat, we were able to relax and enjoy the show.
While scanning the sharks and rays, being careful not go get too close, out of the corner of my eye I saw something even bigger. A hawksbill sea turtle glided in among the school. It was massive and beautiful and effortless. Then another turtle appeared. They came close enough to perhaps touch if Manny hadn't reminded us not too. Another astonishing experience in the underwater aquarium of Belize's Barrier Reef.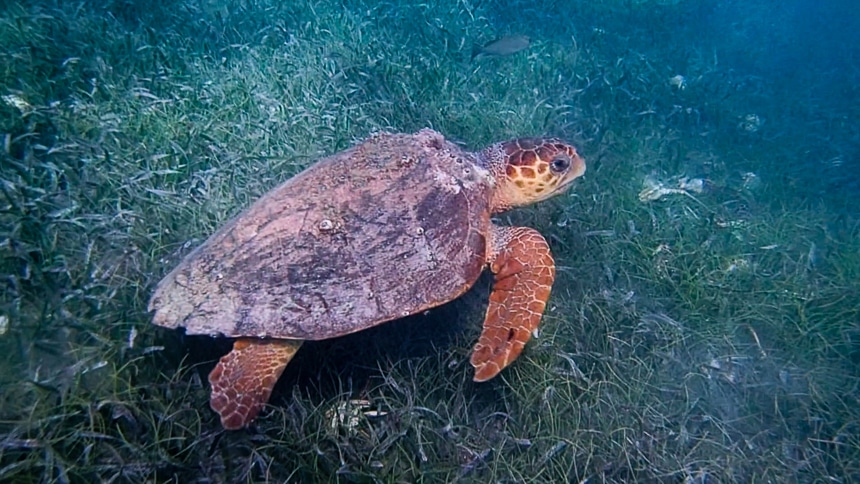 Belizean Cuisine
Meals aboard a cruise are an essential part of the experience. Expectations are high and our chef exceeded them. Cooking aboard a catamaran yacht is completely different than aboard a small ship. There is only one person to do everything. Kainie (our chef) shopped for the food, stored and packed the supplies, prepared and cooked the meals, served the meals, and cleaned and washed the dishes—for five meals each day (breakfast, lunch, snack, dinner, dessert).
Highlights included fresh lobster tails, tropical shrimp and pineapple salad, hogfish catch-of-the-day and Belizean-rum-marinated BBQ pork tenderloin. Kainie surprised us on the 4th of July with an old-fashioned BBQ lunch of hot dogs, burgers, French fries and watermelon. Throughout our cruise she used interesting local ingredients such as dragonfruit, plantains, fresh mango and Belizean crispy "butt" bacon. Not to mention a plethora of Belizean pepper sauces.
Tropical cocktails were prepared with delicious fresh juices and local rum. The food was gourmet and plentiful such that we kept saying we were not really hungry, and then devouring everything presented to us. Active days kept us hungry for Kainie's creations.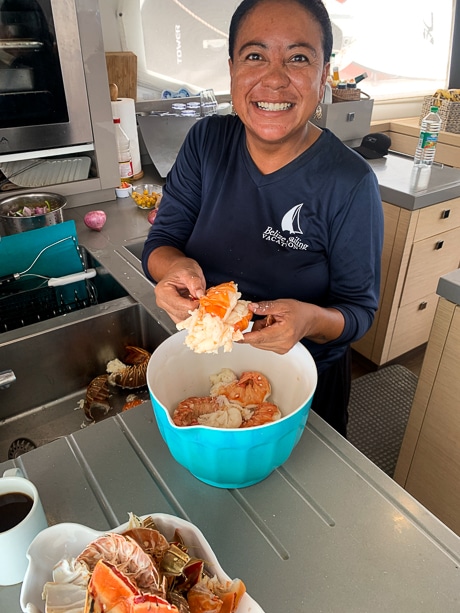 Belize Ruins & Rainforest
Belize is famous for its reef, ruins and rainforest. This cruise has the reef covered, so how about the rest? While it is possible to visit Maya ruins and tropical jungle on your cruise, I recommend adding a few days at a jungle lodge. Taking time away from the cruise to explore inland defeats the purpose of being on a boat.
Take a look at the Chaa Creek Inland Expedition and see my expert review of Chaa Creek. When combined, a Belize Catamaran Charter Cruise and Inland Expedition are the ultimate exploration of the jewel of Central America.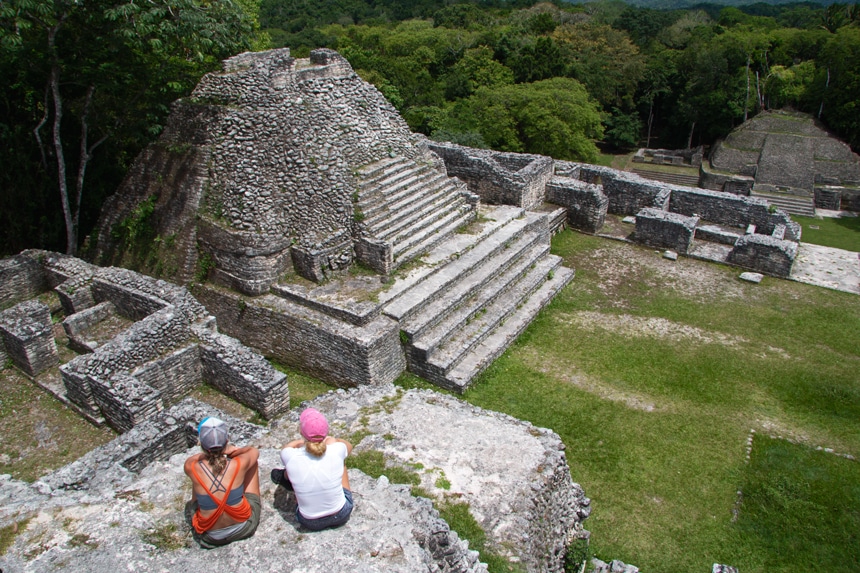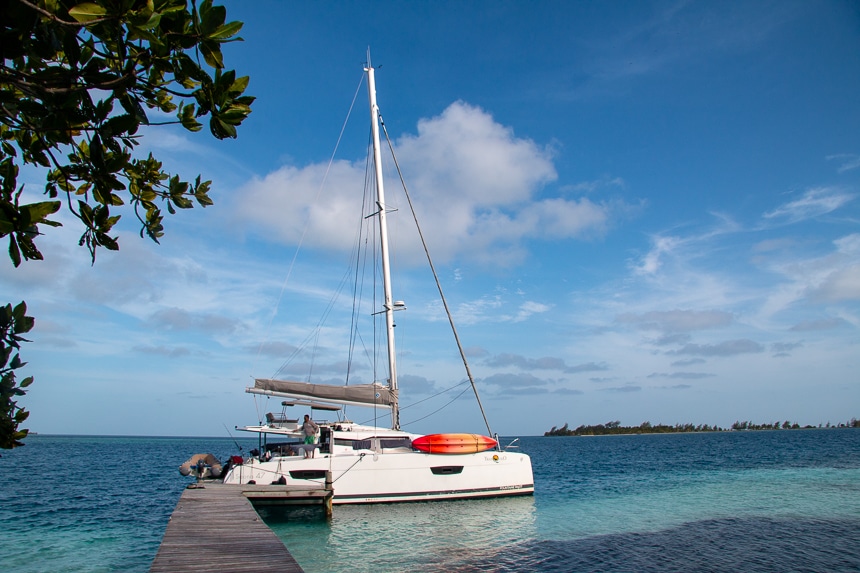 Sailing: The Best Way To Explore The Belize Barrier Reef
I am lucky enough to have been to Belize multiple times. I have experienced the reef in many ways. I can unequivocally say that the best way to explore Belize's barrier reef is aboard a sailing catamaran. Day trips don't even compare. If you are looking for an incredible Caribbean vacation that can be as active or relaxed as you wish, I highly recommend this trip.
This Belize Catamaran Charter Cruise review was written by an AdventureSmith Explorations crew member. For more Belize resources see our Belize Travel Guide. Read all our Small Ship Cruise Reviews for more trip reports, or contact one of our Adventure Specialists to learn more about family travel, custom travel, charter cruises, small ship cruises and wilderness adventures: 1-800-728-2875.