When many people hear about cruising, they instantly think of big cruise ships. Many travelers and travel agents are not aware that small cruise ships even exist, but that is changing due to demands for sustainable, slow tourism and remote, authentic experiences. Thus, we have created the following comparison to answer general questions about the differences between small ship cruises and big ship cruises.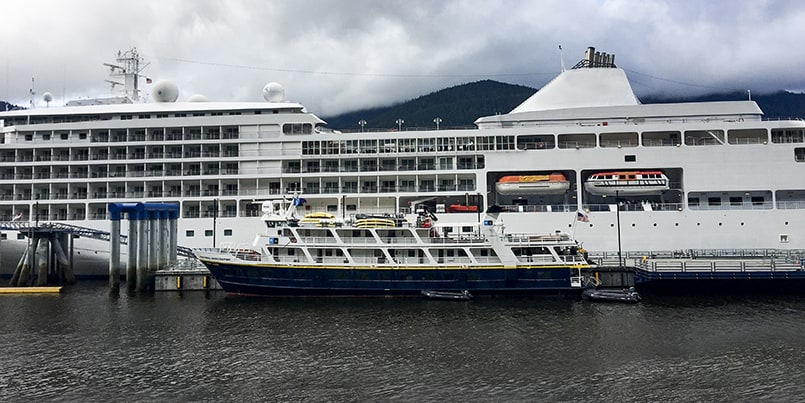 First, a bit of a primer on who we are: Our crew of cruise specialists at AdventureSmith Explorations have over 50 years combined experience working on, planning and selling small ship cruises. Our definitions are based on our experience of ship size and its correlation to accessing remote areas and getting off the ship. Thus, our version of an authentically small ship falls at the 250-passenger range and under.
Our cruise ship comparisons below show the differences between adventure yachts (40 passengers or less), cruise ships (500+ passengers) and expedition ships (which fall in between, but vary greatly in their level of true "expedition"). Review this small ship cruise vs big ship cruise comparison to learn if small ship adventure cruising is right for you. Are small ship cruises better? Connect with our specialists anytime for a personalized recommendation on what size ship is right for you.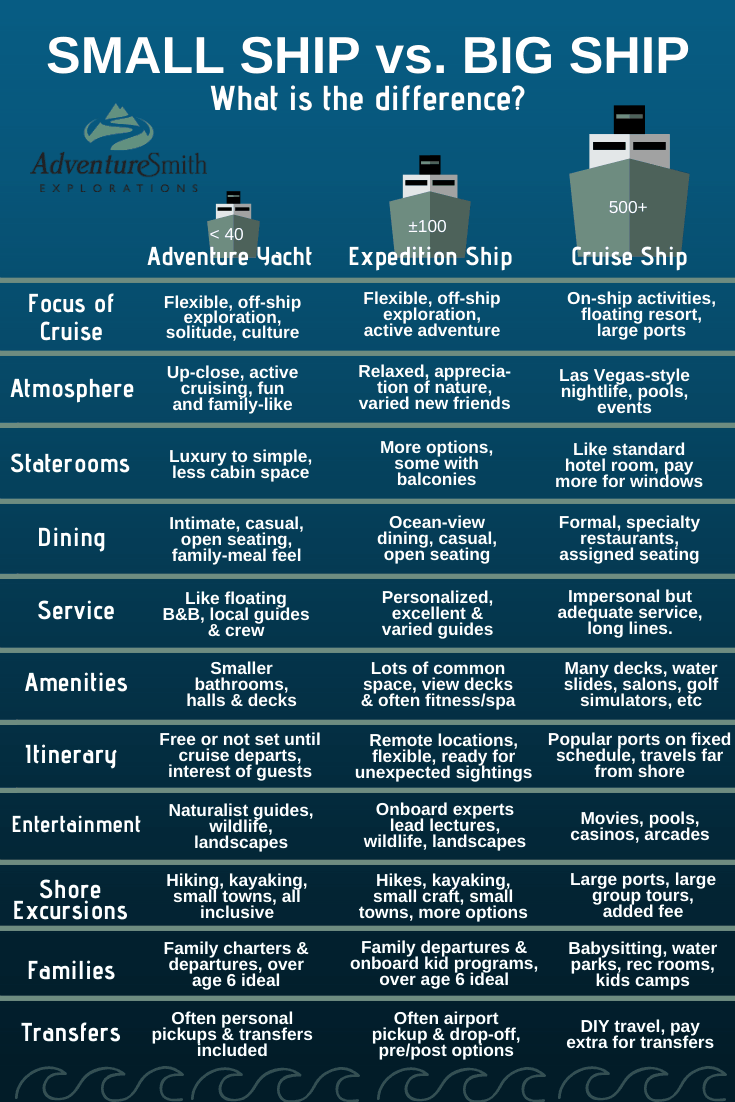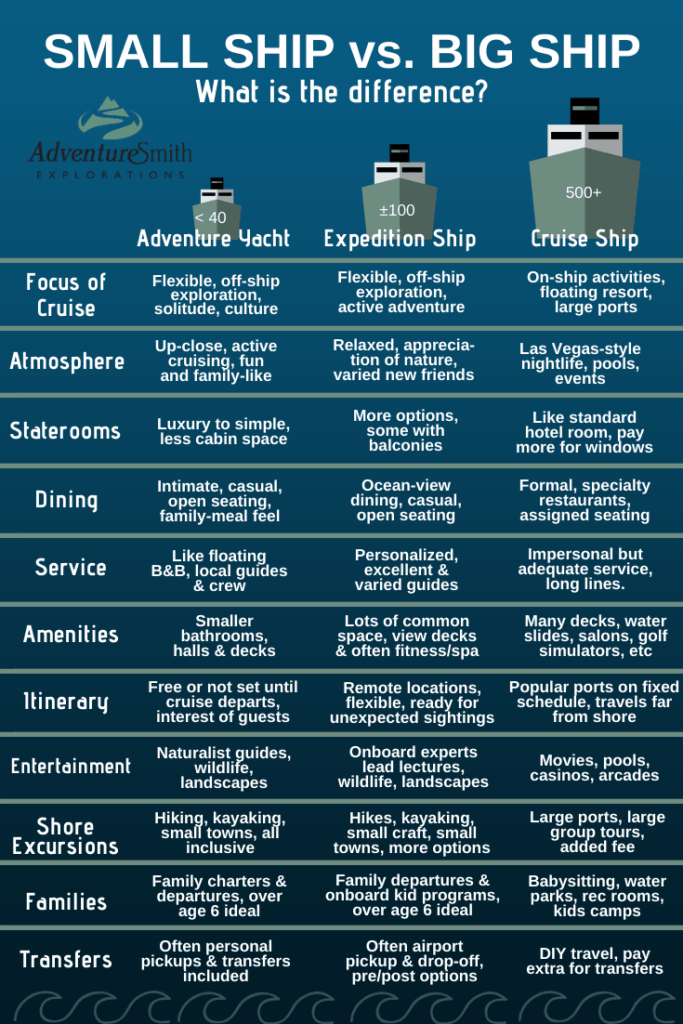 FOCUS OF CRUISE
Adventure Yacht
The main focus of a yacht cruise is to get off the ship exploring on guided shore walks and sea kayaks, with extensive opportunities away from ports. Visit the smallest towns that better represent a region's culture and experience the solitude of wilderness. The schedule is often improvised based on clients' interests.
Expedition Ship
Expedition ship cruising is directed outward, with a focus on firsthand experience in the destination. Visit smaller ports and enjoy a flexible schedule that allows time to cruise close to shore in search of whales and wildlife. Like-minded guests and many active offerings make fellow passengers friends.
Traditional Large Cruise Ship
Traditional large ship cruises are focused inward. The ship itself is the attraction while the destination is secondary. Picture a floating resort, cruising mostly at night, between popular port towns. Due to restrictions, permitting and the design of the ship, guests only go ashore in ports.
ATMOSPHERE
Adventure Yacht
Up-close and active cruising with hiking and kayaking right from the yacht. Fun, almost family-like atmosphere, with exploration at your own pace. Peaceful evenings are anchored in quiet solitude.
Expedition Ship
Casual and up-close cruising emphasizing an appreciation of nature, history and culture. Expedition ships offer a relaxed atmosphere for those seeking a meaningful connection to the region and like-minded fellow travelers.
Traditional Large Cruise Ship
Similar to a Las Vegas-style resort with shopping, shows, nightclubs, casinos and swimming pools, cruise ships have an exciting atmosphere with lots of action. There is little connection with the sea or your surroundings outside of the ship.
STATEROOMS
Adventure Yacht
Varies by yacht from luxury to simple. Generally smaller cabins, many with portholes. Some yachts have shared bathrooms. However with the activity level of adventure yachts, not much time is spent in cabins.
Expedition Ship
Similar size and layout of a large ship. Many cabins feature wildlife viewing right outside your window and some even offer personal balconies in each cabin.
Traditional Large Cruise Ship
Much like a standard hotel room. Expect to pay an upgrade for ocean views or balcony.
DINING
Adventure Yacht
Meals are an intimate affair at one or two tables for everyone. Luxury yachts have an executive chef while family yachts share delicious local recipes. On some yachts, guests can catch a fish and have it cooked to order.
Expedition Ship
Healthy and hearty regional cuisine served in a casual style. Choose from a limited menu and sit where you wish in an ocean-view dining room. Expect four-star quality and plenty to eat.
Traditional Large Cruise Ship
Many dining options including formal tuxedo dinners, midnight buffets, specialty restaurants, fast food and room service. Expect assigned seating at a specific hour for ocean-view restaurants.
By the end of the cruise guests are on a first name basis with the captain and entire crew.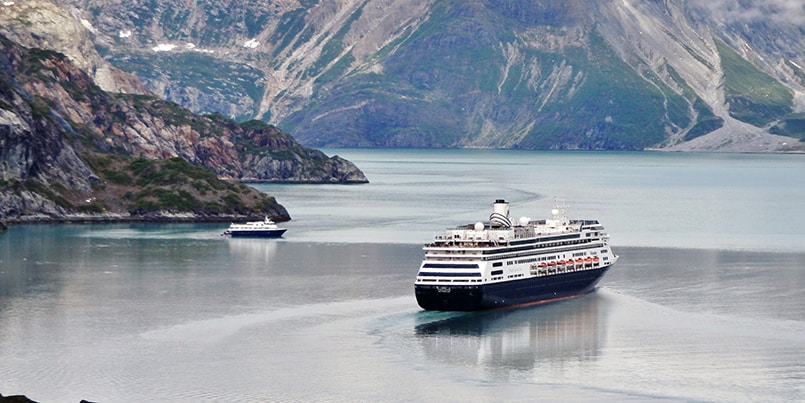 SERVICE
Adventure Yacht
Luxury yachts offer five-star service while family-run yachts are like a floating B&B, some with even gardens on deck! Local crews and guides, with extensive experience in the region, become your personal ambassador to the region.
Expedition Ship
Personalized service with high crew to passenger ratio. By the end of the cruise guests are on a first name basis with the captain and entire crew. Expedition ships also often offer exemplary guides.
Traditional Large Cruise Ship
Typical hotel service with impersonal but adequate service. Often long lines for dining or to disembark the ship. Must make reservations for dinner, shows and shore excursions.
AMENITIES
Adventure Yacht
Everything about a yacht is smaller including the bathrooms, hallways, dining rooms and observation decks. This is made up for by more time off the yacht and the intimate connection created with crew and fellow passengers.
Expedition Ship
Expedition ships have plenty of common space including the lounge, bar, library, dining room and multiple observation decks. Many expedition ships even have a spa and fitness center.
Traditional Large Cruise Ship
Almost anything you can imagine from hair salons and spas to golf simulators and waterslides. With ten or more decks, cruise ships are a city at sea.
Cruise close to shore on flexible itineraries designed to take advantage of unexpected sightings.
ITINERARY
Adventure Yacht
Itinerary often not set until cruise departs or free to change so the captain can base the trip on the interests of passengers. These yachts cruise close to shore, visit small settlements and often anchor in quiet coves overnight.
Expedition Ship
Cruise close to shore on flexible itineraries designed to take advantage of unexpected sightings. May feature smaller, more authentic ports and shore landings in remote locations. Cruising highlights during the day.
Traditional Large Cruise Ship
Typical itineraries are designed to highlight popular ports on a fixed schedule. Big ships are often cruising at night and docked in port during the day. Cruises in deep-water channels far from shore.
ENTERTAINMENT
Adventure Yacht
Naturalist guides lead daily off-vessel activities including shore walks and sea kayaking. After an active day of exploration enjoy the solitude of wilderness while relaxing on deck watching the sunset.
Expedition Ship
Programs led by naturalists, historians and onboard experts enhance your understanding of the region through narrative, lectures and discussions. Cruise close to shore and explore even closer on small craft excursions.
Traditional Large Cruise Ship
There are endless entertainment opportunities aboard big ships. Movie theaters, swimming pools, casinos, shows, arcades all keep cruisers occupied. There is little, if any, information about the region in which you are cruising.
SHORE EXCURSIONS
Adventure Yacht
Guided hiking, kayaking and small craft explorations are included, with passengers in it together or in small groups experiencing the solitude. Some port excursions but these trips often visit towns too small for tours.
Expedition Ship
Port excursions often included in price. Smaller group tours offering small scale, authentic cultural experiences with no waiting. Wilderness activities like hikes, kayaking, Zodiac tours and snorkeling are often available, with varied options for multiple interests on ship.
Traditional Large Cruise Ship
Can only stop in the largest ports and most often cost extra. Often large crowded bus tours.
FAMILIES
Adventure Yacht
Dedicated family departures and programs similar to expedition ships with even more time off the boat. Yachts are the perfect platform for private family cruises, family charters or family reunions. Best for travelers 6 and older. Private charters accommodate kids of any age.
Expedition Ship
Designated family departures mean families with kids of similar ages travel together. Onboard and off-vessel activities are keep younger travelers engaged and bring families together. These cruises often feature educational components on local nature, wildlife and culture. Best for travelers 6 and older. Learn more about family cruises to destinations worldwide.
Traditional Large Cruise Ship
Lots of kid friendly activities including day care, babysitting, water parks, recreation rooms and arcades, movie theaters and kids camps. Kids activities are often designed to give parents free time. No minimum age.
TRANSFERS
Adventure Yacht
Varies by vessel, but personalized transfers or airport pickups are commonly included.
Expedition Ship
Varies by ship, but often includes airport pickup on day of embarkation and disembarkation, and occasional options to extend your trip on land with the group.
Traditional Large Cruise Ship
Guests are on their own or must pay extra for a transfer to or from the ship.
---
This post on small ships vs big ships was originally published in January 2013. Our team of experts has since updated the content, most recently in July 2020, to reflect any changes and add new graphics. For more articles, advice and inspiration, visit our comprehensive small ship cruise guide.