AdventureSmith Specialist Taylor Cranney reviews her Antarctic Explorer expedition aboard the 199-guest Ocean Endeavour, showcasing the awe of Antarctica as well as the detailed logistics of camping and kayaking.


Arriving to Antarctica via Buenos Aires & Ushuaia
My Antarctica trip to the pristine White Continent began not in that magical moment, but in the bustling, colorful Recoleta district of Buenos Aires. I took the recommended Buenos Aires transfer package for my trip, which included one pre-cruise hotel night in Buenos Aires along with seamless transportation and charter flights to Ushuaia, where we embarked the ship. My hotel was in the wealthiest section of the main tourism district and a great place to explore BA. The streets are some of the safest in the city (always use your head while abroad), and Recoleta plays host to some nice restaurants and sightseeing stops including the dramatic above-ground Recoleta Cemetery and the revamped dockside area of Puerto Madero. On our travel day from Buenos Aires to Ushuaia, we landed with a few hours to roam around town, eat lunch, grab any last minute gear from the local gear shops and snap a couple photos.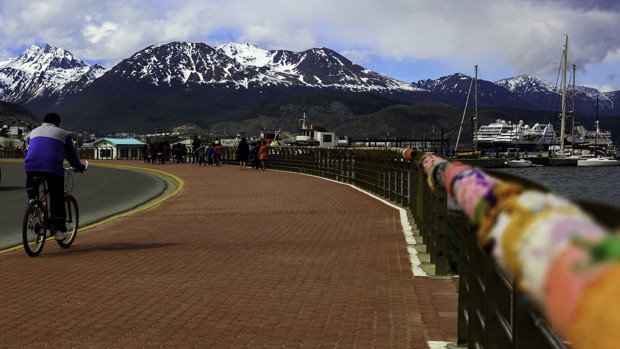 Early-Season Antarctica Travel
I had the fortune of being on one of the first expeditions of the Antarctica cruise season in early November. I was looking forward to it, mostly because I knew this would mean the most dramatic scenery. Being so close to winter and not having much time for the ice to melt, the landscape would be full of pristine white snow. The penguins, who had just begun to arrive, had not had enough time to trample down the ice and expose the mud and rock underneath. If you are a landscape photographer, admirer or even just observer… this is the best time to go. What was interesting about being first, is that there were no reports from ships before us about the thickness of sea ice, or updates on penguin colonies, or if the camping sites were in good shape, etc. We truly were on an exploratory adventure, ready to adapt as we inched through our journey.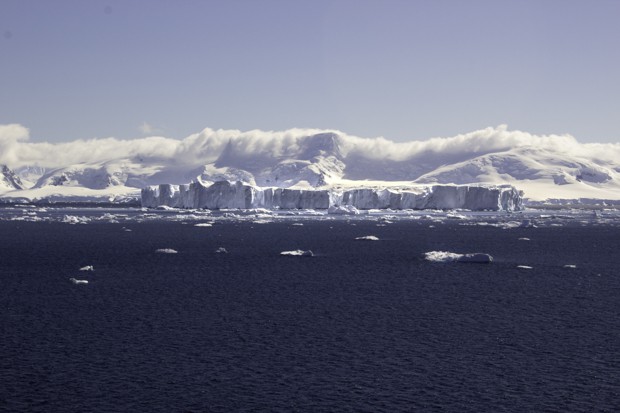 Explaining Antarctica
The standard Antarctic Peninsula cruise is between 10 to 12 days depending on which itinerary you choose. Unless you are doing an air cruise (flying over the Drake Passage instead of sailing), the itinerary always includes at least four days of cruising on the open ocean (two days on the Drake southbound, and two days on the Drake northbound). The captain of the ship and expedition leaders of any voyage are always keeping a close eye on the weather, ready to deploy their plan B, plan C or even plan D tactics. This applies to daily activities, like choosing landing sites or excursion availability. But it also applies to crossing the Drake Passage in the safest way possible.
I shot out of bed like a kid on Christmas morning and ripped my cabin curtains apart.
On my trip, after spending two days crossing the Drake, enjoying ample time to attend lectures, explore the ship and participate in the briefings for pre-registered activities, we saw our first land, still 90 nautical miles from the Antarctic Peninsula. Then came the neon sunset and giant tabular iceberg. Needless to say, the next morning came without even needing my alarm. Ping! No sooner than my consciousness found the day, the realization that I was IN Antarctica came to my forethought. I shot out of bed like a kid on Christmas morning and ripped my cabin curtains apart. It was a perfectly clear and sunny day. Through the window I gained a brief magical glimpse of the most expansive white landscape I had ever laid my eyes on. But my eyes were not yet awake enough to soak in so much light, and I quickly played a game of eyelid peekaboo through my cabin window. Once I had equalized, I knew I was ready to go outside.
I hurriedly put on all my warm layers, grabbed my camera and took off for the observation deck. From there I had a mostly unencumbered 360-degree view of the magnificence around me. Vast. Expansive. Pristine. Awe-inspiring. Heavenly. I think the emotion it evoked explains the experience even better. As I sat there soaking it in, turning left, turning right, looking up, looking down, I noticed an older gentleman next to me. I couldn't see his face, but I heard a few sniffles. It could very well have just been sniffles from a runny nose, but… was he crying? Almost immediately as I had thought that, he turned to me with tears cascading down his face, "It's SO beautiful." His conviction was so strong, and so in line with how I already felt, that I too shed a tear. It is the first locale I have ever been to that created such a visceral and emotional response.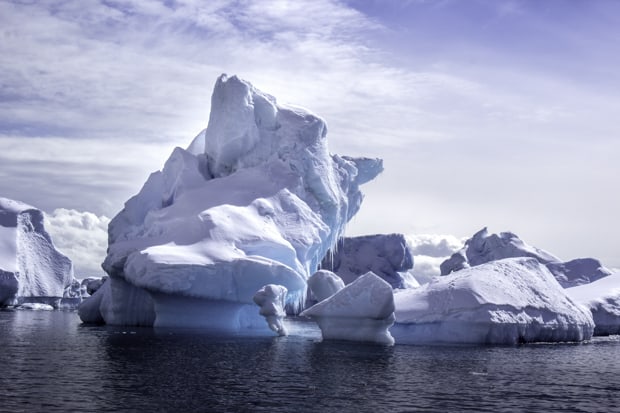 Getting Active: Kayaking & Camping
On my cruise I had the pleasure of participating in camping and a one-time kayak excursion. One thing is true of any Antarctic excursion: you need to be flexible and ready to spring into action at any point in time. The Expedition Leader will keep a keen eye on the weather, and if they see a good window, then you may get called into immediate action for an activity.
The One-Time Paddle: What It's Like to Kayak in Antarctica
The unique one-time kayak opportunity available on my Antarctic Explorer trip is a new one in the polar regions, and one you only see on the Ocean Endeavour and her fleet of sister ships. Often when preparing for an Antarctic trip you have to decide what activity programs, if any, you want to pay extra for. And you are committing to that activity every single time it is offered on your trip. These activity programs are usually something like kayaking, mountaineering or stand-up paddleboarding.
With the one-time paddle excursion offered on my ship, I had the opportunity to get low on the water and experience paddling without the usual repeated commitment, and for a fraction of the cost. This excursion is a great option for those who are newer to the sport of kayaking. The one-time paddles are done on inflatable, sit-on-top kayaks. The inflatable kayaks are extremely stable, and with the excursion being around 2 to 2.5 hours at a slow pace, it becomes a very manageable experience for a beginner.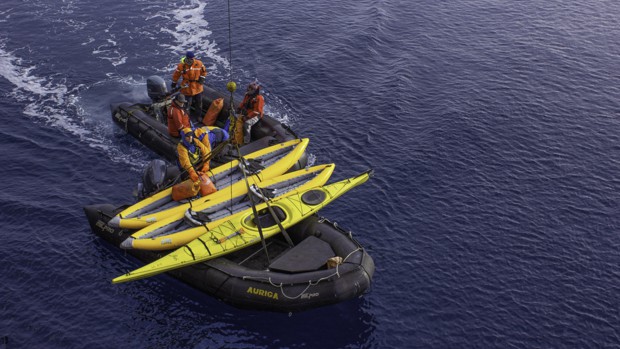 During the crossing of the Drake Passage, we were given all our gear: a full dry suit, neoprene booties and a personal flotation device (PFD). Per their request, some participants also received a dry bag to borrow. We kept all the gear in our cabins, until it was time for use. After our paddle, we immediately gave it back to the excursion leaders.
For one-time paddle excursions, groups of 10 are created on a first-come, first-serve basis. These groups then go out one at a time, when the weather is good. During the course of my cruise, the expedition staff attempted to get as many groups as possible out on the water. I happened to be in group number one, and seeing how our first day was incredibly sunny, my first excursion ever off the boat was via kayak. We were told to meet in the reception area of the ship, with our gear mostly on already (meaning we had to put the dry suit on in our cabins and walk through the ship that way). We put the final touches on everything, got our PFDs on, put our valuables in the dry sacks and headed down for disembarkation.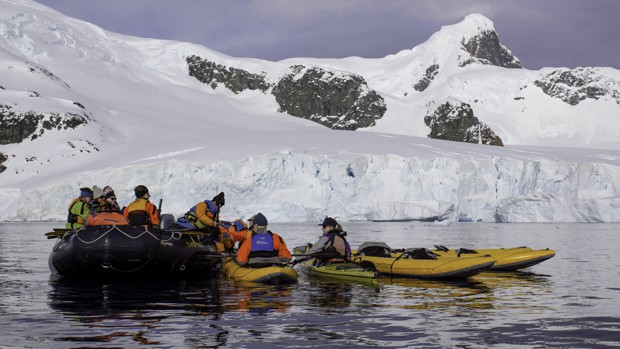 We didn't actually get into the kayaks from the ship. We were loaded onto a Zodiac, which brought us out to a more remote area (closer to the cool stuff like icebergs and penguin colonies), where all the kayaks had been towed by another Zodiac and was waiting for us. We then loaded into the two-person kayaks from the side of the Zodiac, aided by the expedition staff to keep anything from shifting or moving. Overall, the process was very smooth, and not difficult to manage. We even had an elderly gentleman in our group that was able to shift into his kayak, no problem.
We paddled close to what I like to call the "penguin bathhouse" where they came down to frolic and coo in the water.
Once in the kayak, we had pretty free reign, as long as we were within eyesight of the Excursion Leader. We of course had to keep appropriate distance from the penguins and icebergs, which had been clearly defined. But we cruised around for about 2.5 hours before having a chance to join the others on land. We paddled at a casual pace, never breaking a sweat. We observed multiple rafts of penguins porpoising in and out of the water around us. We paddled close to what I like to call the "penguin bathhouse" where they came down to frolic and coo in the water. We sat in silence, as they flittered their wings with an erratic splash, hopscotched on rocks and nuzzled one another.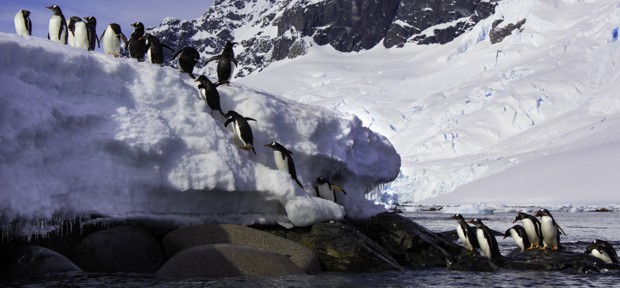 After spending some quality time with the gentoos, we paddled around an obstacle course of icebergs and to the other side of the bay. There we found some thick, slushy-like sea ice that we paddled through as we observed more penguins up on a hill. Can you imagine… this being your first exposure, your first excursion to this great white massive landscape? It was the perfect introduction. And I was happy to know that my time would be freed up for other activities and types of excursions later on.
Antarctica Camping: Magical & Mental
Just like with the one-time paddle excursion, we were provided with the camping gear during our Drake crossing, which we kept in our cabin until the time for camping presented itself. The gear came in the form of a King penguin–sized stuff sack, with all the pieces rolled up inside, stacked within themselves. Inside the roll-up was a waterproof bivy sack, with a sleeping pad and a four-season synthetic sleeping bag on top of that. In addition to this sack, we were given a fleece liner that would help us slip inside these covers when it was time to sleep.
Antarctica camping aboard my trip was an added-cost opportunity that would also only come once during our voyage, and would be highly dependent upon weather, but I jumped at the chance to experience it. Our camping event was announced on the very first evening we reached Antarctica—the same day I had kayaked. We had sunshine all day long, so it made sense to get it done while it was nice out. We were instructed that we would be departing after dinner for the evening, and to be cognizant of our food and drink intake (so as to not need the bathroom in a pinch). Antarctica is a leave-no-trace type of place, and that means human waste in all its forms. On all excursions of the trip, using the restroom was not an option. But when camping overnight, nature may call, and we had to be prepared. In the corner of our camping area, the crew set up pit toilets, which were basically one-sided igloos with a hole dug in the middle. In that hole, a bucket with a robust plastic liner was placed, which would trap any human waste. The crew would then have to transport the bucket back to the ship, where they would ultimately carry it back to Ushuaia for proper disposal. There was a separate toilet for each gender, lovingly named Mr. and Ms. Yum Yum.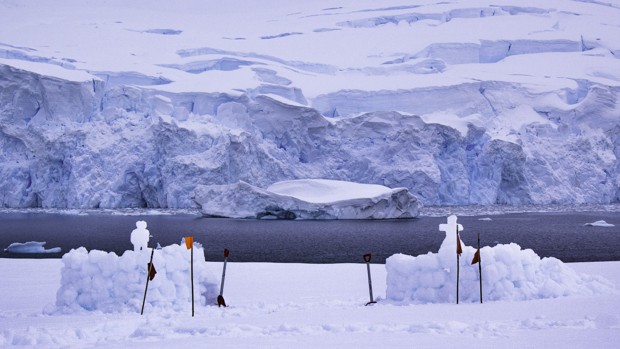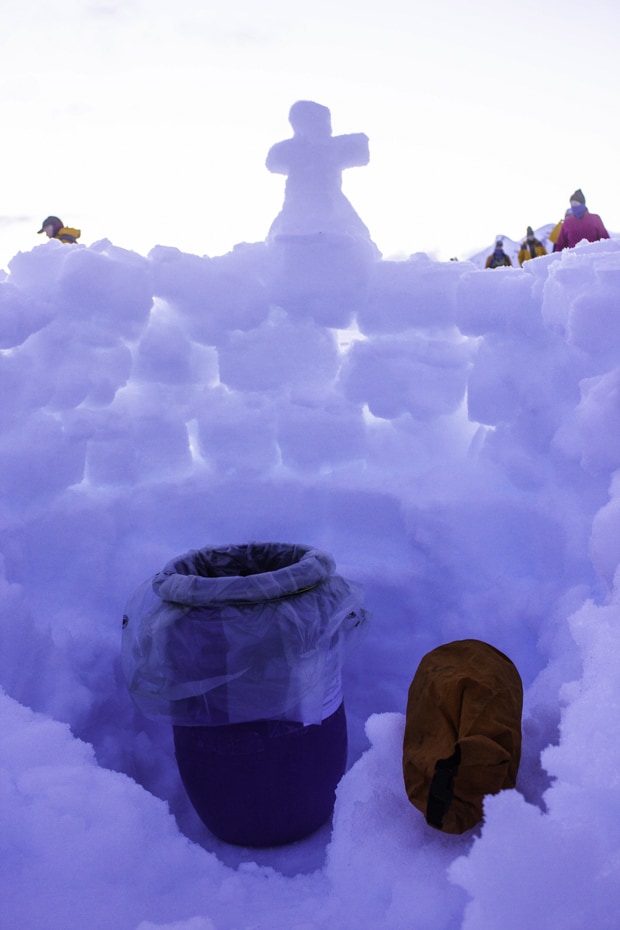 Our camping evening took place on a small island within an icy, cliff-laden amphitheater located in the general vicinity of Paradise Harbor. There was one small colony of gentoo penguins that greeted us as we arrived by Zodiac. Aside from that, the area was vacant and hadn't even been trampled on by previous campers yet (one of the benefits of going early season). The expedition crew had already been out to the campsite, and laid tracks in the snow in a lattice format. We were given one additional mat to place down on the snow, and were told we could walk anywhere that the lattice tracks went with just one step off to the side. That was where we should build our sleep nest for the evening.
We listened for the shifting of ice rumbling the ground, the crackle of a glacier calving, the coos of a penguin colony, the soft fwisshhhh of a whale blowhole. Who knew what the night had in store?
We had about an hour to set up our bivy and walk around to snap photos, soak in the surroundings and suss out the comedy of the bathrooms. They even instructed the Ocean Endeavour to travel around a corner and out of sight, so we felt isolated on our remote Antarctic island. After that first hour had passed, we gathered as a group to listen to our camp leader talk about the cool sounds that we might hear once we were silent. The shifting of ice rumbling the ground, the crackle of a glacier calving, the coos of a penguin colony, the soft fwisshhhh of a whale blowhole. Who knew what the night had in store?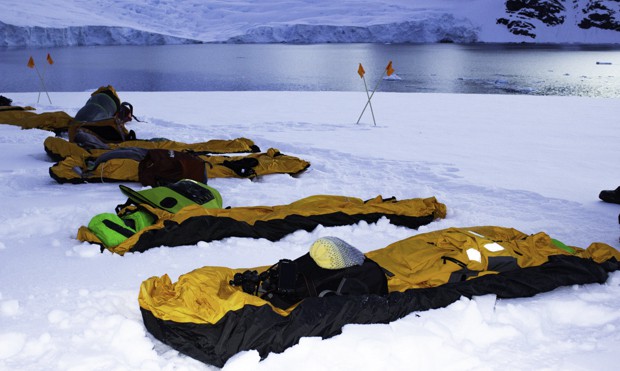 With this discussion came the instruction that when we heard a soft whistle (from the camp leader) it was quiet time. We had another hour or so to get ourselves settled and visit Mr. and Ms. Yum Yum if desired before getting cozy and climbing into our sleep sacks. Climbing into bed was an interesting process, as we had to remove all outer layers to retain the most heat once inside. This meant a moment of brisk chill as I removed my boots, waterproof pants and jacket before stepping into my fleece liner. Once in the liner, I inched into my layered bivy and bundled up. Shortly after I was in, I heard the whistle and knew it was time for silence (even though I already was).
Camping in Antarctica is more of a mental challenge than a physical one.
I am sure the question on your mind is, "Was I cold?" The answer is no, not really. We were provided with so many layers of insulation and proper equipment, that avoiding cold was not an issue; that is, as long as you were able to stay in your sleeping sack. I think I had one or two shivers of chill as the night went on, but I believe it was more of a mental shiver, just knowing where I was. In fact, overall, I think the camping excursion serves more of a mental challenge than a physical one. Mostly because of all the prep… wearing the proper attire, packing correctly, making sure you didn't drink or eat too much at dinner and then removing all your outer layers to get in the bag and retain warmth. If by chance you had to visit Ms. Yum Yum during the night, getting out of your bag would mean exposing yourself to the cold again, to put on your outer layers, etc.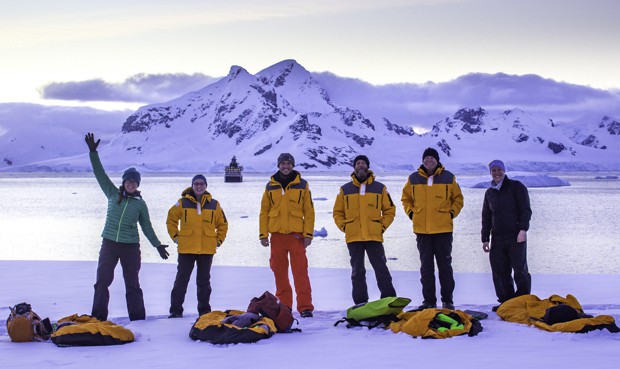 The mental barrier was therefore staying put and being content in your small sleeping nest, on an island in the middle of nowhere Antarctica, and feeling comfortable with it… even if it felt uncomfortable. Get me? I would absolutely recommend camping to anyone who had the slightest inkling to do so. But the warning I would heed is to be prepared to be confronted with some slight mental and physical discomfort. And if you can get past that small hurdle, what you gain is something truly special: an experience that is unforgettable to you, jaw dropping for anyone you share the story with and inspiring to those dreaming of a unique thrill.
In the wee hours of the morning, I woke up and peeked out of the small opening of my bivy sack to see my neighbor sitting upright and looking out over the water. I whispered to ask her what she was doing and she said that she had heard a whale. So I sat up with her, and we sat in silence, catching the occasional fwoosh of that whale and not being able to spot it. Eventually the minke whale surfaced, very gently in the waters right in front of us to give a quick hello. No one else was awake. In that instant I had a brief glimpse into the magic that happens behind the scenes in the wilds of Antarctica every day. Any minor discomfort I had experienced in my camping evening so far was completely negated by this moment.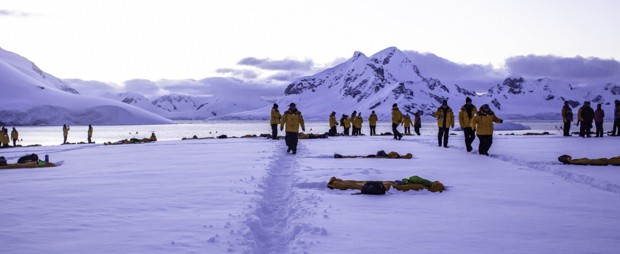 Returning Across the Drake Passage
In a flash, our time on the Antarctic Peninsula and among the South Shetland Islands had passed, and it was time to once again cross the Drake. The staff and crew will speed up or slow down your crossing to mitigate any potential weather concerns. On my trip, our southbound crossing was smooth as silk—the "Drake Lake" some called it. On the return north, though, we happened to have a big storm rolling into the Southern Ocean as we were supposed to be heading back to Ushuaia. For this reason, we eliminated our last day of excursions and started back a day early. We ended up with "Drake Shake" on that return, with 9-meter swells (that's about 30 feet!). Walking around the ship, dancing at the farewell party and even enjoying dinners with wine-filled stemware proved difficult. Walking down the hallway of any corridor with a group of people in front of you looked like you were part of a flock of starlings, moving simultaneously in graceful chaos, as if dancing to Leo Delibes's "The Flower Duet."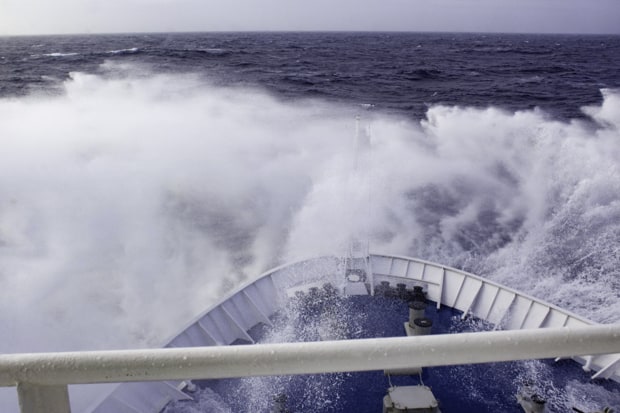 My Antarctica Takeaways & Advice
As an AdventureSmith Specialist who books travelers on many types of Antarctica expeditions, understanding all the logistics of arrival and departure, seasonality and nuances of the destination is, quite simply, my job. Here are a few takeaways from my trip that may help you in selecting yours: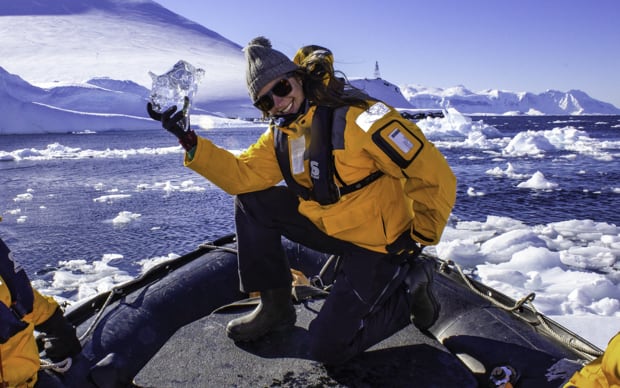 The Buenos Aires Transfer Package
Taking a trip like Antarctic Explorer that had a comprehensive arrival package gave me insight on how this works for my clients. In a nutshell, this is a great option for those looking for a little more help getting down to Ushuaia. After arriving to your hotel in Buenos Aires, there is no more need to think about finding taxis, transfers or buses to get you from one place to the next. It makes it so you can sit back and enjoy your trip, and not focus on the logistical details. However, if you are a traveler who feels strongly about coordinating your own transfers, and are adept at travel in a South American country, then the transfer package can be forgone. If you opt out of the transfer package though, note that there is no discount for sitting out on day 1 of the itinerary. You will simply meet the vessel in Ushuaia on day 2 of the itinerary.
Early-Season Antarctica Travel
For every yin there is a yang. What we gained in immaculate white peaks and shorelines, we may have lost a little in wildlife exposure. Don't get me wrong, we saw plenty of penguins, had great whale encounters and even saw a few different types of seals and birds. But we didn't see wildlife in the vastness of numbers that a differently timed trip might bring. We also didn't see penguins in their various stages of the life cycle (eggs, chicks, etc). To decide which season is best, you have to decide what is most important to you: wildlife, landscape or both. But by traveling in the early (and late) season, you can often catch a price break, or get a better cabin for the same amount of money you would spend otherwise. So perhaps that tips the scales? Either way, if presented with the opportunity to travel early season, I would absolutely do it again.
For every yin there is a yang. What we gained in immaculate white peaks and shorelines, we may have lost a little in wildlife exposure.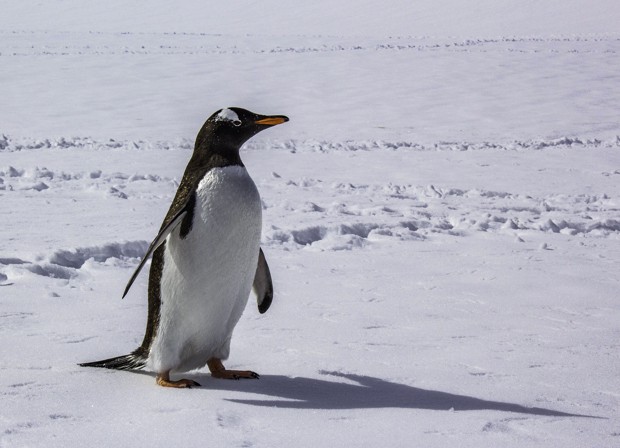 Choosing Your Cabin
While I've talked a lot about camping outside (1 night) so far in this review, I have yet to mention where I slept inside on the ship (9 nights). Choosing your cabin is as individualized as selecting a dinner entree, but in my case a standard ship cabin functioned well. I choose to spend most of my time in the common areas, outside on the decks taking in the views and out on as many excursions as possible so I often didn't spend much time in my cabin. Also in my case was the single-share component; I was a single traveler who would be sharing my cabin with a to-be-determined female after booking, so this added a few extra considerations that came into play when selecting a cabin. I ended up booking an Upper Deck Twin, which allowed for a larger view window instead of a porthole (flashback to how that made a great difference peeking out my window on my first morning in Antarctica) as well as a bit more floor space between the cabin's two twin beds than other categories, allowing for less-close sleeping quarters with my roommate.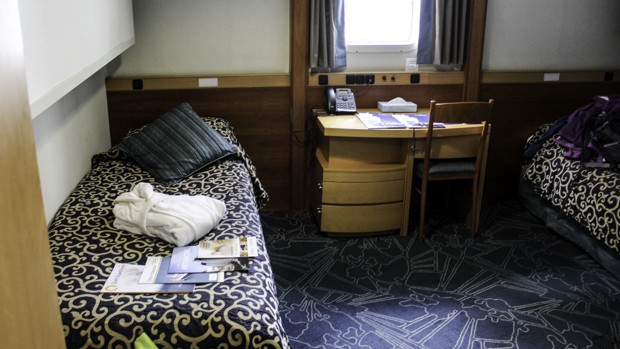 The private en-suite bathrooms were adequately spacious with separate toilet and shower (not always the case on small ship cruises) but had limited storage. We tended to just bring our toiletries in with us each time we needed them. This was actually the tactic for most personal items in the cabin. We kept most of our belongings contained in our luggage, or in the hinge-locking drawers. This was especially helpful during our "Drake Shake" crossing when unsecured items had a knack for flying across the room. So when packing for a stay in your cabin, I would make sure you have good ways to store your items, and stay organized like with collapsible stuff sacks, or totes. Overall, the quarters were very comfortable for my voyage, and served as a great resting zone to recharge for the many Antarctic outings the trip would bring.
Staying Flexible
It is paramount when considering a trip to Antarctica that you stay flexible with your expectations of the itinerary. This is especially true when traveling early season, but applies year round. Each day of the expedition, our itinerary was posted around the ship on various flat-screen TVs, with very specific timings of the upcoming events of the day. However, what I quickly realized once we arrived on the White Continent, and thereafter, was that the schedule changed by the minute.
The schedule was constantly being impacted (by weather mostly), which would trickle down into the scheduling of everything else. So it all changed, all the time. This is why you will find that no Antarctic cruise operator will guarantee, or even call out, which specific sites they will land on. Having been on a number of small ship cruises, I can say that being flexible is always a necessity. However, I would say that in Antarctica it is a requirement. The joy in understanding this, is that you can embrace the adventure of it all, knowing you are in store for an incredible journey regardless of the small details. The big picture is that your Antarctic experience will be carefully handcrafted by the expedition staff and ship crew to bring you one epic and unforgettable experience.
For more photos from this trip, including penguins, camping and kayaking photos, view my Facebook album on AdventureSmith Explorations' Facebook page.
This Antarctica cruise review was written by an AdventureSmith Explorations crew member. Use the AdventureSmith team's Antarctica cruise reviews and small ship cruise reviews for insights to inform, inspire and book your next trip aboard a small cruise ship. For dates, rates and booking information on this trip, see Antarctic Explorer, or contact one of our Adventure Specialists to learn more about our small ship cruises and wilderness adventures: 1-800-620-2875.