AdventureSmith Explorations Adventure Specialist Leslie Camacho reviews her Antarctic Latitudes expedition aboard the 114-guest Hebridean Sky. Learn all about life aboard the Hebridean Sky and its Citizen Science Program. Please note: The primary ship operating the mentioned itinerary can change from year to year, so the ship Leslie cruised on may no longer be sailing this exact route.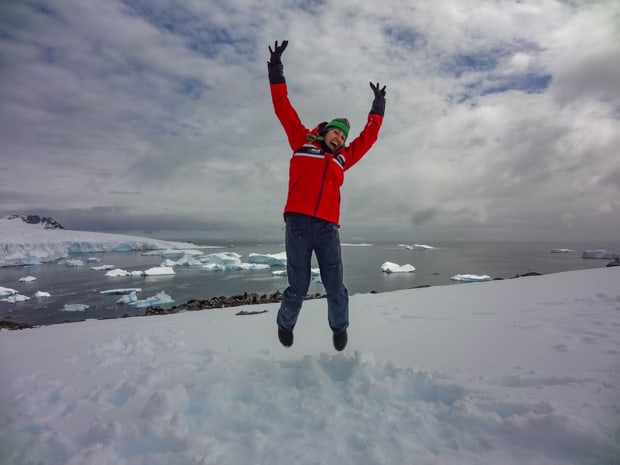 Antarctica represents a more profound manifestation of international peace than any other place in the world.
I imagine when Sir Ernest Shackleton ventured to Antarctica for his first time he was astonished by its magnitude and awe-inspiring display, both of which would later lead to multiple returns and adventures. Those early explorations have led not only to impactful scientific research but also an influx of tourism. As described by the International Association of Antarctica Tour Operators (IAATO), of which AdventureSmith Explorations is a member, "Antarctica represents a more profound manifestation of international peace than any other place in the world." I couldn't agree more.
Exploring Buenos Aires & Ushuaia, Argentina
To cruise to Antarctica, you first need to get to Ushuaia, Argentina. Most, if not all, flights will have you stopping in Buenos Aires (BA) first. If you haven't been there before, make sure to add Buenos Aires into your itinerary, even if it's for a day. In a day I was able to get in four hours of walking through the popular districts of Palermo, Recoleta and San Telmo. Each offers something unique such as food, clothing, architecture, etc. Be sure to have your camera ready! A trip to BA would not be complete without a steak meal followed by a tango show. AdventureSmith easily arranged a package for me that included transportation and a wonderful, energetic English-speaking guide. Whether you're traveling alone, with a partner or with friends having a seamless pre-Antarctica travel experience makes for a nice touch.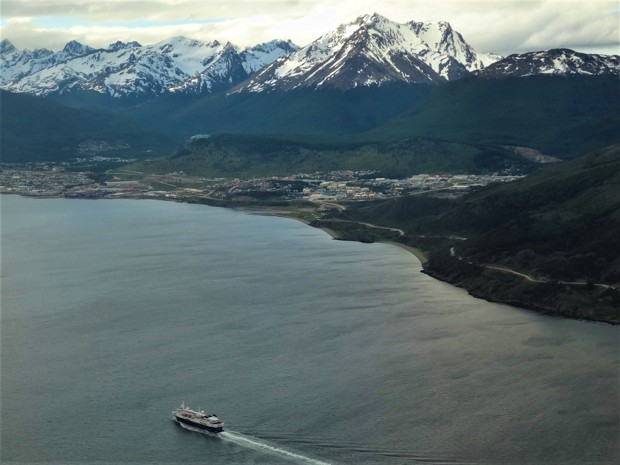 Arriving into Ushuaia, my real adventure began and the reality of sailing to Antarctica set in. I was traveling aboard the Hebridean Sky, an elegant 114-passenger vessel. Conveniently, the ship's crew picks you up from the Ushuaia airport and takes you to your included pre-accommodation at the luxurious Hotel Arakur. A 15-minute drive from the airport through town lands you at this gorgeous hotel located on a small hill above the town of Ushuaia and boasts amazing views of the Beagle Channel. There's a bar, gym, spa facility and restaurant located in the four-story hotel. Breakfast is served on the downstairs floor surrounded by floor-to-ceiling windows providing ample views from any table.
Though I arrived on the last flight into Ushuaia, 7:15pm, and didn't get checked in to my hotel until almost 9pm, the sunlit town permits one to venture around and eat no matter what time you arrive. Walking around the brightly lit town at 9pm was perplexing and amazing at the same time. It is similar to any other mountain town with trendy expedition stores, touristy shops and restaurants, all of which can be found on two main streets: Maipu and San Martin. The following morning, I took the ship's optional day tour to Tierra del Fuego National Park, which was convenient due to hotel check-out being at 10am and embarkation scheduled at 5pm. The tour offered ample time to walk around and included three stops to different areas in the park, each providing opportunities to view the sub-Antarctic forest, bluish-green lakes and breathtaking mountain scenery. The tour finished at the end of Pan-American Highway that starts in Alaska and goes all the way down to Tierra del Fuego.
Embarking the Hebridean Sky & Crossing the Drake
The Hebridean Sky had been visible at dock since my arrival the day before. She was a bit smaller than expected for an icebreaker but was still vast in size compared to most small expedition vessels. We transferred by bus to the ship, which took about five minutes from the arranged meeting point; boarding promptly started at 5pm. We were welcomed aboard by the crew and with exquisite appetizers. Our passports were collected as we checked in and were directed to our rooms where all of our bags, muck boots and polar jacket were conveniently waiting for us. A safety briefing was provided with a hearty meal to follow.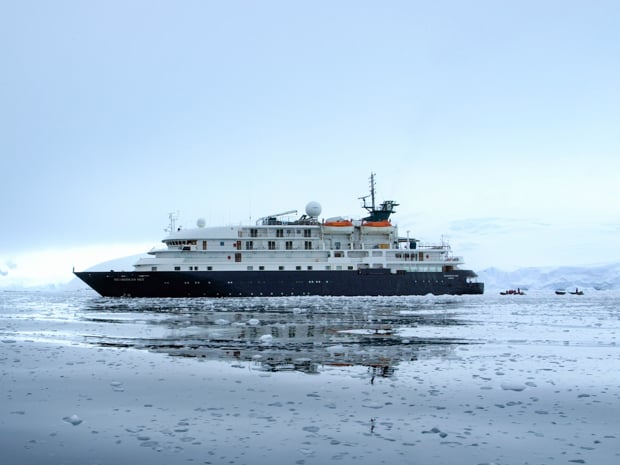 I was placed in a Deck 4 Promenade Suite, which I shared with another female traveler and offered ample space for two. The décor was elegant and each cabin category had a different color scheme, which I found to be somewhat over the top but then again they do aim for luxury. Speaking of luxury, each cabin category beginning with the Promenade Suite and above includes a small bottle of champagne and chocolates upon arrival, as well as a complimentary mini bar that included beer, wine and soft drinks. This additional touch made it feel like we were in a first-class hotel rather than a polar expedition vessel.
Aboard Hebridean Sky, it felt like we were in a first-class hotel rather than a polar expedition vessel.
Breakfast and lunch were buffet style and they even provided smaller lunch portions, typically paninis and soup, on the fourth-floor lounge. On the first and last two days, these smaller lunches were appropriate due to crossing the Drake Passage, which left most feeling queasy and less hungry. Dinner was plated and served after each day's recap and briefing. It came with options of an appetizer, soup, entrée and dessert. The meal is nicely paired with a glass of white and red wine, which is kindly refilled per your requests. One of the meals that stood out the most to me was white asparagus served with crispy prosciutto and hollandaise sauce followed by a main course of braised lamb shank. There was also always delectable vegetarian and fish options each night. Since most of the staff in the galley were from the Philippines, we were spoiled with a traditional Filipino dinner. The dishes were so authentic and delicious I thought I had been whisked off to Manila. Be sure to step out of your comfort zone and prepare to be amazed! Randy, the music man, often played the piano and guitar in the upstairs bar lounge after dinner. Bartenders were less experienced than expected, but the bar was nicely stocked with liquors and local bottled beers.

The Drake Crossing was just as I had expected, rough and choppy. The boat handled this well, but I still felt the typical side-to-side rocking motion and had trouble sleeping through the night. We were blessed with having the wind to our stern, which pushed us to the Shetland Islands hours before expected and enabled our first shore landing a day early. This excursion was just one of the continuous reminders of how dynamic Antarctica is—expectations and plans are constantly changing so you must be prepared to go with the flow.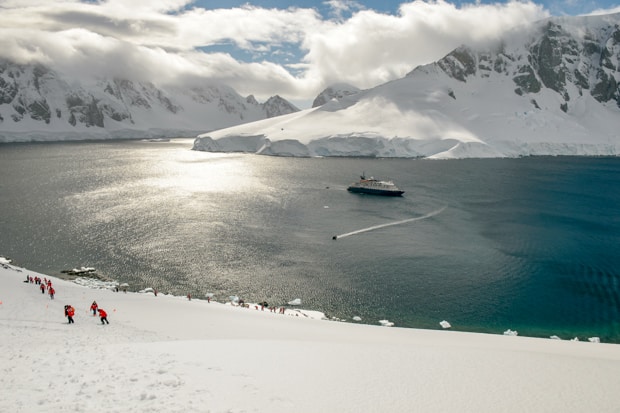 Antarctica: Wildlife & Citizen Science
For the following five days, Zodiacs whisked us off once, if not twice, a day onto shore where we got to encounter colonies of gentoo, Adelie and chinstrap penguins, as well as herds of sea lions and seals. Their excremental smell was ghastly, but expected and welcomed. Everyone was always so giddy once back on the ship; laughter and excitement could be heard from all corners.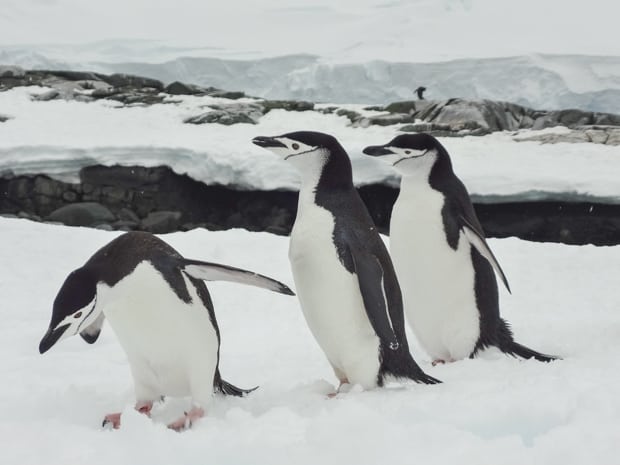 Once on land guides set up walking paths clearly designated by flags and were always close by to answer any questions. On certain Zodiac rides it would be snowing and/or raining which is when having goggles came in handy. In my small day bag, I always had my goggles and sunglasses, as well as polar gloves and glove liners, just to be ready for any occasion as the weather changed drastically.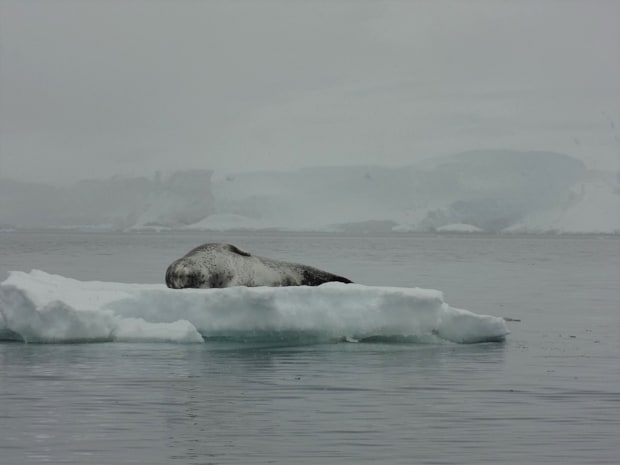 Wildlife spotting on the Zodiac rides was astonishing. On one of our rides we spotted a leopard seal sleeping and got close enough yet not so much to disturb its nap. On another remarkable occasion we got to view humpback whales bubble feeding, something I'd only heard of. When we got back on the ship and were recollecting one another's experiences, one of the whales came back and gave an encore with an upside-down tail slap. Viewing this up close and hearing the indescribable sounds they make, brought me to tears of joy and excitement.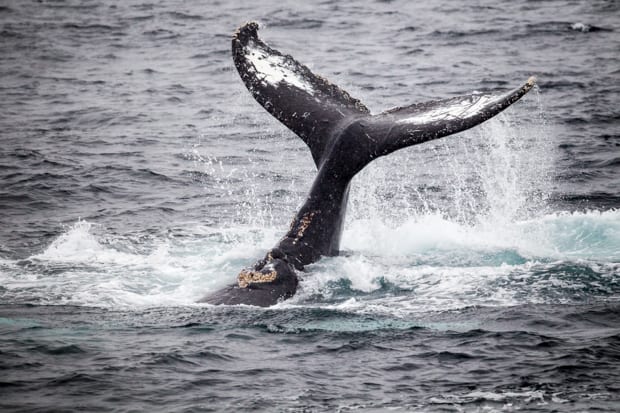 Each day we were presented with fascinating presentations on wildlife and history by the well-educated and energetic staff on board. On a clear beautiful day, we even got one of the most lavishing BBQs I've ever had; I was impressed at how well they put it together at the last minute.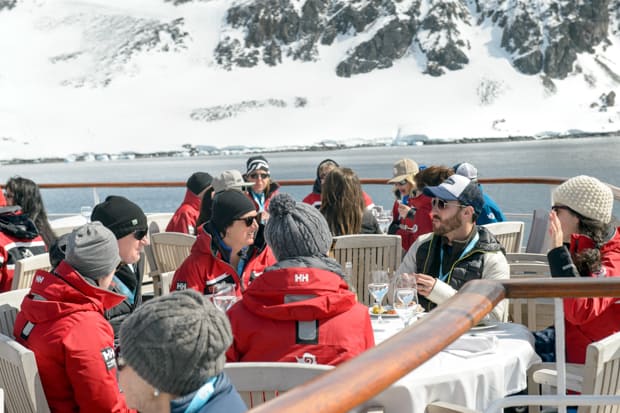 We were able to survey seabirds, track salinity and take phytoplankton samples through the onboard Citizen Science Program.
For me, the most fulfilling and inspiring activity was participating in the Citizen Science Program. This unique hands-on experience allowed us to collect data and document weather and water temperature patterns for various research centers, including Scripps Research Institute. While other expedition vessels instead use onboard staff to collect data, my fellow passengers and I were able to survey seabirds, track salinity and take phytoplankton samples ourselves, tying us directly into the current research. By offering this approach, our guides aim for us to take an interest and passion back to advocate for climate awareness and become Antarctic Ambassadors. Citizen Science was offered as an optional activity (included in the trip cost) on several days of the trip, and we were able to sign up onboard each evening to participate in the next day's research; those who choose to do so received an Antarctic Ambassador patch.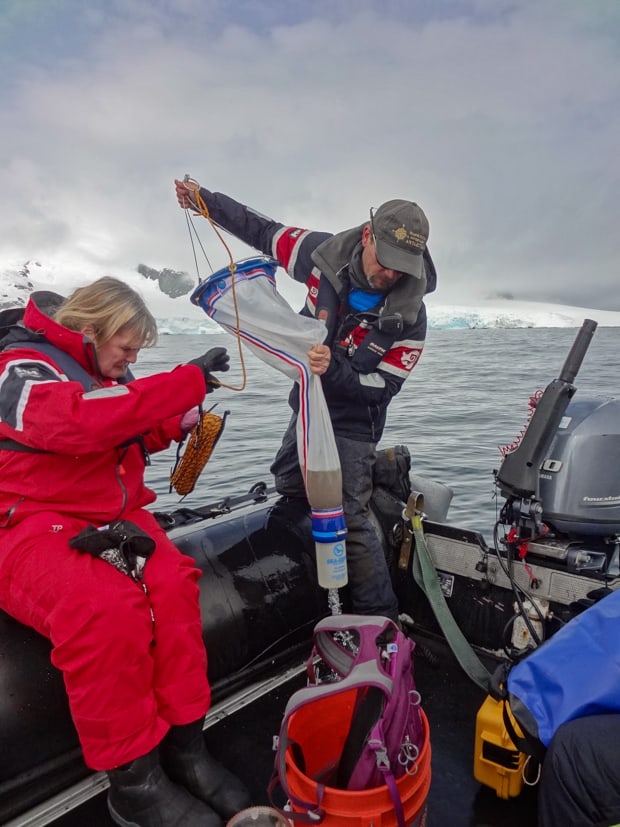 Before parting ways, we were presented with a nostalgic video of our 12-day Antarctica cruise that was conveniently saved onto a flash drive with additional documentation of the trip. Many were brought to tears, smiles and laughter knowing our time was abruptly coming to an end. A captain's dinner and champagne toasts were just some of the final touches to an amazing journey.
The number of adorable tuxedoed penguins was like being in a David Attenborough documentary.
During my time in Antarctica I couldn't help but become mesmerized by the sheer beauty of the snow-capped mountain slopes that created a yearning to whisk down them on skis. The number of adorable tuxedoed penguins was like being in a David Attenborough documentary, and the intoxicating excrement smelled somewhat delightful. Every one of your senses is touched in Antarctica, allowing you to feel engulfed in the true wild. The different shapes and sizes of icebergs were beyond imagination and their hues of blues and greens can barely be replicated through a camera. That this place exists on Earth is absolutely mind boggling and brought sheer gratitude to my heart. That I was able to witness this so up close and personal is something only a small ship cruise can offer.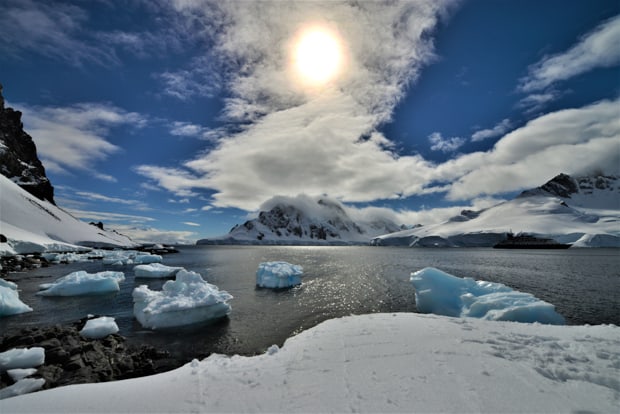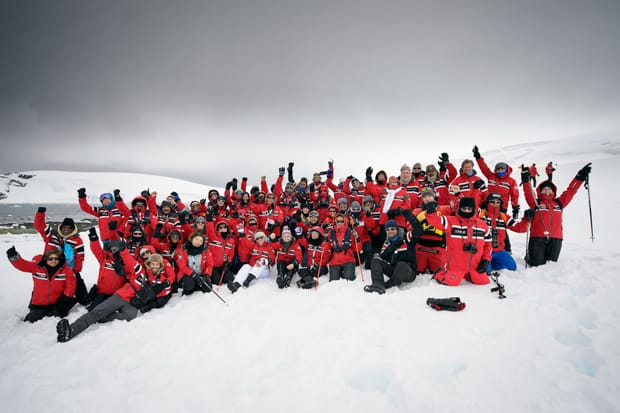 Photos in this post taken by Leslie Camacho, as well as onboard photographers Mathew Farrell and David L. Raines.
For more photos from this trip, including penguins and icebergs, view my Facebook album on AdventureSmith Explorations' Facebook page.
This Antarctica cruise review was written by an AdventureSmith Explorations crew member. Use the AdventureSmith team's Antarctica cruise reviews and small ship cruise reviews for insights to inform, inspire and book your next Antarctica trip aboard a small cruise ship. 1-800-728-2875.