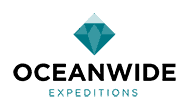 Oceanwide Expeditions is a Dutch vessel operator, organizing polar voyages that make it possible for passengers to enjoy the scenery and nature above and underwater in the world's most unique areas. The polar regions visited during these wildlife expeditions contain hardly any infrastructure and are almost only reachable by boat.
Oceanwide Expeditions History
The Dutch "Plancius Foundation" (1981-1996) was the predecessor of Oceanwide Expeditions, the first cruise operator ever to organize on a yearly basis expedition cruise voyages to and around Spitsbergen with the vessel Plancius (since 1983). A passion was born and Oceanwide Expeditions continued with the activities of the Plancius Foundation in 1996. Based in Vlissingen, The Netherlands, Oceanwide Expeditions has earned itself an outstanding reputation as the world leader in small expedition vessels off the beaten track offering adventure and wildlife experiences in the Arctic and Antarctic Polar regions.
Oceanwide Expeditions Fleet
Oceanwide's vessels comply with highest international safety standards. The ships allow the professional crew to navigate safely through pack-ice and remote narrow waterways. The size, capacity and capability of this fleet of small ships have proven to be a successful formula for exploring the remote regions for many years. Oceanwide's expedition vessels offer a comfortable, friendly, intimate and informal atmosphere.
Polar Expertise & Experience
Oceanwide Expeditions has built an extensive knowledge of the Arctic and Antarctica. Their cruises are constantly modified and enhanced to guarantee safety and improved quality. Their voyages have been carefully prepared and developed (routing, regulations, provisioning, crewing, excursions, etc.) and are empathic to the natural conditions of the areas concerned and therefore unique in their design. During Oceanwide Expedition cruises, daily excursions in small groups are offered. Experienced tour leaders show you the most interesting aspects of the areas, often illustrated by lectures on board the vessel. Most lecturers come from a scientific background. Sailing schedules are always adapted to local sea ice conditions, and Oceanwide is known for good and basic standards for the service and comfort offered to all passengers on board the ships.
Oceanwide Cruises
Oceanwide Expeditions offers unique, small-group expedition cruises that allow passengers to enjoy the natural wildlife and scenery of some of the world's most spectacular and pristine shorelines, above and below the oceans. The size, capacity and capability of their ice-strengthened fleet have proven to be a successful formula for many years. Accommodation and on-board-life is cozy and comfortable. Oceanwide cruises are primarily defined by an exploratory travel program, spending as much time ashore as possible, combined with educational lectures on board. They are also flexible, easily changing the course of the vessel with inflatable Zodiacs ready in no time for cruises among ice-floes or local wildlife. A friendly and experienced international crew, expedition and hotel staff, most of whom have been with the company for many years, are anxious to share their enthusiasm and knowledge with guests. Reliable expedition ships, completely rebuilt and operated under the supervision of Oceanwide Expeditions, allow Oceanwide to navigate safely through pack-ice and occasional remote narrow waterways.
Why Choose Oceanwide Expeditions
A five-time winner of World's Leading Polar Expedition Operator award, Oceanwide is passionate about polar expedition cruising. Distinguishing itself from other operators not only by setting its emphasis on educational lectures by experienced guides throughout the voyage but also by delivering an active shore program. Expedition cruises are designed for those travelers who wish to discover destinations from the inside – taking the "paths less traveled" to interact with and learn about nature, local cultures, rather than simply checking off touristic spots, and experiencing true wilderness settings in the world's most remote and pristine location.
View all our Antarctic cruises, Arctic cruises and our full list of the best Antarctica cruise lines.