As a leading authority of Antarctica cruises, we are often asked "What is the best Antarctica cruise line?" Below we have compiled a curated list of the best Antarctica cruise lines.
Our experts outline why each Antarctica cruise line shines and why travelers might consider choosing them. If you are seeking cruise lines that go to Antarctica, you are in the right place. Find your best Antarctica cruise line then contact us to plan your dream trip.
The Best Antarctica Cruise Lines
The logistics of operating cruises in Antarctica are formidable and not to be taken lightly. These cruise lines that go to Antarctica are the best in the business. Each cruise company is committed to safety, service, guest experience and environmental stewardship. We are proud to partner with the best Antarctica cruise lines in the world.
Antarctica 21
Antarctica 21, an expedition cruise line based in Punta Arenas, Chile, pioneered the concept of air cruises to Antarctica. This innovative concept of combining flights from Chile to the Antarctic Peninsula gave birth to an entire industry. Since their first cruises in 2003, many polar operators have copied the idea. In 2019 they applied their cumulative experience to design, build and launch the Magellan Explorer, custom built their Antarctic Air Cruise.
Why Cruise with Antarctica21
The logistics of operating a fly-and-cruise program in Antarctica are enormous. Antarctica21 has the right mix of strategic partnerships, operational experience and exceptional leadership that it takes to be at the forefront of this unique niche in expedition travel. More than an Antarctic cruise line, they are an air cruise institution.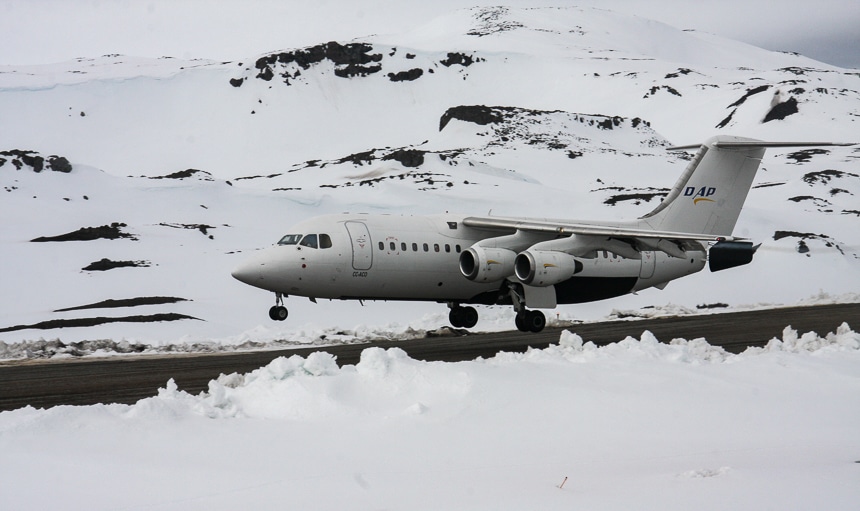 Antarpply Expeditions
Based in Ushuaia, Argentina, and operating only one ship of the same name, Antarpply Expeditions offers some of the most intimate and affordable Antarctic cruises available. Originally built for the United States agency NOAA (National Oceanic & Atmospheric Administration), the 90-guest Ushuaia is one of the smallest ships operating in Antarctica.
Why Cruise with Antarpply Expeditions
Antarpply keeps operations simple and straightforward, with one ship currently sailing all their itineraries. This offers guests a consistent onboard experience, with more specialized operational touches that only a small Antarctica cruise company, and a small ship like the Ushuaia, can provide.
Aurora Expeditions
With a history of pushing the boundaries of expedition travel, Aurora Expeditions is known for pioneering several activities such as scuba diving and climbing in Antarctica. Indeed, they distinguish themselves from other small cruise lines by their selection and quality of extensive off-vessel activity options. They were the first adventure cruise company to introduce a passenger vessel, the Greg Mortimer, featuring Ulstein X-Bow technology.
Why Cruise with Aurora Expeditions
Choose to cruise with Aurora Expeditions for more extensive adventure such as camping, sea kayaking, snowshoeing, ski and snowboard touring, scuba diving, snorkeling, trekking, ice climbing and stand-up paddleboarding. Aurora is also 100% climate neutral and their Sustainability in Action program features reduced fuel consumption and single-use plastics, women in conservation, environmental volunteer projects, and eco-friendly products aboard and in the office.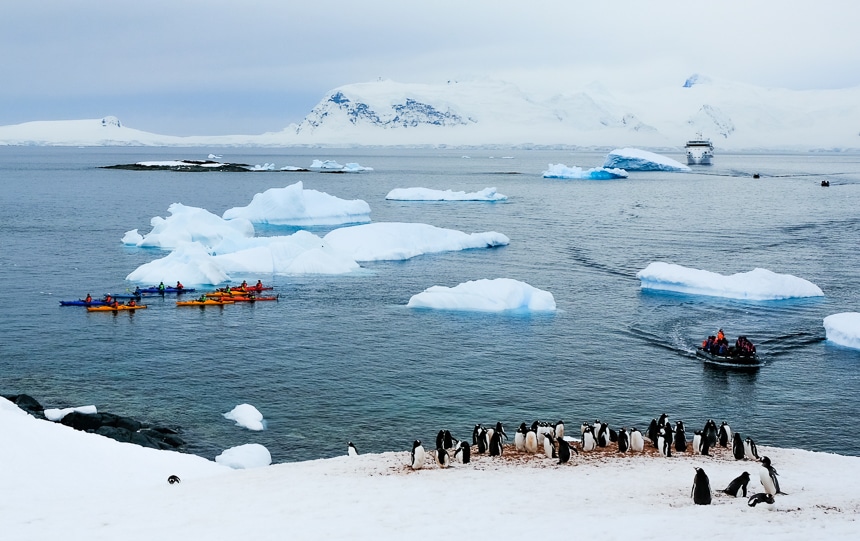 G Adventures
G Adventures is an adventure travel pioneer offering one of the largest selections of affordable and adventurous expeditions, including polar sailings on their flagship vessel, the 134-guest M/S Expedition. Destinations like Antarctica are deeply rooted in their history of taking small groups of curious adventure seekers around the world.
Why Cruise with G Adventures
The company's specialty lies with why they do what they do, more than where they go. Their style is to embrace authenticity, exotic cuisine and local traditions to connect travelers with the region's landscapes and wildlife. G Adventures' commitment to sustainable, environmentally conscious travel is part of everything they do with commitments around the world towards giving back to the communities and environments they travel in.
Intrepid Travel
Intrepid Travel has been an industry leader for over 30 years, using travel as a force for good. Intrepid is the largest travel industry B Corporation, and they've been raising standards since 2018, creating benefits for all stakeholders: travelers, staff, suppliers, shareholders, and the environments and communities they visit. The Intrepid Foundation, Intrepid's philanthropic non-profit, provides visibility, connection and financial support to various organizations around the world.
Why Cruise with Intrepid Travel
Cruising in Antarctica with Intrepid is a feel-good opportunity. Your Antarctica voyage is carbon-neutral; in fact, 125% of emissions are offset. The company is working toward 100% renewable energy. And in Antarctica, Intrepid partners with World Wildlife Fund researchers, sources sustainable seafood, avoids single-use plastics and provides biodegradable toiletries. Also, they can get 100 guests off the ship via an impressive fleet of 22 Zodiacs.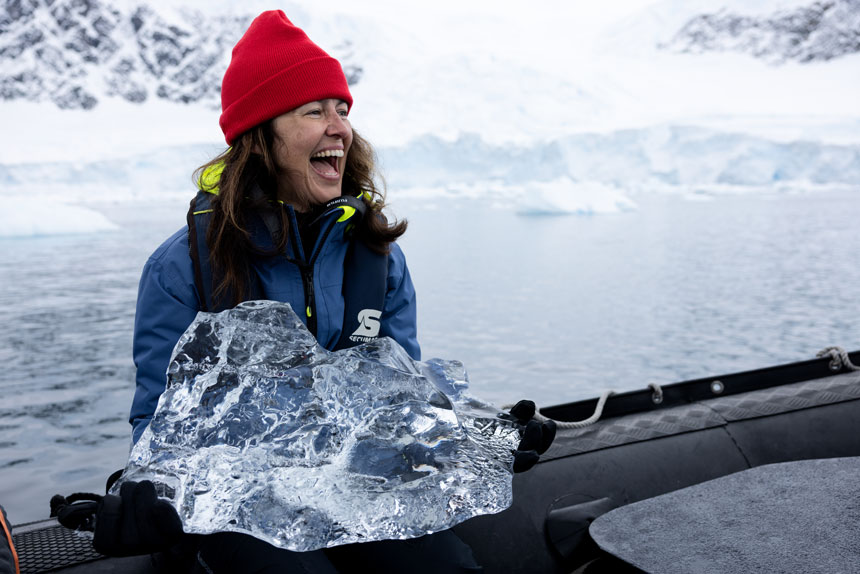 Lindblad Expeditions
Lindblad Expeditions is a pioneer in small ship expedition cruises and one of the biggest names in small ship cruising today. The company is synonymous with exploration, education and conservation. Operating under the idea that a cruise is passive but an expedition is active, Lindblad delivers an authentic and exhilarating travel experience through all-five-senses engagement with the world's most exotic locations worldwide.
Why Cruise with Lindblad Expeditions
Lindblad's reputation for being at the top of the expedition market is well deserved. A cruise aboard any one of Lindblad's small ships is marked by a top-notch expedition team with some of the best service in the industry. Despite Lindblad's luxury price tag, the onboard atmosphere is casual and practical in an expedition style. The true value is in the naturalists, historians, undersea specialists, guest lecturers, highly trained guides and partnership with National Geographic. Choose Lindblad Expeditions if you are seeking the highest quality onboard educational programs and intellectual stimulation.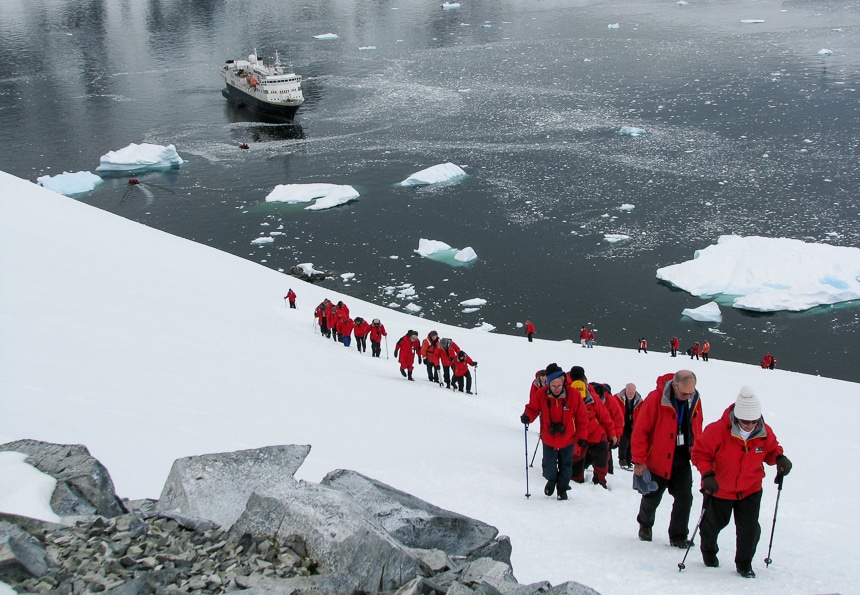 Oceanwide Expeditions
Oceanwide Expeditions is a Dutch vessel operator specializing only in polar cruising. Like the Dutch cartographers of their namesake ships, they follow meticulous attention to detail and refinement because safety and experience depends on it. Their fleet of three expedition ships are not fancy but known for excellent standards of service and comfort. Oceanwide operates a unique Antarctica basecamp cruise which is popular with travelers seeking ample opportunities for active exploration.
Why Cruise with Oceanwide Expeditions
A five-time winner of the World's Leading Polar Expedition Operator award, Oceanwide is passionate about polar expedition cruising. The company distinguishes itself from other operators with an emphasis on educational lectures by experienced guides and by delivering an active shore program.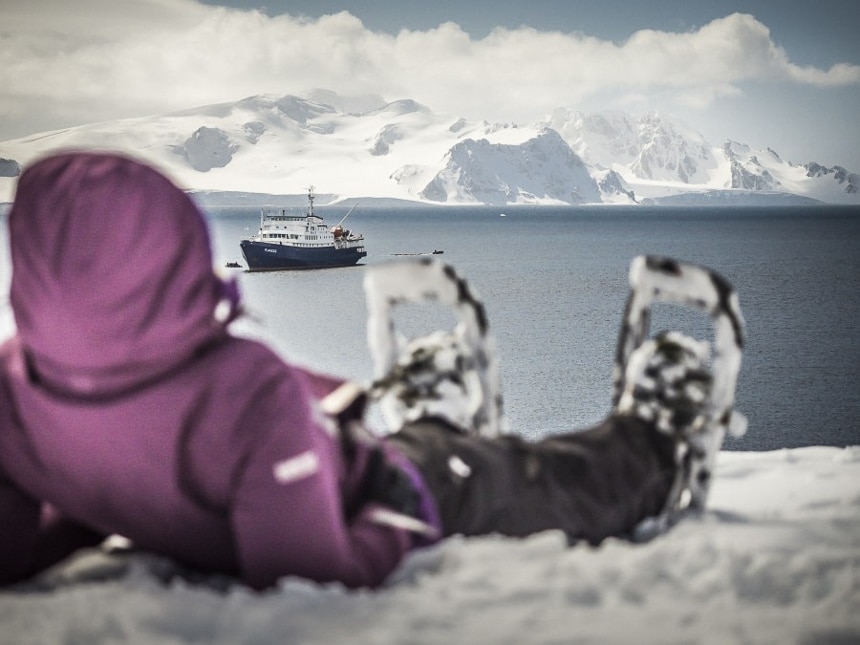 Polar Latitudes
Founded in 2010 by a group of veteran polar specialists, Polar Latitudes wanted to buck the trend of ever larger ships with more berths. The company aims to preserve the atmosphere and camaraderie, as well as the level of service, that can only be sustained aboard smaller vessels.
Why Cruise with Polar Latitudes
People and passion distinguish Polar Latitudes. The company only cruises in Antarctica and this singular focus results in a deep knowledge of the continent. They are founder-owned-and-operated and it may be the only Antarctica cruise line where you might find an owner driving you on a Zodiac excursion.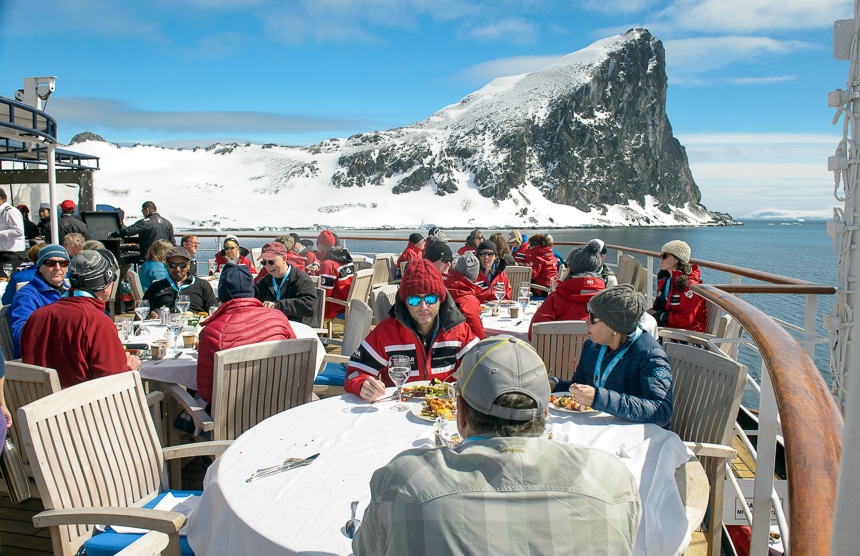 Ponant
Ponant is the world's only French cruise ship operator specializing in intimately sized luxurious small ships all flying under the French flag. Their fleet of small expedition ships are the finest available. The "French touch" is exemplified by the presence of French Naval officers, elegant cuisine and internationally recognized interior design. French and English are spoken on board.
Why Cruise with Ponant
If you are seeking to explore aboard the most luxurious Antarctica ships available, Ponant is for you. You will not sacrifice experience for comfort as the off-vessel expedition program is exceptional.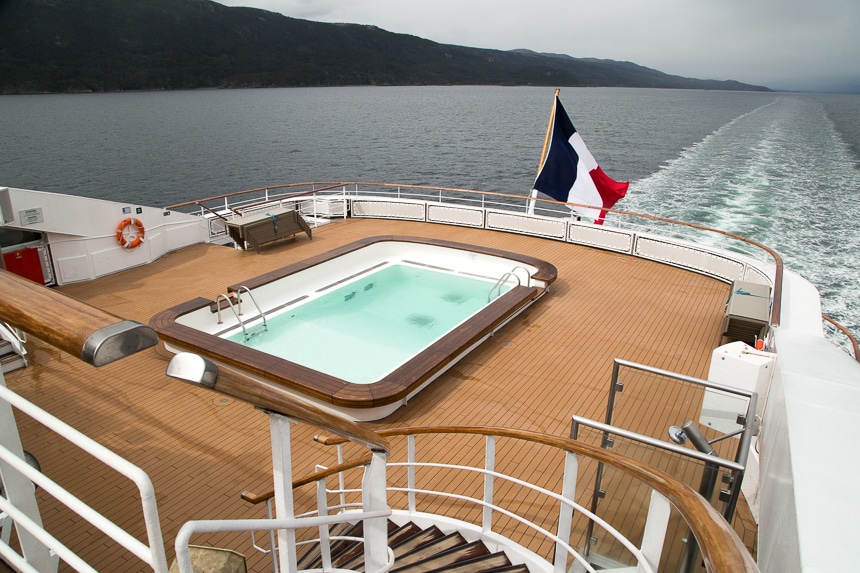 Poseidon Expeditions
Poseidon Expeditions is one of the leading providers of polar expeditions in the cruise industry. Founded in 1999, the company is a recognized leader in icebreaker cruises. Poseidon is very well known for their Arctic cruises and has successfully navigated to the North Pole well over 100 times. The company brings this expertise to Antarctica with an experienced expedition crew, a luxury expedition ship and a commitment to sustainability.
Why Cruise with Poseidon Expeditions
Poseidon offers an upscale ship and one of the best staff-to-passenger ratios in Antarctica. Choose this Antarctica cruise line to combine the spirit of adventure with a generous measure of onboard comfort and well-being.
Quark Expeditions
Quark Expeditions is a recognized leader in polar cruising and offers the widest array of Antarctic expeditions on the planet. The company boasts a number of firsts including the first non-scientific visits to emperor penguin rookeries, first circumnavigation of Antarctica for commercial passengers, and the discovery of the emperor penguin rookery at Snow Hill Island. In 2015 they were recognized as the World's Leading Specialty Cruise Line at the World Travel Awards.
Why Cruise with Quark Expeditions
When you cruise with Quark Expeditions, you can rest assured that you are traveling with one of the most conscientious companies in the polar expeditions industry, from safety standards to customer service and sustainability. Many of the most interesting itineraries and routes are offered by Quark Expeditions.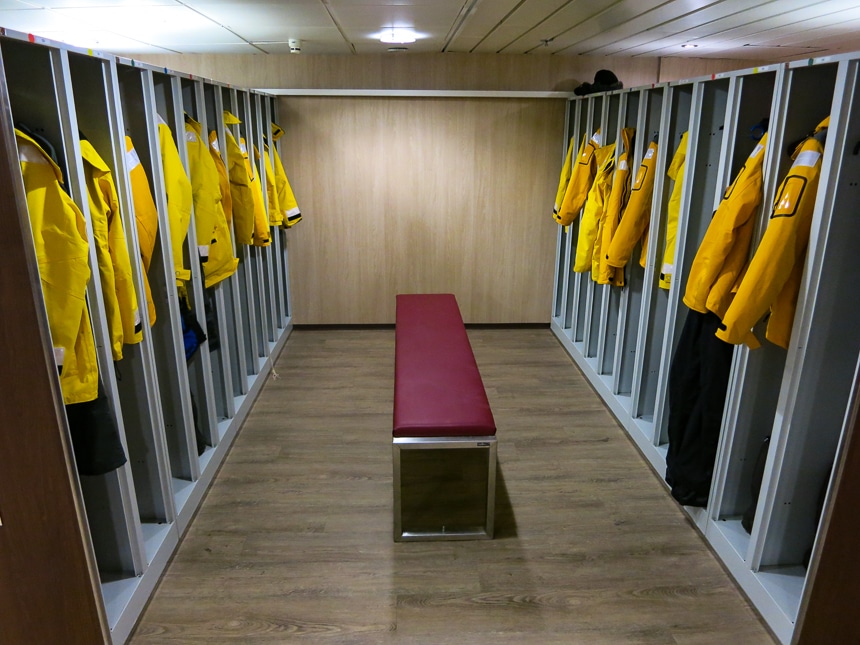 How Does AdventureSmith Select the Best Antarctica Cruise Lines?
We created this list of the best Antarctica cruise lines based on several factors. First and foremost is operational safety and experience in polar cruising. Off-vessel exploration and activity program logistics are an important consideration. Onboard programs, lectures and the experience of the expedition crew are critical for a top ranking.
The ships themselves must be polar class but ship amenities are a secondary consideration. There are ships for every style and budget, from simple research ships to extravagant luxury expedition ships. Take a deep dive to learn more about Antarctica expedition cruise ships.
Which Antarctica Cruise Lines Do We Recommend?
Each of the Antarctica cruise lines on our list is a good choice. We feel it is not our role to play favorites. Our job is to match the traveler with the right itinerary, ship and cruise line for their interests, budget and schedule. We take this commitment to our clients seriously and endeavor to personalize our recommendations.
View our full selection of partner small ship cruise companies and our full list of small expedition ships. Learn more about choosing a cruise in our Antarctica travel guide.
MORE ANTARCTICA RESOURCES:
Antarctica Travel Guide
Antarctica Cruises
Luxury Antarctica Cruises
Falkland Islands & South Georgia Cruises
Cruises with Flights to Antarctica
Best Time to Visit Antarctica
Antarctica Cruise Cost
How to Get to Antarctica
Things to Do in Antarctica
Places in Antarctica
Antarctica Ships
Antarctica Cruise Deals
Antarctica Cruise Reviews