Ponant is the world's only French cruise ship operator specializing in intimately sized luxurious small ships all flying under the French flag. They promise unforgettable moments away from major tourist routes in exceptional destinations such as Antarctica, the Arctic, the Caribbean and the Mediterranean.
Ponant's History
From the beginning Ponant has been dedicated to a dream of adventure and a taste for sophistication. They were committed to innovative and luxurious ships with a small capacity. Founded by a group of graduates from the French merchant Navy in 1988, the line launched with the mythical yacht Le Ponant. The fleet expanded through acquisitions until it began to build its own fleet of purpose-built luxurious explorer class and expedition class ships. Ponant continues to innovate, building the first hybrid electric polar explorer powered by liquefied natural gas (LNG).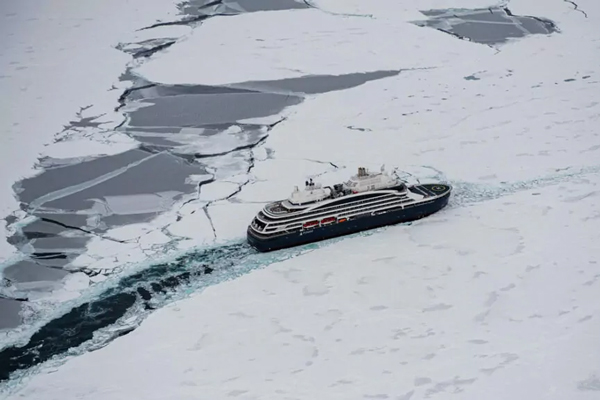 Ponant's Fleet of Ships
Ponant says its fleet is designed on a human scale. They offer exceptional voyages in luxurious onboard surroundings. Their ships are deliberately designed to be small. This ensures an air of exclusivity for passengers and attentive and personalized service.
Like a private yacht with a sleek, refined design, their fleet maintains maximum levels of passenger privacy and offers a 5-star personalized service on board. The legendary sailing ship Le Ponant is equipped with 17 cabins. The Ponant Explorers series feature 92 cabins. The largest ships in the fleet have 122-135 cabins.
The ships are equipped with the latest technologies, guaranteeing the safety and security of passengers and limiting impact on the environment. A sonar detection system is designed to prevent collisions with icebergs and reefs. A low-energy and low-heat-generating lighting system (LED and fiber-optic-based) minimizes fuel consumption. When needed, a dynamic positioning system enables the ship to be kept in a static position without the need to drop the anchor, thus respecting and preserving the seabed. Innovative equipment is central to the design of Ponant ships.
Traveling the French Way – Ponant's Style
As the only French cruise company, Ponant is an ambassador of "French Touch" around the world. French chefs create elegant and sophisticated menus every day based on fine food and quality products.
Ships are designed for a warmer, closer experience, so that you can bask in a cozy atmosphere comparable to a private yacht. The interior design is by the talented architect Jean-Philippe Nuel, who is internationally recognized.
The "French touch" is first and foremost established by the presence of French naval officers on board and a French and English-speaking crew. Both professional and attentive, ships' teams ensure that you are comfortable throughout your cruise. Because French elegance is always about the little details, you will find 5-star services, just like the best French hotels and restaurants.

Exceptional guest speakers on board for certain itineraries promote the best of French culture. All of them are ambassadors of unique French culture across every sea on the globe.
Why Choose Ponant
The choice is clear if you are seeking to combine luxury with explorations. Ponant is the cruise line for you. Do not let the polished veneer fool you, these are true expeditions with active and informative off-vessel activities. Especially in polar regions, Ponant has distinguished themselves as the luxury choice for discerning travelers.
Ponant & AdventureSmith
At first, we were skeptical that Ponant was a good fit for our active and up-close style of adventure cruising. Could a company with such luxurious ships and upscale service really pull off a true expedition program? The answer is an emphatic yes.
Once we experienced their cruises firsthand and spent time on their ships, we were assured Ponant is dedicated to an incomparable off-vessel experience. Activities are exceptional, guides and expedition leaders are talented, and they know how to operate a legitimate expedition program. We are pleased to offer a luxury alternative with the confidence that off-ship explorations will satisfy guests familiar with our adventurous style.
Ponant is on our list of the best Antarctica cruise lines.