An AdventureSmith expert returns to Antarctica—this time taking the long route to stop at the wildlife Mecca of South Georgia Island. Where is South Georgia in Antarctica? Learn all about the experience below to see if South Georgia should be a component of your Antarctica expedition.
My Return to Antarctica
In 2010 I traveled to Antarctica aboard the National Geographic Explorer (read my Expert Review). It was an incredible experience that I still think about and remember often to this day. We experienced the ice and wildlife of the Antarctic Peninsula. The unique highlights of this expedition were: Experiencing the Weddell Sea and the tabular icebergs, having a super pod of killer whales surround our ship, kayaking in Paradise Bay and walking among the chinstrap penguins on Deception Island.
In 2019 I had the opportunity to return to Antarctica on a longer voyage that also included sailing to South Georgia. Since 2010 I had longed to return to Antarctica and the ice. I had also dreamt of returning with better photography equipment than I had on my first Antarctica trip. Sailing to South Georgia as part of my return to Antarctica was an incredible experience; this account aims to inform travelers about what to expect on similar trips.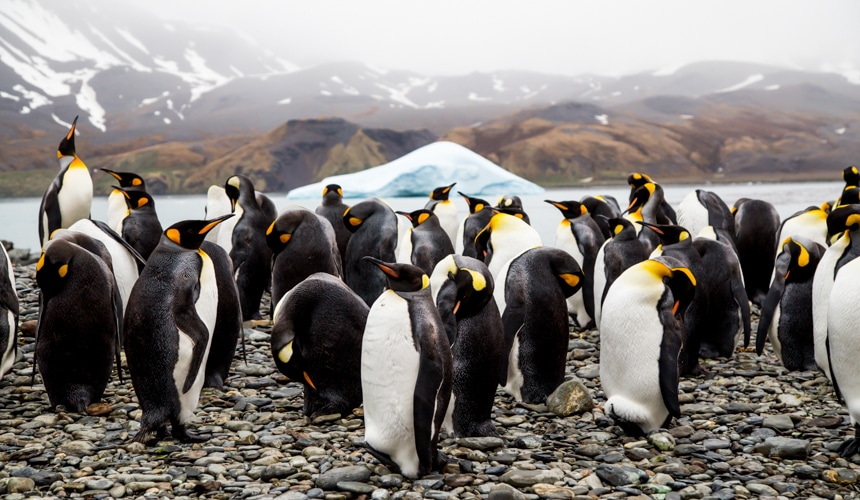 South Georgia Vs The Antarctic Peninsula
Both South Georgia and Antarctica are amazing and both represent some of the most iconic wilderness areas on earth. Voyages that include South Georgia are longer, requiring more days at sea, and in turn higher in cost than voyages focused on the Antarctic Peninsula. We therefore often have clients weighing these options and wondering if it is worth sailing to South Georgia as part of their Antarctica plans.
Most people see the Antarctic Peninsula as a must-visit destination for its icy environment as well as being one of the 7 continents to visit in a lifetime. South Georgia is just as remote as the Antarctic Peninsula and it also has large populations of penguins, seals (elephant and fur), sea birds and whales.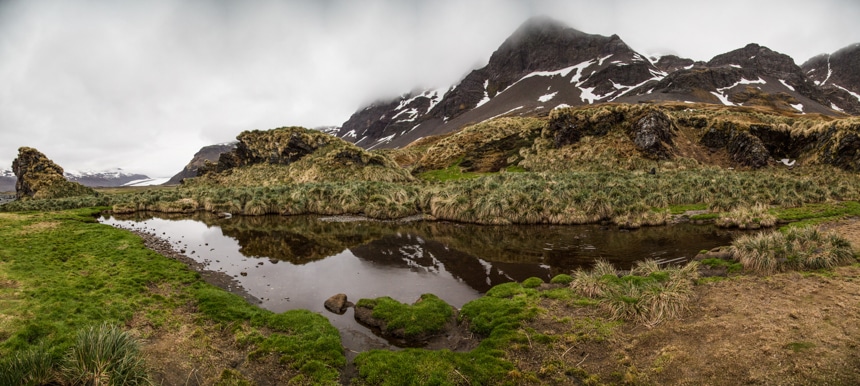 South Georgia also has interesting exploration history including sites you can visit during your voyage. For example, we visited Fortuna Bay where the Shackleton Expedition crossed in efforts to get help to rescue his stranded crew. It is also possible to land in Grytviken, where Sir Ernest Shackleton is buried in the cemetery and there are remnants of an old whaling station.
South Georgia's landscape has green vegetation and running rivers, which is quite different than Antarctica's ice-covered rock.
South Georgia is very scenic with high mountains, glaciers and rugged coastline. The landing sites where travelers can explore using Zodiacs are on the Eastern side of the island which has more sheltered bays and coves. A highlight of any South Georgia Expedition is walking among thousands of king penguins surrounded by unspoiled coastal and mountainous wilderness. The landscape has green vegetation and running rivers, which is quite different than Antarctica's ice-covered rock. For photography these contrasts in landscape are wonderful and the wildlife and bird density of South Georgia will leave any photographer with many amazing images and memories.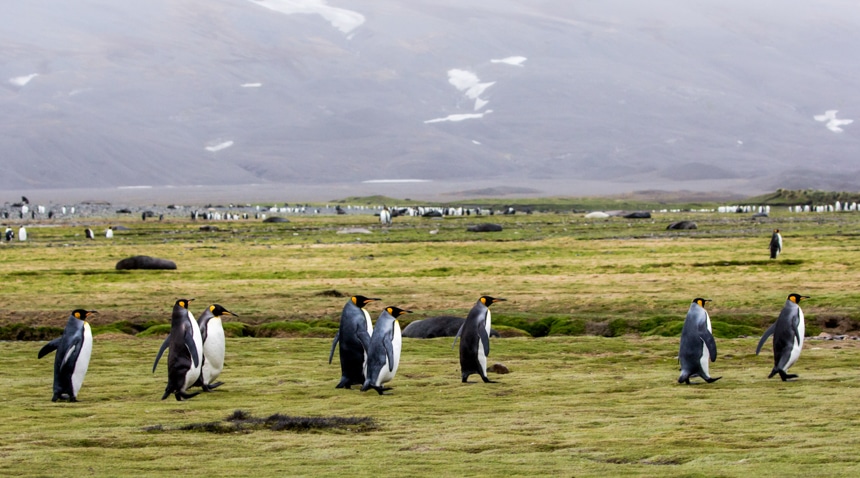 The Antarctic Peninsula, where small ship expeditions are focused, is covered in ice. Even the seas can be coated in sea ice in the early season, remaining further south later in the season. Glaciers, and icebergs which have broken off from large ice shelfs, become trapped in shallows and also float around the channels and fjords of the Peninsula. For me the icy environment is my favorite part of the Antarctic expedition experience. I love being in the quiet, cold, icy environment that is so very different than more temperate climates.
On Antarctic Peninsula voyages one can expect to see colonies of gentoo, chinstrap and Adelie penguins but for the large colonies of king penguins you need to go sailing to South Georgia. It is also likely that you will see whales and seals (crabeater, Weddell and leopard) during an Antarctic Peninsula voyage. We had some fantastic and very different whale sightings on both of my trips once we hit the peninsula.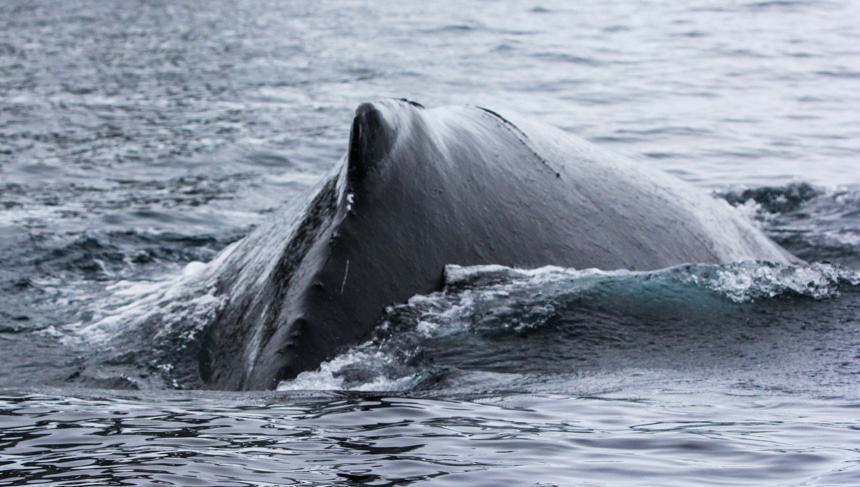 I believe that South Georgia complements the Antarctic Peninsula and that they are different enough to merit including both. I especially think that wildlife enthusiasts and photographers should consider including sailing to South Georgia if schedule and budget allow. I would put my experience in South Georgia in the same category of a top-tier wildlife experience such as an African safari, coastal Alaska cruise, or a visit to the Arctic.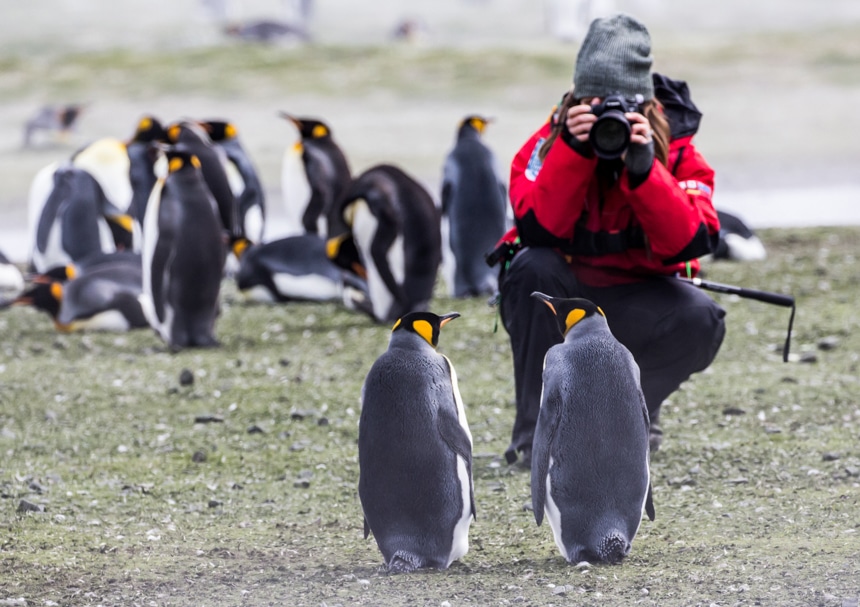 South Georgia Voyage Types
Falklands, South Georgia & Antarctica by Sea
This is the most common South Georgia voyage and also what I did. These trips range from 17-25 days aboard the ship but 19-22 days is most common. These voyages typically have approximately 7 days at Sea (1 day crossing from Ushuaia to the Falkland Islands, 2 days from the Falkland Islands sailing to South Georgia, 2 days crossing from South Georgia to the Antarctic Peninsula and 2 days from the Antarctic Peninsula to Ushuaia).
Falklands & South Georgia
We consider these voyages to be specialty expeditions that focus on sailing to South Georgia and the Falklands, and do not include Antarctica. These can be great for wildlife enthusiasts or photographers who want to focus on these areas and who have perhaps previously done an Antarctic Peninsula trip that did not include South Georgia.
South Georgia & Antarctica
These are less common and are therefore also considered specialty voyages. They do not visit the Falkland Islands and instead focus on sailing to South Georgia and the Antarctic Peninsula. These voyages typically include 15 days aboard the ship so they are ideal for those with less time but who still want to experience both South Georgia and Antarctica.
Air Cruises That Include South Georgia
There are certain specialty departures that will have a flight to/from the Falkland Islands and/or a flight between Punta Arenas, Chile, and Antarctica, which can eliminate 1-3 days at sea. Our Antarctica experts can assist you with the details of these specialty voyages which are typically about 16 days aboard the ship.
South Georgia Expedition Operations & Sites
South Georgia expeditions operate similarly to voyages in Antarctica and other wilderness destinations. There are environmental restrictions that the vessels and expedition team follow to ensure that no cross-environmental contamination occurs from passengers going ashore. More details about this are included in the trip planning materials for your voyage/vessel and will also be reinforced through communications and presentations from the expedition leader and staff aboard your voyage.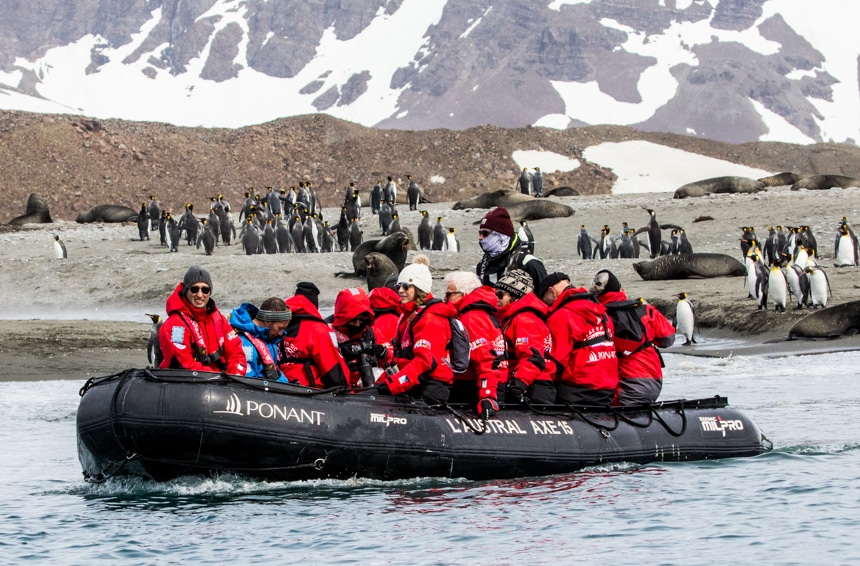 South Georgia expeditions focus on the Northern and Eastern sides of the island which is where the main large colonies of king penguins can be observed and there are many bays, coves and inlets to explore. Like Antarctic Peninsula expeditions, specific sites are often not mentioned before the trip because this is truly an expedition itinerary where the Expedition leader and vessel captain will consider the weather, sea conditions, wildlife opportunities, etc to determine the best course during your time sailing to South Georgia. They have a goal of operating two excursions off of the ship per day when conditions permit. They will always be making a plan A, B, C and D because the weather and seas can be variable, so flexibility is key during this part of the trip in the same way it is during the Antarctic Peninsula days.
South Georgia, like the Antarctic Peninsula, is a remote wilderness destination without piers, docks or ports so all landings will be made with Zodiacs and passengers will wear their expedition boots, waterproof pants and expedition jackets, just like in Antarctica. The expedition team will have team members assisting in loading the Zodiacs and also they will be there to welcome passengers ashore and assist them in getting out of the Zodiacs and ashore safely before being briefed on the landing site and timeline for the landing.

Highlights From My South Georgia Expedition
Salisbury Plain: Beautiful Scenery & Massive Numbers of King Penguins
We awoke and outside our windows and balcony we saw groups of king penguins swimming alongside the ship. It was a sunny morning and we also saw our first views of South Georgia's mountains and glaciers. We landed in the morning at Salisbury in South Georgia. Landing in South Georgia is completely surreal. The expedition team makes sure the landing area is safe and clear of fur seals but when you first get out of the Zodiacs you are completely surrounded by wildlife.
The excitement and stimulation left us in awe as we walked up the beach getting our first views of king penguins, elephant seals and fur seals up close. We walked with Petra, a bird expert from the expedition team who accompanied us through the flats, stopping often to discuss the wildlife and any questions we had. She also pointed out a fur seal that was born just an hour or so before our arrival.

There are 60,000 nesting king penguins at Salisbury as well as elephant seals and fur seals. There were many dispersed groups of king penguins and towards the end of our walk there was a big colony that rose up from the plain to a hillside where many chicks and adults were grouped together. King penguins are perhaps the most striking species with their contrasting black-white and bright yellow-orange head coloration. They are curious as well and will often come right up to you and investigate for a closer look.
We had 2 hours ashore for our morning landing which was plenty of time to walk leisurely to the main part of the king penguin colony and back, along with a significant amount of time at the colony itself. At the colony we got our first look at vast numbers of king penguins along with their brown fluffy chicks from the previous season.
Beyond the immense wildlife presence, the landscape is beautiful to behold. Creeks and small shallow rivers wind through the green flats as striking jagged snowy peaks and ice fields loom above the approach to the colony. As we took in the size of the colony, the weather changed and wind and some low-hanging fog moved in. It made for a softer, more even light and an interesting aspect for photos and videos for our way back to the landing site.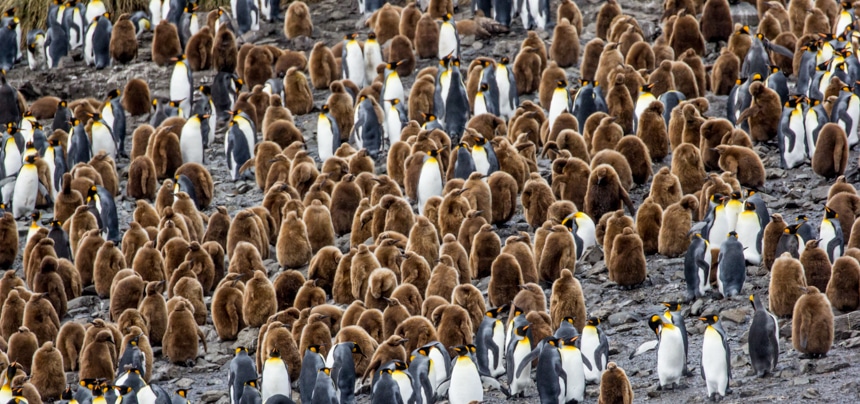 Fortuna Bay: Tundra & King Penguin Chicks
Our landing in Fortuna Bay met us with light rain and low-lying clouds woven through the green- and olive-colored mountainsides. The landscape is reminiscent of Svalbard with a similar lack of trees and instead tundra-like vegetation surrounding rocky featured slopes. Fortuna bay had a bigger presence of fur seals and the expedition team was on hand to escort us safely through some areas of the beach that have more aggressive male fur seals.
As we walked toward the main king penguin colony at Fortuna Bay, we wound past small rivers and pools where baby elephant seals congregate, already left behind by the parents who had gone to sea to feed. There were still a few adult elephant seals around and their size is something to behold in person. This king penguin colony was a similar distance from the water as in Salisbury, but the colony is still on the flats vs up on the hillside so we were able to get closer to the chicks and parts of the colony appeared denser than Salisbury even though the number of breeding pairs is actually fewer.

We had soft even light again for photography so even though the light rain made it a little tougher, we still got a lot of great shots. The flats leading up to the colony also had some interesting rock features as well as some reflective ponds and rivers where you could occasionally get some great shots of penguins with their reflections. There were also a couple big icebergs in the bay that you could use as a backdrop behind the penguins for some great shots as well.
Grytviken: Explorers, Whalers & Natural History
Our two-hour landing in Grytviken was mostly focused on the explorer and whaling history of South Georgia, though the site does still have nice mountain scenery and fur seals, elephant seals and some scattered penguins. They have some nice museums to visit which are small but well curated with many interesting things to see, including a replica of the James Caird lifeboat taken by Shackleton from Elephant island on his sailing to South Georgia. They also have relics representative of the explorers, whalers and natural history of South Georgia. Both the museum and the post office have a gift shop.
We landed near the cemetery where we saw Shackleton's final resting place. We wondered what Shackleton would think about luxury expedition ships sailing to South Georgia. Near the landing site there were fur seals and elephant seals to navigate through. Our walk led us first along the shore and later on a pathway through the historic structures and machines of the whaling station. We sent postcards and bought a couple of things but mostly we walked around and took some photos of the old whaling station and machinery, as well as some landscape shots of the valley and the church lying within. It was a nice place to take pictures with the historic buildings and machinery, with the mountainous scenery as a backdrop.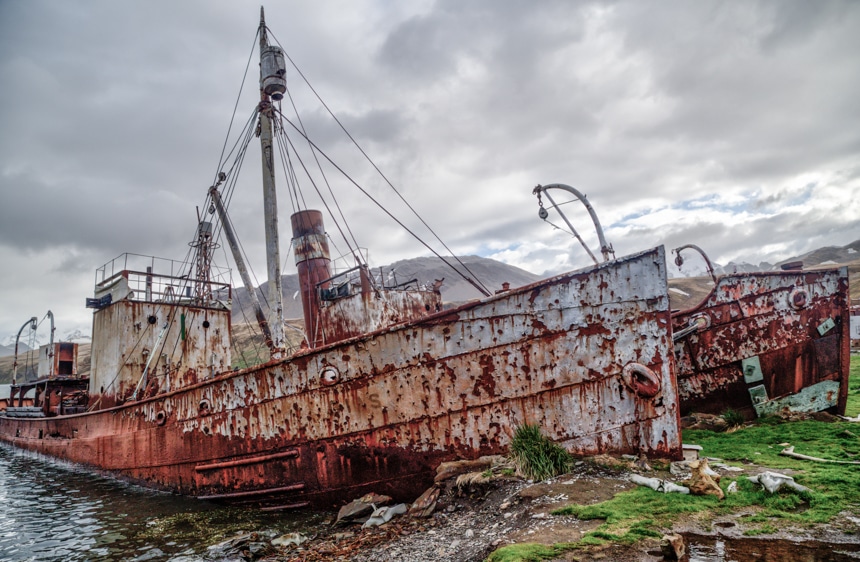 Jason Harbor: Learning About Elephant Seals
Weather was cloudy but we landed on the beach among fur seals. There were also a lot of elephant seal pups to the left of where we landed. We walked with a guide along the edge of the beach, staying mostly in the tussock grass. Here we were able to observe some large male and female elephant seals and some passengers even saw a fight between two males. We saw some aftermath of this with some of the males bleeding from their scarred faces. We learned about elephant seals from guides Markus and Alain, including what they eat (mostly squid) and how deep they can dive (some up to 6,500 feet). They are huge, awkward animals to behold though the pups are very cute with big round clear eyes that they look curiously at you with. There were also some king penguins at Jason Harbor.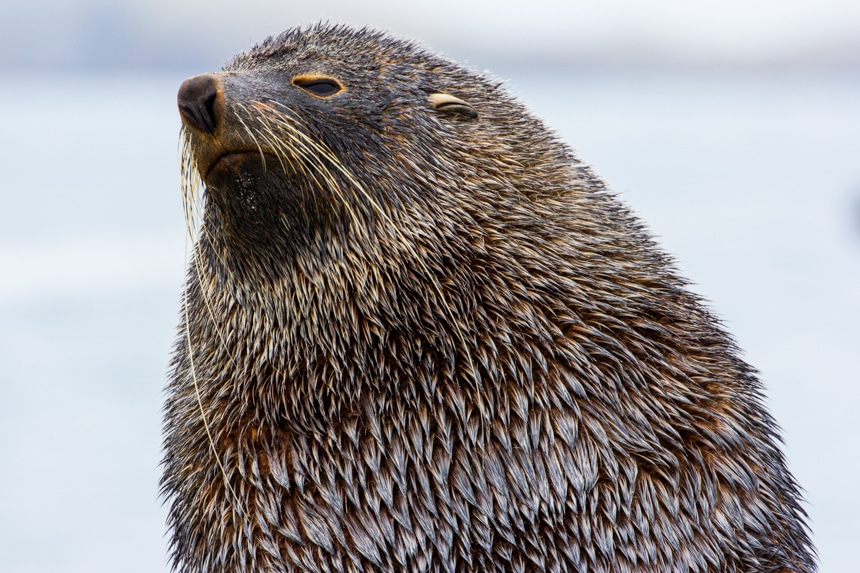 My Takeaways on Sailing to South Georgia
I loved our time in South Georgia and am grateful to have had the opportunity to explore this area along with Antarctica. My second trip to Antarctica was different than the first in that we visited some different sites along the Peninsula that I didn't go to the first time. I also went earlier in the season when the ice and snow around the landing sites is more prevalent. We also had some fantastic humpback whale sightings up close from the Zodiacs which I did not experience on my first trip. This time we had some very calm seas in some of the areas of the Peninsula which made mirror-like conditions specked with icebergs that were just incredible. I would highly recommend including South Georgia with your Antarctica itinerary and I would be happy to discuss how to choose your Antarctica cruise with you.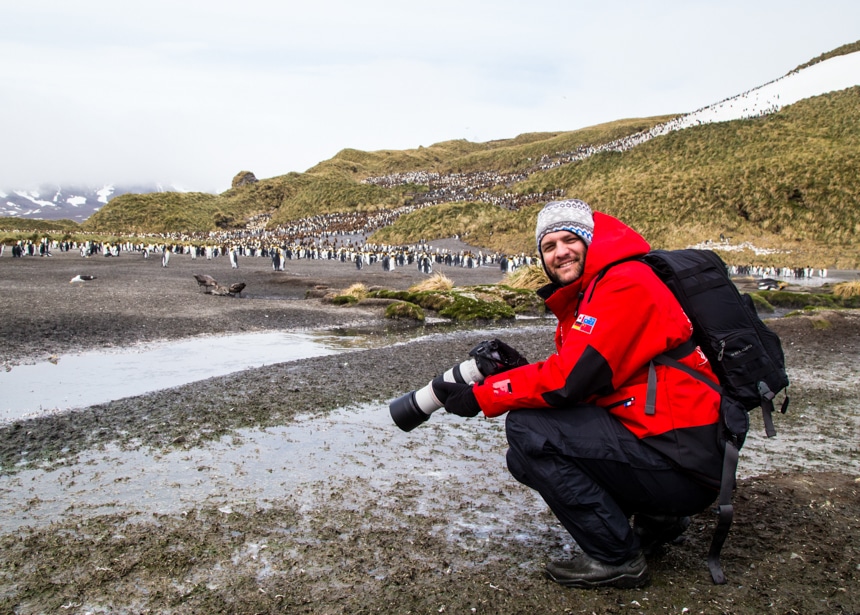 This small ship cruise review was written by an AdventureSmith Explorations crew member. Read all our Antarctica Cruise Reviews for more trip reports, or contact one of our Adventure Specialists to learn more about these Antarctica cruises and Falkland Islands and South Georgia cruise routes: 1-800-728-2875.