AdventureSmith Explorations Adventure Specialist Nick Mitchell writes this Ocean Endeavour review of his Antarctic expedition aboard the 200-guest ship. Read his insights, then view Ocean Endeavour reviews from other travelers who've been aboard.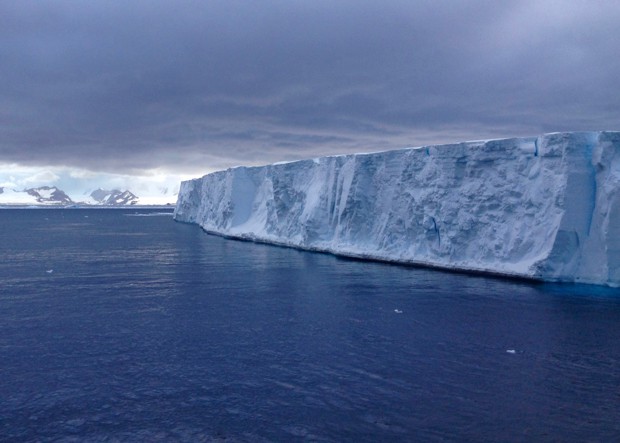 Tabular icebergs are awesome. Not like how a hotdog might be awesome but more in the original sense of the word. Going to Antarctica is like going to another planet and it's hard to explain just how mind blowing it is. I've been all over the world, and for sheer wow factor, Antarctica is number one. I went on the 200-guest Ocean Endeavour, and while Antarctica shone as the lead, the Ocean Endeavour provided great comfort in the supporting role.
As on all of AdventureSmith Explorations Antarctic cruises, the focus is on getting off the ship and witnessing the wildlife and scenery up close, exploring by zodiac and on foot. Weather permitting, you'll get off the boat at least twice a day on shore excursions and zodiac cruises while you are down there.
The Ocean Endeavour is a comfortable, well-appointed polar expedition ship, and she has a spacious, modern feel. There is a wide choice of cabin categories, from economical triple cabins to spacious suites. There are also single cabins, which is a rarity on Antarctic vessels. I was in a main deck twin porthole cabin with an ensuite bathroom. It was clean and comfortable. I have to say, I did not spend much time in there at all. There was always something going on and I spent a lot of time on deck, which I recommend you do on any expedition cruise.

I went on the Ocean Endeavour in early December. The Bridge Deck was a superb viewing spot; very spacious with 360-degree views. It was my favorite deck and there were never many people up there.
There are lots of common areas, and plenty of deck space to watch wildlife, icebergs and ice-covered landscapes go by. There was so much deck space you could always find a little solitude if you wanted. You could also choose socialize with your fellow travelers and spot whales and penguins together. The Bridge Deck was a superb viewing spot; very spacious with 360-degree views. It was my favorite deck and there were never many people up there.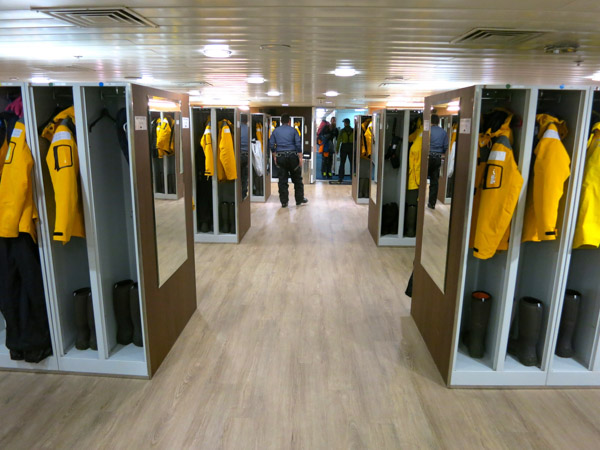 There were several comfortable lounges where our experienced expedition team gave presentations and slideshows. These ranged from Antarctic marine wildlife to photography workshops to the history of the Antarctic Treaty. They took place in the evenings and when we were crossing the Drake Passage. We even traveled with two scientists who were studying penguins. The expedition guides were professional and always around, engaging with the guests sharing their knowledge and stories at meals, on deck and in the common areas. Their enthusiasm was infectious and they clearly loved their jobs. There was a lot to learn and to entertain and never a dull moment.
We were spoilt for choice. Dinner was ordered from a menu. I wonder what Shackleton would make of such pampering!
The Ocean Endeavour is also the only polar adventure ship in Antarctica focused on health and wellness. Facilities include a spa serviced by organic spa provider VOYA, his and hers saunas with windows, so you don't have to miss the glory of Antarctica, a warm saltwater pool, a gym, and a juice and smoothie bar. There were complimentary yoga and stretching classes. The food and service was excellent. With a large buffet for breakfast and lunch we were spoilt for choice. Dinner was ordered from a menu. I wonder what Shackleton would make of such pampering!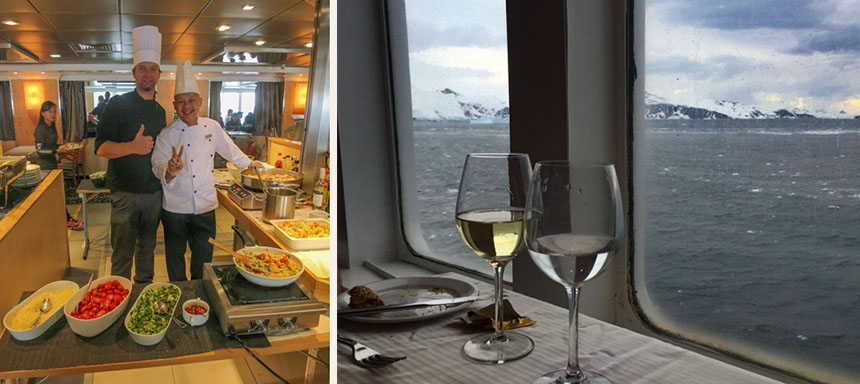 On Antarctic Peninsula cruises you get cross the Drake Passage—twice. I wasn't worried about seasickness, more that I'd constantly be terrified of capsizing. As it turned out, the Ocean Endeavour was reassuringly large, and I found the crossing exhilarating. No matter the size of the waves and the amount we rocked and rolled, I knew we would be fine. She has two stabilizers and is no waif. At 450 feet long, the Ocean Endeavour is one of the biggest ships AdventureSmith Explorations is partnered with, but the feeling of being on an expedition is not sacrificed. For those who are nervous of sailing the Drake, the reward of getting to experience Antarctica will make it all worthwhile. I guarantee it. When you look back you'll appreciate that your adventurous spirit triumphed. At the time, you may feel different.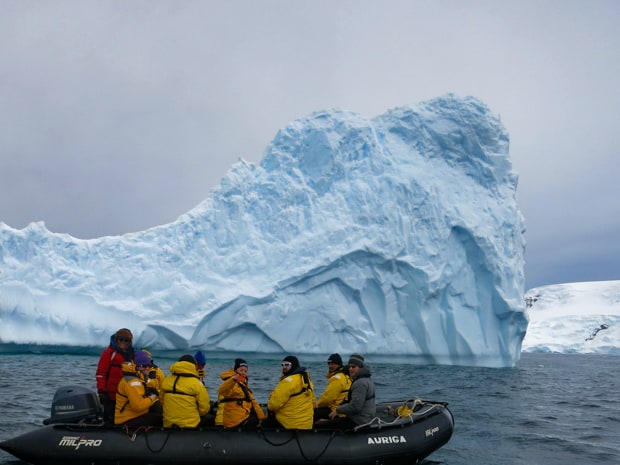 While penguins ashore were a highlight, we also saw plenty of wildlife from the ship. We saw lots humpback and minke whales and orca. A juvenile orca even obliged us with a close-quarters visit by the bow. We followed a pod for quite a while as they hunted. We saw penguins leaping out of the water, escaping snapping jaws of death. When the hovering, attendant seabirds landed on the surface we knew one had been chomped.
We also had a leopard seal swim right up to our zodiac before a shore landing. He was massive and looked me right in the eye before he shot off with a flick of his tail. He then breached like a whale, clear out of the water. Talk about jaw dropping! Others said they had seen him on an iceberg eating a penguin. Poor little penguins; it's amazing they seem so cheerful.
I also recommend the polar plunge. It was invigorating and exciting. You have to wear a safety belt. You don't want to end up back home thinking, "I should have done that," so do it.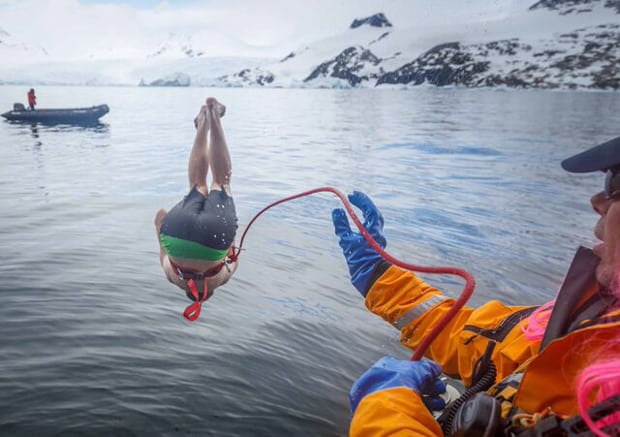 AdventureSmith Specialist Nick Mitchell, backflipping into his polar plunge!
People often say they don't care about the ship, they care about the expedition experience. I'd say that's right. Having an exceptional expedition experience should be your main concern when choosing a trip to Antarctica. But why not have both? If you want a comfortable, clean and spacious boat with an experienced and engaging expedition team, great service, excellent food and lots of adventure options, then the Ocean Endeavour is a great choice.
If you are leery of crossing the Drake and a larger vessel will ease your mind—and you'd quite like having the option of a massage or watching Antarctica go by while in a sauna or enjoying a warm swimming pool while on your expedition—then the Ocean Endeavor is a great choice. Sometimes you can have it all.
For more images from my trip, view my Antarctic Explorer aboard Ocean Endeavour Facebook album.