A Mediterranean yacht charter means privacy, exclusivity and full flexibility to sail along the storied coastlines of Greece, Croatia, Italy, Montenegro and other neighboring countries. Browse the ships listed below for a sampling of available Mediterranean yacht charters. These curated ships primarily hold around 35 passengers. Contact our specialists for the latest information on our Mediterranean yacht charter fleet. There can be availability on small ships, sailboats and yachts not yet listed. Our team is here to find you availability and guide you to the best location to take your Mediterranean charter cruise.
ON THIS PAGE – Mediterranean Yacht Charters:
Finding a Yacht Charter
Luxury Boat Charters
Greece Charter Yachts
Croatia Charter Yachts
Adriatic, Aegean & Other Seas
Mediterranean Yacht Charter Prices
Finding a Deal
Charter Terms & Conditions
View All Mediterranean Charter Yachts
Finding a Yacht Charter in the Mediterranean
Among our many small ship Mediterranean cruises, how do you find a yacht charter in the Mediterranean? Which ship? Where to sail? How does the booking process work with multiple families? There are many questions to consider as you begin researching a yacht charter in the Mediterranean. We're here to help.
Ship size, the location you want to cruise, the makeup of your group and more are all factors in finding a Mediterranean yacht charter. Charter cruises are typically planned and contracted at least one year in advance of the departure date, but as long as space is available, a Mediterranean boat charter can still be secured. You can also opt to just book a Mediterranean yacht cruise on a scheduled sailing with other guests if space is not available to privately charter the whole boat. Learn how to charter a yacht worldwide, or contact us direct for personalized answers to your questions.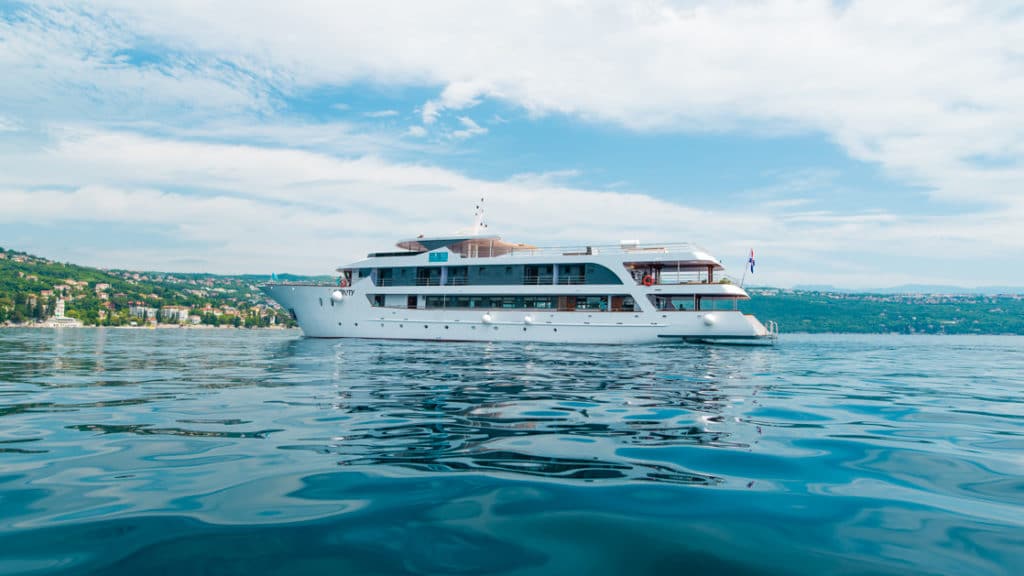 Finding a Luxury Boat Charter in the Mediterranean
If you're looking for a luxury yacht charter in the Mediterranean, our team can assist you in finding the perfect match for your needs. Since the definition of luxury is often relative to each traveler, our experts can steer you toward the best match. Our options include everything from a modern luxury motor yacht like the 38-guest Adriatic Sky to the timeless opulence of the historic Sea Cloud tall ship. A luxury boat charter in the Mediterranean can also mean exclusive isolated island visits and designing your own itinerary to match your favorite ports and places. Let our experts be your guide to finding a luxury yacht charter in the Mediterranean.
Yacht Charter Greece
Greece is an incredible yacht charter destination, featuring hundreds of islands and remote beaches to escape the crowds found in busy ports. A yacht charter in Greece with AdventureSmith Explorations offers super yacht and smaller private Greece yacht options. These fully crewed, private Mediterranean charter cruises allow you to enjoy your time on the boat, but also explore off the ship too. Our smallest Greece yacht charter boats are Greek flagged, so they will be sailing their home waters with you aboard.
Yacht Charter Croatia
Croatia is another popular motor yacht charter destination, with great towns like Split and Dubrovnik to be your hubs for embarkation. Our crewed yacht charters in Croatia allow you to customize your trip and spend as much time as you want exploring in port, or out at sea. Look for a large fleet of yachts in the 30-guest range that have their home ports in Croatia. These include the M/S Aurora, Adriatic Sun, Aurelia, Avangard, Infinity, Nautilus and Rhapsody, in addition to some larger options you'll find operating Croatia small ship cruises with regular departures for individual cabin bookings.
Finding a Boat Charter in the Adriatic Sea, Aegean Sea & More
In addition to cruising in the Mediterranean Sea, most of the ships listed on this page also sail in the Adriatic Sea, Aegean Sea and Ionian Sea. Some can also venture to the nearby Tyrrhenian Sea, Balearic Sea, Alboran Sea and out into the Atlantic Ocean. Most of our charter clients stick to the classic routes found on our Mediterranean small ship cruises, but you can certainly work with the captain and ship operator to build your own itinerary if conditions and timing allows.
Mediterranean Yacht Charter Prices
The per-person price for a Mediterranean yacht charter varies greatly based on your chosen yacht, time of year, length of cruise and so on. It also is highly dependent upon how many guests you have in your charter group. For example, just because a yacht holds 36 guests, it does not mean that you are required to have that many passengers. Just note that Mediterranean yacht charter prices for the full boat will remain the same, no matter how many passengers you bring aboard. That said, it can still be quite affordable to charter a yacht with fewer passengers than it holds. Learn more about charter costs, but ultimately speak to one of our Adventure Specialists to learn pricing details specific to your needs.
Finding a Deal
How to get the best deal on Mediterranean charter yacht vacations? Booking early is a must to secure vessels for charter space, but it's also the best route for a deal. While booking a charter often equals significant per-person discounts off standard cabin rates, you can sometimes find added incentives if you book a whole ship for your group early. Even luxury yacht charters in the Mediterranean can see significant early-booking deals. Our experts know the nuances and span of options in this popular region and can link you to the latest Mediterranean charter cruise discounts and favorable Mediterranean yacht charter prices. View our charter cruise deals or overall Mediterranean cruise deals to see what's currently on sale.
Charter Terms & Conditions
Terms and conditions are sometimes more strict with Mediterranean yacht charter bookings than they are for individual bookings. Expect to pay a charter rate that remains the same, whether or not you have enough travelers to fill all the staterooms. Cancellation terms usually require a nonrefundable deposit and payments as the cruise date approaches. Group travel insurance policies are highly recommended. Learn more about these details on our charter cruises and how to charter a yacht guides. Rest assured our experts will work with you and your group to make the charter process seamless and transparent.
More Options for Mediterranean Yacht Charter
Search our curated list of recommended Mediterranean charter boats on the list below, but be sure to contact our experts if you are interested in larger vessels or private group departures. Additional smaller and larger charter yachts may be available for your dates, so contact us for the latest offerings. Our team has personal experience aboard nearly every ship listed on this page, so we're your best resource to booking your Mediterranean charter cruise.