This year is AdventureSmith's 20th anniversary, and the overarching message around our celebrations is that it's become much more than the trips for us. It's about the people and the relationships we make while planning travel and going places. And this trip was the perfect example of the soul-filling power of both people and place.
ON THIS PAGE – Reviewing Croatian Coastal Cruising aboard M/S Aurora
The Places
The People
Food & Drink
Tips for Choosing Your Itinerary
The Ship
Tips for Choosing Your Cabin
If You Go…
The Places
Croatia delivered big time on its iconic, clear waters, but I was really surprised by the diversity of landscape. Over the course of the 8-day itinerary, I felt myself comparing the scenery to places I wouldn't have imagined: Vistas on the remote Neretva River looked like Wyoming. Sailing north out of Dubrovnik felt like (a hot) Alaska Inside Passage with its uninhabited mountainous coastline flanking our ship. And dropping down into the valleys near Mostar reminded me of the descent from Cusco into the Sacred Valley of Peru.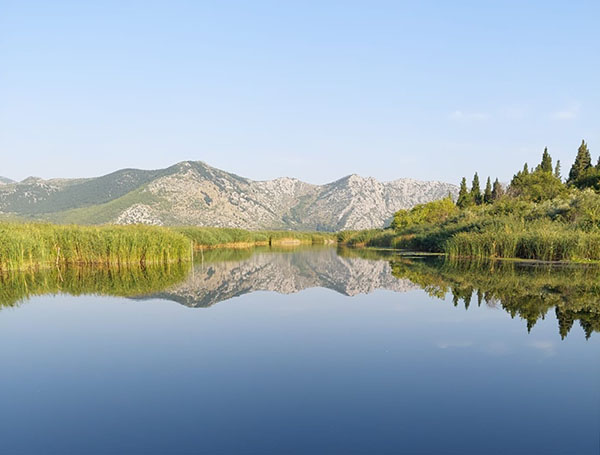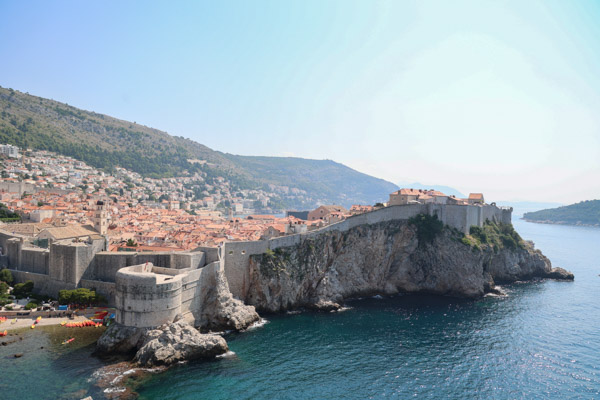 The itinerary was distinct from what you'll find on most other Croatia small ship cruises in the region. The focus was more on off-the-beaten path cultural and natural gems vs. the hotspots for nightlife. We still had ample time in the water. A typical day had us stopping at remote cove mid-morning for free time to float, snorkel, swim and stand-up paddleboard until lunch and an afternoon excursion ashore at a port. And there were quite a few optional hikes up to views with our lead guide, typically early morning or late afternoon, with usually under 10 passengers in attendance.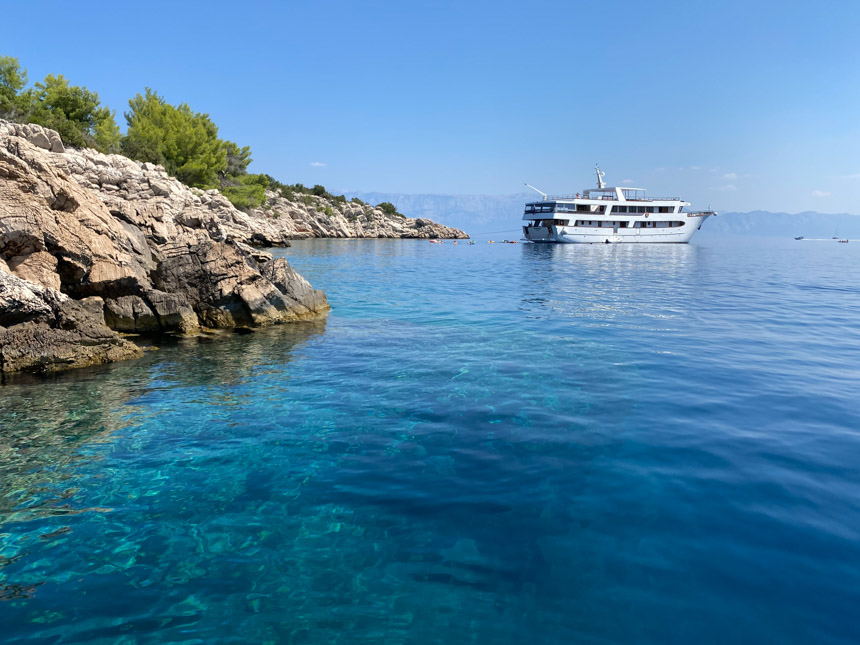 Get Aboard
See this trip's full itinerary, rates & dates.
But the highlights for me (and for uniqueness), were visiting a remote restaurant on the Neretva River and going inland to Mostar in Bosnia and Herzegovina.
We accessed the Neretva River restaurant via two small river boats, about 30 minutes up-river from where the ship was docked in Opuzen. Along the way we passed cultivated backwater plots growing tangerine, watermelon, plum and cucumber back-dropped by mountains in the distance. The restaurant is a special-events-only spot, so we had the whole place to ourselves to enjoy traditionally made peka, complete with live music. War veterans drive the boats, cook the food, serve the meals and entertain with live music, so it was a truly special experience. We were even able to see the food being cooked over coals in the tajine-like "bells."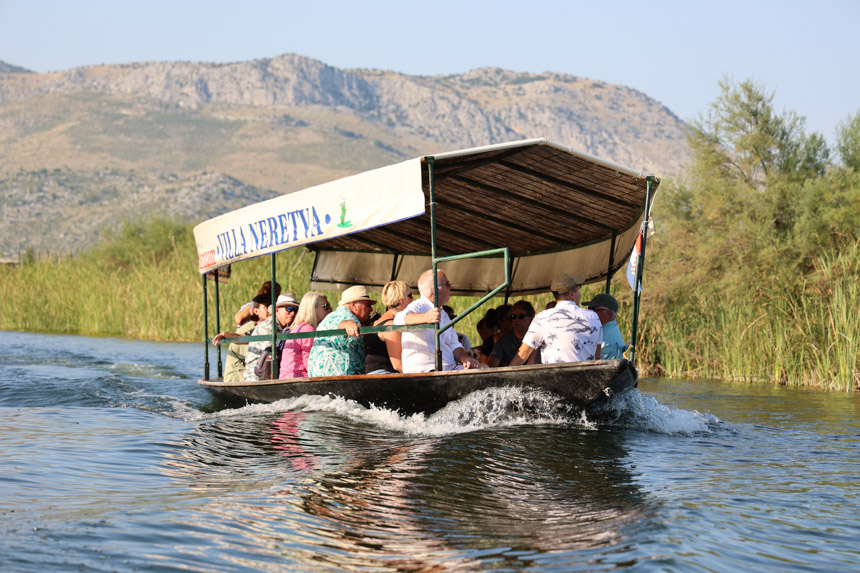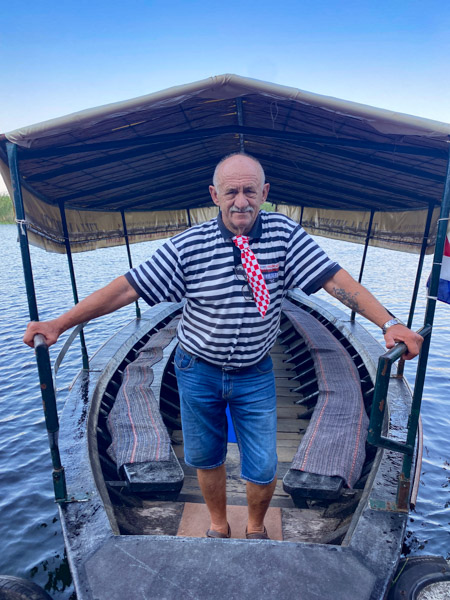 War veterans drive the boats, cook the food & entertain with live music.
Our excursion to Mostar was filled with four border crossing checks, and lessons from our guide on the cultural and religious fabric of Bosnians along the 1.5-hour drive each way. But arriving there introduced us to a slice of life completely different from the coastal Adriatic. The included coffee tasting was lovely, as was the chance to shop, take a Zodiac ride and/or dine riverside on our own. Having Bosnia and Herzegovina on the route really showcases how closely connected yet distinct these cultures and countries are.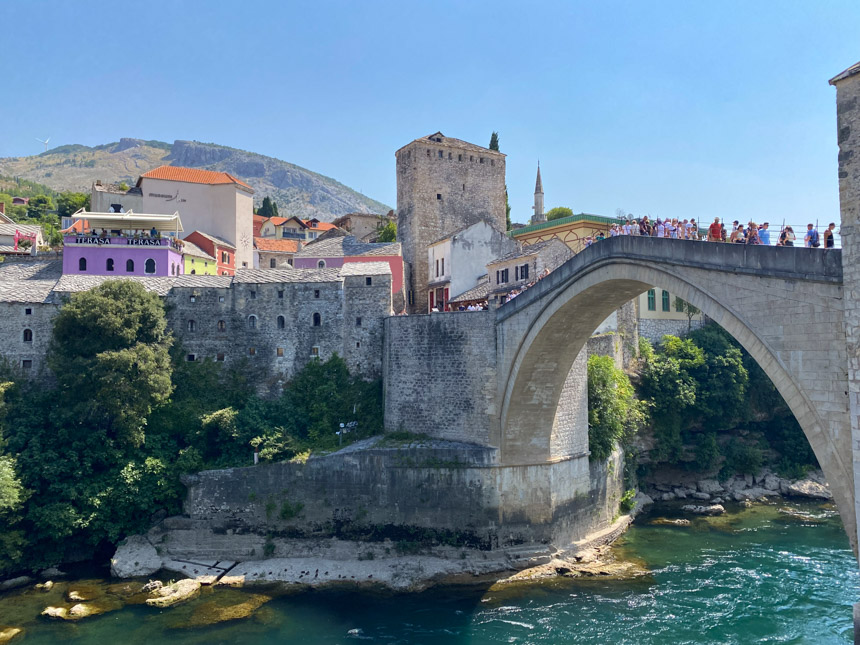 Watch a recap of some of my trip highlights:
The People: Guests & Guides
It was also the people that truly made this trip extra special. From the moment I stepped aboard, there was a special energy buzzing with our group of 36. Our fellow passengers were instantly making friends, and the first Croatian word we learned, Živjeli! (pronounced ji-vo-lee), was over a shot of grappa.
Virtually everyone was a native English speaker, most from Australia, the UK and North America. And half of them had traveled with this cruise's operator (Intrepid) on other trips around the world. In fact, one New Zealand passenger was clocking his 13th trip with Intrepid!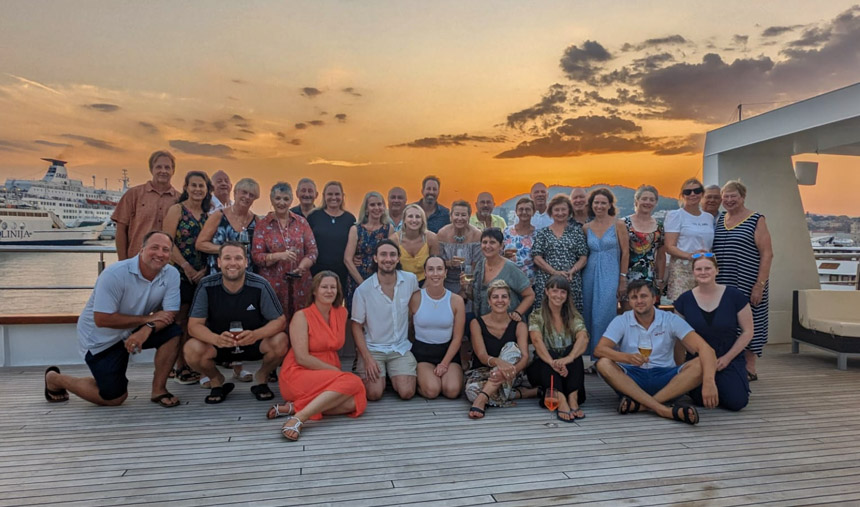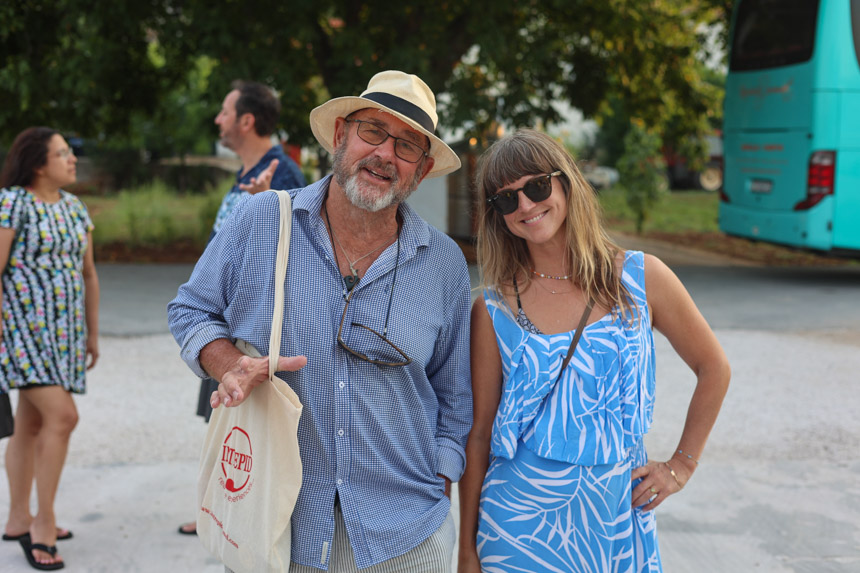 We had 10 solo travelers aboard, 8 of them women, plus many couples, mostly retired types who were now traveling the world. We all became fast friends and joined each other for dinners ashore. This trip's half-board style of dining allowed us to choose where to eat in most of the ports and go out in smaller groups or as couples for drinks and meals.
Our lead guide, Zbigi, was adamant about us experiencing all the little places (and people) in between the hotspots of Split, Dubrovnik and Hvar, and it really showed in the way he went above and beyond in his communication. From narrations on our bus rides about everything from wildlife to his favorite Croatian TV commercial from growing up, we got to know the country on a personal level through his eyes.
No topic on the country was spared, so we learned everything from when the local soccer club was founded to more somber details about war crimes and what it was like for his parents in the war years. Co-guide Andro was the perfect complement, chiming in on Zbigi's history lessons to us and showing us the proper technique for a cliff jump. Combine these two with all the incredible local guides who gave us hour-long city tours, and I felt like we got a very full picture of Croatia's triumphs, challenges and day-to-day life.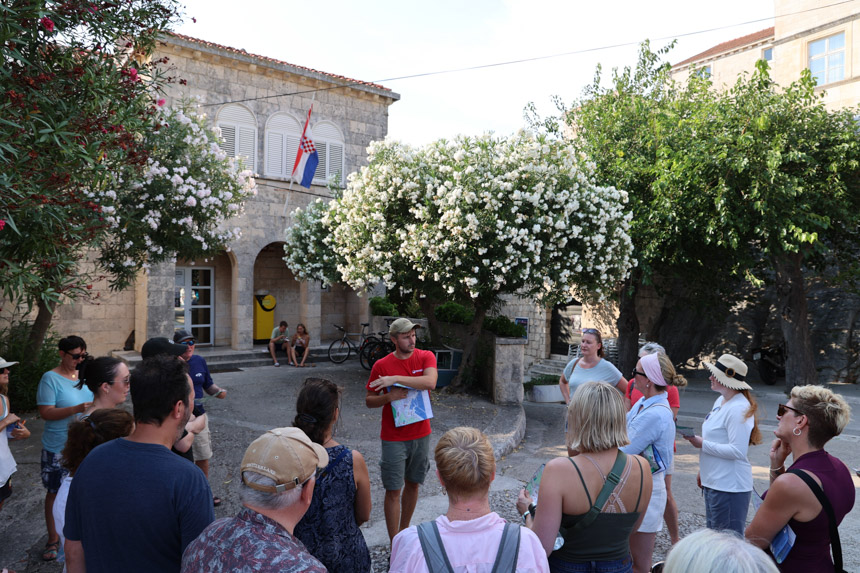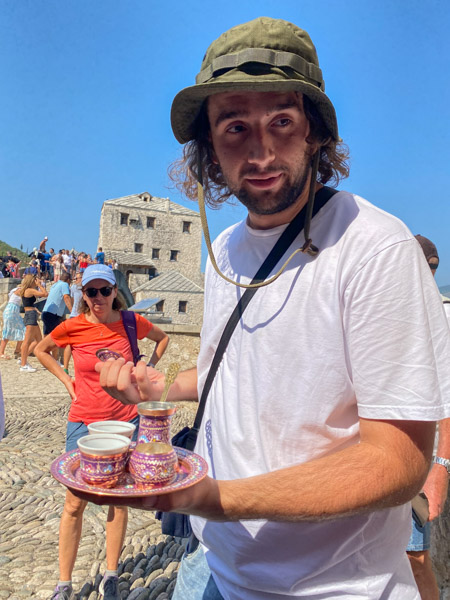 In Korĉula, we met Andrea, who introduced us to Marco Polo's connection to the town and the ingenious fishbone layout of the streets. She had a punch line for every site she pointed out. My favorite joke: that Korĉula has the best police force in the world: their nosy grandmothers. She was one of the best city guides I've had anywhere in the world.
She was one of the best city guides I've had anywhere in the world.
And our other city guides were charismatic and informative too: Cedi, a 22-year-old from Bosnia and Herzegovina who was passionate about the power of music to unite us; Tatsiana, a stylish Hvar town resident who told us about the dichotomy of life during and after the busy tourist season; and Milan, a Split native who showed us the spot in Diocletian's Palace where he used to play soccer as a kid during the war.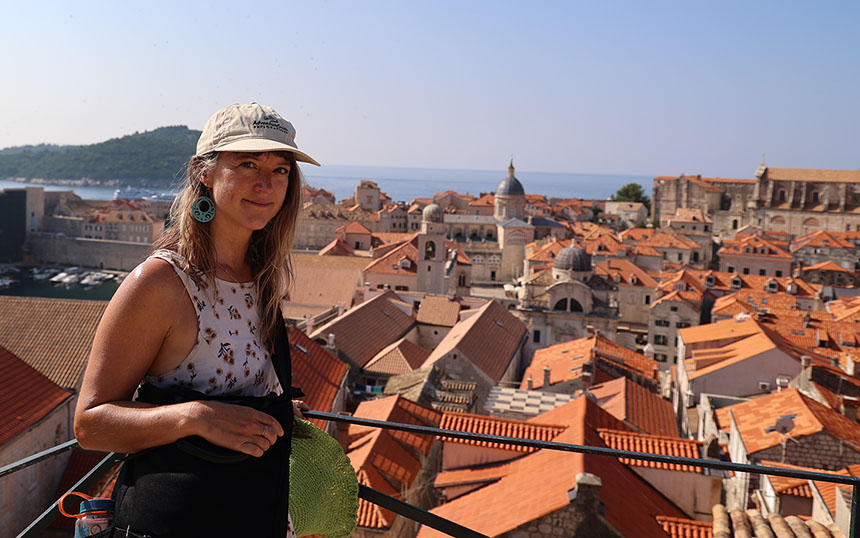 Our Experts Were Here
You have questions.
We have answers.
My Thoughts on the Food & Drink
Your nights are always spent in port, so you are never want for food—or, most importantly, gelato. Though it is a notable difference (than other small ship cruises I've been on) that the ship's crew kept things simple with no snacks or special drinks offered in between regular mealtimes.
Dinners were served in multiple, plated courses. My favorite dishes were embarkation night's refreshing tomato, cucumber and feta salad, and our final night's buffet barbecue-style dinner. The overall portions served were a bit large for me, and many wanted lighter or a la carte lunch options when the ship was serving it. But these complaints were minor in the grand scheme of how happy we were with the mix. Our guides always provided great restaurant recommendations for each port (via our WhatsApp group established on Day 1) and it was fun to have the freedom to eat on our own, and of course have the special Neretva River dining experience I detailed above. Another highlight was all the homemade treats offered to us at the lavender farm on Hvar.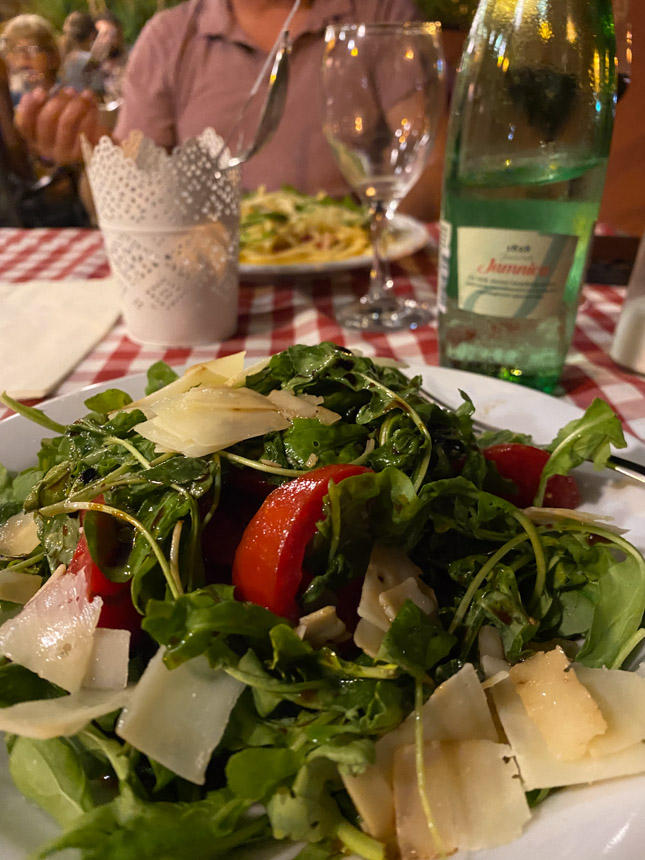 Everyone's favorite cocktail aboard was the Hugo, a spritzer with fresh mint, lime, elderflower syrup, Prosecco and sparkling water. For wine lovers, a visit to a Peljesac Peninsula winery was a highlight. That was perhaps my least favorite stop since we were indoors, down in a wine cave, but simply because I prefer to be more active outside. But the visit came after a long, hot morning exploring Mostar and before the onboard Captain's dinner, so it was nicely timed.
Tips for Choosing Your Itinerary
Consider your itinerary direction since there are some nuances to each. If you want to include Krka National Park, be sure to book northbound. If you want more local culture and swimming outside of busy Split, book southbound. That said, you can always do Krka National Park on your own pre-cruise, but it would be harder to visit the island of Brac on your own, so that's something to consider.
To include Krka National Park, book northbound. For more local culture & swimming, book southbound.
I was on a northbound departure and feel like the photos we all got at Krka National Park were a highlight, but the added days at port in Split after such a fun (more remote) week were a hard adjustment. I was sad to not be cruising on those final days!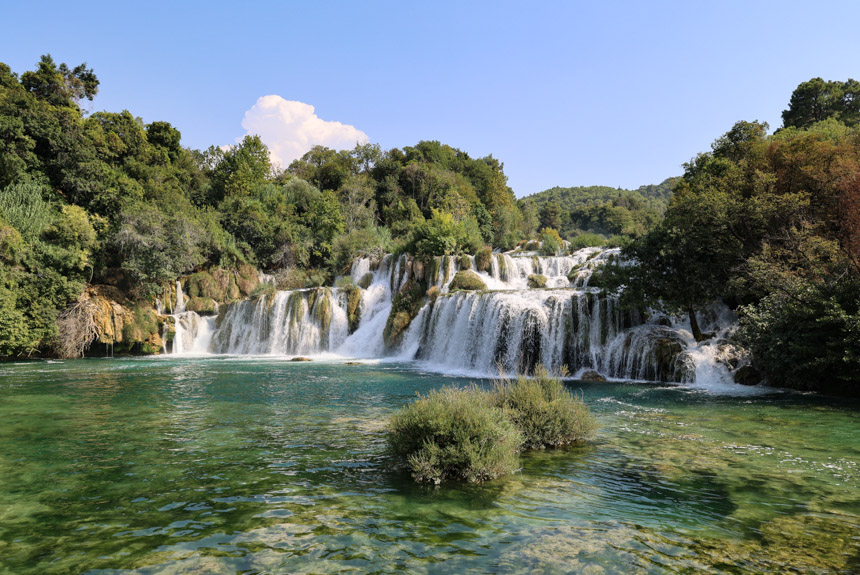 Also note, the city you embark in won't include a city tour so be especially sure to buffer in some time pre-cruise no matter where you start. I started in Dubrovnik, staying in the beachy neighborhood of Lapad for a few nights, and bought the Dubrovnik Pass to make access to the walls and other museums simple. The pass includes bus access, but I was short on time so easily took Uber everywhere.
My Review of the Ship
The 36-guest M/S Aurora fit the program well, with an emphasis on the destination more than itself. Many of the boats we docked next to seemed to be trying too hard (in my opinion) to look fancy.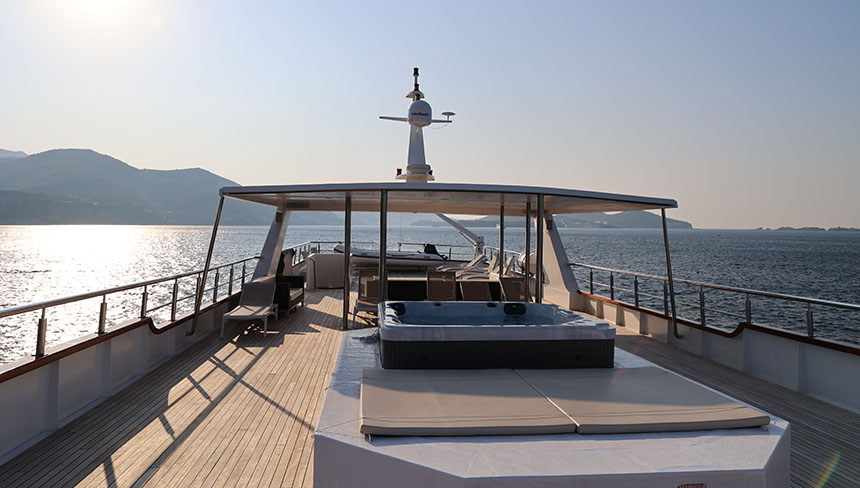 The Aurora was a simple, nice platform for fun, complete with our floats and paddleboards stored on its stern. Although it was no-frills, it wasn't lacking in cleanliness or any function. Highlight spaces were the covered bow seating on the Upper Deck that protected us from wind, and the partially covered top deck, with hot tub, couches & loungers, where we all spent most our time.
This trip really isn't about the vessel though, which is chartered and subject to change each year. It's about the full package of the experience that this operator provides with dedicated guides and like-minded guests who return on their trips year after year.
Often we were the first to get to a spot, and the first to leave, giving us the most solitude.
Other ships we saw at the more popular swim stops had more of a party vibe aboard with travelers jumping from higher decks, ships docked side by side with lots of people together in the water. But ours felt like it was always ahead of those crowds. Often we were the first to get to a swim spot or port, and the first to leave, giving us the most solitude wherever we went. Or, we were simply the only one there, even at some of our port stops (Opuzen, pictured below, for example).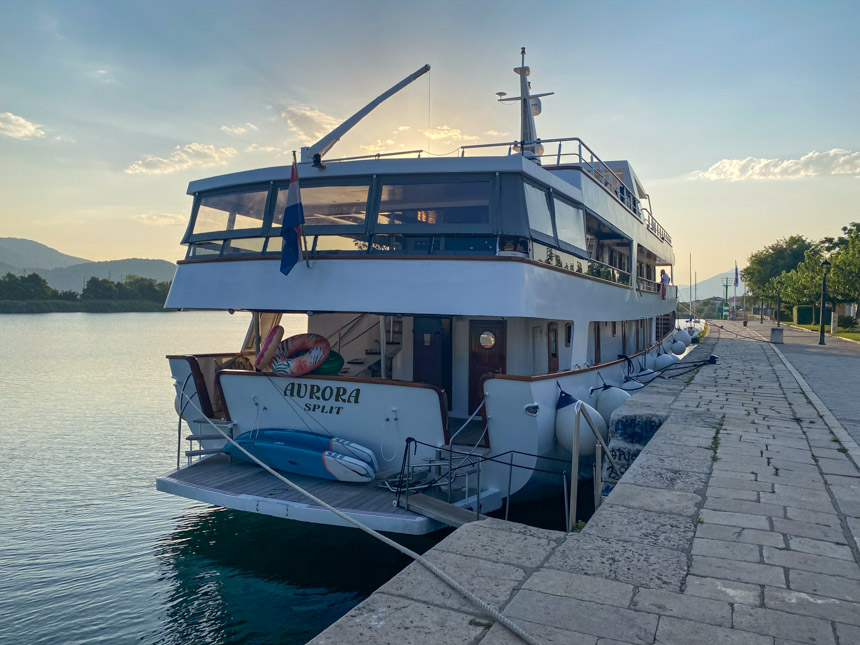 Our Captain was friendly and was noted to be especially accommodating at altering the itinerary for any weather conditions. He caught two octopus during a swim stop, and that was really our only wildlife encounter beyond a few small fish and urchin seen snorkeling. We didn't encounter many birds or other wildlife either—besides a dragonfly that landed on my hat and the constant click of cicadas near any trees.
Tips for Choosing Your Cabin
I was in cabin 13 on the Lower Deck. While these cabins are priced lower than those on the Main Deck, they have some benefits (which would be similar for the lower deck of any small ship sailing in Croatia). While at port, ships often dock side by side with others, so other passengers may be walking through the Main Deck and/or your view may be obstructed on both sides by another ship or simply looking right out onto a busy port sidewalk.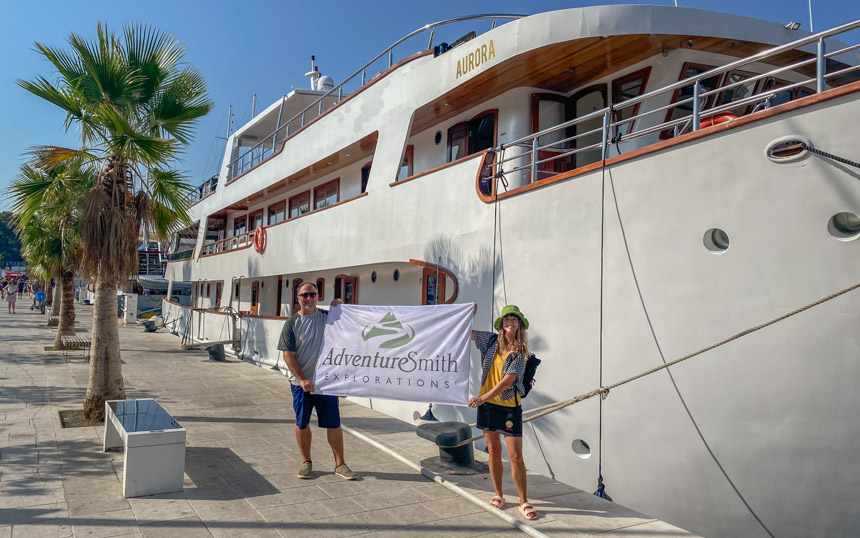 With our ship docked right next to busy port sidewalks, I enjoyed the privacy of my Lower Deck cabin.
For these reasons, I enjoyed the privacy that the Lower Deck afforded. The small portholes are so high that they only let in a little bit of light. But we spent very little time in our cabin, except to shower or sleep, so this was not an issue. If you don't like navigating stairs or would prefer to quickly open your door to catch a passing moment on camera, the Main Deck will be best for you.
When choosing your cabin, they are very similar. Some have a bit more space, some have better storage, but the nuances are small. Ask our experts to help you sort out the minor details as I took notes when touring the cabins. Another consideration is to choose a cabin farther from the engine if noise is an issue for you, but the ship never sails at night, so this would only be a factor to consider if you like to sleep in.
Get Aboard
Find trip rates & dates, or see more ship details like cabin specs & the deck plan.
If You Go Tips
The week I went in August was HOT (reaching over 100 degrees F in Mostar). Be prepared for this. Although the final week of August had cooler temperatures and more rain, so you truly never know.
Pack light & buy anything extra you might need in the many shops.
For gifts, don't miss a few of my favorite finds: Boya crayons in Korcula, Discover Croatia in Split, Alssa handbags in Mostar and the lavender farm the itinerary visits in Hvar.
Be prepared for group transfers via tour bus while in port. This was unique for me, compared to AdventureSmith's other adventure cruises that are more wilderness-focused, but it's very common for Mediterranean cruises. Our group was fun, the A/C was a nice respite and our guide gave great narrations in route, so I enjoyed the journey.
Bring lots of small bills & coins. You cannot tip on credit card transactions in port restaurants, and some public restrooms cost .50 to 1 Euro.
Croatia is blessed with fresh-water springs & you'll find fountains to fill your bottle in nearly every town. The most picturesque ones are right outside & inside the Pile Gate in Dubrovnik.
READ: Girl at War. I read this fictional account pre-cruise, finishing the final chapters on the boat, and it really gave me some empathy for how children grew up in the 1990s here.
WATCH: Oscar-winning "No Man's Land" to get a both-sides view of the 1993 Bosnian Conflict & "The Death of Yugoslavia" BBC docuseries – both the guides on my ship highly recommended.
For more photos & video from this cruise, view my Facebook album on AdventureSmith Explorations' Facebook page, or see my Instagram story as I documented the journey live. Photo credits above: Riverboat; man & woman; guide in red shirt; Krka National Park waterfall; & Aurora top deck photos taken by James Korb.