Adventure Coordinator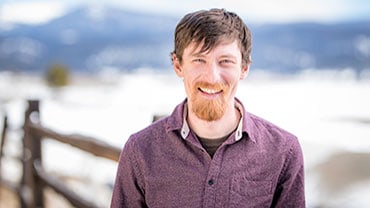 Kevin always looks forward to exploring new areas, whether it be a National Park or a small town stop on a road trip across the US.
In his role as Adventure Coordinator, Kevin supports booked AdventureSmith travelers in doing the same—preparing to explore new areas.
From his home in Minnesota, Kevin acts as a nexus between AdventureSmith travelers, their Adventure Specialist, and ship and lodge operators, ensuring seamless customer service from confirmation to packing and traveling. "AdventureSmith means working together as a team to provide people with experiences that are life changing."
Working with AdventureSmith since 2017, with prior roles in house as the Office Manager and an Adventure Specialist, Kevin's experience is invaluable. Bonus accolades include prior work for other travel and outdoor companies, and a degree in recreation and tourism. He credits his tenure with AdventureSmith to the supportive family vibe and upbeat office dogs, and the joy he feels from helping travelers get the most out of their trip.
"My placing a strong emphasis on the details for our guests, and the accuracy of their trip components, allows them to have an experience of a lifetime and explore their destination in ways that often exceed their expectations."
When Kevin isn't working with AdventureSmith travelers to cross all the t's and dot all the i's, he can be found riding his gravel and mountain bikes, golfing, hiking, spending time with family and friends, and of course, traveling. So far Kevin has enjoyed AdventureSmith trips to the Galapagos and Alaska. Additionally, on his own he has seen most of the U.S., Canada, Mexico, Europe and some of the Caribbean, with highlights including biking through Spain and Italy, and taking in many of the 2006 World Cup soccer matches in Germany.
Still on his travel To Do list: Southeast Asia, Australia/New Zealand and India, although he's honestly happy to go anywhere. "To experience different cultures and traditions is a unique part of being human, and I feel it enhances our lives beyond what we can truly understand."