AdventureSmith's Kevin Marshall details his Last Frontier Adventure cruise aboard the 49-guest Admiralty Dream. Learn about hitting all four corners of Alaska's Inside Passage on this small ship Alaska cruise.
Southeast Alaska is an interesting place to describe. It is vast, remote, impressive and rugged. The beauty of this unique part of the world is unmatched and to view it from a mid-sized small ship such as the 49-guest Admiralty Dream or Baranof Dream is truly an experience of a lifetime. The proximity you get to the jagged mountains and massive glaciers is stunning and the bays and fjords you spend time exploring allow for optimal wildlife viewing.
All of your external senses become aware when you are in this part of the world. You see beauty all around; you touch the water, smell the trees and listen to the birds. Each day is different from the next and in my case, it just kept getting better. If you are seeking active wilderness exploration combined with a strong focus on the native cultures of southeast Alaska, I can highly recommend this cruise!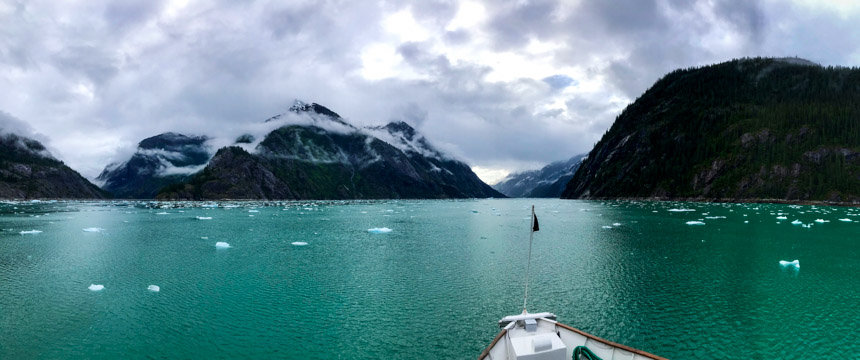 What Sets Apart this Alaska Cruise Itinerary
To me, this small ship cruise itinerary stands out among others in the Southeast Alaska region due to the fact that it hits all four corners of Southeast Alaska. Starting on the coast in Sitka (a Pacific Ocean coastal town, and also the largest incorporated city by area in the U.S.), moving south to Wrangell (historical and cultural port town), getting way north to Glacier Bay National Park (one of the gems of Southeast Alaska, wildlife, glaciers, bays, fjords) and then finishing in Juneau (the capital city of Alaska, surrounded by the Tongass National Forest and the Juneau Icefield). The more I think about it, you certainly are getting a great look into most of what the area offers, and it's hard to accomplish all that in eight days on other small ships.
This small ship cruise itinerary stands out among others in the Southeast Alaska region due to the fact that it hits all four corners of Southeast Alaska.
The Benefits to Cruising in May/June
My 8-day journey in late May/early June started off in the port town of Sitka, Alaska, and ended in the bustling capital city of Juneau, Alaska. This is the time of the year when Southeast Alaska starts to ramp up for the upcoming summer season, but still maintains the feeling of the early-season calmness, experiencing fewer crowds and enjoying the long daylight hours. It's also a great time to view sea otter pups, mountain goat kids, bald eagles and various migratory seabirds.
Arrival & Cruise Embarkation in Sitka
Having arrived in Sitka a few days before the cruise embarkation, the weather was perfect with clear blue skies and warm temperatures. The town of Sitka is very charming and easily walkable to the downtown area shops and museums. There is also a network of hiking trails just outside of town to stretch your legs.
Once embarkation day arrived, our group met in downtown Sitka to start an optional morning hike just north of town. Everyone was excited and eager to start our adventure, and this was surely a great introduction! Once aboard the Admiralty Dream, we had a safety briefing and were directed to our cabins. Once on our way, we had some lounge time together before our first dinner.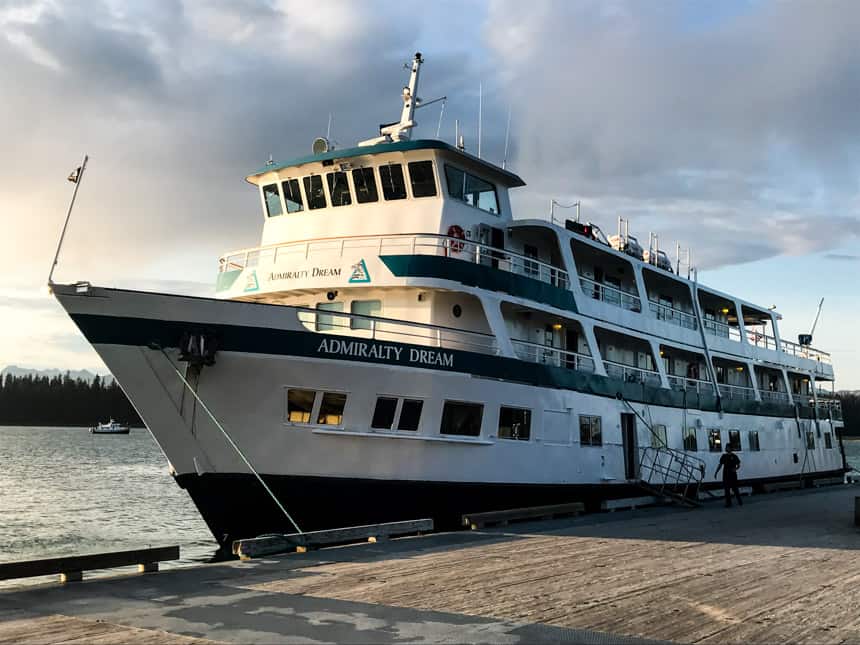 The next morning gave way to a stunning bay in which we anchored, and our adventure began with a hearty breakfast followed by our first kayaking excursion. The daily shore excursions and kayaking opportunities each day were wonderful! We saw so much of the wildlife and marine life of Southeast Alaska, often having to look all around you with multiple sightings happening at once. I remember one particular afternoon in Glacier Bay National Park where our captain had positioned the ship so we could view mountain goats on the cliffside, but meanwhile sea otters popped up around us in the water and then a whale surfaced in the distance. It was unreal to be surrounded by it all!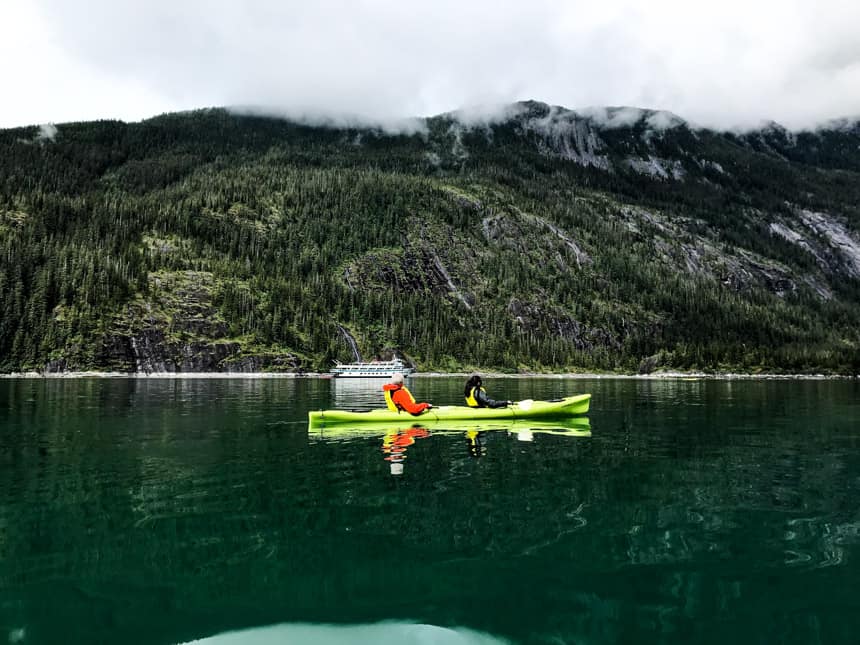 Alaskan Topography, Excursions & Culture
The geology of the Inside Passage area is remarkable to look at, walk on and touch. The way glaciers fit into the surrounding topography is a sight to behold. With no light pollution to speak of and clear skies (if you're lucky), we were able to see the stars at night in magnificent detail.

The Last Frontier Adventure has a great mix of active and engaging excursions along with a robust cultural component. We had the pleasure of experiencing Alaska native storytelling and were joined a few times throughout our journey by Tlingit interpretive naturalists. Learning about the traditional cultures of this part of Alaska and their song-like storytelling made our cruise that much more enjoyable and meaningful.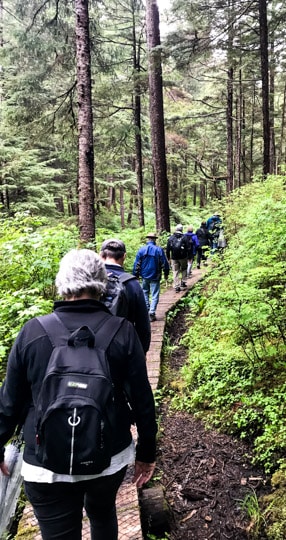 There was also an educational aspect during our time on board in which we would learn about humpback whales in Alaska one night, then the intertidal zones of the region the following night, which was very engaging and informative. Between the shore walks, scenic hikes and kayaking excursions, you can expect to be active each day but also have the flexibility to do as much or as little of those activities as you see fit.
As a fan of John Muir and his writings, Alaska was particularly special to visit to walk in his footsteps. Muir spent a good bit of time in Wrangell, a stop on this itinerary, and he is quoted as describing the town in 1879 as "a rough place." The Stikine River, which empties just north of Wrangell, made a substantial impression on him as he called it "A Yosemite a hundred miles long." To have had a half-day exploration here, it felt comforting to know that Muir had once strolled the streets and spent time in the mountains surrounding this picturesque place.
As a fan of John Muir and his writings, Wrangell, Alaska was particularly special to visit – as if walking in his footsteps.
My Review of the Last Frontier Cruise Guides & Crew
Our guides and crew were excellent and made this cruise such an enjoyable experience for each and every traveler! They were all very attentive to everyone's needs and accommodating throughout the entire trip. The Admiralty Dream has two naturalist guides on board along with a crew of 18. The crew was always smiling and helping in any way possible.
Our expedition guide, Joe, did a wonderful job! Born and raised in Alaska, Joe has lived his life on and around the water of Southeast Alaska. He was very engaging with everyone on board and kept the group cohesiveness throughout the entire journey. He was very knowledgeable when it came to Southeast Alaska and was happy to answer questions and speak with the guests. He was proud to share his storytelling and Tlingit song and dance with us, which added greatly to the cultural component of this cruise. Not only has he mastered Tlingit storytelling, song and dance but has worked in tribal government and served on the board of directors for his Alaska Native corporation.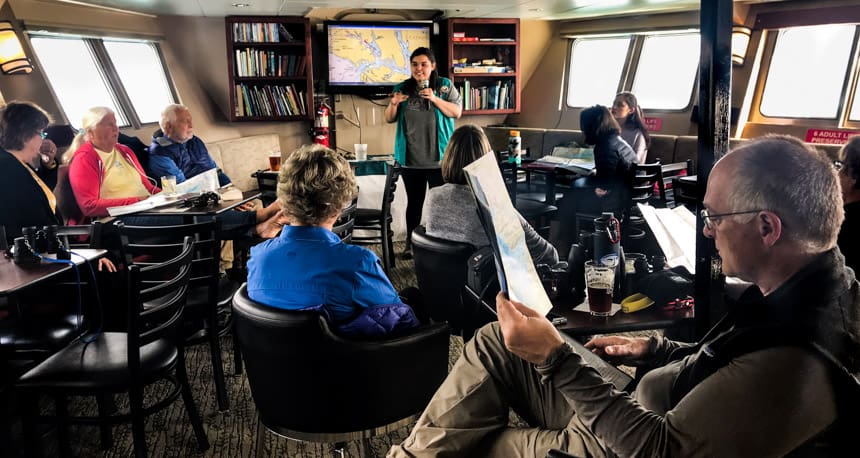 We also were lucky to be have been joined by our naturalist guide, Brittany, who took the lead role in joining us on our excursions and explaining what we were looking at. She also gave a few presentations during our cruise on the marine life and intertidal zones of Alaska, which were both fascinating and captured everyone's attention. With our group size at 21 guests, our shore excursions and hiking/kayaking activities were easily organized and were broken into a handful of groups of 5-6 travelers. During each activity, the crew demonstrated a high level of safety and made sure every guest was well prepared and felt comfortable.
Dining Aboard & a Special Visit to Orca Point Lodge
Throughout the cruise we were offered a wide variety of dishes, many of which focused on fresh Alaskan cuisine and were very well prepared. Toward the tail end of our Last Frontier Adventure, we were lucky enough to make a stop for drinks and dinner off the ship at the Orca Point Lodge. Located on Colt Island, due west of Juneau, this private retreat was a peaceful stop that provided all the modern comforts in a beautiful wilderness setting. Once off the boat, you have stunning views of Stephen's Passage as well as Admiralty Island, and dining off the ship was a treat not often experienced aboard small ship Alaska cruises, which primarily serve all meals aboard.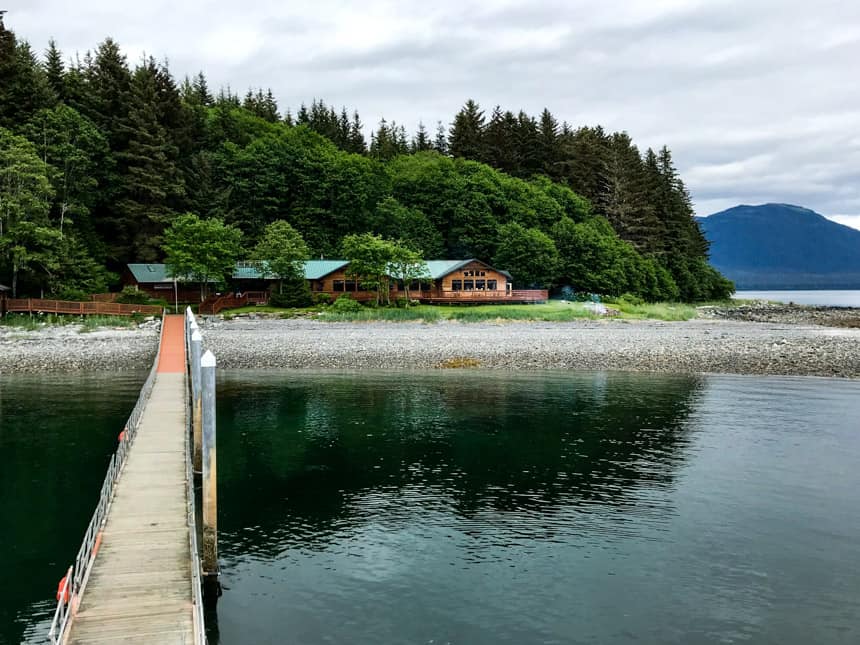 Our group started off with a visit to the marine life touch tank, with chances to view and learn about intertidal invertebrates such as sea stars, sea anemones and hermit crabs. We then were able to enjoy the easy beach access for beachcombing, along with playing lawn games and utilizing the warmth coming from our own private campfire along the water's edge.
With drinks in hand, we then came into the dining room for our feast! Our dinner consisted of endless Alaskan salmon, Alaskan king crab and prime rib along with a selection of breads and vegetables, plus alternative options. Dessert options were also plentiful, with fruit, pastries, brownies and chocolates. Our group thoroughly enjoyed the food at Orca Point Lodge and the service was exceptional.
Before getting back aboard our ship, we enjoyed a local Tlingit storytelling presentation next to our private campfire. If you were still hungry, there were s'mores available to roast! The atmosphere at Orca Point Lodge was very peaceful and relaxing, and to share this experience with my fellow travelers and all of the crew members aboard the Admiralty Dream was one of the more memorable parts of our entire cruise. As this stop was toward the end of our trip together as a group, it was a great chance to recap our experiences up to that point and to just enjoy the moment!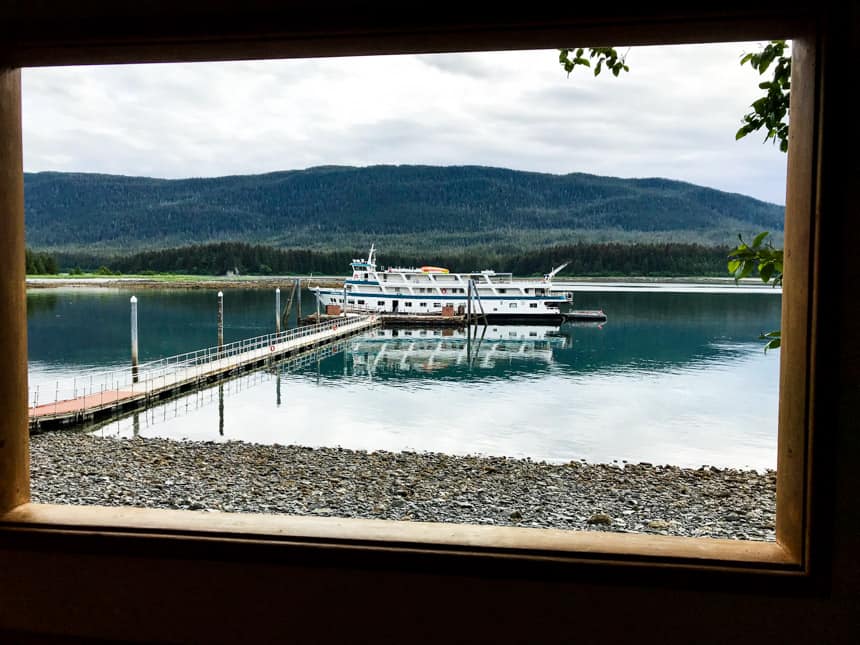 The Alaska Last Frontier Adventure Cruise Review: My Highlight Reel
Dall's porpoises riding off of the bow of the Admiralty Dream
Kayaking near humpback whales in a secluded bay
Visiting and soaking in a natural hot spring for an afternoon
The Orca Point Lodge experience with excellent food and entertaining activities
Witnessing the beauty and serenity of one of the least-visited parks in the system, Glacier Bay National Park
Collecting iceberg bits to chill the drink of our choice
Viewing and listening to a calving glacier, with no other humans around besides our close-knit group of travelers
An expedition skiff journey into Ford's Terror, with cliffs rising from the water's edge, reminiscent of Yosemite Valley
Spending time in the historical port town of Wrangell, Alaska, along with a hike just outside of town to view Rainbow Falls
Spotting a brown bear from the bow of the Admiralty Dream and spending time watching this amazing creature in its element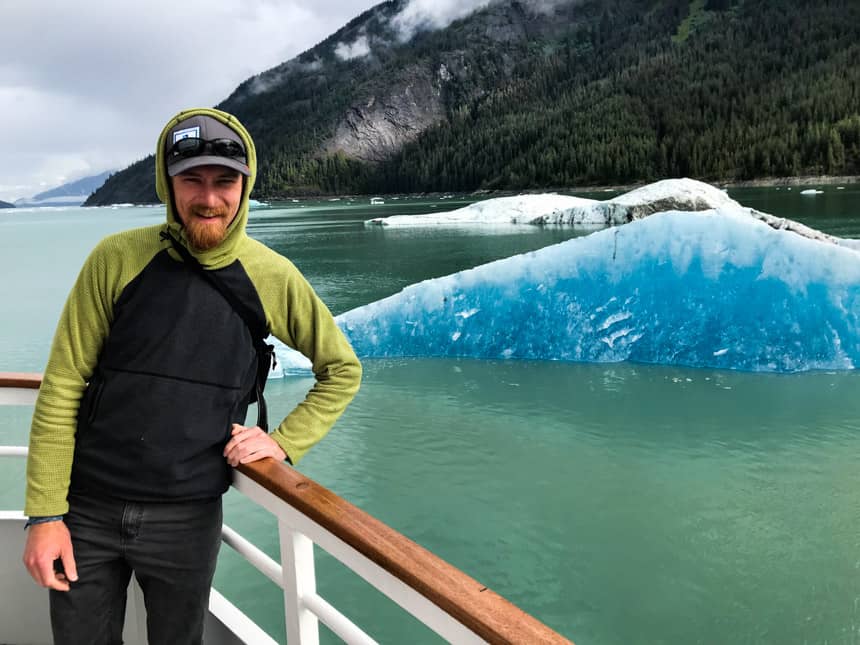 For more photos from this trip, including tide-hidden petroglyphs found in Southeast Alaska, view my Facebook album, on AdventureSmith's Facebook page.
This Alaska cruise review was written by an AdventureSmith Explorations crew member. Read all our Small Ship Alaska Cruise Reviews for more trip reports, or contact one of our Adventure Specialists to learn more about our Alaska trips and small ship Alaska cruises, including Glacier Bay cruises: 1-800-728-2875.