AdventureSmith Explorations' Adventure Specialist Kevin Marshall reviews his 3-day active adventure at Galapagos Safari Camp on Santa Cruz Island in the Galapagos Islands. Learn what it's like to be on a land safari in the Galapagos.
As I was making my way to Galapagos, many thoughts and images crept through my mind as I was trying to contemplate the experiences that may lie ahead. As this was my first visit to the islands, I couldn't stop thinking of the uniqueness of such a special place in our world. My first stop: Galapagos Safari Camp, an African-style tented camp nestled in the highlands of Santa Cruz Island and surrounded by wild nature along with stunning views of the Pacific Ocean.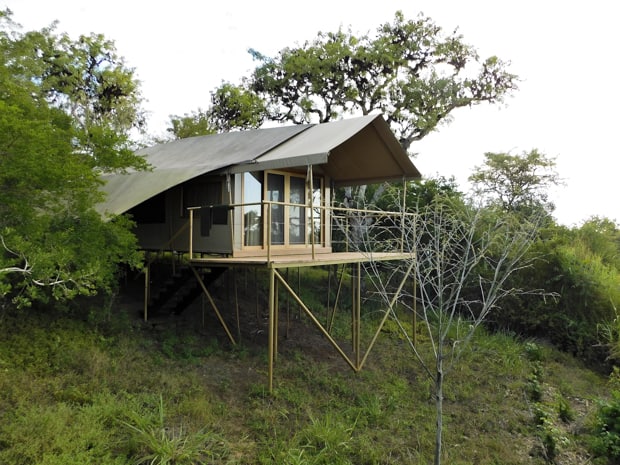 Upon my arrival to the Baltra Airport, a Galapagos Safari Camp airport representative and a naturalist guide, Sandi, both welcomed me with huge smiles! With Sandi leading the way, I was to spend the next 3 days exploring Santa Cruz Island and experiencing the tranquility of Galapagos Safari Camp before embarking on an 8-day cruise. This program is a customized, 3-day Active Cruise Extension that can be done either before or after your cruise. Once all the airport logistics were finalized, we were on the road for our first adventure into the highlands. We have a blog where you can learn more about how to get to Galapagos.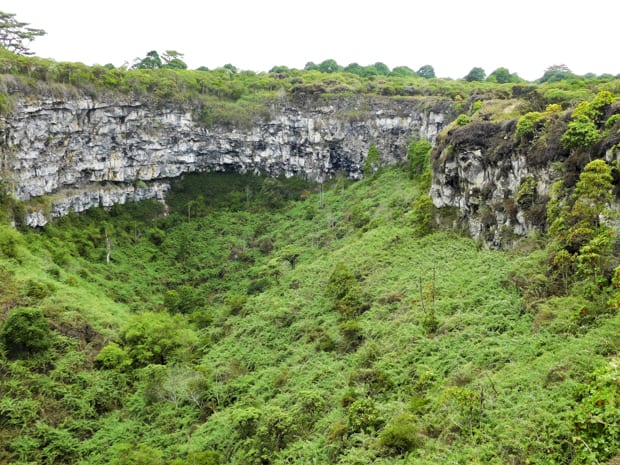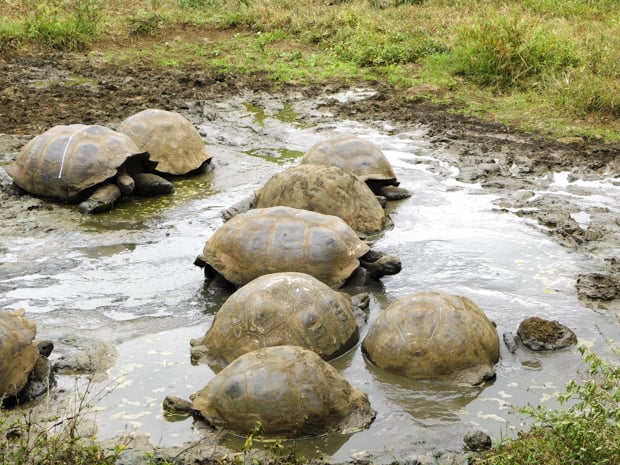 Visiting Los Gemelos & El Chato Giant Tortoise Reserve
Los Gemelos, or Twin Craters, are located in the center of the island, about a 30-minute drive from the airport. They are not actual craters caused by impact but sinkholes created from the collapse of empty magma chambers. We were surrounded by scalesia forests and spotted many bird species, including some of the Charles Darwin finches.
At the tortoise reserve we saw 20 to 30 tortoises over the course of our visit.
After a few hours, we then made our way to El Chato Giant Tortoise Reserve to have lunch and experience the beauty of these enigmatic animals in their natural habitat. We saw 20 to 30 tortoises over the course of our visit, with the males more concentrated together and the smaller females spread out (strategically avoiding the males, said my guide). If you can tolerate tight spaces, the lava tubes adjacent to the reserve offer a fascinating look into the volcanic stomach of the island. These tunnels were easily viewed by a small flashlight and can be a nice refuge to enjoy the cooler temperatures underground if the day is hot.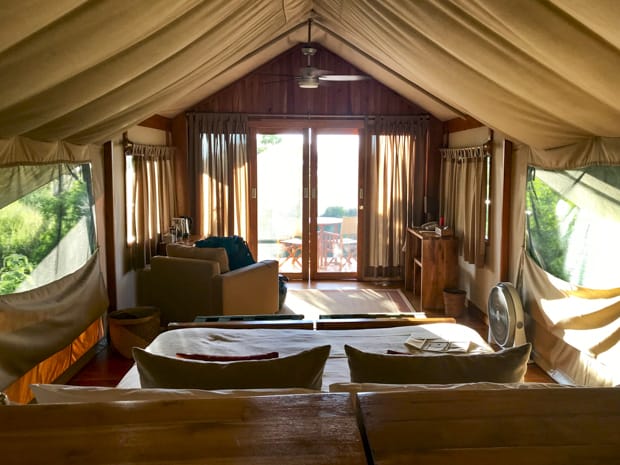 Arrival to Galapagos Safari Camp
Upon completion of our adventures for the day, we were off to the Galapagos Safari Camp. We reached the end of a paved road, then made a right turn onto a dirt road gradually creeping uphill. At this point, you had an instant feeling of peace and tranquility, completely surrounded by wilderness. We pulled up to the Main Lodge and were greeted once again by a big smile, this time from our hostess, Alejandra. The entrance to the lodge is simple and blends in very nicely with the natural environment around you. However, once through the main doors, you are transformed into a modern, sleek, feng shui–inspired open space with stunning panoramic views out of the floor-to-ceiling windows. To the right and up a few stairs is the dining room and kitchen. To the left is a nice seating area, game and library space along with the reception desk. Straight ahead are the lush highlands of Santa Cruz with the Pacific Ocean on the horizon.
Once arriving you had an instant feeling of peace and tranquility, completely surrounded by wilderness.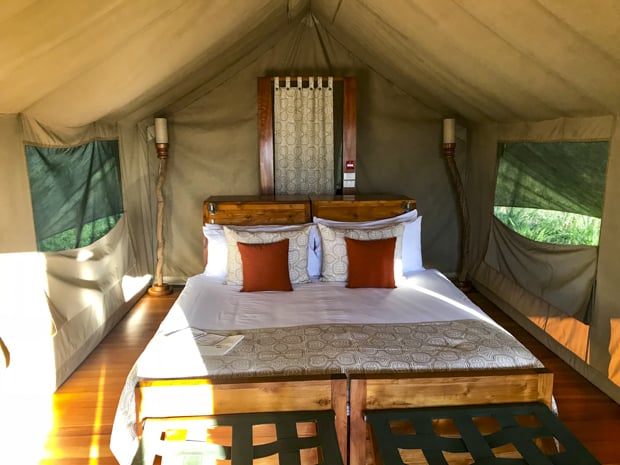 Galapagos Safari Camp Tent & Dining Review
From here, Alejandra showed me to my luxury tent for the next few evenings. Following a nice structured gravel path down a few sets of stairs, we arrived at Tent #2 basking in the sunlight. There are a total of nine stilted luxury tents throughout camp as well as a three-bedroom family suite that can accommodate up to six people. I must also mention here the solar-heated infinity pool I spotted in route, which is one of the standout features of the camp, designed for pure relaxation and refreshing swims.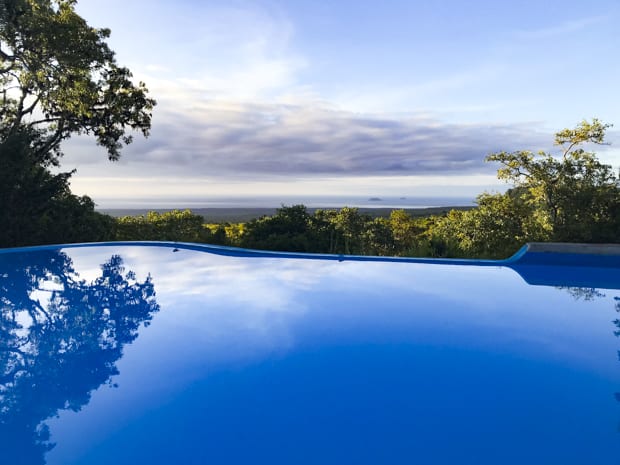 My luggage was already inside my tent when we arrived. My tent was spacious and open-aired, with tables on each side of a comfortable bed in the center. In the rear was a private bathroom with toilet, full shower and rock sink supplying hot water. Windows on each side of the tent could fully close with flaps during the evening hours. Once I was settled, the front deck of my tent platform was calling my name, especially the hammock! The sunset was fast approaching so I made my way to the Viewpoint Terrace, an observation deck off the main road for sunset cocktails, private lunches and even yoga.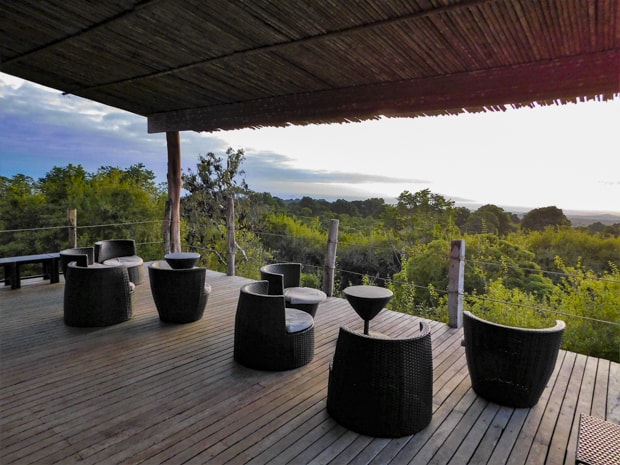 When the sun went down, I headed to the main lodge to enjoy a three-course dinner on the outdoor veranda with Katrien, the hotel manager of Galapagos Safari Camp. The food and the company was outstanding! We chatted about how sustainability is very important to the property's approach. The lodge is set on a 55-acre working farm, with onsite organic meat and produce served at meals. Add to that solar panels and rainwater collection, and Safari Camp is quite self-sufficient.
I fell asleep to the sounds of the Galapagos: giant tortoises crunching leaves beneath my deck and birdsong.
Dinners are served plated and feature the local cuisine of Ecuador and Galapagos, starting with an appetizer of a soup or salad, a main dish, then a dessert if you have the appetite! The camp staff can accommodate for any dietary restrictions or preferences, usually requesting this information in advance of your stay. They can also handle special requests on the spot. After our dinner was over, I made my way back to my tent to fall asleep to the sounds of the Galapagos: giant tortoises crunching leaves beneath my deck and birdsong. In the evenings at camp, they have done an excellent job at providing lighting along every pathway as well as around your tent for easy navigation.
The next morning I awoke to the birds on my front deck along with a cool breeze that swept through my room since I left the tent flaps open during the night. I made my way back up to the lodge for breakfast, which is commonly served around 7:30am. Breakfast was ordered from a menu, but we could help ourselves to the self-serve station for cereals, yogurts, fruits and breads.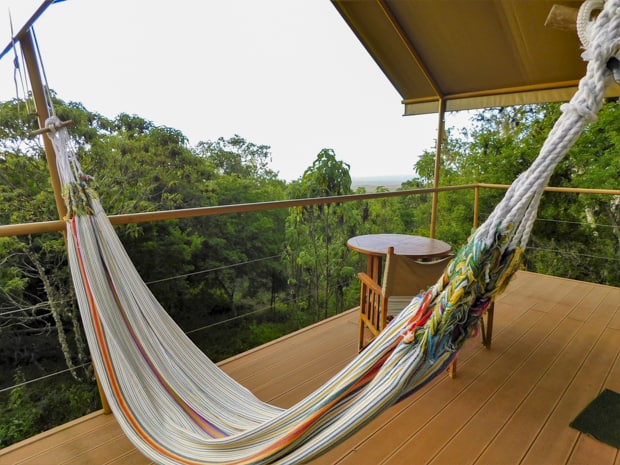 Tortuga Bay Kayaking & Local Galapagos Farm Visit
Shortly after breakfast, I gathered my belongings for the day and was met by my guide Sandi again, along with our driver for the day. We started off, making our way toward the town of Puerto Ayora to spend a half-day at Tortuga Bay. The trail that leads you to Tortuga Bay is very well marked and maintained; it took us around an hour to reach the white-sand beach that makes this area so special. We continued along the beach to the adjacent cactus- and mangrove-lined bay for our chance to kayak and swim. We took out a double kayak for about an hour for a relaxing paddle, and I was thrilled to have seen my first sea turtles, reef sharks, golden rays and marine iguanas of the trip!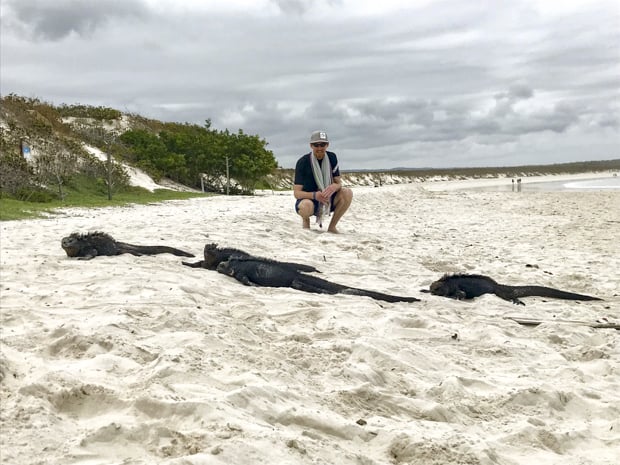 A local farmer showed us his property's mule-driven sugar cane press, distillery and coffee growing and roasting.
Lunch was back in town at a local restaurant, followed by a visit to El Traphiche Ecologico, a very nice working farm in the highlands run by Mr. Adriano Cabrera. Mr. Adriano was such an interesting person and was very welcoming, showing us the property's mule-driven sugar cane press, distillery and coffee growing/roasting. Our visit lasted around an hour and we were back on the road to camp. The afternoon was warm, so the infinity pool was the only thing on my mind. The water was perfect and I enjoyed a nice swim before dinner, which was yet another great meal of local cuisine. My last night was somewhat bittersweet because my experience at Galapagos Safari Camp was truly wonderful and your senses do become heightened by your surroundings.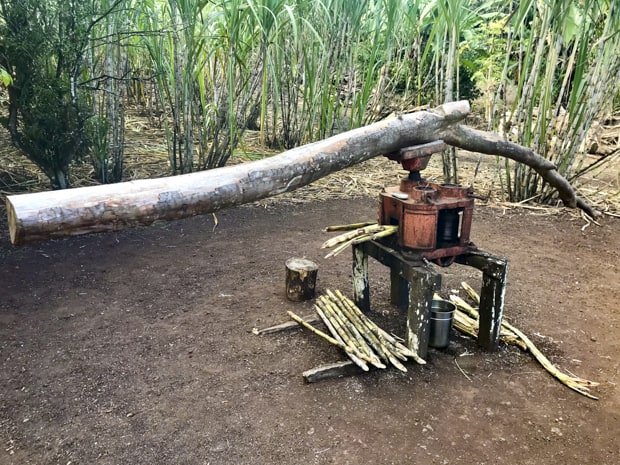 Safari Camp Before or After Your Cruise?
Galapagos Safari Camp is a fantastic option to complement any cruise itinerary in the archipelago. The only question is whether to tack it on before or after your time aboard a ship. If I hadn't done this stay on land, I would not have had the opportunity to visit with a local farmer, or enjoy a meal at a local restaurant, since my cruise itinerary was very much focused on exploration of the remote natural wonders of the Galapagos. Not to mention such close encounters with giant tortoises right outside my tent! After my experience, I would recommend doing this Galapagos trip as pre-cruise option, I also think this would make for a great Galapagos family trip component. Upon arrival, I was excited and energized plus everything was new, which I think lends itself nicely to doing this before your Galapagos cruise. This time on land also gave me time to decompress from my long international flights and ready myself for the active water-based adventures to come. I left with an incredible sense of place.
For more photos from this trip, including tortoises, marine iguanas and Galapagos Safari Camp please view my Facebook album on AdventureSmith's Facebook page.
This Galapagos land tour review was written by an AdventureSmith Explorations crew member. Read all AdventureSmith Trip Reviews for more trip reports, or contact one of our Adventure Specialists to learn more about these small ship cruises and wilderness adventures: 1-800-728-2875.
MORE GALAPAGOS RESOURCES:
All Land Based Galapagos Tours
Galapagos Island Hopping or Cruise?
Luxury Galapagos Tours
Galapagos with Kids
Galapagos Diving
Best Time to Visit Galapagos
How to Get to Galapagos
Galapagos Islands Animals
Galapagos Cruises
Galapagos Cruise Deals
Galapagos Charters
Galapagos Trips
Galapagos Tour Reviews
Galapagos Travel Guide