Hear from Adventure Specialist Taylor Cranney about what it's really like at the North Pole in this review of her trip. See her impressions from 16 days at sea and who might be cut out for an expedition of this caliber.
ON THIS PAGE – North Pole Trip Review:
North Pole or Bust
From Open Water to Ice Breaking
Reaching the North Pole
What We Did at the North Pole
Polar Bears
Life on Board & At Sea
Who Is this Trip for?
What It's Like – Reflecting on the Feeling
The eager anticipation of an approaching trip like the North Pole is really when the electric excitement of the expedition begins. This is one of those trips that often instills disbelief when you tell people where you are traveling to. Once you've convinced your friends and family that you're not joshing, there are often many questions that follow, like "what do you do there?" and "what wildlife do you see?" All valid questions indeed. Below are my observations and experiences, which might help a curious traveler get a better understanding of what this trip entails, who this expedition is best for, and all the other magnificent details of what a trip to one of planet Earth's most remote locations is like.
My chariot for this voyage was the acclaimed Le Commandant Charcot. At the time of writing this, this brand-new vessel is the only purpose-built expedition cruise ship that has been constructed with an ice class rating (PC2) that can reach the North Pole. This ship was spared no expense in sustainability practices, state of the art technology, luxury amenities and the ability to reach almost any ice-laden destination the Captain can dream up. I recommend reading more about this acclaimed vessel because it really sets the stage for the elevated experience of traveling aboard her for 16 days to and from the North Pole.
In addition to all the specs and general info you'll find on our Charcot ship page, my colleague Lauren Pilholski has written a thorough Le Commandant Charcot ship review from our time aboard, providing further details on the ship as we experienced it together.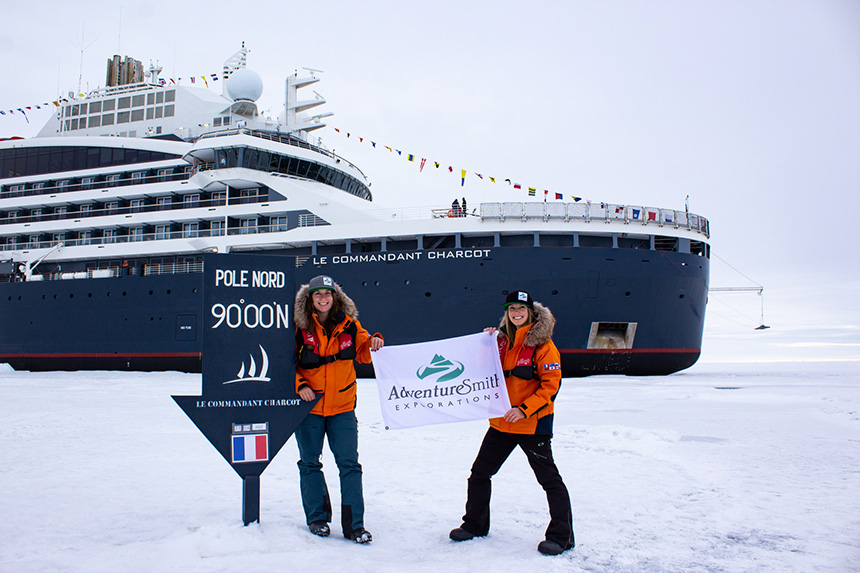 North Pole or Bust
Once we embarked in Longyearbyen, Svalbard, our primary objective was to get to the North Pole. Thus, we barely made any stops for excursions until we got there. All expeditions to the North Pole will spend some time cruising in open water until they reach the ice edge. For us, in late August, it took about one day of cruising to reach the ice edge. But this detail could change depending on the time of year you go, and what the ice conditions are for that year.
From Open Water to Ice Breaking
As we approached the ice edge, it was our first big milestone of the trip. Most everyone was out on deck, or by a big picture window to view our entrance into the land of ice. We watched our open water turn to sporadic dinner-plate-sized bits of ice, to satellite-dish-sized sheets and eventually into a seemingly endless horizon of ice.
Because we were traveling on a state-of-the-art PC2 ice breaker, this was where this vessel shined most. As we punched through ice sheets with regularity, you could feel its rumble all the way through the ship. The Captain said the vessel could safely travel 13-14 knots in conditions like this. However, he would keep our speed closer to 6-7 knots for the comfort of the guests. The faster you go, the more pronounced those rumbles are. While at dinner, it would sometimes rumble our table and glasses—reminding me of Jurassic Park when the T-rex is coming.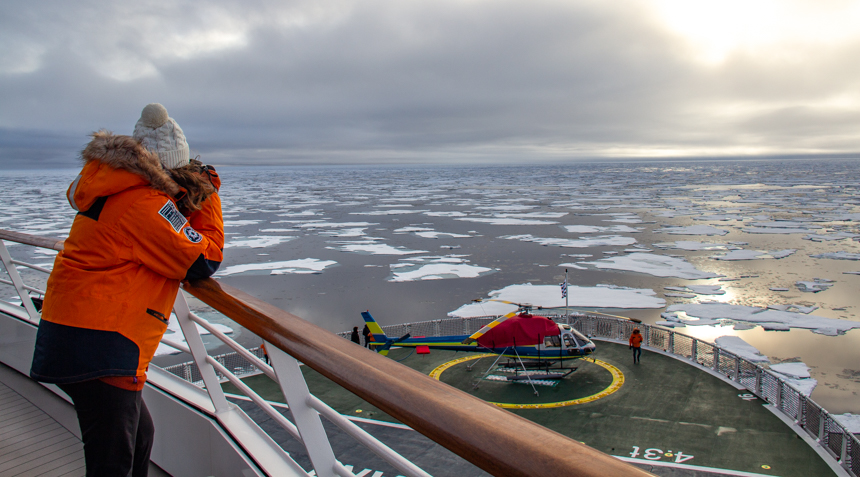 It took us three more days of pushing through ice to finally reach the North Pole. One thing that surprised me about the ice is that it didn't just stay as one thick layer once we passed a certain point. The ice characteristics changed often as we cruised: thicker vs. thinner, fragmented vs. solid, sometimes with small ridges vs. sometimes completely flat.
A navigational tool that the Captain used to travel more quickly through the ice was to chase "leads." Leads were large fractures of open water found in between dynamically moving ice sheets. By connecting these leads, we could move faster, more efficiently and with less ice-clapping-thunder than if we broke through ice sheets constantly. The Captain had an advanced system of pooling data from many resources to best predict where these leads would be in order to follow the most effective path.
One thing some travelers don't realize who have never been to the North Pole is that there is no land mass associated with it. The North Pole sits in the middle of the Arctic Ocean and the water underneath it reaches a depth of 13,123 feet (4,000 meters). The nearest land mass to it is a small island off the North shore of Greenland and is about 440 miles away. This means reaching the North Pole can only be done by ice-breaking vessel, and once you are there your off-ship excursions are solely done on sea ice.
If you have ever been to Antarctica, you might notice the ice in the Arctic to be very different here. The landscape is void of the big, towering tabular icebergs that have calved off of glaciers attached to land. Instead, the only ice around is relatively flat, frozen sea water, which floats on the surface of the ocean. Oftentimes these large swaths of flat ice will be covered with snow as well. Another feature of this Arctic sea ice are its "hummocks," which are ridges that have been created by ice sheets pushing together.
These ridges give the otherwise flat terrain some personality and slight undulations. It is among these ridges where wildlife might take refuge from wind or weather—or perhaps attempt to hide from other wildlife.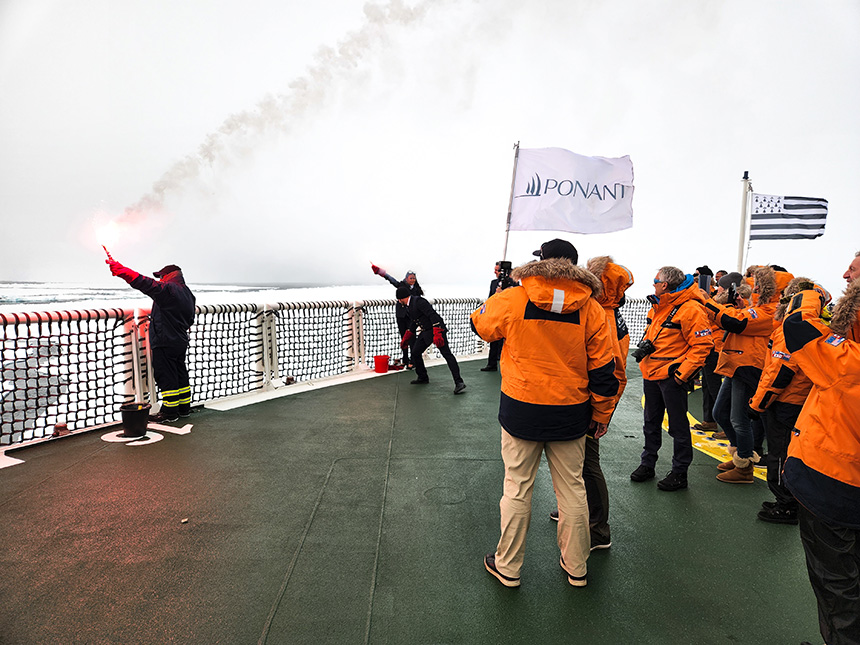 Reaching the North Pole
We had been prepared earlier in the day that we would reach the North Pole by the evening. As the updates became more frequent and we knew we were getting close, there was a buzz of excitement around the ship. I found myself in the bridge, watching the Captain at work and making ever-quickening announcements as we grew closer. Eventually he asked everyone except for necessary personnel to leave the bridge and head down to the Heli Deck so he could concentrate.
The Captain announced each degree, minute and second once we got within proximity of the North Pole. The Captain's goal was to hit exactly 90.0000° N on his GPS reader. With the PA on, you could hear that we missed it and had to readjust course. This happened a couple of times before finally we caught the excitable 'Oh? Oh!!!'. Which was accompanied by the sounds of slapping high fives and hoorahs.
Many of the crew had preemptively positioned themselves on the Heli deck with a flag parade, flare guns and road flares, which were lit immediately upon the Captain's confirmation we reached the North pole. Orchestral music began to play, and at one point, the bay doors to the helicopter storage area opened, and up rose a table with Champagne buffet for all. There was even a guest who came out dressed as Santa Claus (which was a surprise to the crew as well). So naturally everyone wanted a picture with Santa. They even had the onboard opera singer come out and give an evocative performance from deck 7. The Captain said a few nice words and then sabered a bottle of champagne. The celebration continued on after dinner, with the Ponant Parka Party on the outdoor INNEQ Bar deck. This was the first time we had really utilized this outdoor space as part of the voyage. We had midnight sun, some lively music and danced the night away.
What We Did at the North Pole
The next morning, day 6 of the expedition, we awoke to announcements confirming our first off-boat excursion of the voyage, an exploration on the ice of the North Pole. We had incredible weather, at around 48 degrees Fahrenheit, intermittent sun and no wind. The plan was to have a morning outing. They would close the gangway for lunch, and when they reopened it in the afternoon, that is when we would do the polar plunge.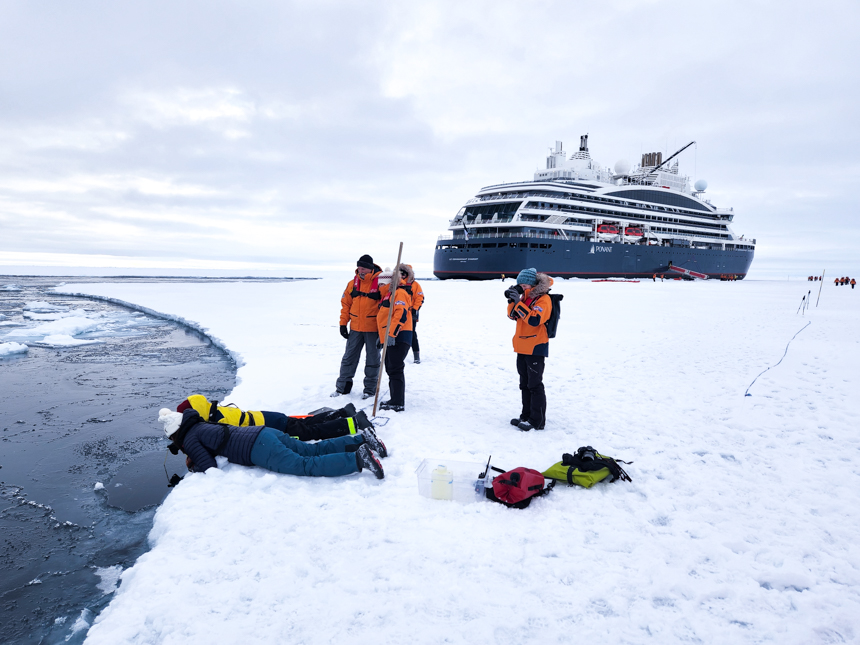 When we went out on the ice in the morning, they had a handful of stations we could visit as we explored freely. Naturally, we first walked to the "North Pole Post Office" to drop off our postcards so Santa could deliver them. Next we walked to a science station that housed the lovingly named "the baby," which was an autonomous snow buoy our crew drilled into the ice to measure snow and atmosphere data as it drifts in the sea ice. You can track the buoy we placed here.
After stopping mid snowfield and getting a couple of shots with the AdventureSmith flag, we walked over to the floatboat.org installment and added our two wooden boats to the art piece, which was shaped like a heart with a 90-degree symbol in the middle (our boat numbers are #5148 and #5128). These boats are made in Seattle, and for our voyage were drawn on by Norwegian children and then given to our vessel to deploy at the North Pole. The boats will drift with the sea ice and eventually melt and float in the ocean with the ocean current. The idea is that the boat will eventually land on a beach somewhere and get picked up. Hopefully the person who finds it visits the website and logs their find, so the route of the boat can be tracked and viewed later.
After this stop, we had time for a few key photo opportunities like the North Pole sign, the signpost with distances to the nearest town, and of course some goofing-off jump photos with new friends.
There was also the opportunity to recreate this famous shot in front of Jean-Baptiste Charcot's vessel Français, for its first Antarctic expedition. In this photo, Charcot and one of his crew are depicted enjoying a glass of Mumm Champagne in Antarctica on Bastille Day 1904.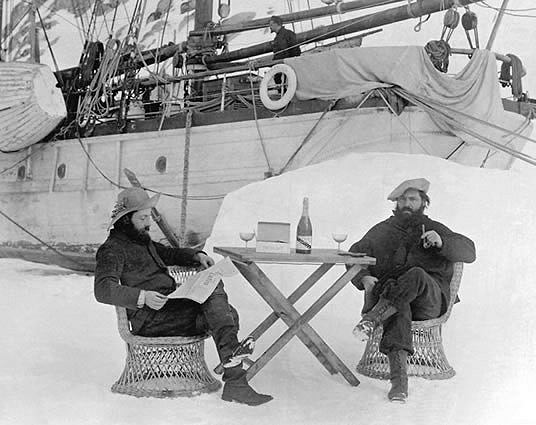 Shortly after this, the crew gathered us to create our aerial 90-degree N sign. After that, we had just enough time to visit the inflatable furniture "Champagne room" and grab a glass of celebratory Champagne before they closed the gangway for lunch on board. After eating a quick lunch, we were eager to get back out there for more.
This time we walked up to the bow to admire this noble ship from a new perspective. A polar bear guard was stationed there with an original Norwegian ice-thickness-testing stick. The guard explained that you would use it to poke and probe the ice until you found a hole with water. Once you puncture it into the water, you taste it to see if it is salty or fresh. If it is fresh, it is just a melt pond. If it is salty, it is getting filled with sea water and it is time to move away!
Moving quickly throughout our day we were up next for the polar plunge, which was being done from the ice and not from the side of the ship. The crew had set up a big inflatable tent shelter, which was chock full of fresh towels, mats on the ground and a liquor bar for a "bravery" shot. There were spectators lined up on both sides of the aisleway to cheer us on. An expedition guide attached a waistband and long rope and encouraged everyone to cheer me on by name as I went for my icy plunge. I actually enjoyed this plunge way more than the one I did on my Antarctica cruise because I had to walk outside to approach it. This meant putting on my gumboots, robe, parka, the whole shebang. It was just more of a process which added the excitement. Because our weather was sunny and calm too, I felt so warm after my plunge that I only wore my bathrobe for a while and just topped it with my parka to keep exploring.
After this, there was more free time given to roam the perimeter of the boundary, take more photos and just absorb the reality of being at the North Pole!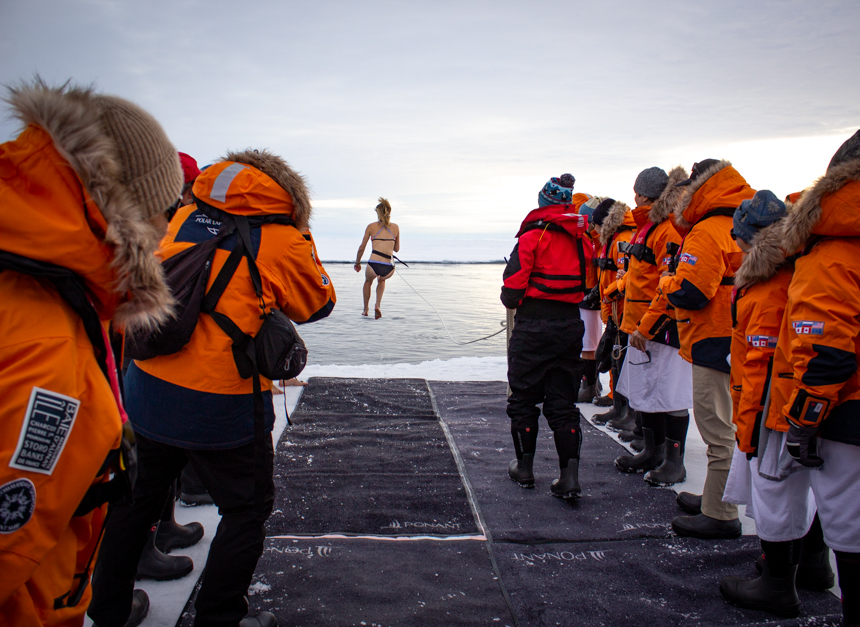 Surprise Trip Highlight: Polar Bears
After sailing aboard, I believe that traveling aboard Le Commandant Charcot is absolutely the best way to see polar bears in a marine environment. This vessel can get into corners of the icy Earth that no other cruise ship can. By being in these more remote and harder-to-reach areas, you have an optimal opportunity to view wildlife in their rugged habitat.
In addition to its ability to go deeper, this ship can also maneuver like an elite ballerina. Dancing with wind, open water leads, ice conditions and wildlife sightings so whimsical you'd think you had front-row tickets to Swan Lake.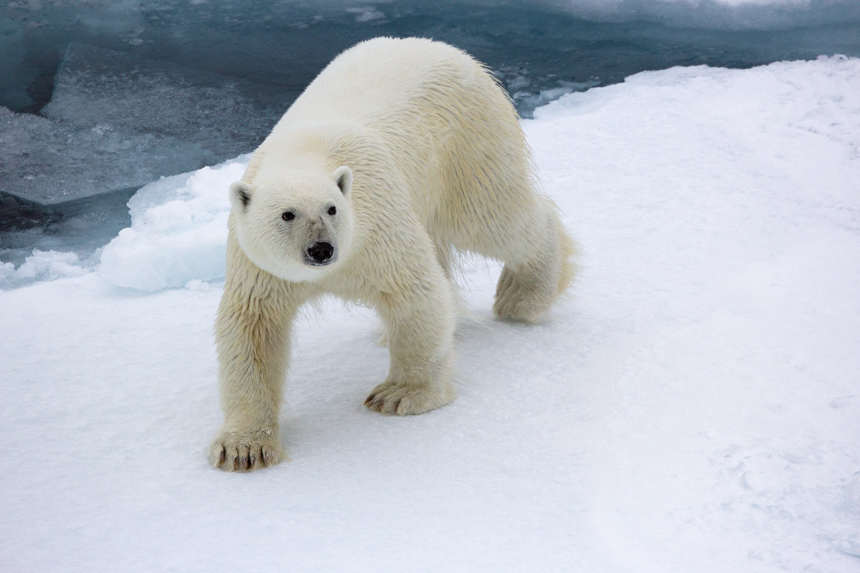 On one particular bear viewing occasion, we had witnessed a female bear that was curious and came close to the ship. Most of the passengers were out on one of the many decks to view the bear and had taken their photos and gone inside when the bear lost interest and started to scamper off to the other side of the ice sheet. Instead of going inside with the rest, I decided to enjoy the setting from the comfort of one of the Charcot's heated benches. As I sat there peacefully observing the bear from a distance, I realize the ship was moving completely sideways. No forward movement at all. Just pressing gently against broken ice sheets as we moved laterally towards the bear. This is an impressive feat for any vessel, and requires specific equipment to achieve it. It seemed the Captain had turned the azipods sideways, as well as a port side bow thruster to give us precision lateral movement.
The polar bear eventually noticed the ship from a distance and got curious again. The same bear came back up to the ship, even closer this time, but only about 20 of us were on deck to witness it. The captain did not announce it again because it was the same bear we had already seen. It was a special moment.
My colleague Lauren had been eating lunch at this time in the Nuna restaurant and had a surprise when she looked outside during her meal and saw the polar bear so close! This just goes to show there really is no bad place to watch the wildlife show. Polar bears were certainly the wildlife focus of our voyage. But there were opportunities to see other interesting Arctic wildlife as well. I saw an Arctic fox, reindeer, fin whales, ivory gull, Arctic terns and puffins. Some guests on my voyage saw other kinds of whales, seals and dolphins (though I did not).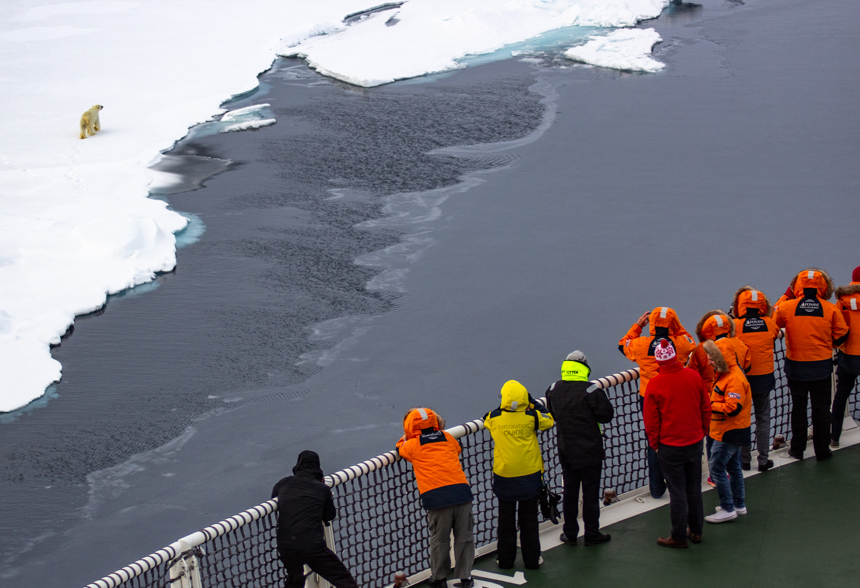 Life on Board & At Sea
With so many days at sea on this itinerary, there is certainly no shortage of onboard programming. They made a concerted effort to fill every inch of our time with engaging events. At the beginning of the voyage there were many briefings to introduce us to the crew, activity orientations (like kayaking, polar hiking and polar plunge), science programming, etc. For the rest of the trip, we could choose our own schedule of programming pertaining to our preferred language and interests.
For the left-brain thinkers on board there was regular programming of the intellectual kind. Offerings in this category include lectures and documentaries pertaining to the science, wildlife and history of the Arctic. You could even sign up for a guided laboratory visit if you were so inclined. For more of the right brain thinkers, there were arts & crafts workshops on things like knot tying, origami bookmarks, create your own mandala, etc. We even had two renown photos ambassadors on board with us that would give lectures and workshops on topics like composition, histograms, shutter speed and aperture.
For those who revel in entertainment, there were daily events and offerings. Like clockwork each day would be live musical performances from one of the five musicians on board: saxophone, piano, violin, guitar, soprano singer. These performances would usually be during teatime in either bar on board, while they offered themed amuse-bouche to seated onlookers. There was also collection of performances offered in our nightly programing. This included things like piano recitals, jazz and opera performances, dance performances and sometimes a combination of multiple talents.
My colleague Lauren wrote a Le Commandant Charcot review, and went into more detail there about what it's like aboard, including the incredible culinary experience. You can also find many more details on our Le Commandant Charcot ship page. Life on board is a BIG part of this itinerary because there are a lot of days just at sea, or on the ice, where you are not doing off-ship excursions. I think it's important for anyone reading a review on this trip to understand, and to see what you might be doing with that idle time.
Who Is this Trip for?
I believe this trip to be best suited for the seasoned traveler who has interest in traveling to polar regions and has likely knocked off a few other bucket list items (Antarctica, Falklands & South Georgia, Svalbard, Greenland, etc). You definitely need to be armed for the cold; while we were on the ice, it ranged from 14 degrees Fahrenheit to the high-40s on my trip.
What really impressed me about this expedition is that you enter a melting pot of incredibly interesting people with unique travel experiences. This comes with much opportunity to hear their stories and backgrounds, and to hear about their various professions or worldly pursuits. A natural element to traveling to the North Pole is that you spend a fair amount of time on the ship. But when you can fill your time having quality conversations with some of the most interesting people on the planet, it surely helps pass the time.
This expedition also requires some flexibility from its travelers, who do not require a rigid and already defined itinerary. But instead, are inspired by the idea of being on an exploratory ship, which can reach areas in the ocean that are unreachable by most other ships, certainly by other passenger cruise ships. By the nature of this trip, with the uncertainty of ice conditions, weather and wildlife viewing stops… there is no home office, captain or crew member that can tell exactly what you will be doing and when. Instead, they ask for your trust in knowing their primary goal is provide a memorable experience for you. By accepting this you become a part of the process, the mechanism, the agency of your own adventure.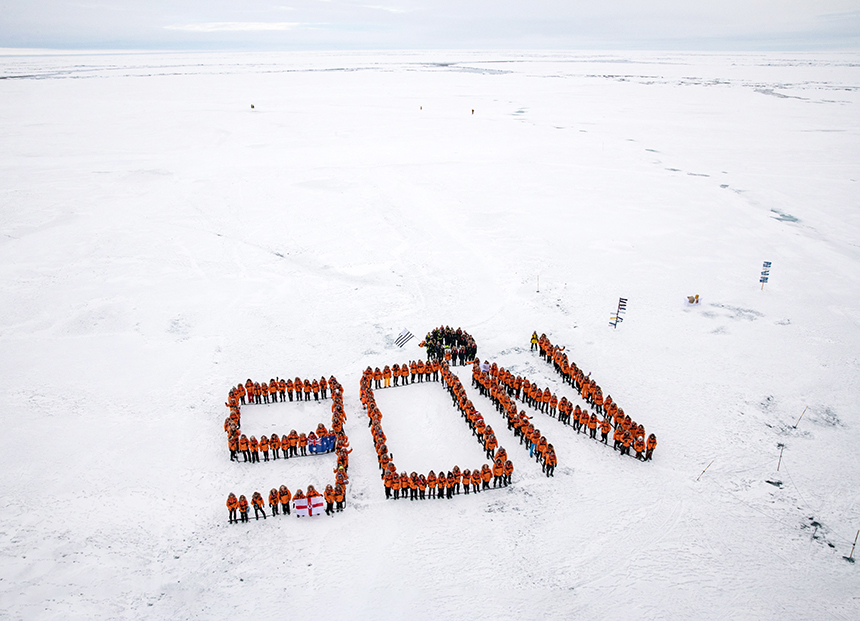 An example of this on my trip were expected activity options that changed course. But with that also came the unexpected: remote hikes scouted by the ship's helicopters deep in Scoresby Sund Greenland. I liked Scoresby Sund because it felt wild! Greenland is a place I would love to spend more time exploring via our Arctic cruises that sail there on more dedicated routes.
It is also important for a prospective North Pole traveler to know there will be a fair amount of sea days, as compared to many other expedition-based itineraries. This means fewer off-ship excursions overall. But what you gain in its place is a sense of true adventure, and answering any looming internal questions about what it feels like to be at the North Pole. These extended days on ship are a good reminder to choose your ship wisely. For me, I was very happy to be on Le Commandant Charcot, which is a travel experience in and of itself. It's the very first Polar Class 2 ice breaker that was purpose-built as a cruise ship. What that means is long gone are the days when you had to travel on a sparse, repurposed Russian research vessel. Now you can book passage on this luxury vessel to bring you to the intersection of the Earth's axis and the Earth's surface.
Think of it in terms of traveling on an old school bus vs a Rolls Royce limousine, or traveling with your 5th grade science camp vs with a French monarch. The ship is remarkable and is everything it boasts to be (read more in our Charcot ship review). There is undoubtedly no better way to reach the North Pole.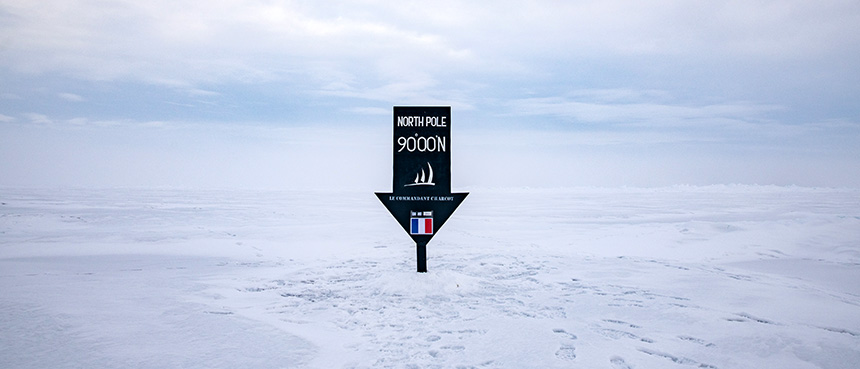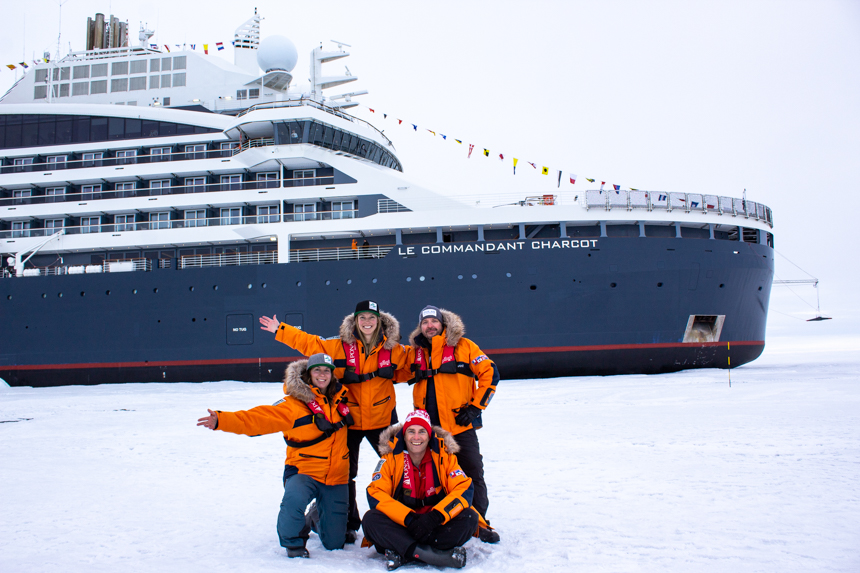 What Is It Like? Experience It, Then Tell Your Story
This trip is a truly extraordinary opportunity to achieve a bucket list travel goal. The sheer feeling of reaching the ice edge, and cruising through sea ice for multiple days on end carries an air of excitement and wonder. By achieving the goal of reaching the North Pole, you are automatically part of an elite club that is the vast minority of the human population. Only a select few of us get this opportunity in our lifetime. You can expect to have ample opportunities to entertain your friends back at home with stories of your trip, and answer all those mysterious questions about wildlife, weather, the how and when. Generations of your family will likely continue to tell your tales.
But mostly what it's like is a feeling. Go to the North Pole and you will see "what is it like?" is a question that only those who have been can truly answer. It's an emotion and achievement that will stay with you for your lifetime.
MORE ARCTIC RESOURCES:
North Pole Cruises
Arctic Cruises
Iceland Cruises
Svalbard Cruises
Arctic Tours
Arctic Expedition Trips
Arctic Animals
Arctic Cruise Deals
Arctic Cruise Reviews
For more photos from this North Pole Expedition view my Facebook album on AdventureSmith Explorations' Facebook page.