AdventureSmith Explorations Founder and President Todd Smith shares personal experiences and insights from his Land of the Ice Bears cruise to Arctic Svalbard in this firsthand National Geographic Resolution review. This Resolution ship review also applies to the nearly identical sister ship National Geographic Endurance. Both ships operate Lindblad cruises worldwide, so you can apply these insights to wherever you choose to sail on these ships.
When writing a National Geographic Resolution ship review, what first comes to mind is how many unseen design and technical capabilities stood out during my 10 days aboard. Even before I embarked, I knew she would be one of the most advanced polar expedition ships sailing today. I'm here to report now that the Resolution and Endurance live up to their lofty expectations.
What follows is my personal review of the unique features that distinguish the National Geographic Resolution from other ships in her class, and where this ship has room for improvement.
Luxury Expeditions
Of course, the Resolution and Endurance possess many luxurious attributes one would expect aboard a modern ship. For instance, most cabins have balconies, the lounges and common areas are comfortable with incredible views and the food is delicious and well presented. These amenities are well documented in online ship descriptions, brochures and virtual tours, so I won't go into detail here. Instead, I focus on the unique features that distinguish the Resolution from other ships in her class.
X-BOW® The Future of Expedition Ships
The Resolution and Evolution are further confirmation that the X-BOW® is the future of expedition ships (see my review of the Greg Mortimer). Her stability and capability breaking through ice is unlike any expedition ship I have sailed on. It was noticeably smoother and quieter than other polar vessels. The notorious Drake Passage crossing to Antarctica is sure to be a much less dreadful place now. Viewing portals on the front of the ship gave guests a great view of the X-BOW® in action. Located on the Main Deck and Lounge Deck these viewing areas were the best place to photograph and video the ship breaking through ice.
Impressive Ice Rating
The Resolution and Endurance are among a handful of passenger vessels to meet a PC5 (Polar Class 5) ice rating. This design increases safety, broadens her reach and extends the polar cruising season. My April cruise in Svalbard, when sea ice was at its peak, is a prime example of this. Typically the Svalbard cruising season begins in June when sea ice has melted. Solid and partially broken sea ice can inhibit a ship's ability to enter fjords, get close to glaciers, approach the shoreline or watch wildlife.
Witnessing the ship firsthand in ice is a wonder. The thrill of plowing through fast ice at speed was exhilarating (see video). Winding through bergs and ice in early spring in Svalbard, was a highlight of the trip. Walking on the fast ice, right from the ship, was a dream come true. Pro tip: Stay on deck peering over the bow when she backs up in fast ice for an amazing experience in ice cruising. The triangular cutout left by the unique bow makes a great photo or video.
Automatic Positioning System – Anchorless Anchoring
The automatic positioning system was astounding. I had never seen a ship sit in virtually the same position without an anchor (or even with an anchor for that matter). Regardless of currents, winds or ice the Resolution remained in place for our off-vessel activities or wildlife viewing. This capability allows her to remain motionless close to shore in places that would be inaccessible to any ship that requires an anchor. An added benefit is no damage to the ocean floor. What will we call anchoring when anchors are no longer required?
Open Bridge
The bridge is a modern marvel. All the above-mentioned technologies are controlled and monitored here. Large interactive touch screen maps on the bridge and in the observation lounge traced our route and allowed armchair captains to navigate nautical charts and plot expeditions around the world. Lindblad Expeditions, who owns and operates this ship, practically invented the open bridge policy, where guests are invited to visit the bridge and interact with the officers. This bridge is about three times larger than necessary with a sitting area and 270-degree views to comfortably accommodate guests.
Sustainability Built In
Efficiencies in propulsion, heating systems, waste management and hull design make her among the least polluting passenger vessels available. From an aesthetic point of view, I never once saw emissions or smelled fuel, a common occurrence aboard many expedition ships. Not to mention that sustainability and the tenets of ecotourism are baked into the Lindblad experience.
Ballast water is treated to avoid the spread of organisms. She is designed to minimize the impact on marine life with low underwater noise levels. Waste heat from the engine cooling water and from the exhaust gas is recovered and used for heating purposes and freshwater production.
Live an Episode of National Geographic
Exterior cameras projected live action on the big screens in the lounges and my cabin, so we could watch wildlife or enjoy scenic views from inside the ship. Of course, the best experience was always to bundle up, grab some binoculars and head out on deck. But screens in the observation lounge provided a reprieve from the cold without missing any action.
Drones and undersea videography footage extended the expedition experience. Overhead views of the ship, guests and landscape were right out of a National Geographic film and the envy of most photographers on board. Undersea footage and talks about what was down there enhanced our understanding of the environment and systems that tie the polar ecosystem together.
In some ways the video footage and photo images from on board photographers seemed a bit like cheating. They were providing memories of a much grander experience than I witnessed in person. Zoomed in photos and videos of walrus, birds and polar bears were all much closer than I saw with my eyes and lenses. The memories I take home are now an amalgam of my experiences and National Geographic enhancement.
Expedition Leaders, Crew & Programs
As expected, the naturalists and on-board expedition leaders were exceptional. As the flagship of the fleet, the Resolution had guides culled from other ships. Some had as much as 40+ years with the company, an astounding amount of experience. Lectures were informative, educational and sometimes personal. The evening recaps were a highlight. More than just covering the day's events, the recaps gave naturalists an opportunity to educate us about the science of what we saw.
Nearly 50 countries were represented among the crew. The service was impeccable. At happy hour someone would take your order and before they returned 2-3 more came by to ask if you needed anything. The dining staff, hotel staff and all crew were always ready with a smile.
Off Vessel Expeditions
Shore excursions and activities aboard the Resolution and Endurance include small craft excursions in zodiacs, guided naturalist walks ashore and sea kayaking. Activities are not strenuous and no experience is required. With a slow pace and excellent naturalist guides, shore excursions serve to help guests better understand and appreciate the environment that surrounds you.
Highlights from my cruise include a two hour walk where curious Svalbard reindeer trotted in a complete circle around us. At one point they came close enough we could hear their breath and the sound of their hooves on the crunchy snow.
A walk on sea ice was the fulfillment of a lifelong dream. The Resolution slowly pulled into a thick section of ice. Guides dug holes, like ice fishing holes, to ensure the ice was safe to walk on. Then they lowered the gangway and we walked around the ship on fast sea ice. The fjord below the ice was several hundred feet deep. Everyone took photographs and selfies near the bow of the ship.
On a zodiac excursion among floating icebergs in front of a massive glacier we spotted several walrus. Being at water level while watching these unique animals was an intimate experience and the photographs were better than walrus photos from the ship. Our guide this day was a geologist so we learned a lot about the geological history and formations of Svalbard. Many of the ancient cliffs were home to thousands of nesting birds.
The basecamp area, or mudroom, offered lockers and efficient zodiac embarkation on both sides of the ship. With 126 guests, there was still the need to call groups by starboard or portside cabins to avoid crowds for disembarkation.
Service touches permeated even the activities. For instance, they had walking sticks already ashore for those who wanted them. A coffee station with spirits and a bartender kept us warm on the fast ice.
I was surprised that the kayaking loading system had not been improved. Kayaks are still loaded safely, one at a time, on a shallow platform suspended between two zodiacs. But the system was slow and required decent mobility to enter and exit the kayaks. I was in the second group called to embark kayaks, and some guests were already returning to the ship while we were still waiting to load, further delaying the process. The kayaking excursion was a welcome excursion until the wind came up. Several kayakers welcomed a tow back to the resolution by the safety zodiacs in the area.
Cabins Aboard Resolution
My category 7 cabin #705, at 430 square feet, is among the largest cabins available aboard small expedition ships anywhere. The spacious two room layout felt massive. We watched movies on the L shaped couch. This was a working vacation, so the large desk got ample usage. Every morning we would open the curtains revealing a wall of floor to ceiling windows immersing us in the Arctic landscape from the comfort of our bed.
I chose category 7 because I wanted a balcony and I wanted to be close to the Observation Deck. The walk in closet, rain shower, bathtub and 1.5 baths were a bonus.
The cabins aboard Resolution have several thoughtful touches absent on older expedition ships. A heated towel rack was great to heat towels, but also useful for drying wet gloves and bathing suits. There were ample outlets and USB ports to charge devices. One drawer cleverly had power inside it to keep charging batteries from cluttering the desk.
This was the quietest cabin I have ever experienced aboard a small ship. I never once heard a neighbor, footsteps from above or the hum of the engines. The pure silence in the cabin is a testament to the solid build of the entire ship.
A modern, well-draining bathroom with plenty of storage and ventilation can make a big difference in the experience aboard an expedition. Every cabin category has a rain shower head with a high-pressure handheld shower has a high-pressure handheld shower head.
Cabin categories 3-7 have balconies. I must admit I used to think that a balcony aboard an expedition ship was overkill, an unneeded luxury. But I am now a balcony convert. The ability to roll out of bed and step outside creates a connection to nature not available through a window. The hammock, added to our balcony by housekeeping for a couple of days, was a fun touch. Prepare to bundle up in polar regions.
Sleep on Deck
When I was a crew member aboard small ships, we (and occasionally some guests) sought out ways to sleep on deck. In Alaska we would bundle up on clear nights hoping to witness the aurora. In Baja we'd love to sleep under the stars. Deck chairs and zodiacs had to be our bed. This didn't offer much comfort or privacy.
On Resolution and Endurance, the two onboard igloos make this adventurous notion a more comfortable reality. And of course, I was more than eager to try a night sleeping on the deck. We had a spectacular night under the midnight sun (and some snow flurries) while scenic vistas of western Svalbard provided endless postcard perfect landscapes.
While not heated to warmth, the floor is heated to prevent freezing. The sauna and hot tubs are nearby, and we took advantage with a midnight soak. Warm water bottles were wrapped in fleece and placed in the bed, and ample comforters and blankets kept us warm all night. Eye masks are available if the summer polar sunlight is too bright. I found my beanie kept my head warm and covered my eyes. Coffee and croissants delivered in bed warmed our morning.
Get Warm in the Poles
Lots of expedition ships now have hot tubs, which is a nice addition especially in polar regions. The infinity design of the jacuzzi on the Resolution, where a glass wall provided scenic views over the stern of the ship, gave the illusion we were soaking blissfully in among the icebergs. Retreating from the hot tub to the sauna was a treat. Usually, I prefer a more humid tropical sauna but after a soak in the tub the arid Nordic sauna had us dried out in no time.
Finishing Touches
There are so many touches, I could go on and on. The Ice Lounge layout, with the speaking lectern in the middle, created a personal atmosphere between the audience and speaker. This unique layout also ensured most of the tables still had a scenic view outside. Many monitors ensured there were no bad views of naturalist lectures. Outside seating with gas fireplaces was a favorite feature on our Arctic cruise route. Warm capes made the fireplaces even cozier.
The National Geographic Resolution is a superior expedition ship in so many ways. And when combined with the experience of exploration and adventure, this ship warrants the high price she commands. This is simply one of the finest ships I have ever encountered.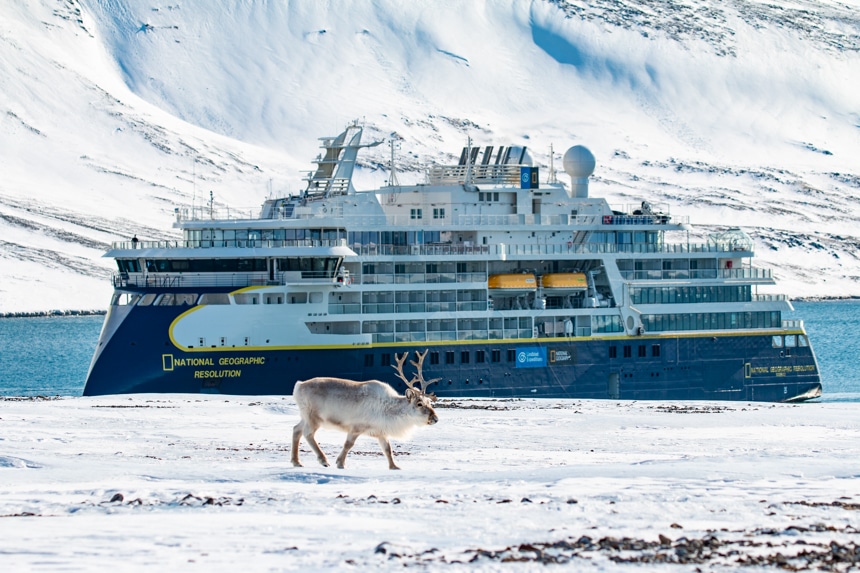 Looking for more National Geographic Resolution and Endurance reviews or specific information about these ships and their Antarctica cruises, Arctic cruises, Alaska small ship cruises, Chile cruises, Patagonia cruises, Pacific Islands cruises and Northern Europe cruises? Find more details on our National Geographic Resolution and National Geographic Endurance ship pages, or other luxury Antarctica cruise options. Or let us connect you with someone who's been aboard. Comment or contact us direct today.