Read Ultramarine ship reviews from our expert staff and client travelers. First find a detailed account of Ultramarine's cabins, food and helicopter operations from AdventureSmith Specialist Andrew Browning who was aboard on a Greenland cruise, followed by testimonials from our passengers who've been aboard too.
ON THIS PAGE – Quark Ultramarine Review:
Designed by Guides
A Review of My Cabin
Ultramarine Cabin Comparison
Inside & Out – All About Views
My Review of the Meals
Helicopter Operations in Detail
Final Takeaways
More Ultramarine Ship Reviews & Comments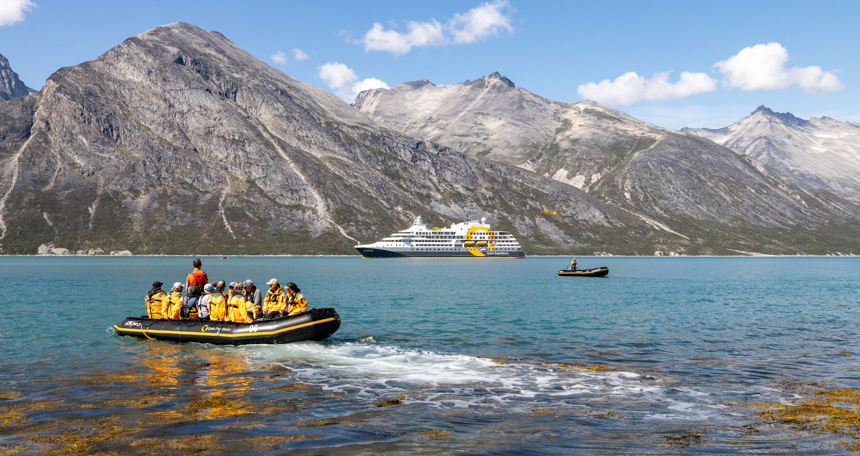 Huge Expedition Team & Designed by Guides
One of the most remarkable aspects of the Ultramarine is the huge expedition team (37 on my voyage) for operating many activities at once—and that the collective experience of the expedition staff was put into the design of the ship.
In total, there were 105 crew members on my trip for 157 guests, for a .90 staff-per-guest ratio. The expedition team was very accessible, and it was easy to find them in common areas around the ship, join them at meals or for a drink, and ask questions. There were many PhD-level guides with specialties in glaciology/geology, ornithology, etc.  And they went out of their way to engage with guests on my trip, and learn our names and where we were from. I found it to be a very welcoming and fun environment onboard. 
Many of the guides have been working with the ship's owner, Quark Expeditions, for 10+ years and some of them even had a hand in designing this ship.  Jake, who was on our expedition team and was the Expedition Leader for the Canadian Arctic voyage after mine, was in Croatia during building of Ultramarine and he did a presentation all about the ship, the building of it and his role in all of that (mostly putting Zodiacs together and reviewing expedition aspects of the build).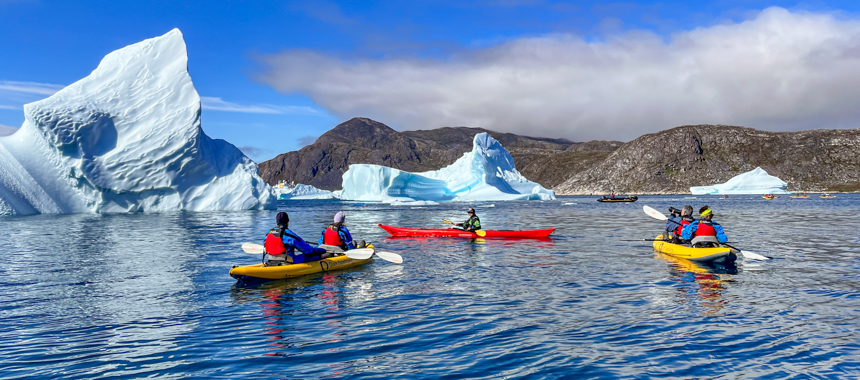 You can see this guide-driven efficiency in many of the ship's features. Examples include 22 Zodiacs with dual loading bays off the sides of the ship, as well as a rear dock that lowered for loading even more Zodiacs easily and efficiently off both sides. And the ship's dual mudrooms.
The mudrooms have assigned personal lockers for storing your parka, boots and life jacket and getting ready before excursions. I thought it was clever that they didn't assign lockers side-by-side for cabin mates. The idea is that you will need a little space to get ready, so they stagger them slightly. This works since other groups use the same ready room and are called at a different time, so it worked well for everyone to have space to get ready on my trip.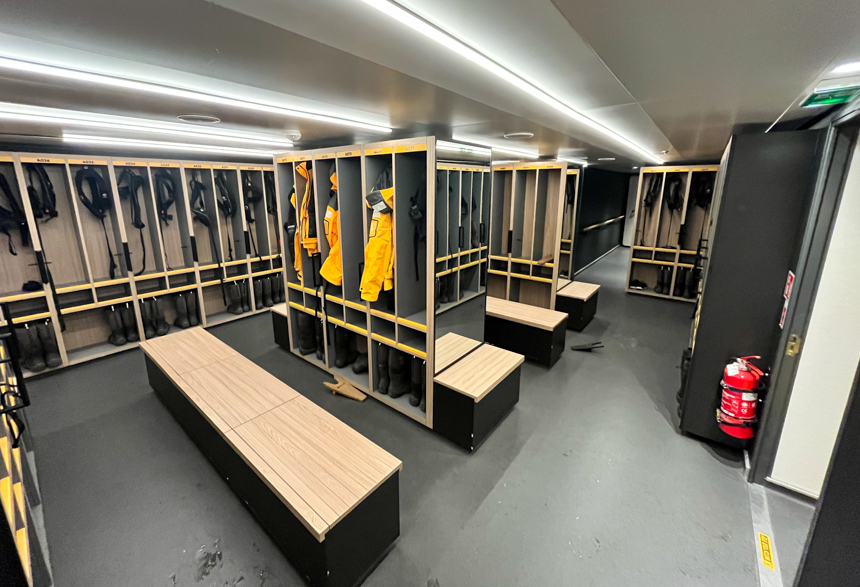 The big crew aboard is also due to the extensive helicopter operations on this ship, which alone take around 20 of the expedition team plus pilots and some crew to execute. Because of their staffing, they can also offer paddling and Zodiacs cruising simultaneously, but not guided individual groups ashore since so much staff is needed for the helicopter. 
A Review of My Cabin – a Balcony Suite
I was in Balcony Suite 422, and it was spacious, quiet and comfortable. The bathroom was like one you'd find in a very nice hotel with heated floors, rain shower with a bench, nice vanity, etc. The cabin design was efficient and functional for my needs, but also elegant with nice polar expedition–themed photos and art. Having a balcony was nice to have my own private space outside and to go outside easily and quickly. Being on Deck 4 was nice since I was central to all the decks of the ship. For example, I could go down two decks to board Zodiacs or up one deck to the Balena Restaurant and Ambassador Theater. I liked how I could tune into the theater presentations on the TV in my room too.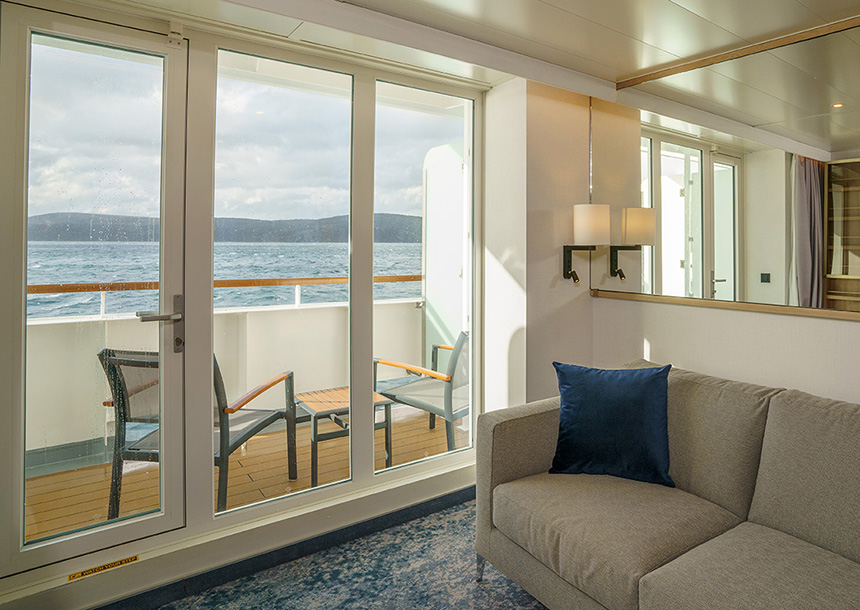 Ultramarine Cabin Comparison
The Balcony Suite I was in is a mid-range cabin category on this ship. Located on Decks 4 and 6, this is the lowest-priced cabin level offering a private balcony. Lower-priced cabins feature a window rather than a balcony. Larger and higher-end cabins have added amenities like bathtubs, upgraded bedding and in-suite dining, or extra inclusions like free WiFi, binoculars on loan, spa treatments and upgraded pre/post hotel rooms.
Note that most beds on this ship can be configured as a double or two singles, but the double felt like a king-size to me (and I'm over 6-foot-tall) so it's bigger than USA double-bed sizes for sure.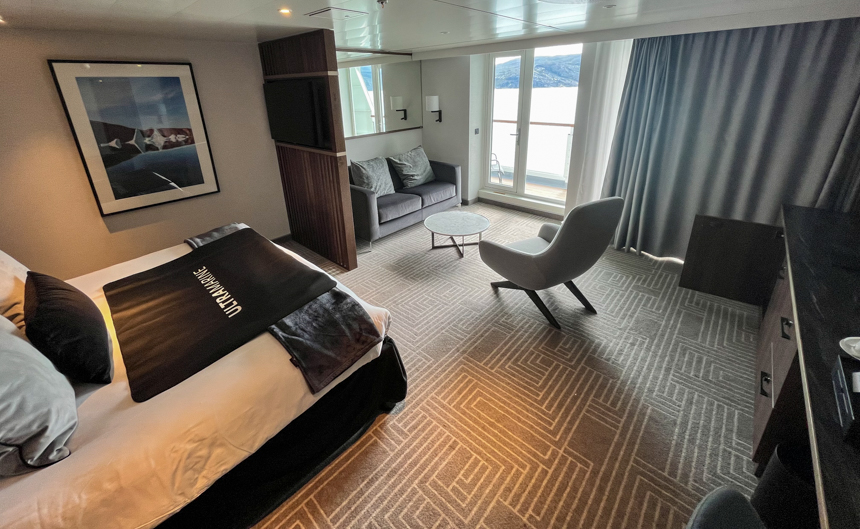 A couple tips in choosing your cabin aboard Ultramarine:
Balcony Suites on Deck 4 are best for stability since they are lower in the ship.
Balcony Suites on Deck 4 have a metal railing since they are lower on the ship.
Balcony Suites on Deck 6 have a clear railing so you can see more from inside the cabin.
Four sets Balcony Suites are adjoining, great for families traveling together. 
Cabin numbers 421, 422, 423 and 424 balconies are partially enclosed. I was in 422 and half of my balcony had support bars going down one side. If possible, other cabins should be chosen before these ones. 
The two Terrace Suites on Deck 6 are perhaps the most sought-after cabins. These spacious suites have private 100 Square foot balconies and are among the first to book up due to their preferred mid ship location, size and amenities.
See our Ultramarine ship page for more information on the Ultramarine's cabins and a comparison chart of inclusions.

Connect With an Expert
You have questions.
We have answers.
Inside & Out – All About Views
The ship's interior and exterior spaces were well designed with views in mind.  The best places to be for views while inside the ship were the Bridge, the forward-facing Panorama Lounge, the Balena Restaurant on Deck 5 and the Bistro on Deck 7, which features floor-to-ceiling windows. But even the Gym and Spa were also designed with views in mind. 
I found the Bridge to especially be an interesting and welcoming place to be, with great views from each side and the front. Our Captain was personable and professional, working closely with the expedition leader on the day's plans and changes of plans.  If you ever want a preview of what is to come before announcements are made, you can go hang out in the Bridge and see what they are working on there.  I spent quite a bit of time in the Bridge watching when they were depth-finding using a zodiac in front of the ship when we explored an area without depth charts which was interesting.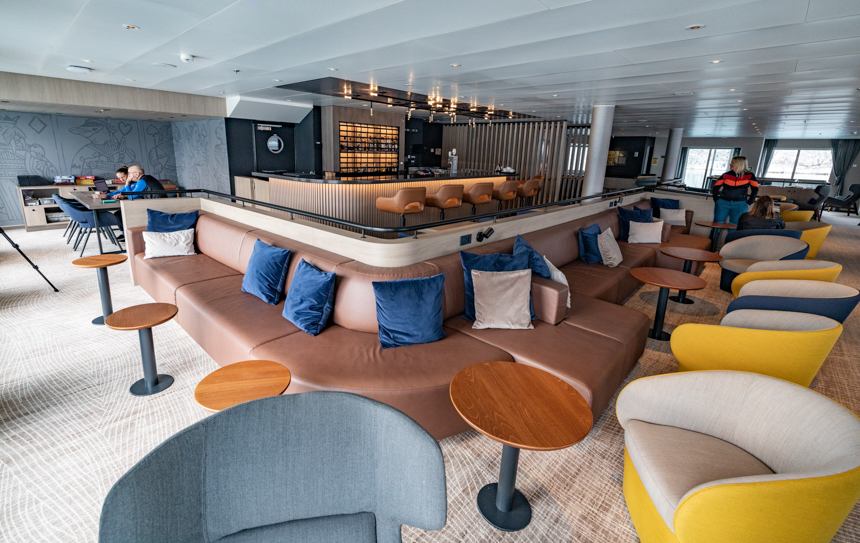 Directly above the Bridge, the Panorama Lounge on Deck 7 is definitely the place to be for interior spaces on the ship. It is large and comfortable with side- and forward-facing views, with binoculars stocked for us to use. Most importantly too for impromptu photo and wildlife moments, it has easy access to the exterior deck on both sides, plus a stairway directly down to the Bridge. There are many seating options for a variety of group sizes, including little nooks with just two or three chairs, and a quiet, connected library area.
There is a 24-hour coffee station with a self-serve espresso machine and snacks here, and the bar area was especially popular before and after dinners on my trip. There were typically expedition team members lingering in the Panorama Lounge for casual chats and questions. Fabrice, who was one of the expedition team members and a bird expert, was always there starting at sunrise watching for birds and recording the sightings on the day's logs.  
Overall, I was always able to easily go to where I wanted without feeling crowded. There are also exterior spaces at the rear of the ship were especially quiet. Many times I went there, I would be the only one. Since most cabins on this ship feature private balconies, I think that also causes people to spread out more since some will prefer to be in their private space vs. the common areas of the ship.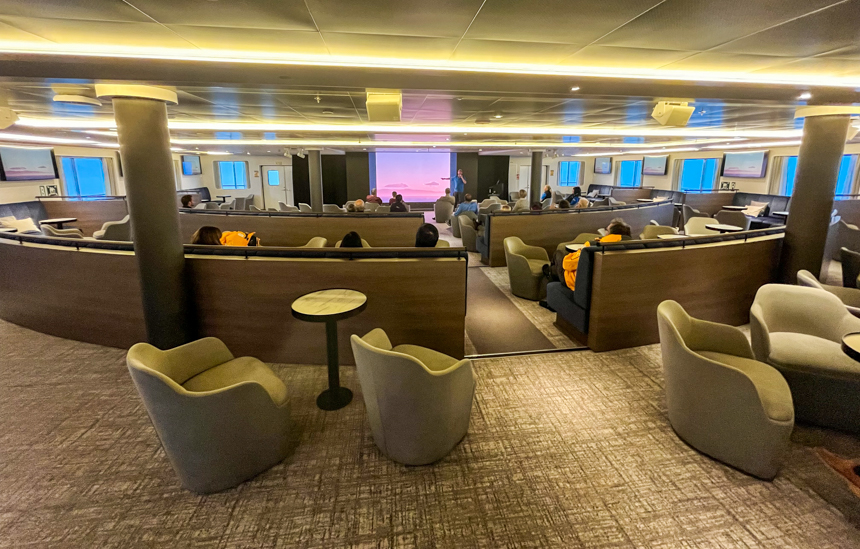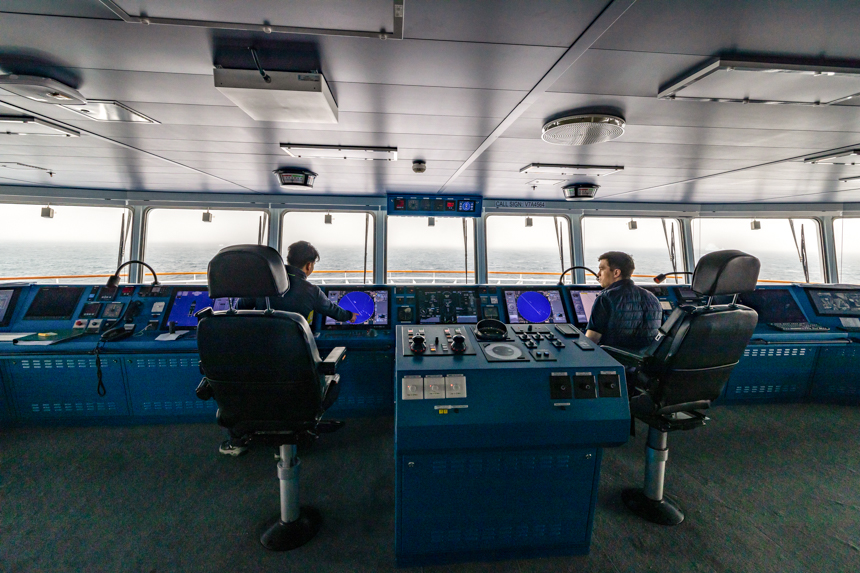 My Review of the Meals
You can read more about meals in general on our detailed ship page for Ultramarine, but from day 2 of being aboard, I was logging in my journal that the food was among the best I've had on any cruise. I spoke with one passenger who they were providing the menus to each day in advance and she was choosing items and they were modifying them for her diet. Some of my favorite foods aboard were:
Pistachio and Cheese Souffle
Whole Baked Onion – This was a small onion that had been hollowed out and then baked with Onion, herbs, cheese and served in the onion itself
Green Tea Creme Brulé
Greenland Hazelnut Crusted Reindeer Loin
Surf and Turf
Sticky Toffee Pudding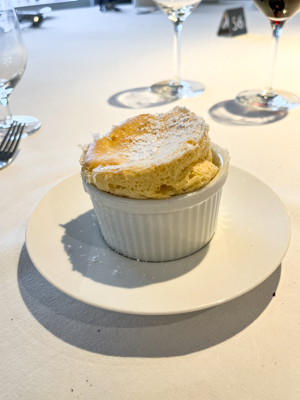 I really liked the option to eat at the Bistro for breakfast and lunch. It has a great view and is smaller and less busy than the main Balena restaurant.  I also liked that it had a self-serve espresso machine. I liked that the Panorama Lounge has the same espresso machine for 24-hour self-service. I would usually go have coffee here before going to breakfast at the bistro.
Another unique dining feature aboard this ship on my trip was the ability for guests to sign up for added-cost heli-accessed camping that included several meals at camp. I got to meet the camp chef and he told me the idea is for the passengers to catch fish at a local lake and forage for a few ingredients with assistance from the guide and chef.  The chef then prepares the meal at the camp.  People enjoyed the camping that I talked to about it, but they missed some pretty cool included activities including heli hiking in some cases and also some cool landings in the fjords.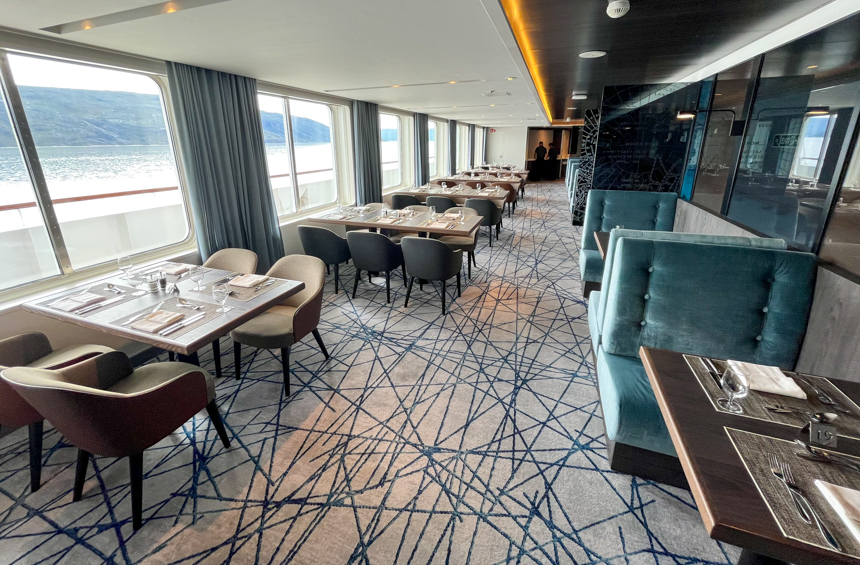 View All Ultramarine Cruises
See the full list of itineraries aboard this ship
The Biggest Bonus of this Ship: The Helicopter
This ship is certainly equipped for adventure, including gear for mountain biking (fat tire bikes), kayaking, camping and stand-up paddleboarding. But the star of the show on my Greenland expedition was heli-hiking and a heli-landing on the Greenland Ice Sheet.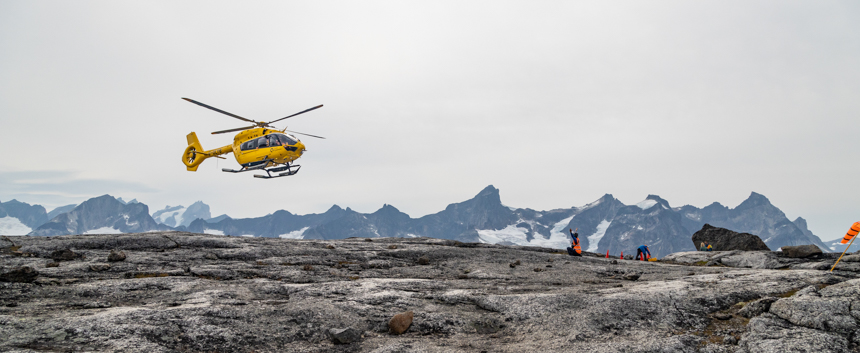 Arriving by heli is exciting and the feeling of accessing such incredible views so easily was wonderful… take off, and you have immediate stunning views all around. This excursion was among the best I have done anywhere and certainly the most exciting with the heli drop-off and landing back on the ship after. 
The elaborate preparation for this unique opportunity made it even more exciting too.

Here's how it works:
When your group is called for heli activities, you proceed to the Studio on Deck 7 where the heli staff will weigh you and your backpack and subsequently assign your seat in the heli. They have 7 seats set up in the Studio and you sit in your seat in the same location it will be in the heli.  They seemingly took some requests from passengers on where to sit (for example, facing forward rather than backward), but ultimately they need to make the weight of the heli be right, so the heli in front of mine flew with 6 guests instead of 7.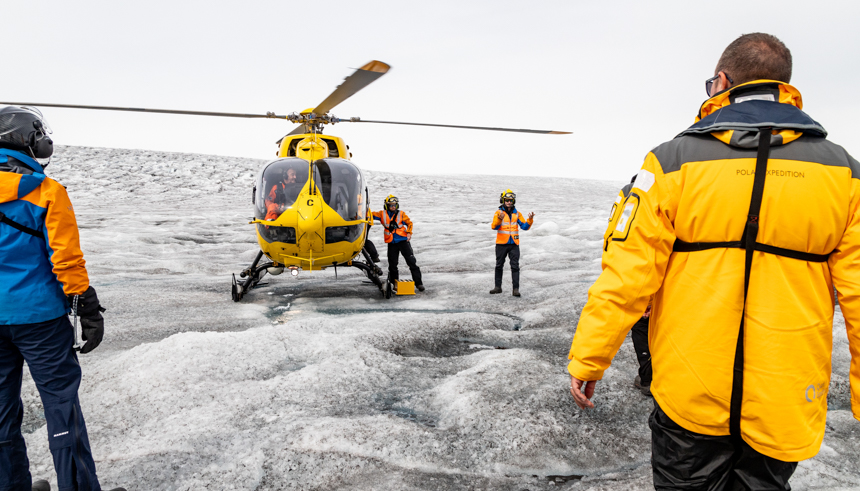 Once your heli is ready they take your backpacks and load them for you into the heli. You need to have no hats and nothing that can be blowing around or flapping, so passengers tuck their hoods in etc. They line you up in order of your seats in a hallway, and then once they open the door to the helipad area on Deck 8, they have staff members giving you hand signals to proceed to boarding the aircraft safely.  Once loaded, they help you buckle the five-point seatbelt harness and make sure you have the headphones on so you can hear the pilot and other passengers in the heli. 
The pilot gives comments along the way about what he is doing, where you are going, why he is doing certain things and what to expect next. It's a very safety-minded, highly organized and efficient operation. 
Once you land, guides are staged in the landing zone to direct you when exiting the heli. You are asked to clear the immediate area of the heli quickly and they have an area with cones where you go to, and from there your heli hiking guide takes over the next steps of your excursion.     
I had a forward-facing window seat on the way to our hike. This is definitely a better seat for photography than the middle seats. The middle seats are great for non-photographers who want to have views out of both sides of the helicopter. I rode in the middle rear-facing seat on the way back to the ship. I think this is probably the worst seat for photography, but it still had awesome views. 
As to how helicopter operations will work on this ship in Antarctica and other locations, I talked to the guides who had worked in Antarctica aboard Ultramarine to try to get some insight. In any destination, helicopter operations are highly weather dependent. We got lucky on my Greenland trip with nice weather but it is often foggier in the Arctic than in Antarctica. But there are likely fewer places to land the heli safely in Antarctica than in the Arctic due to more crevasses, ice conditions, etc, so I think they do quite a bit more flightseeing in Antarctica than landing. Also note there are no heli ops in South Georgia or Spitsbergen due to local restrictions and wildlife.
Heli ops are heavily regulated and permitted in all destinations, so they are only able to fly in certain areas, certain dates, certain times etc. That is why you'll see less Spitsbergen and South Georgia itineraries on Ultramarine and more Greenland/Canada/Antarctic Peninsula where heli ops are possible. 
In general, a lot of resources go into the helicopter operations, so the guides will try and get passengers up as early as possible in the expedition. So if weather is good at start of the trip they will try and operate as much heli as possible during those weather windows. They can operate zodiacs/landings in some conditions that the heli cannot operate so they will be balancing all of that.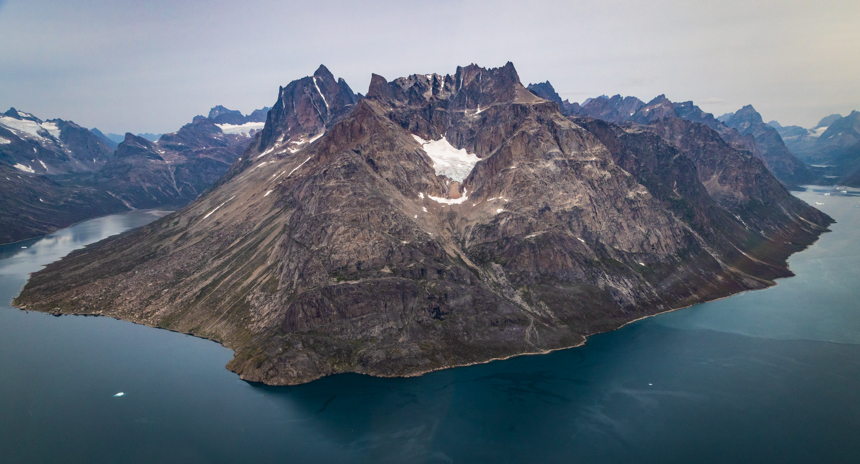 Final Takeaways
I've traveled on expedition ships in the polar regions ranging from the National Geographic Explorer and M/S Expedition to the luxury L'Austral. Ultramarine stands out to me as a highly capable and well-thought-out ship, and the overall vibe aboard is fun and exploratory. I enjoyed that the Expedition team were always accessible and enjoyed interacting with passengers at meals and in the common areas of the ship.
While the expedition team was highly educated and knowledgeable, their presentations were shorter (perhaps due to our active itinerary). I enjoyed the presentations and attended all that I could. The ones I liked the most were about Arctic wildlife survival adaptations, exploration history and Arctic geology. There were also daily "Bar Talks" after dinner, which featured more of a mix of storytelling, interactive games and casual cultural presentations from a Greenland local who shared what it was like growing up in Greenland. (It is interesting that the Greenlandic word for hello, "Inuugujoq," translates as "It is good to see you alive.") Overall, I enjoyed every presentation and felt they were sufficient, but it is a distinguishing factor. That said, the food was on par with the highest-end ships I've sailed on worldwide.
The ship also stands out for having some cutting-edge modern sustainability features, like a MAGS incinerating waste system that creates energy to power the ship.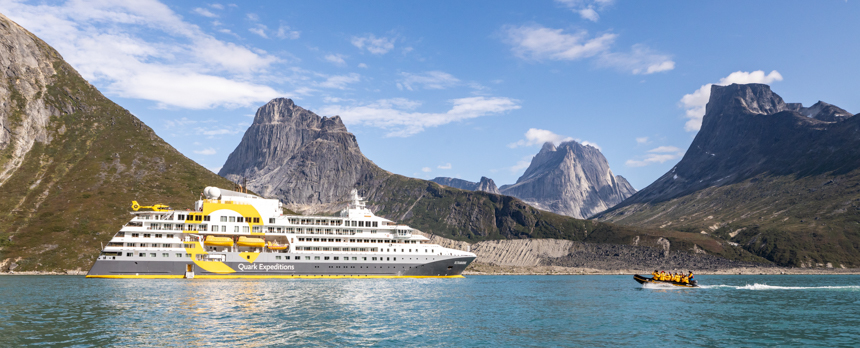 Ask Us About The Ultramarine
Contact us to compare ships.
Find the right one for you.
For more photos from this cruise aboard Ultramarine view my Facebook album on AdventureSmith Explorations' Facebook page.
Read more small ship cruise reviews, comment with your own Ultramarine reviews or view testimonials from our traveling clients who've been aboard below.