Read our National Geographic Venture & Quest reviews, and passenger testimonials below. AdventureSmith's Mary Montalbano sailed aboard the Nat Geo Venture in 2023 on the Exploring Alaska's Coastal Wilderness itinerary. Adventure Specialist Arielle Lightcap experienced the debut of Nat Geo Quest in 2017 and her National Geographic Quest review insights are included.
ON THIS PAGE –Venture & National Geographic Quest Reviews:
Choosing Your Cabin
A Review of the Food
Thoughtful Design
Educational
Takeaways
More National Geographic Venture Reviews & Comments
The 100-guest National Geographic Venture and National Geographic Quest sister ships set a high bar for expedition cruising in North and Central America. Following are highlights and insights to help you decide if these ships are the right fit, and get aboard.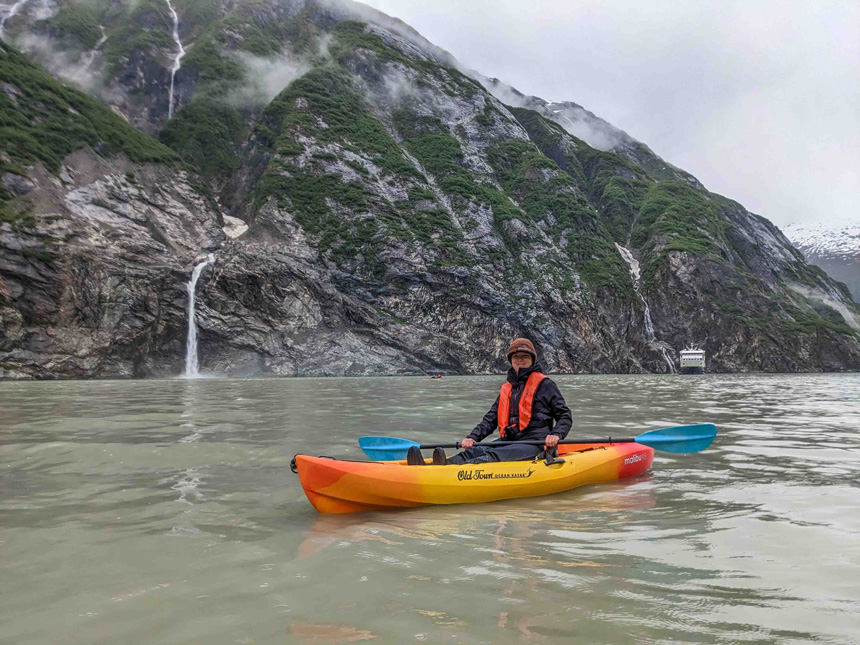 Choosing Your Cabin
Cabins aboard National Geographic Venture and Quest are similar but optimized for different user groups, and all open to the interior of the ship. Families will appreciate the select interconnecting cabins in Categories 1 & 2 on the Main Deck and Category 4 on the Upper Deck (the latter with balconies).
Families or groups of three can save by booking a Category 5 suite with a sofa that's converted into a bed (big enough for an adult) during nightly turndown service, then made back into a couch during the day. The suites look out onto an open-air deck, with windows that act as mirrors for guests walking past during the day and require curtains for nighttime privacy.
I recommend the Category 4 cabins on the Upper Deck (mine was #212, conveniently located within one flight of stairs to the Lounge, Dining Room and Mud Room). These are the only cabins with a private balcony, and they sit one level above the waterline – great for wildlife spotting and special moments. Category 3 cabins are on this same convenient deck but don't have balconies.
Note that Category 3 cabins #201 & #202 are near the anchor chains, which create noise while being raised or lowered. And while these ships each have an elevator that accesses all decks, there are numerous entryways where one must step over a threshold, including a step up into all cabin bathrooms, so wheelchair users will be challenged.
A Review of the Food
Expect to be well fed aboard the National Geographic Venture and Quest, where the focus is on quality, not quantity.
Our daily buffet breakfast (plus light early riser fare in the Lounge) felt efficient, while lunch and dinner were plated, three-course affairs with a server and food runners.
The portions were thoughtfully crafted, with options such as 3-ounce shots of freshly juiced fruits; small jars of yogurt, oatmeal and chia seed pudding available at breakfast; appetizer-size bowls of salad and soups ahead of the entrée; and dessert bowls that fit in the palm of my hand.
Those of us who were still hungry could always order more. On my cruise, families with growing kids were easily accommodated with additional dishes from the Everyday Favorites menu, servers knew which tables appreciated extra servings of bread, and many of us were happy to add a scoop of ice cream to the daily dessert.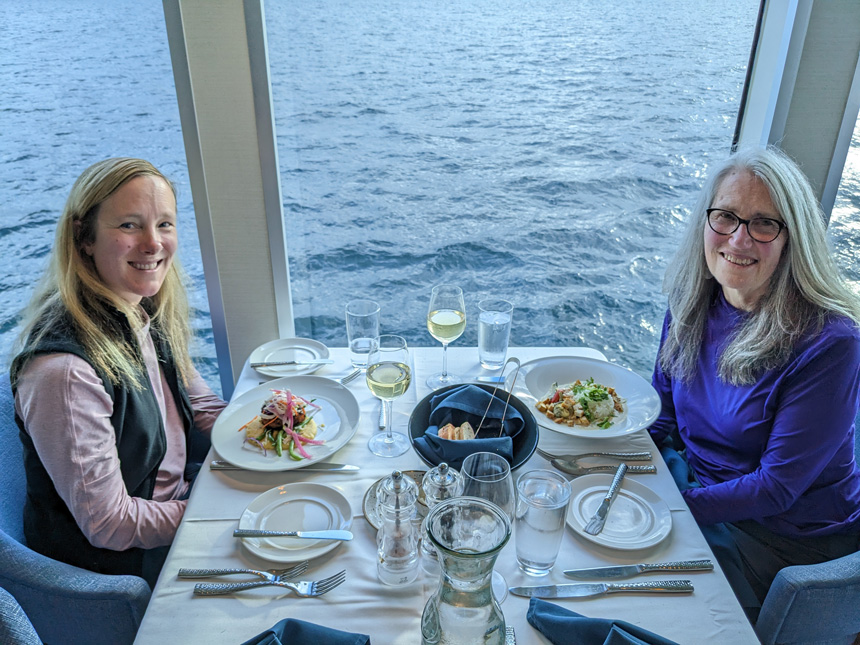 The quality and variety of food aboard Nat Geo Venture and Quest was impressive. Foods tasted fresh, sauces were creative, and the plating delivered a piece of art to our table at every meal. The experience was one of fine dining, with ambience delivered via white linens, a display case of fine wines, floor-to-ceiling windows with incredible views, and attentive staff.
Wine and beer were complimentary from the bar throughout the day, and a daily red and white wine were poured at dinner for those who wanted it. The wines paired nicely with options such as cauliflower steaks, baked Alaskan cod, Frenched chicken breast de blanc, grass-fed New York strip steak (available daily alongside free-range organic marinated chicken), sockeye salmon, vegan white bean chili and five-spiced roasted acorn squash.
Itineraries like mine that stop in Petersburg, Alaska, offer a dinner feast of Dungeness crab, freshly loaded onto the boat that day; it was a festive night for guests and crew alike. However, my vegetarian meal seemed overlooked in lieu of the kitchen's excitement over crab.
Thoughtfully Designed Decks
The National Geographic Quest and Venture are purpose-designed for expedition cruising in North and Central America, and it shows.
The bow viewing platform offers three levels (four including the deck in front of the Bridge), ensuring we all had clear sightline. The bow itself had a comfortable curve and a small shelf for sitting against, and the riser platform offered chairs and blankets (wool blankets were found throughout the Lounge and were constantly being refolded by the Lounge steward). I especially loved the basket of communal binoculars by the bow door for conveniently getting a closer look at wildlife.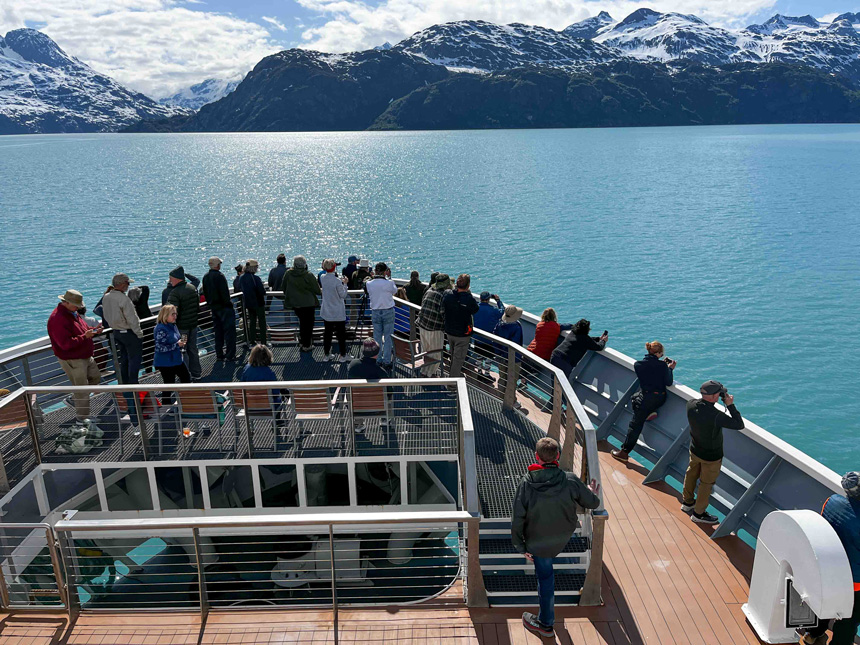 A wraparound top deck let us easily aim our cameras wherever wildlife popped up, and its aft Sundeck offered a partially covered outdoor space where I enjoyed relaxing at the tables and couches. The outdoor bar here was not in use during my Alaska cruise.
I especially found the open Bridge to be an inviting space to chat with the captain and officers while they navigated. A very large, horizontal TV offered an interactive touchscreen for guests, showing us a real-time map with the ship's current location, direction, speed, etc. We could also open the drawers labeled for guests, to look at printed nautical charts. Bench seating on both sides of the bridge invited us to linger, so I frequently did!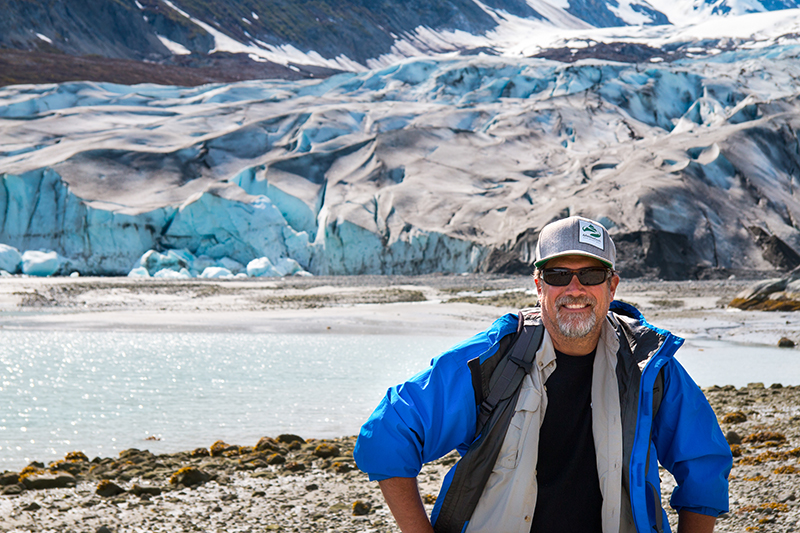 Connect With an Alaska Specialist
You have questions. We have answers.
Education- & Exploration-Focused Interiors
Cabins aboard the National Geographic Venture and Quest felt warmly decorated. A world atlas and the latest edition of National Geographic Magazine encouraged me to think global. And the lack of an alarm clock and television helped keep me present and thinking local, rooted in Alaska. The only screens found aboard Nat Geo Quest and Venture (outside of the bridge) are the multiple TVs in the Lounge, plus two large-monitor computers for photo viewing (only) in the library nook.
The Lounge's "Circle of Truth" lectern provides a 360-degree speaking platform for the expedition staff (it's fun to watch them slowly spin while imparting knowledge). Circular seating throughout the room means there's not a bad seat in the house. And some televisions are lowered back into a cabinet to optimize wildlife spotting when the screens are not in use.
The Mudroom is small but mighty. Activity groups were called to maintain traffic flow, and my cabin's assigned (half-size) locker provided space for 2 PFDs and 2 pairs of muck boots – no more. A full-size locker would be an improvement, to enable guests to leave additional wet items to dry between activities, but the strong heating and cooling in my cabin always dried things out during lunch.
Each locker had a small lip to enable leaving our boots turned upside down, to let them dry fully. A few self-serve boot dryers were also ready for use if needed. Also in the Mudroom, a bin of beautiful wooden carved walking sticks sat beside the door to the fantail (where Zodiacs are loaded), and two water fountains reminded us to fill our provided reusable water bottles before heading out, not commonly found aboard small ships.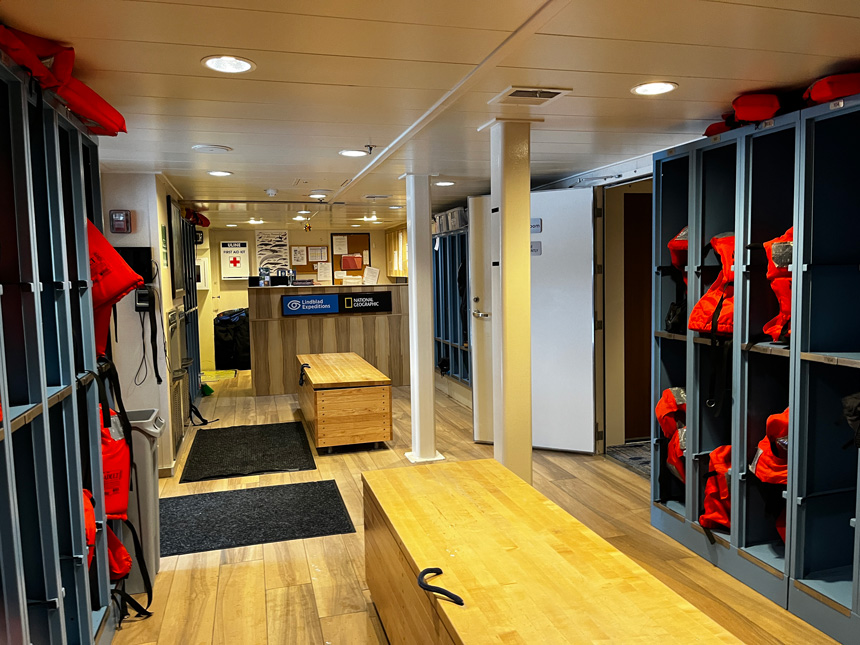 Takeaways
Sister ships National Geographic Quest and National Geographic Venture provide an outstanding platform for exploring the natural world, but you can't write a review about these ships without mentioning the people aboard. This is what tips these vessels into the category of luxury travel since these National Geographic–branded ships have many experts in their field join the expeditions to enhance the travel experience. On my cruise, a few of our naturalist guides had PhDs, and two were college professors. We also had a tall ship captain, an oceanographer and a few coral reef researchers. (Read my review of the guides.)
Their well-educated and experienced guide staff and guest hosts created a truly intellectual environment. And the presence of a photo instructor and wellness guide provided a rounded experience, and ensured our memories were beautifully captured. Combine this with the thoughtful design, poised hotel staff and crew, and carefully sourced delicious food and my Lindblad cruise experience can be summed up to a luxury travel experience—without the white gloves.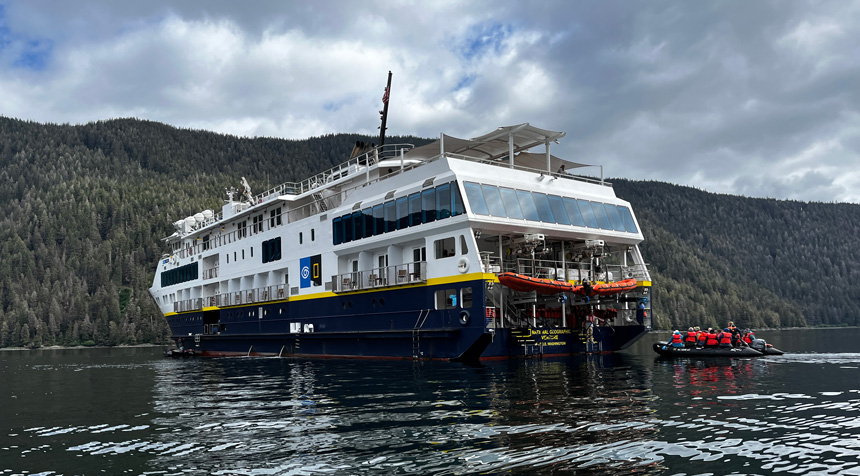 MORE ALASKA RESOURCES:
Alaska Small Ship Cruises
Alaska Yacht Charters
Luxury Alaska Cruises
Alaska Cruise Guide
Alaska Cruise Deals
Small Ship Alaska Cruise Reviews
Best Alaska Cruises for Families
Small Alaskan Cruise Lines
Glacier Bay Cruises
Alaska Inside Passage Cruises
Alaska Whale Watching Cruises
Alaska Trips
Alaska Tours
Visiting Denali National Park
Alaska National Park Tours
Best Time to Visit Alaska
To view more photos from these ships and their trips, see Arielle's National Geographic Quest Facebook album or Mary's Facebook album from her time aboard National Geographic Venture.
Read more small ship Alaska cruise reviews, comment with your own Venture or National Geographic Quest reviews or view testimonials from our traveling clients who've been aboard below.