Content Manager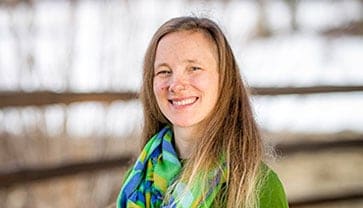 Content Manager Mary Montalbano's travel journals tell tales of interacting with Galapagos and Antarctic penguins, skydiving the Swiss Alps, canoe-camping Maine's Allagash Wilderness Waterway, living the camper van life in New Zealand, trekking the Himalaya and more. So AdventureSmith's style of immersive, active travel is a natural fit.

Mary applies a close eye to the trips, ships, blog posts and more on the AdventureSmith website. Managing an ever-growing body of product listings is what Mary's organizational brain thrives on. Her attention to detail was honed while managing scholarly publications for 10 years.
At work and at home, Mary always has a to-do list going, and she finds joy in efficiently tackling tasks. She equally loves to set aside a day to craft a fun and informative blog post. As travel products and pricing become more fluid, Mary implements new technology to provide both clients and staff the most up-to-date info on things like dates, pricing and travel guides.
Mary loves AdventureSmith not only for its active and immersive style of travel, but also its family vibe. Crew members support each other both on and off the clock, and the longevity of staff tenures reflects that. Mary is inspired by the creative personal pursuits of her co-workers, and she appreciates the lifestyle afforded by a flexible company.

In Tahoe, Mary can be found boogie-ing down at concerts, volunteering with the humane society, touring the Sierra by bike and ski with her dog, Woodstock, and daydreaming about upcoming travel. Next on the bucket list: Japan, for its inviting onsens, exotic food and legendary snow.