AdventureSmith's Mary Montalbano takes an Origin & Theory Galapagos Cruise to the remote birder's paradise of Genovesa and along the western shore of Isabela. This detailed review covers not only the guides, Origin & Theory yachts, wildlife and itinerary but also how it feels to be among a community of likeminded passengers.

Galapagos Islands are home to some of the highest levels of endemic species (found nowhere else on Earth). On my trip I was prepared to see these uncommon Galapagos Islands animals: blue-footed boobies, giant Galapagos tortoises, marine iguanas, flightless cormorants, tiny Galapagos penguins and more. Knowing the various boats and routes in the archipelago, I was not prepared for the lack of the most common non-endemic animal in the Galapagos: "the red-footed tourist." During my 8-day cruise along the Origin & Theory's comprehensive Western/Northern Islands route, I experienced wild and remote solitude, first-class food, informative "edu-tainment," personalized service and the wondrous feelings of community and discovery, all from the comfortable and classy 20-guest Origin.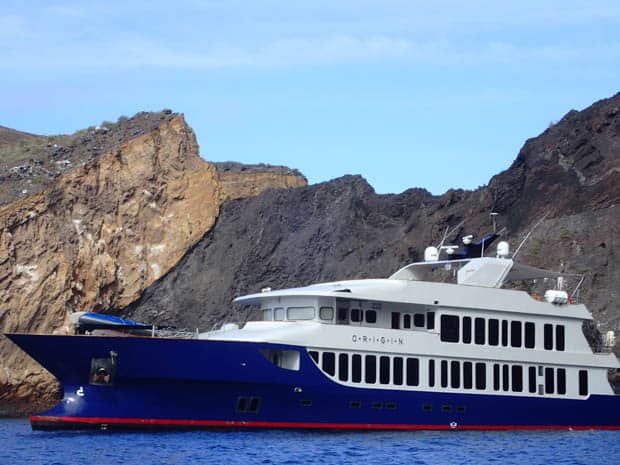 Welcome to Paradise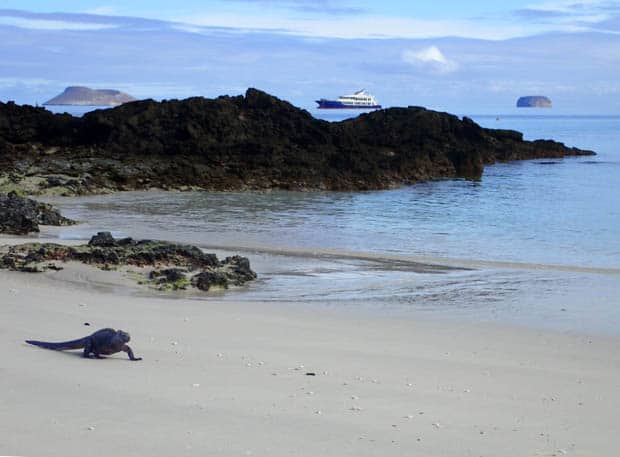 As the plane descended towards the runway on San Cristobal Island, I could already spot my home for the next week. With her size and sleek, modern design, the Origin stood out from the other liveaboard ships moored in the harbor. Following a smooth customs and baggage claim process in San Cristobal's delightfully simple airport (learn how to get to Galapagos), I was met by my smiling guides with a warm handshake and hearty "welcome to paradise." My bags were whisked off and would later appear in my cabin, while I joined my group of 16 other guests, some of whom I'd met on the plane. As we introduced ourselves to each other, my excitement grew, with the knowledge that my fellow passengers were also well -traveled, inquisitive and fun. Joining us was guest expert Jack Grove, a longtime marine biologist, author, and former Galapagos guide and resident. As we traveled the easy 5 minutes to the wharf and another quick 5 minutes by Zodiac to the ship, I was confident that it was going to be an amazing week.


Origin: Understated Luxury
The 20-guest Origin's modern and clean exterior invites you inside, while her ample common spaces and window-lined interiors showcase the magic outside. Teak decks are complemented by cool wooden hallways and floors. Earth tones and tranquil blues and silvers compose the décor and interior furniture, with marble accents (bathroom counters, tables, the bar) and gray woven deck furniture to match. Everything remained spotless for the entire trip, even when a guest would walk indoors with wet shoes. My cabin was cleaned twice daily, and I kept things tidy using the plentiful wall hooks, drawers, closet, bedside table and small writing desk.


I also enjoyed daydreaming in the shaded woven hammocks on the Sun Deck (while the frigatebirds rode the breeze above).
While my crisp-white-linen bed with three sizeable windows was always an inviting option for a rest, I also enjoyed relaxing in the lounge (a crew member always offering a beverage from the open bar), observing the ship's course from the open Bridge and bench seats just outside, and daydreaming in the shaded woven hammocks on the Sun Deck (while the frigatebirds rode the breeze above). The Sun Deck's day beds and chaise lounges were an easy place to fall asleep and the Jacuzzi (almost always running and steps from the swim platform) warmed everyone up after each snorkel. Origin has an array of areas to spread out in, allowing for socializing or enjoying a quiet moment.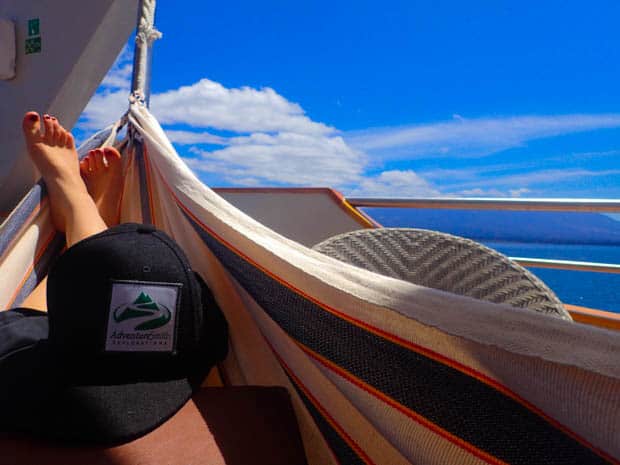 Experienced Stewards of "The Enchanted Isles"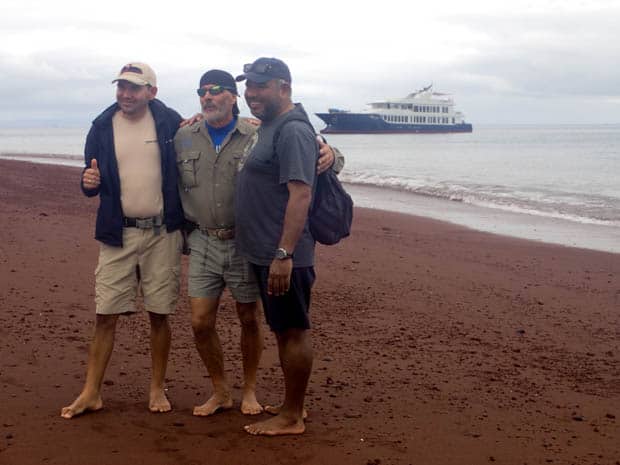 A ship of this caliber draws an experienced crew and guides. We were treated to regular outings and meals with Billy and Gustavo, guides who each had nearly 30 years leading groups among the Islands. They were professional, funny without being cheesy, spoke English with ease and were always on time. I felt like I was making new discoveries daily under my guides' tutelage, despite their many years of touring the Islands. Their knowledge and enthusiasm was bolstered by that of Jack Grove, a walking encyclopedia. While Jack admitted that his over-900-page book, The Fishes of the Galapagos Islands, made a decent doorstop, every outing alongside him (especially the snorkeling) was a nonstop deluge of facts and insights into what we were seeing; this was enhanced by his various lectures throughout the trip.


They were always smiling, efficient and professional… they could be both polished and fun.
The crew complemented our guides, with a near one-to-one guest-to-crew ratio. They were always smiling, efficient and professional. Our cruise director, Maru, was always available even while training her counterpart, Daniella, to fill the role on the Origin's forthcoming and interchangeable sister ship, Theory. Daniella shared with me that she had a master's degree in hotel management, which exemplifies the aptitude of crew members drawn to these vessels. I enjoyed when members of the crew (including Maru herself, one day) would join us for outings or gregarious activities like jumping from the top deck of the ship; this showed that they could be both polished and fun.
Captain Gonzalez occasionally joined us for snorkeling, and I was impressed to learn at dinner with him that we were the same age. The former captain of the Flamingo (another now-retired sister ship) with a lengthy background in the Ecuadorian Navy, Captain Gonzalez had graduated to the Origin. He ensured our Galapagos trip was smooth and without issue, all while mingling with guests and being very approachable. He even held an impromptu program of pointing out constellations from the Sun Deck one night. His competence paired with Origin's strong stabilizers and a seasoned itinerary made for an enjoyable experience with no seasickness on my part.
Go West. See Penguins.
Origin's Western/Northern itinerary covers a lot of ground, including a full day at the birder's paradise of Genovesa Island. With sister ship Letty in dry dock, we had Genovesa to ourselves for our first full day together, and it felt like a special affair. With no other islands or boats in sight, our group bonded over memorable moments like a frigatebird feeding, seeking out the short-eared owl, a Sun Deck BBQ lunch and a beach lecture by Jack about upwelling. I felt like an explorer, discovering a new island.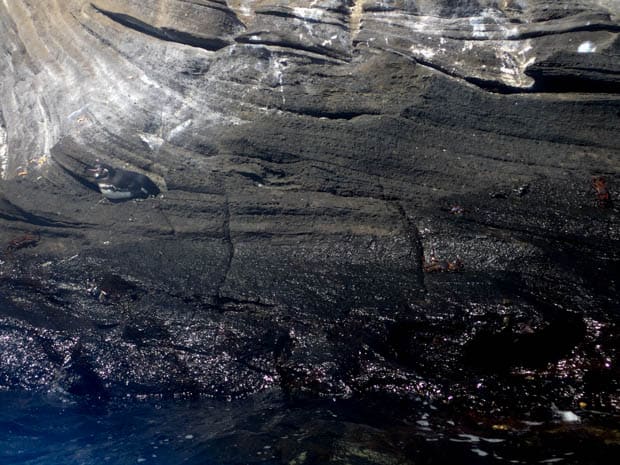 My trip highlight, however, was spending time with Galapagos penguins along Isabela's western shore at Tagus Cove. Just like Genovesa, our route to the outer edges of the archipelago felt like a bonus, with some landing sites only hosting our small group of 17. The Cromwell Current along the western edge of the archipelago, combined with the cool Humboldt and Peru currents present from June to November, increases the presence of nutrients, creating a lot of wildlife activity.
The tiny penguins (second smallest in the world) hunt for food in packs, darting around my kayak paddle, and later the glass-bottom boat and snorkelers.
The tiny penguins (second smallest in the world) hunt for food in packs, darting around my kayak paddle, and later the glass-bottom boat and snorkelers. I always think of penguins as ice-bound creatures, so seeing them on the equator overshadowed all of the marine iguanas gnawing at algae underwater, the dive-bombing pelicans and blue-footed boobies, and the magnificent sea turtles gliding through the turquoise waters. I was grateful for the full wet suit supplied on board to spend more time in the water comfortably.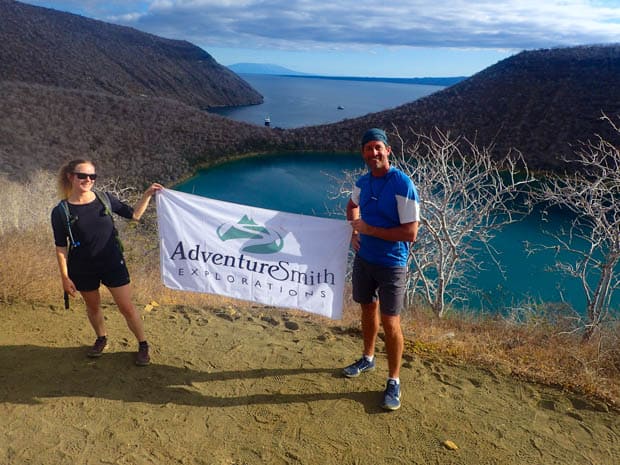 The two days that we spent on the western outskirts of the archipelago were also the most active, with daily opportunities to snorkel, kayak, stand-up paddleboard and tour around in the glass-bottom boat and Zodiacs. With a group of 17, the guides could easily customize our daily activities and they knew we enjoyed getting off the ship as much as we did relaxing on board. In Tagus Cove, we even snuck in a quick one-hour power hike before the ship set sail for a long reposition.

SUP the Galapagos Right from the Ship
Origin is one of the few boats in the Galapagos to offer stand-up paddleboards and I reveled in the opportunities to take one out. The paddleboard allowed me the freedom to traverse above water on my own agenda. The board itself was extremely stable. With fellow guests kayaking beside me and a Zodiac support boat nearby, I never felt alone. The first outing, at Genovesa, enabled me to scour cracks, crevices and ledges to view roosting pelagic birds and lounging Galapagos fur seals—things the group didn't see while walking inland and away from the cliffs above. Paddling over clear waters with sea turtles and sea lions gliding alongside is an enchanting experience. That said, I was able to see even more from the water-level kayak and both paddle options paled in comparison to snorkeling alongside the captivating wildlife.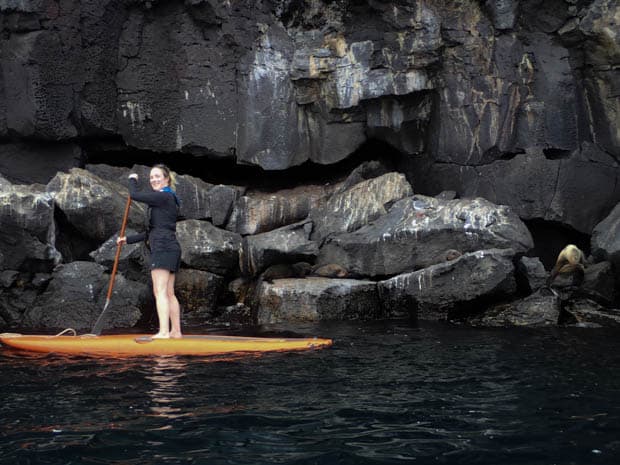 A Foodie's Delight
Active outings were enriched by exquisite food aboard the Origin, with each outing followed by a delicately prepared snack. Bitesize snack offerings included options like deconstructed eggplant parmesan served in ceramic spoons, herbed mushrooms wrapped in phyllo dough and gourmet cheese plates with olives, pita and hummus. For those hungry between meals and snacks, a 24-hour snack bar provided coffee, teas and packaged American and international bites.
Scintillating dishes included options like seitan wellington, Grand Marnier-marinated melon wrapped in prosciutto and pistachio-crusted mahi-mahi.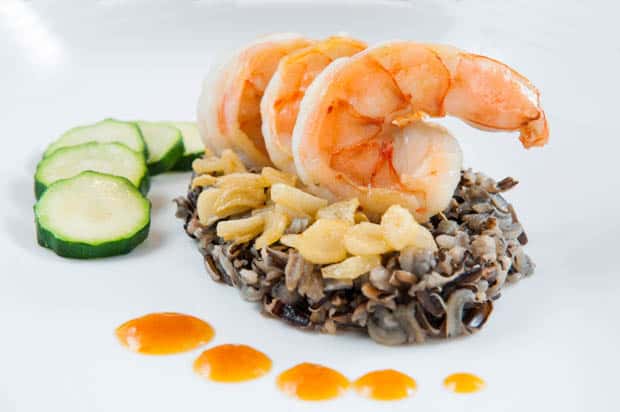 From 7-8am daily, an elegant buffet of Ecuadorian and American breakfast greeted us; the fresh juices like mango and naranjilla being my favorite part. Buffet lunches were promptly served at 12:30, always with a salad and dessert bar to complement various meats and starches available from the hot bar. Each lunchtime gave us a glimpse into the best meal of the day: dinner. Menus and orders were circulated, with a special vegetarian menu for me and custom orders for anyone with dietary restrictions.

Dinner consisted of a chosen appetizer, a soup, a choice of main course and a dessert. Despite our informal attire, dinner was always served by crew dressed in their finest whites. The matching white tablecloths created a canvas for the elegantly and artistically plated portions that ensured you could revel in every course. Red and white Chilean wine flowed freely, and some guests chose to order a special bottle of wine or champagne for the table, on occasion. Scintillating dishes included options like seitan wellington with mushroom risotto; Grand Marnier–marinated melon wrapped in prosciutto; eggplant lasagna with fig confit, blue cheese mousse, brioche toast and herb vinaigrette; pistachio-crusted mahi-mahi, Provencal vegetables and lima bean puree with spiced butter; and crème brulee for dessert.
20: A Perfect Galapagos Group Size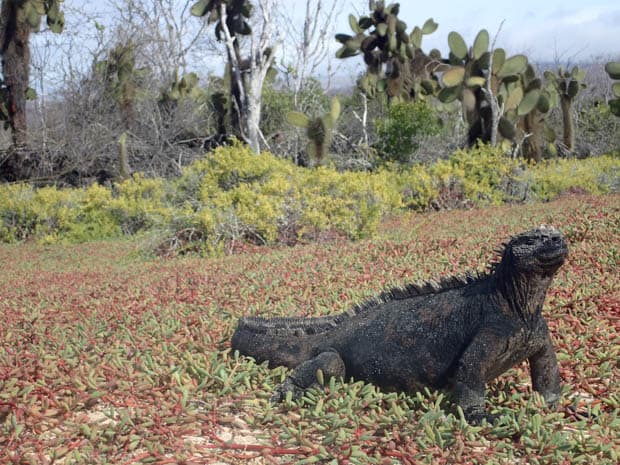 Lively activities, awe-inspiring wildlife and delectable food aside, the lesson I'm taking from this trip is the wonderful community that a small Galapagos yacht can foster. While many of my fellow passengers chose the trip based on the ship's fine appointments, we learned that 20 is an optimal size in the Galapagos. 20 guests translates into excursions of ten guests to each guide, and not more than 20 people on shore. My fellow travelers and I did all activities together (unless we were forced to choose between more than one at a time). Often we had landing sites all to ourselves, and with an inquisitive group, this made for plenty of time to stop, observe and ask questions.

The lesson I'm taking from this trip is the wonderful community that a small Galapagos yacht can foster.
Activities and landings were 1-2 hours, and the cadence of each day followed a natural rhythm that our intimate group quickly grew accustomed to. Everyone became friends on the boat (perhaps thanks in part to the open bar policy), and meals always saw mixed groupings of guests. As the only solo traveler on board, I especially appreciated the open seating amongst differently sized tables, meaning I could join a larger group of 6-8 or sit with a smaller group of 2-4. Nightly cocktail hour gave us a platform to share stories of the day's activities, and now back home (and off on other travels), e-mail and social media keep us connected beyond the Galapagos Islands.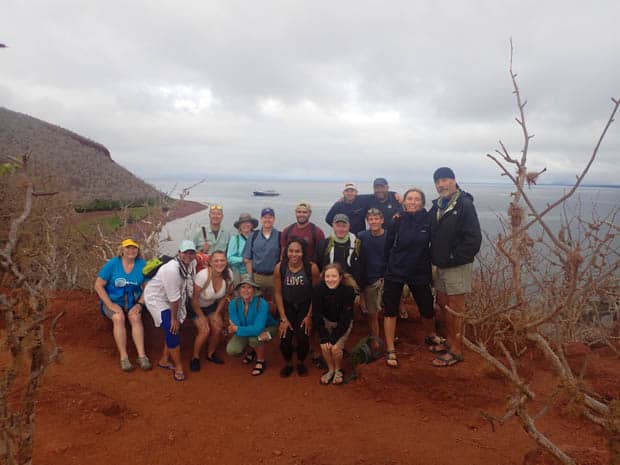 My personal travels often involve moving around, not focusing on one small group of people, and this group (travelers, crew and guides) was exceptional. Even as my newly learned facts fade and Galapagos memories make room for new stories, the experience of calling Origin home with my fellow travelers is one I will cherish—the first of hopefully many small ship communities to come.

For more photos from this trip, including sea lion pups and a variety of Galapagos birds, view my Facebook album on AdventureSmith Explorations' Facebook page.
MORE GALAPAGOS RESOURCES:
Galapagos Cruises
Galapagos Cruise Deals
Galapagos Islands Yacht Charters
Galapagos Luxury Cruises
Galapagos Family Cruises
Galapagos Diving
How to Choose the Best Galapagos Cruise
Galapagos Island Hopping or Cruise?
Best Time to Visit Galapagos
How to Get to Galapagos
Galapagos Islands Animals
Galapagos Trips
Galapagos Tours
Galapagos Cruise Reviews
Galapagos Travel Guide
This Galapagos cruise review was written by an AdventureSmith Explorations crew member. For dates, rates and booking information on this trip, see Origin & Theory Galapagos Cruises, or contact one of our Adventure Specialists to learn more about our small ship cruises and wilderness adventures: 1-800-728-2875.