There are many options for traveling before or after your Galapagos cruise. While most Galapagos travelers already have the popular Machu Picchu on their radar, you don't have to venture quite so far for an excellent, well-rounded trip. With the cultural nuances and cloud forests of the Andean mountains to the wildlife and culturally rich Amazon, Ecuador has it all—closer.
Why Travel in Ecuador?
Ecuador comprises only 0.2% of the world's land area but hosts 8% of amphibians, 5% of reptiles, 8% of mammals and 16% of bird species. Ecuador is about the size of the state of Nevada, making this impressive small country notable for its diversity of wildlife, landscape and culture. It is possible to disembark your cruise in the Galapagos Islands, fly to Quito for an overnight and be on the Napo River—one of the Amazon River's major tributaries—by mid-morning the next day, making these offerings even more appealing for people with limited time.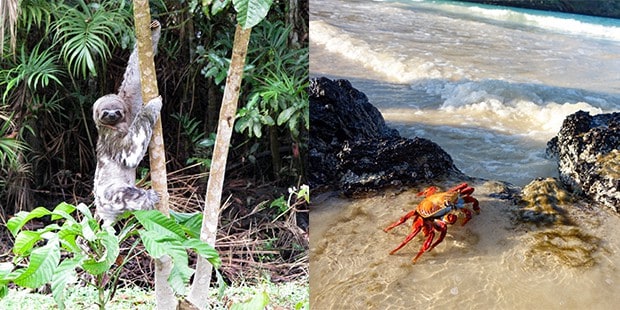 Where to Go in Ecuador? 4 Curated Trips by Land & Sea
AdventureSmith Explorations' large selection of Galapagos cruises and Ecuador travel options offer a balance of exploring via small ship and lodges for the ideal mix of all Ecuador has to offer by land and sea. Let us be your guide for where to go in Ecuador with these hand-curated trip combinations with special offers for 2018. Think of these pairings like you would a sommelier-chosen glass of wine enjoyed with your evening meal—a perfect pair bringing out the best flavors in the other.
1) Galapagos Sea + Luxury Andean Cloud Forest Land
The Santa Cruz II Eastern Galapagos Islands Cruise offers one of the best Galapagos Islands itineraries as it was designed by a former Galapagos National Park guide to maximize wildlife sightings. Pair this with an exceptional experience at the luxurious Mashpi Lodge, a "National Geographic's Unique Lodge of the World," for maximum interaction with wildlife. Mashpi's exceptional rainforest viewing infrastructure includes a sky bike and aerial tram, designed to get travelers up in the canopy of the cloud forest.
AdventureSmith Expert Experience

"Mashpi is an impressive, luxurious eco-lodge with floor-to-ceiling windows all around so you are constantly surrounded by the beauty of the cloud forest. In addition to always having a beautiful view and feeling like you are blanketed by the forest, the lodge also focuses heavily on making as minimal of an impact on the reserve and surrounding forest as possible. The lodge was actually built offsite and trucked in, in pieces, in order to preserve the forest and the original road." Read Jennifer's full Mashpi Expert Review.
2) Eco-friendly Galapagos Sea + Ecuadorian Amazon Land
The comfortable, elegant, eco-friendly fleet including the Ocean Spray, Petrel and Galapagos Horizon offers active Galapagos itineraries that translate smoothly into an earth-minded pre/post-cruise land experience in the Ecuadorian rainforest at La Selva Amazon EcoLodge & Retreat. This active jungle experience in the Ecuadorian rainforest has travelers staying in thatched suites overlooking a lagoon in the heart of the Amazon Basin, accessed by the Napo River.
AdventureSmith Expert Experience
"The Amazon's raw, primal and unchanged-by-man ecosystems have interested me since childhood and having the opportunity to visit the Amazon (to see nature in its most lush, innate form) combined with a trip to the Islands of Evolution was truly an adventure from my dreams. Simple and complete with rainforest materials, the thatched bug-free bungalows provided a comfortable and sustainable haven amidst the dark, thriving rainforest." Read more in Arielle's La Selva Expert Review.
3) Boutique Galapagos Sea + Ecuadorian Amazon Land
The boutique, intimate ships Seaman Journey and Sea Star Journey (only 16-guests each) are a perfect prelude to the seclusion of the jungle at the luxury 16-cabana eco-hotel, Napo Wildlife Center. Set in 53,000 acres of rainforest reserve with knowledgeable local guides and trained naturalists, Napo combined with the Galapagos Islands equates in a wildlife-filled trip of endemic species and biodiversity. Owned and operated by the local Kichwa Anangu community, Napo's ecotourism project not only offers guests an unbeatable Amazon experience, but also provides sustainable employment and advocacy for continual protection of the Yasuni National Park.
AdventureSmith Expert Experience

"These two environments could hardly be more different: arid, sun-blasted volcanic islands scattered in an endless sea and the quintessential tropical rainforest, cloistered in the dappled light of the jungle canopy. Due to the peculiarities of climate and geography, both environments are host to uniquely riotous assemblages of Life. The Amazon Basin is known for its spectacularly high biodiversity (species being highly varied within a geographic area), likely the highest for any ecoregion on the planet. The Galapagos is known for its stunning level of endemism (species being unique to a geographic location). Consequently, both are synonymous with extraordinary wildlife observation… This remote jungle lodge is owned and operated by the Kichwa Anangu community—the aboriginal inhabitants of this area, and its staunchest protectors." Read more in Justin's Napo and Sea Star Journey Expert Review.
4) Safari-Style Galapagos Land + Ecuadorian Amazon River Cruise
Head to the Galapagos Safari Camp for a unique Galapagos experience staying in a safari-style tent in the Galapagos highlands while exploring around the islands by dayboat. Then round out this land-based Galapagos vacation by cruising through the lush rainforest on AdventureSmith's new offering: the Manatee Amazon Explorer.
The narrowness of the Napo River keeps the wildlife at your fingertips while cruising in air-conditioned comfort and venturing out on active kayak/canoe excursions and hikes, including night walks to understand the nocturnal nature of the rainforest; fishing for piranha; visiting a parrot clay lick to see hundreds of birds gathering for their daily dose of minerals; and viewing the jungle from above on an observational tower.
AdventureSmith Expert Experience

"Anyone going to the Galapagos should seriously consider a short extension to their trip and visit the Ecuadorian Amazon. Coca is the jumping off point and it's only a short hour-long flight from Quito, but it feels a world away from the historic capital. After being on land in the Galapagos for a week, the humid and lush jungle had enough to offer to rival the enchanted isles. The Ecuadorian rainforest is one of the most biologically diverse places on the planet. I would highly recommend adding cruising through the Ecuadorian Amazon to your trip to the Galapagos, but saying it like that makes it sound like the Amazon is playing second fiddle… Maybe I should be saying you should consider adding the Galapagos to your trip to the Ecuadorian Amazon!" Read more in Nick's Amazon Cruise Expert Review.
Looking for more places to visit in Ecuador? View all of our Ecuador trips and full selection of Galapagos cruises, or contact AdventureSmith's experts to learn more about where to travel in Ecuador from our crew who have been there. This blog is among AdventureSmith Explorations' extensive collection of travel guides. Find more on the AdventureSmith Travel Blog.