AdventureSmith Explorations' Director of Sales & Operations, Justin Massoni, reviews his combination trip on a Galapagos Islands cruise and Amazon rainforest tour: a 5-day Northern Islands Sea Star Journey Galapagos Cruise and a 5-day Ecuador Amazon Adventure – Napo Wildlife Center. Learn why he thinks these two destinations are such a great match.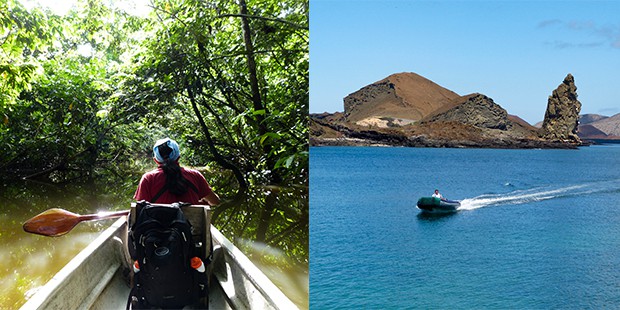 Why Travel to the Galapagos & Amazon in One Trip
When dreaming about diverse, iconic, amazing wildlife inhabiting stunning landscapes, what comes immediately to mind? I, for one, picture the Galapagos Islands and the Amazon River Basin.
Primates and penguins don't make such strange bedfellows, after all.
These two environments could hardly be more different: arid, sun-blasted volcanic islands scattered in an endless sea and the quintessential tropical rainforest, cloistered in the dappled light of the jungle canopy. Due to the peculiarities of climate and geography, both environments are host to uniquely riotous assemblages of Life. The Amazon Basin is known for its spectacularly high biodiversity (species being highly varied within a geographic area), likely the highest for any ecoregion on the planet. The Galapagos is known for its stunning level of endemism (species being unique to a geographic location). Consequently, both are synonymous with extraordinary wildlife observation.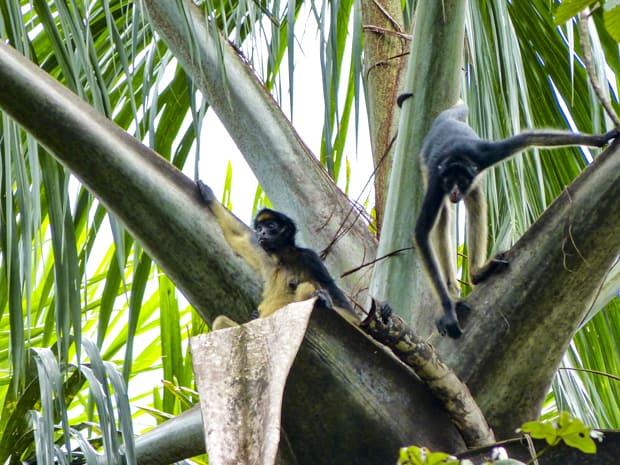 What else do these two starkly contrasting biomes have in common? You can find them both in the Republic of Ecuador—a country about the size of the U.S. state of Nevada (though to be fair, the Galapagos Islands lie about 600 miles off the coast). You can disembark your cruise in the Galapagos, fly to Quito for an overnight and be on the Napo River—one of the Amazon's major tributaries—by mid-morning the next day. Turns out primates and penguins don't make such strange bedfellows, after all.
Quito is your hub; it's a 30-minute flight east to the Amazon or a 2-hour flight west to the Galapagos.
Quito, Ecuador seems an incongruous place to begin an exploration of either destination. At 9,350 feet in elevation, Quito is the second highest capital city in the world after La Paz in Bolivia, and is listed as a UNESCO World Heritage site due to its Spanish Colonial roots and architecture. Interestingly, from its aerie high in the Andes, Quito is perfectly situated to begin both of these disparate explorations of the natural world. It is from here that Francisco de Orellana struck out on the first expedition to navigate the entire length of the Amazon River in February of 1541. It was here on June 15, 1959, that Ecuador passed the law creating its first national park in the Galapagos Islands. And it is here that you will board your 30-minute flight east to begin your Amazon adventure, or your 2-hour flight west to board your Galapagos small ship cruise. Learn how to get to Galapagos.
The Galapagos Islands Aboard the Sea Star Journey
In a recent review on Antarctica, I spoke a little about the Dutch cartographer and continental drift visionary Abraham Ortelius, and his early atlas of the world, Theatrum Orbis Terrarum. Guess which little island group on the far side of the world showed up for the first time in this 1570 masterpiece of mapmaking? You got it, the Insulae de los Galopegos (Islands of the Tortoises).
The islands were known as early as 1535, described by sailors blown off course while navigating the near coastal waters of Panama, Colombia, Ecuador and Peru. Until that time, the wonderous Galapagos Islands animals had the benefit of evolving without the pressures of an indigenous human population, and consequently developed no fear of Man as a predator. This served them poorly during the Age of Discovery (specifically European exploration and exploitation of the New World), but today allows visitors the unique opportunity to observe this endemic wildlife up close, without disturbing their natural rhythms.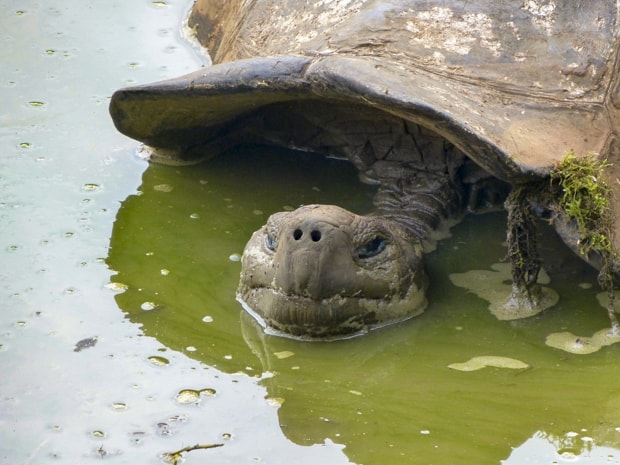 All small ship explorations of the Galapagos embark in one of two places: Santa Cruz Island (served by the airstrip on Baltra) or San Cristobal Island, 50 sea miles to the east. These are also the only two islands with any sizable human population, in the towns of Puerto Ayora and Puerto Baquerizo Moreno, respectively. The airport on little Baltra—also called South Seymour and lying just off the coast of Santa Cruz—was constructed by the U.S. during the War to serve as a base of operations for the protection of the Panama Canal. When the strikingly flat topography of this little islet comes into view upon your approach, it feels almost as if you are landing on an aircraft carrier adrift just off the beach.
If you don't see a bright yellow, three-foot-long Baltra land iguana before you leave this little island, I'll eat my Panama hat.
The formalities upon arrival are familiar to travelers arriving in any equatorial destination. Though you are arriving from elsewhere within Ecuador, entry to Galapagos requires passage through immigration, a biosecurity quarantine and a transit card similar to a visa. The ceiling fans languidly spin overhead as you join a serpentine queue of your flight mates—all flush with excitement to get this over with and get on with the new adventure waiting just outside. And the Galapagos are indeed just outside. If you don't see a bright yellow, three-foot-long Baltra land iguana before you leave this little island, I'll eat my Panama hat.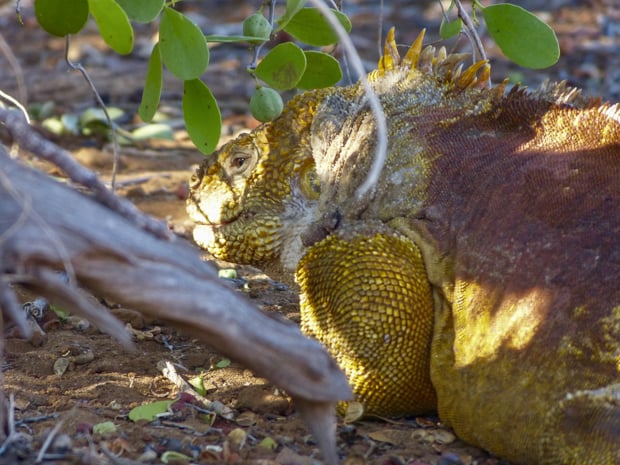 Some cruise itineraries will take you from the Baltra airport straight to the Santa Cruz Highlands to see the resident giant tortoise before you board ship later in the day. My Sea Star Journey Cruise visiting the Northern Islands included a Highlands visit on the last day, which enabled us to board the ship immediately upon arrival at the Baltra anchorage. We weighed anchor, and the Sea Star Journey was cruising toward a shore excursion at Dragon Hill within 90 minutes of our arrival in Galapagos.
The Sea Star Journey is a 135-foot, 16-passenger vessel—and a perfect platform for exploring the Galapagos Islands in style. Recent renovations have introduced private balconies to all four main deck suites, as well as an airy and light-filled mood throughout the ship. The comparatively high overall square footage spread across three decks allows for more spacious public areas in which to dine, scan the seas and shores for wildlife, or simply lounge away during the heat of the equatorial midday. The large dining table perched on the open stern of the Main Deck allows for the entire passenger complement to take meals in a shaded, breezy outdoor space—which we chose to do most afternoons.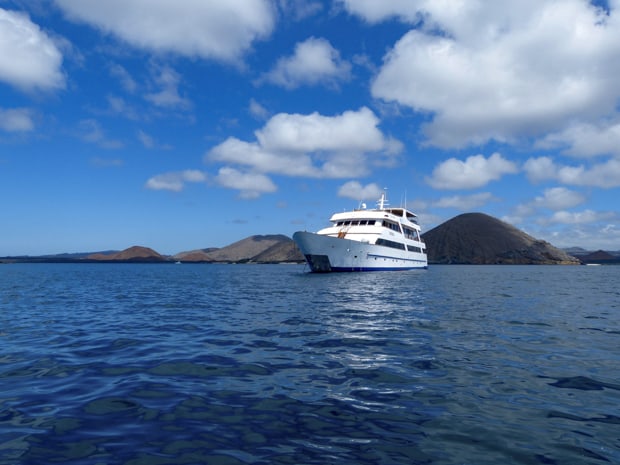 Our days were filled with activity: at least one off-vessel adventure before lunch (often two), and at least one in the afternoon.
Maximum group size for any shore landing in the Galapagos National Park is 16 persons, so these small ships are a study in efficient off-vessel excursions. The entire group could comfortably (and quickly) disembark in two Zodiacs, with our Galapagos National Park guide narrating this wonderous world for all. Our days were filled with activity: at least one off-vessel adventure before lunch (often two), and at least one in the afternoon. You will typically be experiencing a shore landing and hike in the morning, before the heat of midday—and then perhaps kayaking and snorkeling in the cool waters of a sheltered cove in the afternoon. The Galapagos as a destination truly lends itself to AdventureSmith's ethos of "Think Outside the Boat", and the Sea Star Journey was a luxurious and well-designed platform for our intimate exploration of this stunning landscape.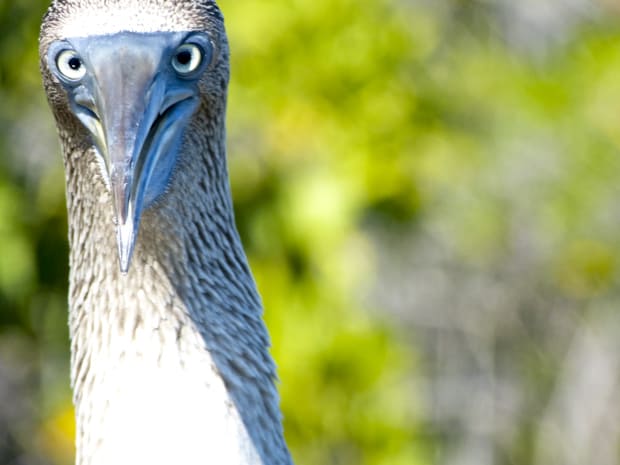 The wildlife of the Galapagos Islands is, of course, as iconic as it gets. Flightless cormorants, blue-footed boobies, marine iguanas, giant tortoises, Galapagos penguins, Darwin's finches—they have all become part of our wildlife lexicon thanks to Mr. Charles Darwin, who visited these islands for a mere three weeks in the fall of 1835. As with many travelers, I was concerned that I would miss out on some of this iconic wildlife due to the limited duration of my 5-day Galapagos cruise. We often recommend our clients consider a more comprehensive 8-day itinerary, and take a combined 15-day cruise if they wish to see it all. I still advocate for this type of extended exploration wholeheartedly, but I needn't have been so concerned that I was going to have something less than a full experience. Do I wish I would have had 8 or even 15 days to explore these magical islands? Indeed I do. Was my shorter itinerary disappointing? Absolutely not. Las Islas Encantadas, the Enchanted Islands, provided me with five full days of wonder.

This time tomorrow, I'd be traveling into the heart of the Amazon.
As I said goodbye to Sea Star Journey, and the new friends I'd made over the past five days, I experienced the melancholy that comes with the completion of any great journey. But as my plane lifted off from Baltra and banked eastward over the Pacific, I reveled in the knowledge that in less than 24 hours I'd be embarking on a completely new adventure. This time tomorrow, I'd be traveling into the heart of the Amazon.
The Amazon & Yasuni National Park from Napo Wildlife Center
I'm a great believer in the power of your entrance to a wilderness property, and how this introduction to place colors your experience while there. The entry to Napo is hands down one of the most amazing that I've experienced. Early in the morning, you board a plane in Quito for your 30-minute flight down the eastern scarp of the Andes (the "Oriente") to El Coca, also known as Puerto Francisco de Orellana. In Coca, you board a large motorized canoe for the 2.5-hour cruise down the main channel of the Napo River—over a mile wide in places. Upon arrival at a small landing port, you transfer to an 8-person canoe for the motorless paddle up the Anangu Creek, sometimes a mere 10 feet wide from bank to bank.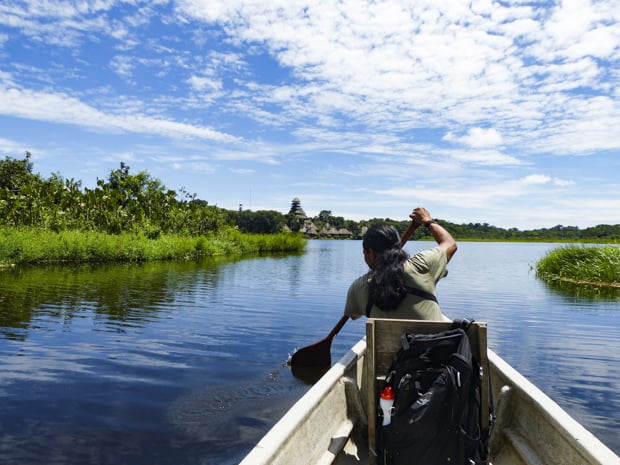 It's under five miles to Napo, but the journey will likely take over two hours. The problem, you see, is all the wildlife that crowds this little black-water creek.
This last leg of your journey to Napo Wildlife Center is truly remarkable. It's not all that far, just a couple of miles, but the journey will likely take over two hours. The problem, you see, is all the wildlife that crowds this little black-water creek. It proves difficult to paddle more than a few minutes without running across something amazing. On my trip in we saw: three black caimans, a very sleepy anaconda, a family group of spider monkeys, five or six manic troupes of capuchins, a lone monk saki (a truly bizarre looking primate), several red howlers and more birdlife than you'd care to read about here. This is before we had even seen the lodge that was to be our base of operations for wildlife viewing, mind you. I still had my nice shirt on from the plane, ear plugs and boarding pass in my chest pocket.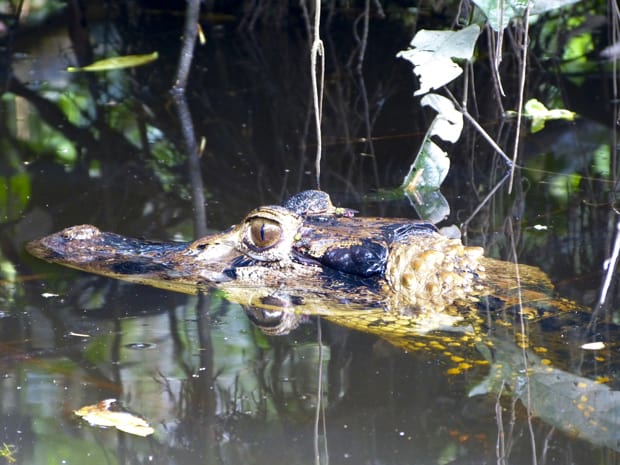 As you reach the top of the creek in the late afternoon, the inky still waters of Anangu Lake open up before you—and on the far shore, the thatched roofs of Napo Wildlife Center. Standing sentinel over the lake is the 40-meter-tall, seven-tiered main lodge building, a remarkable achievement of remote construction (building materials for this project also had to be paddled up that creek). Truly an entrance to remember.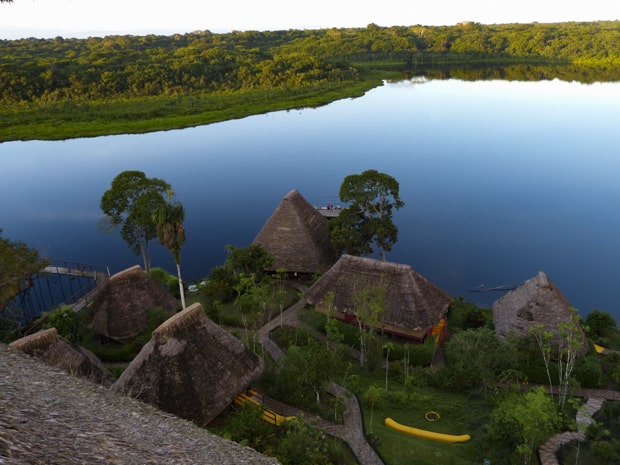 The Napo Wildlife Center is the only lodge located within the 2.5-million-acre Yasuni National Park, and is about 50 miles downstream from the confluence of the Napo and the Coca Rivers at the town of Coca (Puerto Francisco de Orellana). This remote jungle lodge is owned and operated by the Kichwa Anangu community—the aboriginal inhabitants of this area and its staunchest protectors. This community eco-tourism project has allowed the Kichwa Anangu to provide sustainable employment for its members and given them a platform to advocate for the continued protection of Yasuni—through educating, informing and involving their guests.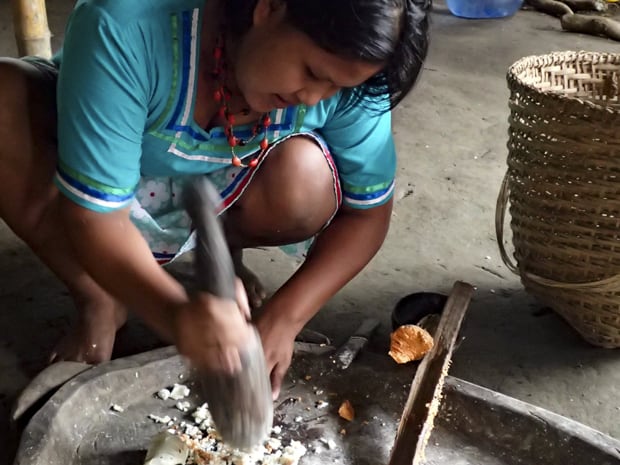 The lodge itself is surprisingly luxurious, given the remote location. The stunning main building is where you will attend naturalist presentations, take your meals, and enjoy the views over the jungle canopy from the 130 foot tall observation tower. This main lodge building is joined by 12 guest cabanas nestled in a gardenlike clearing hard-by the lakeshore. The cabanas all have modern en-suite facilities, tightly screened windows, ceiling fans (powered by stored solar energy at night) and stylish netted four-poster beds. Eight lofty, spacious suites built on stilts over the lake—each with a Jacuzzi on the porch for your evening soak—front the property. I was taken by the level of service Napo was able to deliver this far from "civilization," and it is testament to the fact that the Kichwa Anangu take customer service and the comfort of their guests very, very seriously.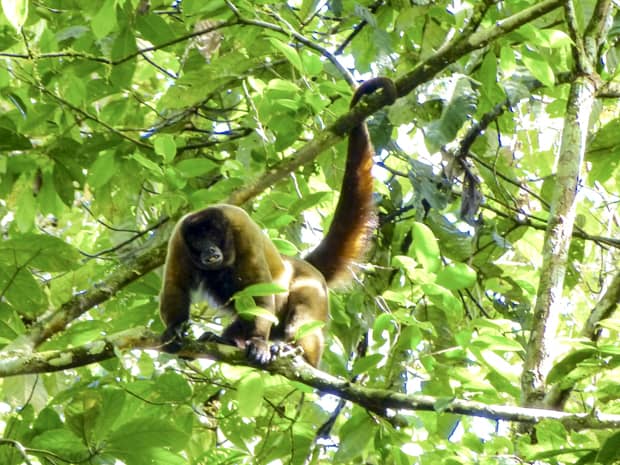 The tropical rainforest is home to a mindbogglingly diverse array of wildlife and is notorious for conspiring with our generally poor eyesight to keep it hidden. Especially at dusk and dawn, the jungle is a cacophony of animal sounds—almost deafening at times. It is a strange sensation to stand on the forest floor, enveloped in the sounds of a legion of jungle creatures—and not see a single one. To our ears the forest is electrifyingly alive, but to our eyes it is often perfectly still.
Your Kichwa guide will of a sudden stop in his or her tracks and spot that tiny pygmy marmoset, completely motionless, clinging to a tree 75 yards away.
AdventureSmith believes in the primary importance of great guiding and naturalist narrations in all destinations and environments. In the Amazon it is absolutely crucial. At Napo Wildlife Center, every group that goes into the forest for an excursion will be in the company of two guides. One is English-speaking and accredited by the Republic of Ecuador as a licenced guide, often the holder of a university degree in tourism or biology. The other will be a member of the local Kichwa community, rarely speaking English; Spanish may not even be their primary language (he or she may be a native Kichwa speaker). This combination of educational and guest services chops with intimate local knowledge creates an unparalleled program to help you best experience the Amazon. Your Kichwa guide will of a sudden stop in his or her tracks and spot that tiny pygmy marmoset, completely motionless, clinging to a tree 75 yards away. Your English-speaking guide will set up the spotting scope so that you too can observe one of the world's smallest primates, and eloquently explain in hushed tones what it means to be a gummivore in the Amazon (I did not just make that up—their diet consists primarily of tree sap). My Napo guides, Giro and Victor, were the dream team of tropical naturalists, complementing each other's skills at every turn.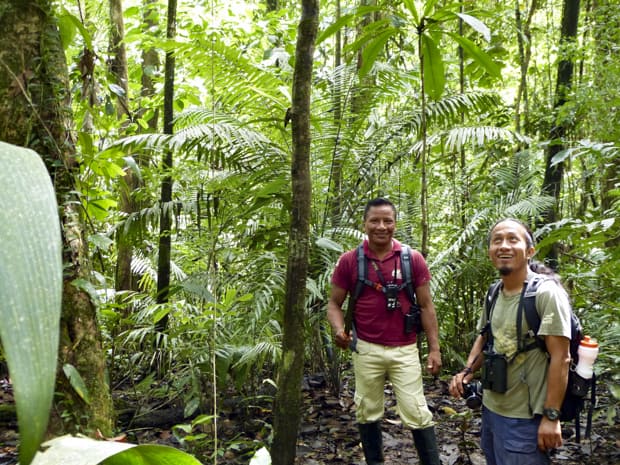 I've spent my fair share of time in the jungles of the Americas, Africa and Southeast Asia – and can say without reservation that my five short days at Napo Wildlife Center provided me with the most varied, intimate and consistent encounters with charismatic fauna (don't even get me started on the world-class birding). Stop by the AdventureSmith office one day and I will tell you all about my run-ins with collared peccaries, Dusky titi monkeys, golden mantled tamarins, purple gallinules—the colorful checklist of the resident menagerie goes on. Any member of the staff, I'm sure, would be delighted to tell you about my run-in with the bullet ant….
The Galapagos and the Amazon—they're closer than you think.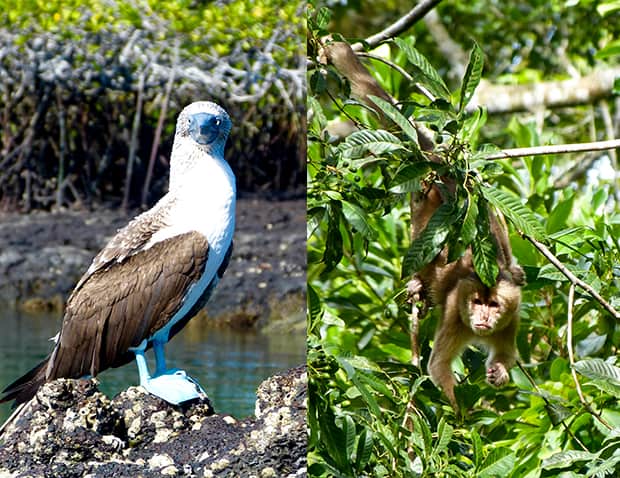 Justin's Suggested Reading for Galapagos & the Amazon
At AdventureSmith Explorations, we encourage our travelers to arrive informed. Before each voyage, we provide travelers with reading lists related to their destination, covering everything from guidebooks to poetry. Whether you choose to read before, during or after your expedition—or perhaps all of the above—here is what I recommend for Galapagos Islands and Amazon travel:
Voyage of the Beagle
by Charles Darwin
Just between you and I, I'm not certain I've read On the Origin of Species from cover to cover. I'm positive it was assigned in my Evolutionary Biology courses in college, but I may, possibly, just have skimmed it. The much more accessible Voyage of the Beagle—originally published in 1839, 20 years before Origin—chronicles Darwin's entire experience aboard the five-year survey expedition of the HMS Beagle. The 23-year-old Darwin was hired as expedition naturalist, more than anything, because captain Robert FitzRoy thought that this lettered young man might be good company for him on the long voyage. The Beagle only put in to the Galapagos for three weeks or so on her return across the Pacific, but Darwin collected samples and made observations as far afield as Australia and New Zealand on this voyage.
River of Darkness: Francisco Orellana's Legendary Voyage of Death & Discovery Down the Amazon
by Buddy Levy
In the winter of 1541, Gonzalo Pizarro and his lieutenant, Francisco de Orellana, were charged by Francisco Pizarro (who had defeated the Inca at Cajamarca and Cusco eight years earlier) to locate the riches said to lie in "The Land of Cinnamon" east of Quito, Ecuador. After being separated from Pizarro and the main force near the site of modern day Coca, Orellana and 50 sickly men began what was to become the first navigation of the entire length of the Amazon River. What ensued was eight months of privation, sickness and violence before the company reached the Atlantic Ocean in August of 1542. Taken from accounts of the voyage penned by Orellana and the Dominican friar Gaspar de Carvajal who sailed with him, this book is brutal—but truly difficult to put down. The men often just lived and slept in their steel armor (in the suffocating tropical heat), as it seemed that beyond every river bend was another understandably concerned group of inhabitants, and another hail of arrows.
Twentieth century historians and ethnographers assumed Orellana and Carvajal were exaggerating the complexity and density of the Amazon civilizations they encountered on their difficult journey. Levy, however, subscribes to the growing understanding among twenty-first-century ethnographers that the Amazon River Basin was home to dense populations and advanced civilizations prior to European contact. The sparsely inhabited jungle found by later explorers was not due to the unsuitability of the Amazon rainforest to support large populations, but rather to the fact that infectious disease brought from the Old World to the coast spread more quickly than the area could be explored—and evidence of these advanced civilizations had already disappeared beneath the fast growing rainforest.
The Song of the Dodo: Island Biogeography in an Age of Extinctions
by David Quammen
Recommended to me by a good friend, who discovered this book while visiting the Galapagos many years ago, this is an accessible primer on island biogeography worldwide; the eponymous dodo was an endemic resident of the island of Mauritius, in the Indian Ocean. A journey to the Galapagos is the perfect time to crack this examination of the processes—like adaptive radiation (a finch for every niche)—that often make island life so unique from that on the mainland. The elegant, wonderous forms created by this isolation and adaptation are precisely why you, the visitor, are here! And of course, any discussion of island biogeography and evolutionary processes necessarily touches on the lives of the two giants in the field: Charles Darwin, who began to develop his theories in these very islands, and Alfred Russel Wallace, who began to develop his across the Pacific in the Malay Archipelago. For the briefest discussion of their relationship, read my recent review of cruising Raja Ampat.
For more photos from this trip, including iconic Galapagos and biodiverse Amazon life, view my Facebook album on AdventureSmith Explorations' Facebook page.
This Galapagos trip review review was written by an AdventureSmith Explorations crew member; read all AdventureSmith Trip Reviews for more trip reports or contact one of our Adventure Specialists to learn more about our Galapagos trips: 1-877-620-2875. The Sea Star Journey in particular is among our Galapagos luxury cruises and is perfect for a full boat charter; read more about Galapagos yacht charters.
MORE GALAPAGOS RESOURCES:
Galapagos Trips
Galapagos Luxury Travel
Galapagos with Kids
Galapagos Diving
Galapagos Cruises
Galapagos Charters
How to Choose the Best Galapagos Cruise
Galapagos Island Hopping or Cruise?
Galapagos Land Based Tours
Best Time to Visit Galapagos
How to Get to Galapagos
Galapagos Islands Animals
Galapagos Trip Reviews
Galapagos Travel Guide
Galapagos Cruise Deals