Pick any month of the year, and we can guide you to a small ship cruise. AdventureSmith Explorations' style of immersive expedition cruising spans the globe, with small ships positioning to take advantage of the best sailing seasons for weather and wildlife-spotting opportunities. For example, several yachts follow the whales to spend their summers in Alaska and winters in Baja, and other ships hop between the poles as their strengthened hulls make them best suited for the ice. Here's a look at what's in season, where, for expedition cruising by month in a table, followed by detailed looks at each (northern hemisphere) cruise season.
Small Ship Cruise Calendar
| | | | | | | | | | | | | |
| --- | --- | --- | --- | --- | --- | --- | --- | --- | --- | --- | --- | --- |
| | Jan | Feb | Mar | Apr | May | Jun | Jul | Aug | Sep | Oct | Nov | Dec |
| Alaska | | | x | x | x | x | x | x | x | | | |
| Canada | | | | x | x | | | x | x | x | | |
| Baja | x | x | x | x | | | | | | | | x |
| Costa Rica | x | x | x | x | x | | | | | | x | x |
| Belize | | x | x | | | | | | | x | x | x |
| Pacific Northwest | | | | x | x | | | x | x | x | x | |
| Antarctica | x | x | x | | | | | | | x | x | x |
| Arctic & Northern Europe | | | | x | x | x | x | x | x | x | | |
| New Zealand | | | | | | x | x | x | x | x | x | x |
| Mediterranean | | | x | x | x | x | x | x | x | x | x | |
| East Coast | | | | x | x | x | x | x | x | x | x | |
| Patagonia/Chile | x | x | x | x | | | | | x | x | x | x |
| Caribbean & Panama | x | x | x | x | x | x | | | | x | x | x |
| Galapagos, Amazon, Hawaii, Etc | x | x | x | x | x | x | x | x | x | x | x | x |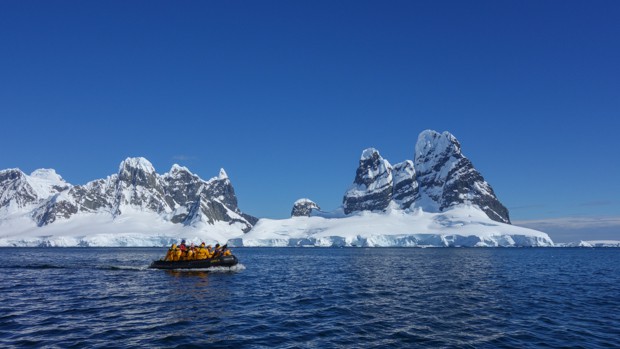 Summer Season Small Ship Cruises
Thinking of traveling by small ship for a summer vacation? Look to these popular locales, or scroll down to see more options listed in our year-round small ship cruises section.
Alaska – March through September
Alaska is often hailed as the birthplace of small ship expedition cruising. Its remote Inside Passage coastline is prime for ship exploration as many locales and port towns are only accessible from the water. The Alaska small ship cruise season kicks off with a select few vessels sailing as early as March to take advantage of the Pacific herring migration and better chances to see the Northern Lights. There are prime times within the season for spotting bears, seeing whales in feeding pods and exploring Denali National Park. For more details about these seasons-within-the-season, see our comprehensive How to Choose Your Alaska Cruise guide.
Arctic & Northern Europe – April through October
Expeditions in the vast Arctic region, including its crossover Northern Europe locales, begin with warmer weather in April and continue through October when daylight hours are longer. When to sail during this time depends upon your interests for spotting polar bears, seeing large ice floes, hiking on land, covering more ground and/or seeing the Northern Lights. For a canal cruise in England, Ireland river cruise or Scotland barge cruise, target travel for spring through early fall. Learn more about Arctic cruises, and see our comprehensive How to Choose Your Arctic Cruise guide for more detailed information.
Mediterranean – March through November
Look for Mediterranean cruise itineraries along the shores of Greece, Montenegro, Croatia & the Dalmatian Coast and west toward Spain and Portugal to sail in the summer months' subtropical highs. Seasonal winds called "meltemi" blow through and pleasantly cool the atmosphere during this time. In the height of summer, ports can be crowded, so look to the shoulder-season sailings for a bit slower pace. While most small ships stay put in tropical climes, we see the occasional Mediterranean vessel head north in the off season to Arctic locales like Iceland and west to the likes of Costa Rica.
East Coast – April through November
East Coast cruises begin in the south and move north, following optimal temperatures from spring through fall. Enjoy spring in bloom throughout South Carolina's Low Country before moving up through the Chesapeake Bay and into Maine and Cape Cod, finishing with New York and New England's fall foliage.
Winter Season Small Ship Cruises
Vessels often don't stay in locations like Alaska and the Arctic during the dark days of winter, and thus position south to warmer waters. Here's a look at where many vessels overwinter to seek the sun.
Baja & Costa Rica – Nov/Dec through April/May
Baja California and Costa Rica are common sister destinations to Alaska since small ships seeking to bypass the Alaskan cold can easily follow the coastline south. Looking at Baja California cruises, in particular, a number of vessels follow the whales down to their mating and birthing grounds in the gentle, warm bays off Baja's Pacific coast and the interior haven of the Sea of Cortez. And for Costa Rica cruises and Panama cruises, small ships enjoy this time as the average rainfall is lower and migrant bird populations are highest. While it's technically "winter" for these northern hemisphere locales, the daytime air temperature is usually in the 80s so wintertime is a great time to head to the beaches and coastlines here! For more information, consult AdventureSmith's How to Choose Your Baja Cruise and How to Choose Your Costa Rica Cruise guides.
Antarctica – October through March
The sister cruise season to the Arctic is Antarctica, which has the opposite summer/winter timing yet many of the same requirements for vessels to be ice strengthened. Sea ice, daylight and weather are the main factors for Antarctica's expedition cruise season, so you'll find polar expedition vessels spending their time here in the austral summer. Ships sailing early season often have more opportunities for skiing, mid-season is prime for seeing penguin chicks and later itinerary options highlight whale watching. See our comprehensive How to Choose Your Antarctica Cruise guide for more detailed information on Antarctica's seasonal highlights.
Patagonia – September through April
Patagonia expedition cruises in Chile also sail in the austral summer months, when the weather is prime for combining voyages to explore places like Torres del Paine National Park and Antarctica. The port of Punta Arenas is the main hub, and while it's summer here, pack a parka as this region is known for its winds. Average air temperature during the cruise season hovers in the upper 50s.
Spring & Fall Season Small Ship Cruises
While many of the summer and winter season cruises detailed above operate in these shoulder seasons—and our year-round options detailed below all operate in the spring and fall seasons—we see a few itineraries that only sail during this time.
Pacific Northwest – April & May, August through November
Pacific Northwest cruises cover the Columbia River, San Juan Islands and Olympic Wilderness regions, the latter two being the gateway for ships sailing to and from Alaska. Find various ships sailing here in the spring and fall to take advantage of whale and bird migrations, as well as harvest seasons for grapes, oysters, hops and other regional fare.
Year-Round Small Ship Cruises
These popular small ship cruise destinations don't have downtimes, save for slight seasonal/regional variations and dry dock periods when ships leave the water for repairs and refreshes.
Galapagos Islands
Due to the equatorial climate and combination of Panama, Peru and Humboldt ocean currents from the north and south, Galapagos cruise ships are able to stay year-round in this famed archipelago. For all the nuances of the Galapagos seasons, and when to go if you have a specific wildlife encounter on your bucket list, view our comprehensive How to Choose Your Galapagos Cruise guide and Galapagos By Month: When to Go & Why.
The Amazon River
The Amazon River and its tributaries span into the countries of Brazil, Ecuador and Peru when looking at active Amazon small ship cruise options. You can sail year-round in all these countries, but note that Peru's Amazon is distinct in that there is a more dramatic high-water (typically November-May) and low-water season (typically June-October), the latter allowing for more trail walks on terra firma vs. skiff cruising. See our comprehensive How to Choose Your Amazon Cruise guide for more detailed information on the different regions of the Amazon and timing your trip.
Hawaii
For Hawaii small ship cruises, yachts choose to island-hop where the day boats can't go. This offers an intimate way to cruise remote, untouched lands, away from tourist-heavy locales.
Australia
While you can sail any month on Australia cruises, especially in the tropical waters of the Great Barrier Reef, there are seasonal variations that have ships positioning as far south as Tasmania (roughly January through April) and up to Cape York and the Kimberley region (typically March through October).
Southeast Asia
Many small ships in the greater Southeast Asia cruise region also sail year-round thanks to favorable seas and climate. Look for sailings any month on the Mekong River, as well as in Indonesia, which has seasonal variations like expeditions up into the lesser-visited Raja Ampat archipelago during West Papua's dry months of November and December. See our How to Choose Your Indonesia Cruise for more.
A Note About When to Book Your Small Ship Cruise
Now that you're primed on when to sail, how about when to book? For the best selection of small ship cruises and available cabins, advance reservations are encouraged and often required. While we've had success finding travelers last-minute space, your best bet is to always book early for your best match at dates, travel style and cabin choice. The most popular small ship cruises are often sold out 6 to 9 months in advance. We often see the next year's rates released a year in advance, and nearly two years in advance for polar destinations like Antarctica and the Arctic.
This is only a sampling of where AdventureSmith Explorations sails, and the seasons. Learn more about our small ship cruises, or head to our Trip Finder to choose your own adventure, filtering by dates, trip style and budget.
Still Don't Know When to Cruise?
This blog detailing where and when to travel by small ship is among AdventureSmith Explorations' extensive travel resources. Visit our Small Ship Cruise Guides page for even more tips and inspiration to plan your cruise.