There are more Baja adventure cruises than ever before with choices for every style and budget. Historic yachts offer intimate explorations, adventure ships offer exciting activity and intellectual expeditions will enlighten even the most discerning traveler. Consult this Baja cruise guide to help you select the right cruise at the best price, then review our full selection of Baja small ship cruises or contact our Baja travel experts.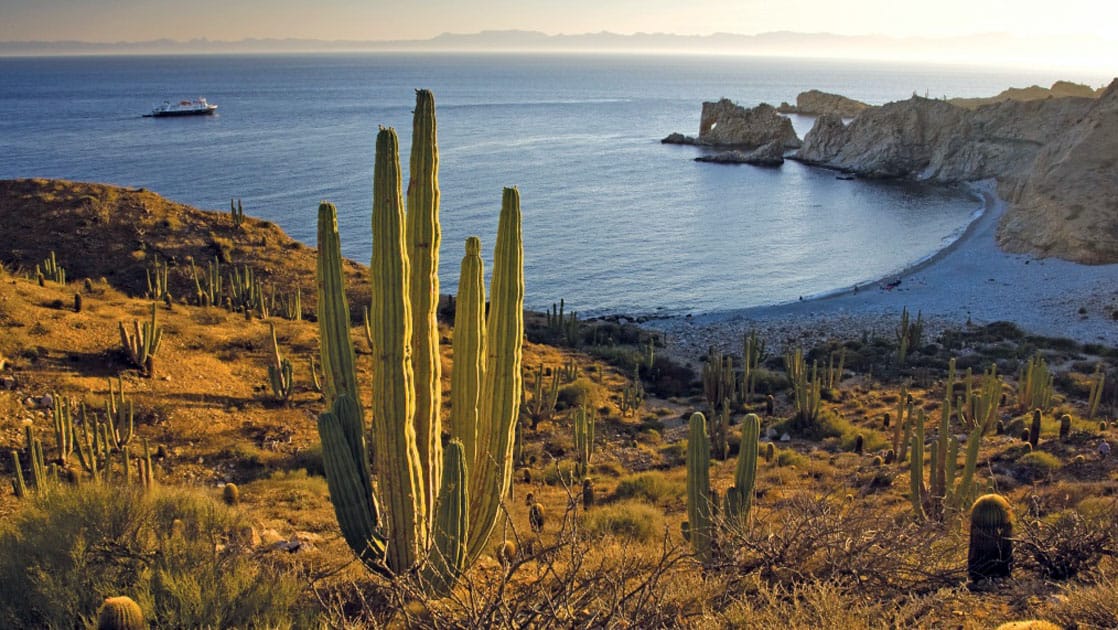 An Introduction to Baja Small Ship Cruises
Small ship cruises to Baja, California, and the Sea of Cortez offer nature, adventure and wildlife right in our own backyard. Spectacular sunsets, clear azure waters and solitude await travelers looking for the ultimate Baja travel experience. Small ships are able to explore close to shore, away from tourist crowds, revealing wild Baja as few ever see it. As roads are few and far between in the Baja Peninsula, a cruise is the ultimate way to view coves and beaches that one simply cannot reach by land travel.
As roads are few and far between in Baja, a cruise is the ultimate way to view coves and beaches that one simply cannot reach by land.
A note about the Sea of Cortez: The Sea of Cortez and Gulf of California are different names for the same body of water and an important part of any Baja small ship cruise. For purposes of this guide we use the term Sea of Cortez to describe the body of water separating the Baja Peninsula from mainland Mexico.
Getting to/from Baja
Baja is easily accessible in only two to four hours from most major US airports. Many flights will make connections in Los Angeles, making Baja particularly easy for travelers from the west coast. Cruises will embark in La Paz or Loreto. Flights arrive in either Loreto or San Jose del Cabo; the latter with a transfer on to La Paz. Cabo offers many international flights from Los Angeles as well as other major gateways in the United States. Loreto only has flights on select days each week. Fortunately, cruises using Loreto take these schedules into account and cruises are timed to correspond with these flights, but this also means that it is a good idea to book early to ensure availability.
How to Choose Your Trip & Small Ship
When considering which trip and which ship to choose in Baja, first ask yourself what experience you are looking for. Is whale watching your primary objective? Do you prefer hiking and snorkeling? Are you looking for an authentic Mexican cultural experience? Perhaps you are a birder looking to identify new species? Or maybe a combination of all these things. Baja has a small ship cruise for you.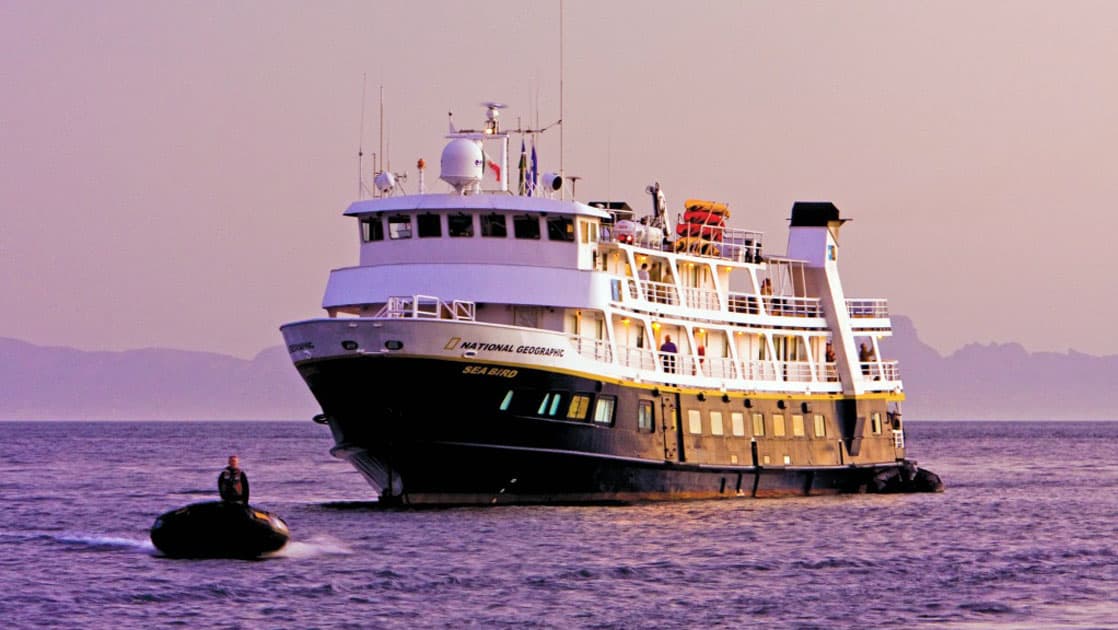 Intellectual Expeditions
Travelers seeking an easy, soft adventure expedition with experts from National Geographic have a number of cruises to choose from. Book early for the 8-day Baja California: Among the Great Whales, which offers special access to gray whale breeding sites and can sell out 6-9 months in advance. Consider the longer 15-day Baja California: A Remarkable Journey or explore the rarely visited northern Sea of Cortez on the 8-day Baja California Holiday Voyage: A Living Sea & Desert Isles.
Adventure Cruises
A new selection of Baja adventure cruises features specially outfitted small ships geared for adventure with expert guides leading off-vessel activities from remote beaches or right from the ship. Hike, kayak, stand-up paddleboard, snorkel or just relax on the beach. Explore at your own pace with a variety of activity levels and options offered every day. The 8-day Baja California's Whales & Wildlife Cruise combines active adventures with gray whale watching (in season) or swimming with whale sharks.
Wellness Cruises
Health-minded adventurers will appreciate opportunities to stretch and learn from wellness specialists on certain departures. For a greater selection of dates and the opportunity to cruise aboard one of the newest ships in Baja, the National Geographic Venture, consider the 12-day A Southern Migration: From The Channel Islands to Baja California, which travels south from Los Angeles to La Paz. Try stand-up paddleboarding, snorkeling or kayaking with playful sea lions and mindfulness hikes along island coasts in the Sea of Cortez, all with National Geographic guides and wellness specialists.
Intimate Exploration Cruises
Explore like John Steinbeck and Ed Rickets cruising Baja aboard a historic 8-guest wooden yacht. A flexible schedule allows time to watch whales, stop at postcard-perfect beaches and explore at a relaxed pace. The intimate 12-day Westward Voyages in the Sea of Cortez includes two nights of whale watching and beachfront camping in San Ignacio Lagoon or Magdalena Bay. This is the most intimate Baja cruise available.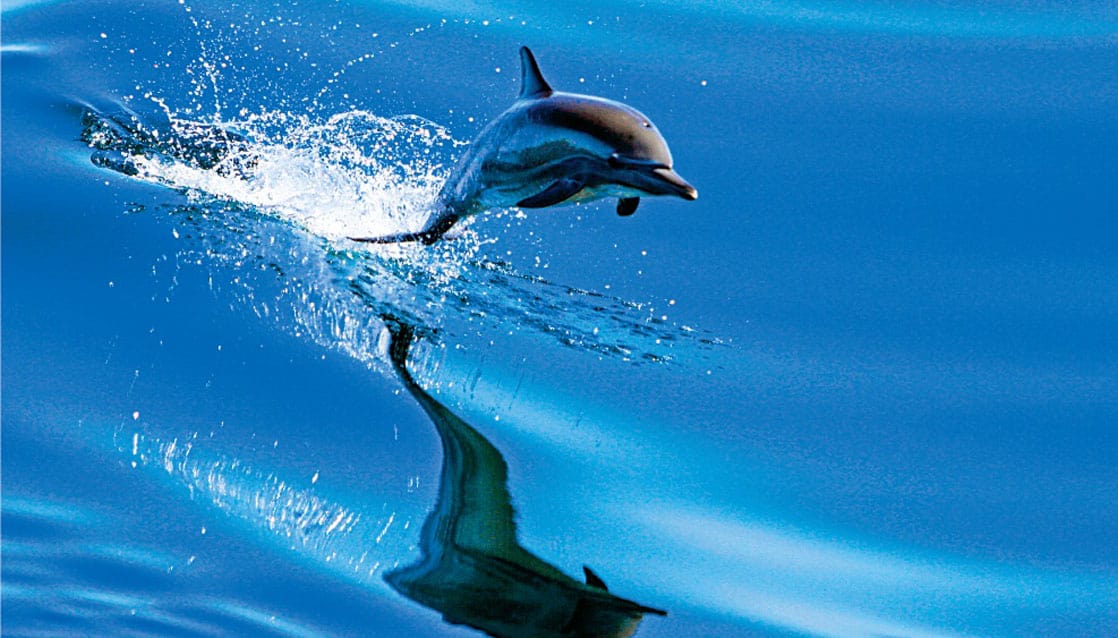 When to Go
The cruising season in Baja and the Sea of Cortez begins in December and continues through April. Within this time frame are sub seasons. November through mid January is the early season when weather is coolest making hiking pleasant. May through June the temperatures grow increasingly warmer with excellent opportunities for snorkeling. Warm winter weather make Baja the perfect getaway to escape cold North American winters. Visit our Baja Climate & Best Time to Visit Baja pages for more details on weather and climate in Baja California.
Baja Whale Watching Season
Whale watching is an important part of any Baja cruise at any time of year. When considering whale and dolphin watching in Baja consider two different regions. Whales are abundant in the Sea of Cortez and many species such as humpback whales, blue whales, fin whales and sperm whales can be seen in Baja throughout the year. Gray whales are best viewed on the Pacific Coast of the peninsula.
If gray whale watching is your goal, consider traveling during the height of their calving season, which begins in mid-January and runs through mid-March.
If gray whale watching is your goal, consider traveling during the height of their calving season, which begins in mid-January and runs through mid-March. Most cruises from January to March will include gray whale watching and accomplish this by spending a day driving across the thin Peninsula to the gray whale breeding sanctuary in Magdalena Bay. Gray whales migrate to the Pacific Coast of Baja from Alaska and the Pacific Northwest. Here they mate and give birth in the shallow lagoons on Baja Sur's pacific coast. At the height of the season when whale encounters are at their peak, mothers and newborns can be quite curious and close encounters are common. This is a fantastic experience that uses pangas driven by local guides who know the area and how best to find and view the whales.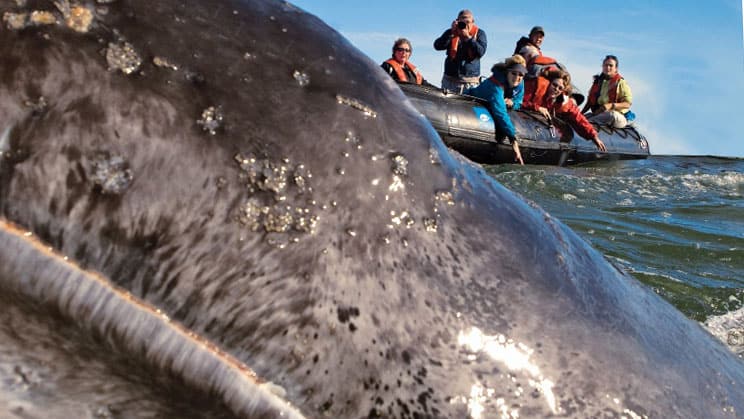 When it comes to gray whale watching, Lindblad Expeditions' Baja California: Among the Great Whales is unique. They helped pioneer cruises in Baja and the Sea of Cortez and were involved in creating the national parks that protect the whales and other species in Baja. As such, they have unique permission to sail their ships over to Magdalena Bay and use their own Zodiacs to experience the whales up close. This means even closer whale encounters with fewer fellow guests aboard each Zodiac compared to the local outfitters' pangas.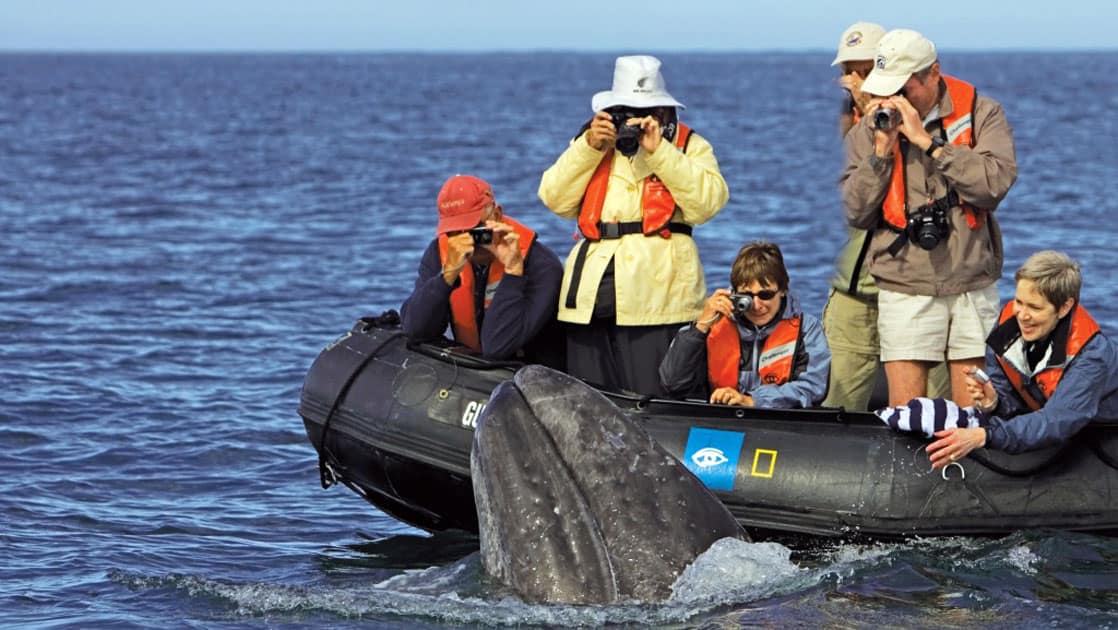 Baja Bird Watching Season
With over 200 species and wide open desert space, birding is a popular pastime in Baja. Birding can be good year-round, but the action really heats up in April in places like Isla Raza where up to one million Heermann's gulls, elegant and royal terns nest each year. A number of endemic species attract birdwatcher attention including Belding's yellowthroat and Xantus's hummingbird. Blue-footed boobies, American pelicans and osprey can also be found.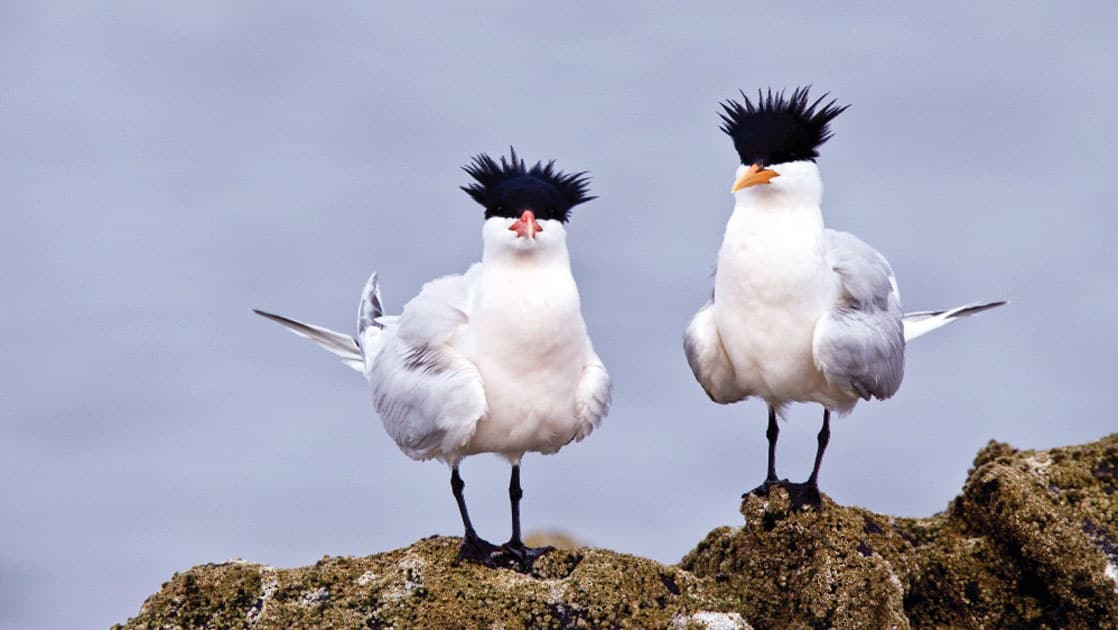 Baja Ocean Conditions & Seasickness
Baja's unique peninsula give it a wide variety of ocean conditions depending on where you are. Travelers should prepare for some rough waters aboard any Baja cruise. The Sea of Cortez is mostly affected by seasonal winds and micro climate winds that can occur along the length of the coast. Winds are strongest from December through February and then calm down. A notoriously rough patch of water off of Cabo San Lucas, at the tip of the peninsula, has many currents and winds affecting the seas. The Pacific side of Baja features open ocean swells which can range from gentle rollers to rocking waves. Fortunately, small ships are designed to seek shelter in coves and bays with protected anchorages. Captains are experts at gauging the weather and finding a protected place to explore when seas are rough. Whale watching in San Ignacio Lagoon and Magdalena Bay is generally calm because of protected bays but small pangas can get sprayed when the winds come up.
The Coromuel Winds
The Coromuel Winds or Cromwell winds are predictable winds that occur along the Gulf side of Baja from La Paz to Bahia de los Angeles. The winds are caused by hot desert air rising over the peninsula and cooler Pacific air rushing in to replace it. Usually occurring in the evening and overnight, these winds can range from gentle cooling breezes to very strong gusts. The winds are reportedly named after the pirate Cromwell who used them to his advantage in the 19th century.
Baja Family Cruises
Baja cruises occur primarily during the school year, so family cruises are typically focused on the Christmas, Spring Break and Easter holidays. A number of small ships offer special programs oriented towards younger travelers. Families cruising in Baja may also enjoy discount pricing for children. Contact AdventureSmith Explorations for current availability. Learn more about family cruises to destinations worldwide.
A Word about Guides
The experience and personality of your guides will have a profound impact on your cruise experience. There are no regulations or standards dictating the experience or training of guides aboard small ships in Baja. However most cruise lines hire and train fantastic guides typically chosen among the best crews from other destinations such as Alaska, Hawaii or Costa Rica. Guides aboard adventure cruises will have training to assist with off-vessel activities such as kayaking, snorkeling or stand-up paddleboarding. Guides aboard intimate yachts are often locals with years of experience leading tours and traveling throughout Baja. Expedition ships often carry experts culled from the top tiers of science and academia.
The experience and personality of your Baja guides will have a profound impact on your cruise experience.
One Baja cruise line, Lindblad Expeditions, stands above the rest in terms of onboard programs and naturalist guides. Lindblad employs an ever-changing cast of experts from National Geographic including authors, professors, researchers, marine biologists, adventurers and photographers. One trip may feature a bird expert while another may have a whale researcher on board. Lindblad cruises aboard the National Geographic vessels appeal to travelers willing to pay a premium for an intellectual and educational experience with National Geographic in Baja and the Sea of Cortez.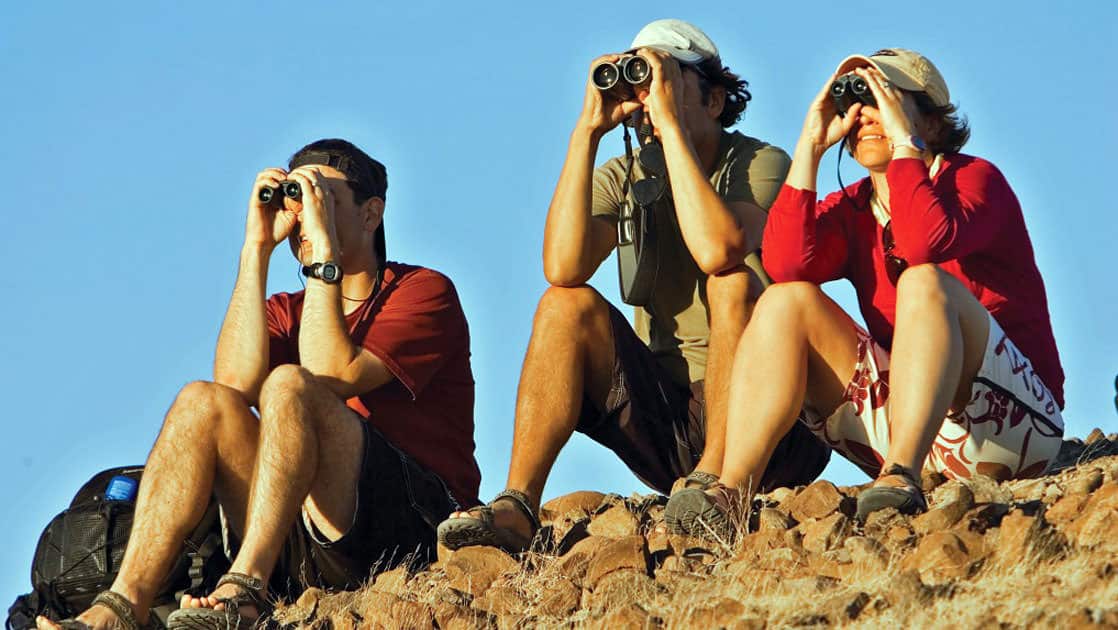 Baja Small Ship Cruise Reviews
There are no shortage of Baja and Mexico cruise review websites out there. Many offer useful advice, but some need to be taken with a grain of salt. Use online Baja cruise reviews as a tool but don't rush to judgment when you find a poor review. These are often a result of a mismatch between the type of the traveler and the style of cruise they experienced. The best type of Baja cruise review is a personal referral. Ask your booking agent if he/she can put you in touch with someone with similar interests, who has cruised aboard the ship you are inquiring about. Reputable cruise companies will gladly refer their alumni clients. Many AdventureSmith travelers have reviewed their trip or provided travel journals, which can be found on our Baja cruise reviews page. Contact us for more details.
Baja Land Tours
While it is not required, many travelers will choose to arrive in Baja early and spend the night before their cruise. This can help avoid any problems during troublesome winter travel. AdventureSmith Explorations also offers customizable land-based tours that are perfect as small ship cruise extensions, standalone trips or part of a custom Baja tour. Learn about our Baja land tours in more detail.

Travelers seeking an intimate and authentic trip experience should consider our Baja Intimate Insider, which explores the artistic town of Todos Santos from the comfort of a small, boutique hotel or inn. Skilled, knowledgeable guides lead you on scenic hikes, horseback rides, birdwatching, ranch tours and cooking classes hosted by top local restaurants for an active and cultural itinerary.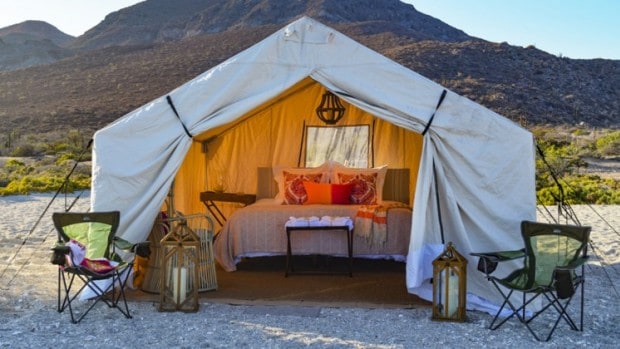 Adventurers interested in camping on the beach in style should consider our Camp Cecil Adventure, which is based on the electricity-free island of Espiritu Santo, a one-hour boat ride from La Paz. The 8-tent, luxury, all-inclusive Camp Cecil de la Isla offers a plethora of adventure options including kayaking, stand-up paddleboarding, snorkeling, hiking, bird watching, discovering hidden coves and deserted beaches and more, all of which are done under your own agenda with an experienced guide.
For even more glamping and some of the highlights from both aforementioned land tours, our Seas & Sierra: Glamping Baja California Sur trip has it all. Spend a few days beachside at Camp Cecil de la Isla, a couple days tent camping Baja in the mountains at sister property Camp Cecil de la Sierra, and a couple days enjoying the colorful town of Todos Santos in between.
This Baja small ship cruise guide was originally published in October 2014, and is updated periodically by our experts. Our most recent update occurred July 2020. For more articles, advice and inspiration visit our comprehensive small ship cruise guide. Photography Credits – Photos for this post provided by our partners at Lindblad Expeditions. Photographers: Ralph Lee Hopkins. Jay Dickman, Michael S. Nolan.