You can plan Baja vacations for any time of year, it's a true year round destination.
But the best time to visit Baja is from December through April. Our Baja cruises primarily operate during these months, taking advantage of pleasant weather and sailing conditions while avoiding the hottest summer months and the hurricane season. Many cruise itineraries will focus on the whale watching season in the winter then shift to whale sharks and the mobula ray migration in the spring.
Are you here researching when to select a sailing date during the Baja expedition cruise season? If so, the answer to when to go to Baja California then depends on your interest and wildlife you wish to see. Every one of the Baja seasons has something special to offer – so read on for our complete month-by-month guide filled with wildlife, climate and seasonal data, and learn what you can look forward to while you are there.
IN THIS POST – Best Time to Visit Baja:
Baja Year-Round Wildlife
Baja Weather & Wildlife by Month
– Jan, Feb, Mar, Apr, May, Jun, Jul, Aug, Sep, Oct, Nov, Dec
Baja Whale Watching Season
Baja Mobula Ray Season
Baja Whale Shark Season
Conclusion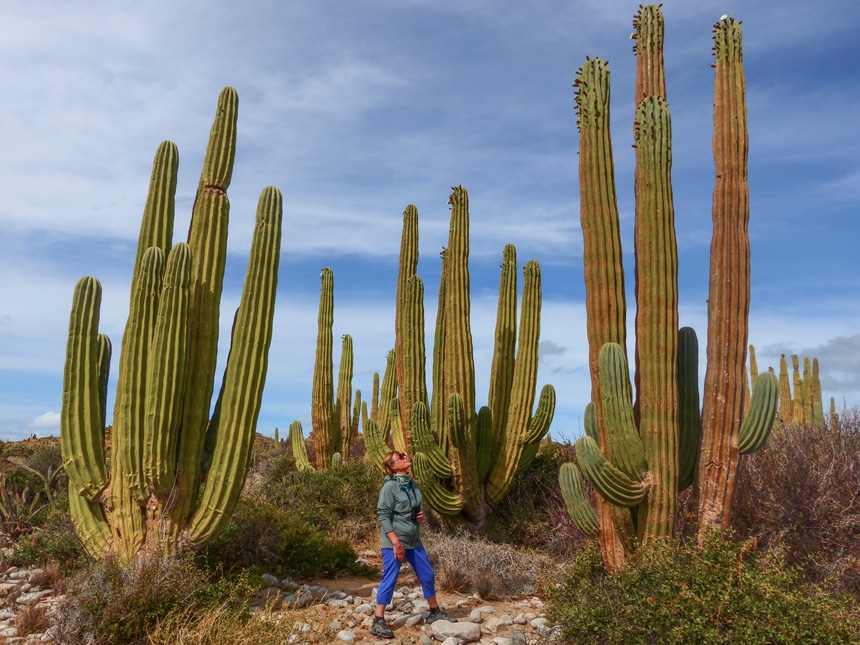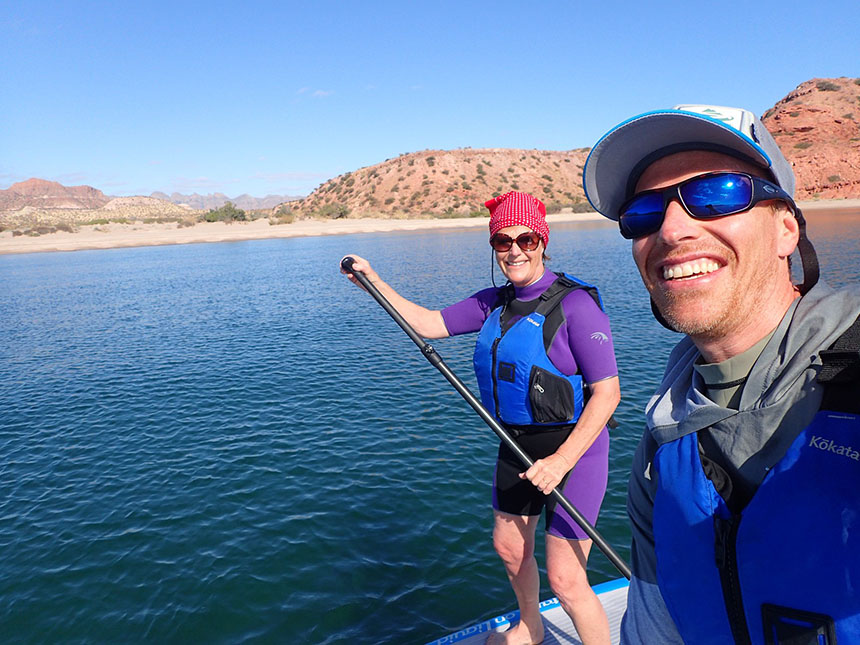 In the Know
on When to Go
Insight from our experts, delivered to your inbox.
Baja California Sur
Temperature & Rainfall Averages
| | | | | | | | | | | | | |
| --- | --- | --- | --- | --- | --- | --- | --- | --- | --- | --- | --- | --- |
| Month | Jan | Feb | Mar | Apr | May | Jun | Jul | Aug | Sep | Oct | Nov | Dec |
| Avg. High (F) | 80 | 85 | 85 | 90 | 95 | 100 | 100 | 100 | 100 | 95 | 85 | 80 |
| Avg. Low (F) | 60 | 65 | 70 | 75 | 80 | 85 | 85 | 85 | 85 | 80 | 70 | 60 |
| Avg. Water Temp (F) | 60 | 60 | 65 | 68 | 70 | 73 | 75 | 80 | 80 | 78 | 73 | 65 |
| Avg. Rainfall (Inches) | 0.8 | 0.3 | 0.2 | 0.1 | 0 | 0.1 | 1.6 | 3.1 | 3.7 | 1.3 | 0.4 | 1.0 |
Baja Year-Round Wildlife
Before we go into month by month wildlife seasonality, know that Baja is home to abundant wildlife year-round with endless animal experiences no matter what season you visit. Baja is known as the Galapagos of the North, after all, and Jacques Cousteau famously dubbed the Sea of Cortez 'the world's aquarium'- for good reason!
At any time of year you can see super pods of common and bottlenose dolphins plus orca, fin, and pilot whales. California sea lions are famously playful and abundant in these waters, as are sea turtles, sun stars, sea urchins and more than 900 colorful fish species. A productive ocean with hundreds of miles of coastline also makes for a birders' paradise, home to numerous endemic and resident birds like cormorant, pelicans, frigatebirds, boobies and many more.
Baja in January
January in Baja is warm, sunny and dry; the perfect escape from North America's cold and snowy winter. Water temperatures in January are chilly, but the cooler air temperatures are perfect for hiking and sailing Sea of Cortez. The colder water may not be a favorite among snorkelers and divers, but because it creates an abundance of plankton, it IS a favorite among whales, and in turn, makes it a great month for whale watching. Expedition cruise season really kicks off, and with prime weather and wildlife, January is a popular time for travel in Baja.
Baja Wildlife in January:
A bulk of the gray whales are arriving to Bahía Magdalena to mate and calve.
Migratory humpback whale babies are born.
Baja Weather in January:
The start of the Baja's best weather, with low rainfall and pleasant daily temperatures.
Air temperatures in the 70s.
On average January has the coolest water temperatures of the year; in the high 60s to low 70s.
Cooler ocean currents bring oxygen and nutrient-rich water to the surface where they mix with abundant sunlight resulting in a bloom of food for marine animals.
The beginning of the peak season for expedition cruises.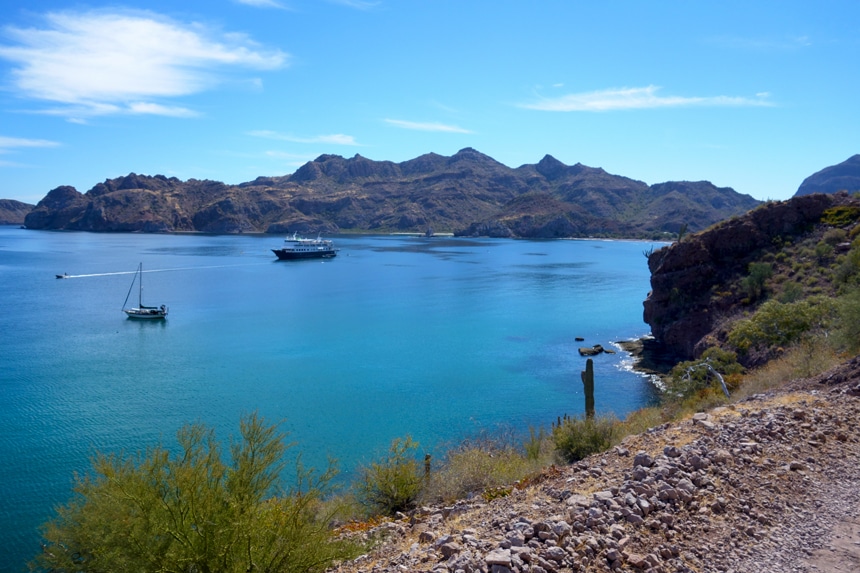 Baja in February
February is the best time to see whales in Baja. If you want to witness gray whale mothers and their newborns, this is the height of their calving season. Baja California in February remains fairly cool with cloud cover. So when you aren't whale watching, you can you can enjoy other adventure activities like hiking, biking, camping, horseback riding and more.
Baja Wildlife in February:
Peak month for grey whale watching in Magdalena Bay and San Ignacio Lagoon.
A great time to spot humpback whales and sperm whales.
Humpback whale babies start getting more playful.
The elusive blue whale arrives to the islands off Loreto from the deep Pacific to give birth, raise their young and mate.
Fin whales can be seen year round, but in the spring months the resident population can be found closer to shore and easier to spot.
Baja Weather in February:
The higher levels of plankton during this time create a thriving food chain that lures migratory whales, other marine mammals and birdlife to Baja.
On average, Baja California in February has the coolest water temps of the year in the high 60s low 70s.
Air temperatures in the 70s.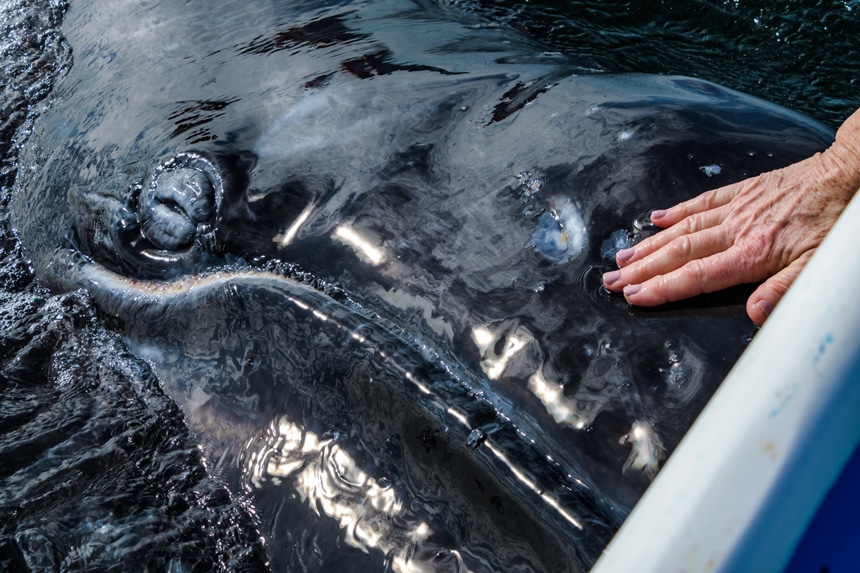 Baja in March
A popular month for spring breakers, whale watchers and birders, Baja in March can be busy and lacks travel deals. Expect sunny days with mild temps getting warmer as spring arrives, plus gray whale and humpback whale viewing opportunities through mid-March.
Baja Wildlife in March:
Sea of Cortez resident fin whales can be seen closer to shore.
By late March many gray whales have moved on, and whale excursions into the Pacific coast's Bahía Magdalena are no longer offered.
Early March, blue whales can still be spotted in the waters off Loreto.
Best time of year to see the red-billed tropicbird and blue-footed boobies.
Hermann's gulls begin to arrive to their arid breeding island, courtship begins.
Large numbers of whale sharks.
Baja Weather in March:
Water temperatures average 70.
Air temperatures in the mid 70s.
Baja in April
The migratory whale season wraps up by April. The weather in April remains comfortable but temperatures continue to rise as summer approaches. This is a great time to find a deal on a small ship cruise while still enjoying the wealth of other wildlife Baja has to offer: dolphin pods, whale sharks, resident whale species, mobula rays and more,
Baja Wildlife in April:
The new gray whale mothers will only leave Baja's western coast when their calves are ready for the long journey, this can sometimes extend into April.
A great time to see a variety of whales including humpbacks, fin, minke, sperm, bryde's and pilot.
Migratory gray and humpback whales begin to depart the region so sightings of adult groups as they migrate north are possible.
The great Isla Rasa wildlife spectacle is in full swing – the nesting of thousands of Heermann's gulls and elegant and royal terns.
Mobula rays begin their spring time breeding migration to Baja.
Popular time for whale sharks.
Baja Weather in April:
Air temperatures in the high 80s.
Water temperatures are in the upper 70s.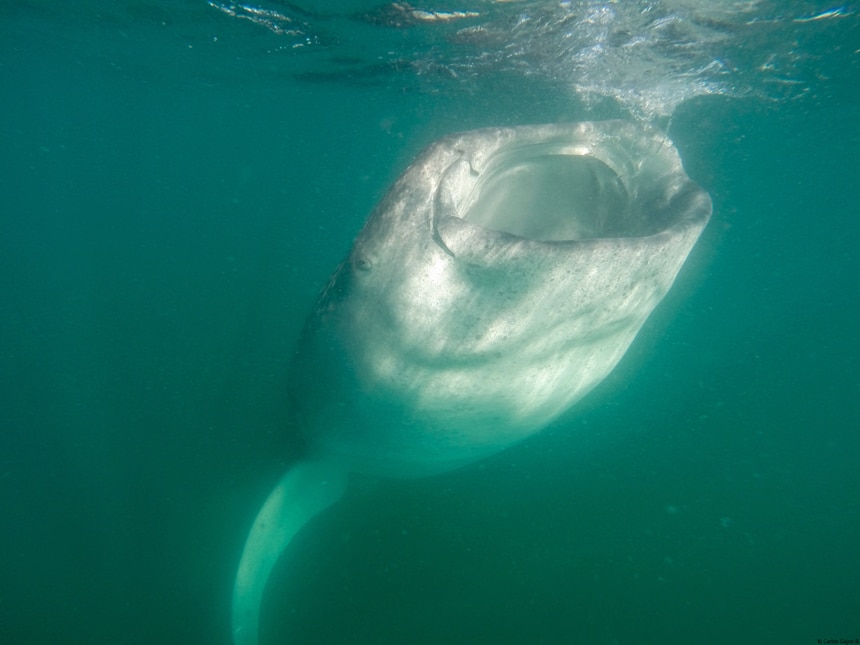 Baja in May
Considered a shoulder season month in Baja. May has good weather, less people, and some available discounts since it's after the high-season but before the late summer storm season. May is another dry month in Baja with almost no rain. You can expect clear skies with not much cloud cover, so don't forget the sunscreen. With most of the migratory whales gone, expedition cruises operating in May will focus on marine life, highlighting the whale shark and mobula ray seasons.
Baja Wildlife in May:
Mobula rays begin to congregate in the tens of thousands.
Occasionally, gray whale mothers and their calves are known to stay in Baja well into May.
Birders will enjoy opportunities to view blue-footed boobies, red-billed tropicbirds, pelicans, frigatebirds, cormorants, terns, great blue herons, ibis, whimbrels and willets.
Amazing elegant terns viewing on the Isla Raza bird sanctuary.
The last month of the La Paz official whale shark season.
Baja Weather in May:
One of Baja's driest months with almost no rain at all.
Air temperatures in the high 80s increasing as spring progresses.
Water temperatures are in the upper 70s.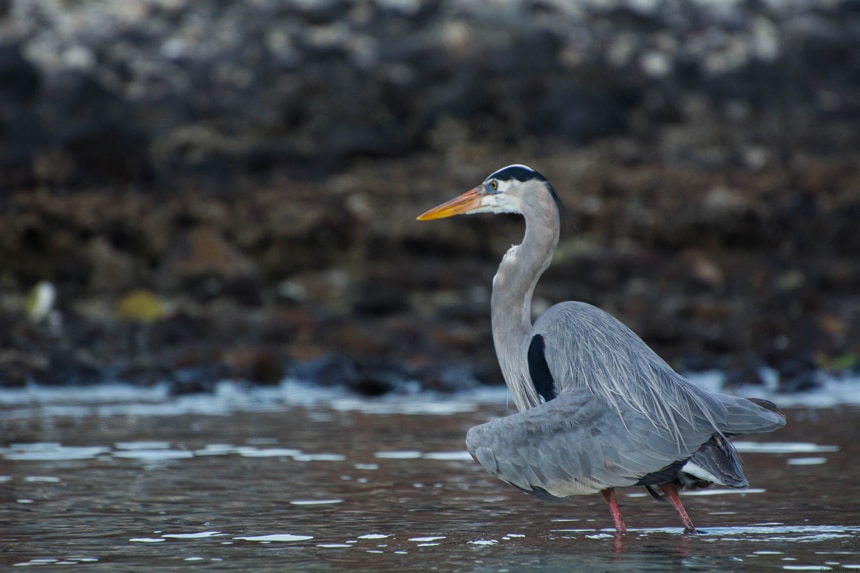 Baja in June
There's no denying that summer in Baja is hot. If plan a trip to Baja in June, find a room with AC and don't be too far from the ocean or pool. Summer is popular for surfing when temperatures can reach into the nineties, and many will focus on underwater activities like scuba diving for an up-close look at the mobula ray migration, hammerhead sharks and more. On land, Todos Santos, and the western side of the peninsula is a popular region this time of year as it is cooled by the breezes from the Pacific.
Baja Wildlife in June:
The peak of mobula ray breeding season, when the largest gathering of rays occurs.
Birthing season for sea lions.
A great time to see blue-footed boobies dive for baitfish as currents bring large sums of plankton and nutrients.
Whale shark season is coming to a close.
Baja Weather in June:
June is the sunniest month.
Air temperatures in the high 80s getting hotter as summer starts next month.
Water temperatures are in the upper 70s.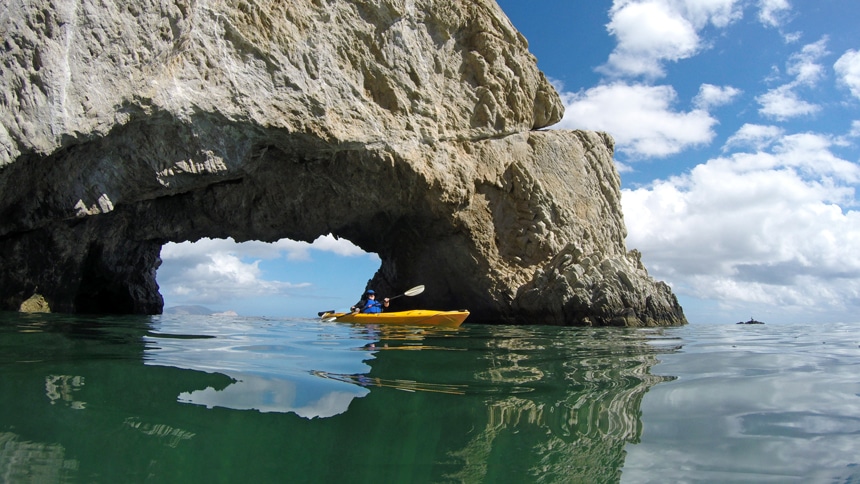 Baja in July
The summer heat, warm water, and clear water visibility of July make water activities like scuba diving and snorkeling a joy, but you won't want to hike or bike during this time. Baja in July will be hot during the day, and may rain for a bit in the afternoon, but the crowds will be small, and the prices will be low. There will be few, if any, small ship cruises operating in July. To find some respite from the heat head to the coasts, especially Baja's Pacific side, it is the coolest region during the summer.
Baja Wildlife in July:
Can still see mobula rays en masse.
The middle of breeding season for sea lions.
The most common time to see sperm whales in the Sea of Cortez
Elephant seals can be found in select regions along the Pacific coast and they come ashore to breed, give birth and molt.
Beginning of sea turtle nesting season, the first round of females can be spotted digging nests on select beaches.
Baja Weather in July:
A great month for diving or snorkeling due to high water visibility.
One of Baja's warmer months. Air temperatures in the mid 90s.
Interior Baja in July can be unbearably hot, so if visiting it is best to head to the coast.
Water temperatures reach into the 80s.
Baja in August
It's low season and a quiet month in Baja. If you visit Baja in August, you'll find the least number of travelers, and more deals on flights and hotels, but your choice of enjoyable outdoor activities will narrow. Some lodges and cruises also shut down during this time. Tropical cyclones and chubascos can occur in August. These weather patterns are Baja's main source of rain, and the only way this desert landscape can bloom green in the fall.
Baja Wildlife in August:
End of breeding season for sea lions.
Sea turtles still nesting.
A great time to play with curious juvenile sea lions.
This is the most common time to see sperm whales in the Sea of Cortez.
Good time to view chackwalla, iguana, lizards and sea turtles.
Mobula ray spring season slowing down but sightings still possible.
Baja Weather in August:
Baja's hottest month air temperatures averaging in the upper 90s and peaking 100°F.
Waters are the warmest (with an average maximum of 80°F) and calm.
Visibility for diving and snorkeling is best.
Some rain falls in August due to chubascos, short lived tropical storms.
This rainy season month brings the peninsula its only humidity and can turn the desert landscape bright green.
Baja in September
Baja weather in September can be unpleasantly hot and humid, even more so if you are inland, away from any coastal breeze. September is also hurricane season in Baja California. The odds of a hurricane affecting the peninsula are slim, but higher during this month than any other. September brings the most rain, but generally in the form of afternoon passing showers, and not hard rainstorms. Consider purchasing trip insurance so that you are protected should your travel plans be interrupted by storms in the region.
Baja Wildlife in September:
Another great month to see sperm whales in the Sea of Cortez.
Sea turtle nesting continues.
Good time to view chackwalla, iguana, and lizards.
Baja Weather in September:
The peak of hurricane/tropical storm watching season in Baja.
Most of the annual rainfall is taking place.
The most humid time in Baja.
On average, September has the hottest water temperature in the upper 80s.
Air temperatures staying in the 90s.
Baja in October
By mid-October the weather finally breaks from the summer's high heat and humidity. The winds pick up again after the calm of summer offering sailors, kiteboarders and windsurfers their fun. October is still hot with very warm sea temperatures, an excellent month for water activities.
Baja Wildlife in October:
Humpback and gray whales begin their migration journey to Baja.
The very begging of the La Paz regulated whale shark season.
Sea turtle eggs begin to hatch and make their way to the water.
Find large baitballs (bait fish swimming in synchronized groups) attracting predators from both above and below the water surface.
Baja Weather in October:
The statistical end of the Baja tropical storm season.
Highest water visibility.
Water temperatures reach into the 70s.
Air temperatures in the 80s.
Baja in November
Fall in Baja means a beautiful green desert and the return to pleasant temperatures. Baja California weather in November has low to humidity and daytime temperatures in the enjoyable 80°s. The expedition cruise season hasn't started quite yet, but there's lots of fun land-based trips that offer activity-filled days, wildlife excursions, and beach front relaxation, whatever you choose! This is a great time to travel before high-season crowds arrive for the winter holidays.
Baja Wildlife in November:
See elephant seals before they begin their migration north.
Baby sea turtle releasing season.
The start of the mobula ray's reverse migration.
More whale sharks begin to arrive for the main winter and spring season (Nov-Jun).
Baja Weather in November:
Barren desert landscape transformed with flowers after the rain.
Late fall in Baja marks the return to pleasant temperatures.
Water temperatures reach into the 70s.
Air temperatures in the 80s.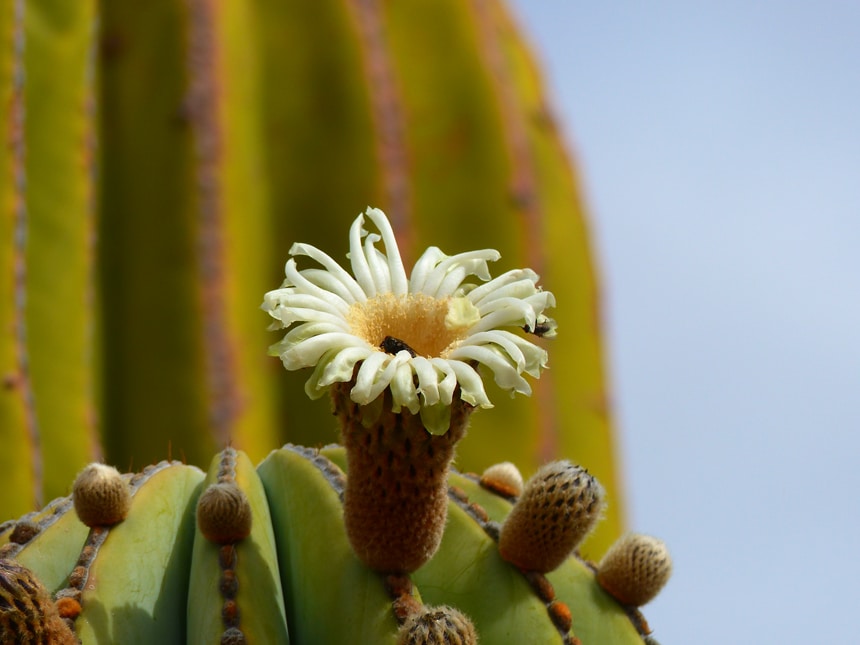 Baja in December
Baja has pleasant winter weather. Baja in December is warm and comfortable with low humidity, you'll find plenty of opportunities for fun outdoor activities. Some early migratory whales along with the first expedition ships reach Baja in December, with more arriving by the end of the month. Expect more travelers and higher prices around Christmas and New Year.
Baja Wildlife in December:
Humpback whales and other seasonal visitor whales like Minke start to show themselves around the Baja California peninsula as they head to the Sea of Cortez to breed and birth.
The first gray whales to arrive to Baja's pacific coast lagoons are the females, either very pregnant or single and fertile.
Baja Weather in December:
Water temperatures down into the 70s.
Air temperatures in the 80s, lows of 60s.
Days can be overcast.
Baja Whale Watching Season
When can you see whales in Baja? Whale watching is a year-round activity in Baja with 9 different whale species to look for. But many travelers target Baja's main migratory whale season; when every year over 97% of the earth's gray whales, plus thousands of humpback and blue whales, make the long migration to Baja.

Migratory whales begin to arrive in December and remain through April. The winter months of January through March are the best time to see gray whales in the mating and breeding lagoons along the Pacific coast. The winter months of January through March are also the best time to see migratory humpback whales at peak numbers in the Sea of Cortez.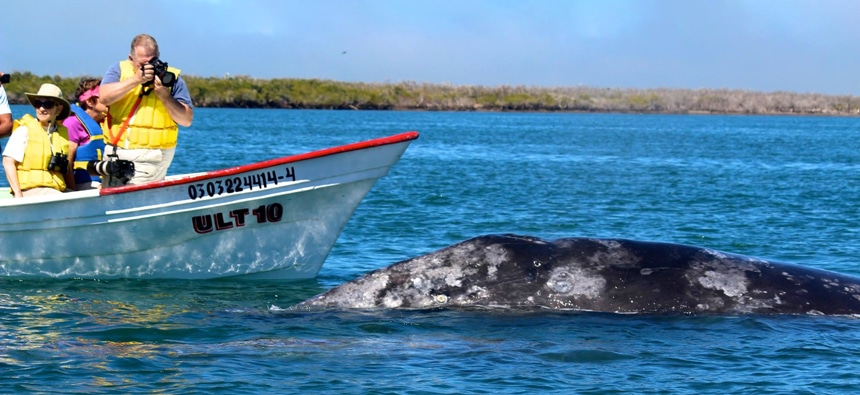 Whale Shark Season in Baja
The La Paz whale shark season runs from October to May. There are whale sharks in Baja California year round, but in the late fall through late spring a higher concentration of whale sharks can be found feeding in the rich waters of the Sea of Cortez, most reliably in the Bay of La Paz.
As winter progresses, the water temperature drops, bringing large amounts of plankton. This abundant food supply makes for slightly lower visibility, but it also attracts the largest numbers of whale sharks.
These gentle giants are an endangered species and luckily, protected under Mexican law. It should be noted that due to government regulations whale shark swimming tours in La Paz are subject to summer-time closures.
Sea of Cortez Mobula Ray Season
There are two Baja seasons for mobula rays. The first is during the ray's breeding season between late April and July. Then, there's the winter reverse migration that takes place between late November and early January, but is far less impressive.
The main event is the breeding season migration, when mobula rays are easy to spot due to their unusual acrobatic behavior—leaping from the water and back down for a loud belly flop on the sea's surface. During this time, you can witness massive schools with thousands of mobulas swimming synchronously through the water. Snorkeling and diving are a popular activity as mobulas are harmless and not dangerous to humans.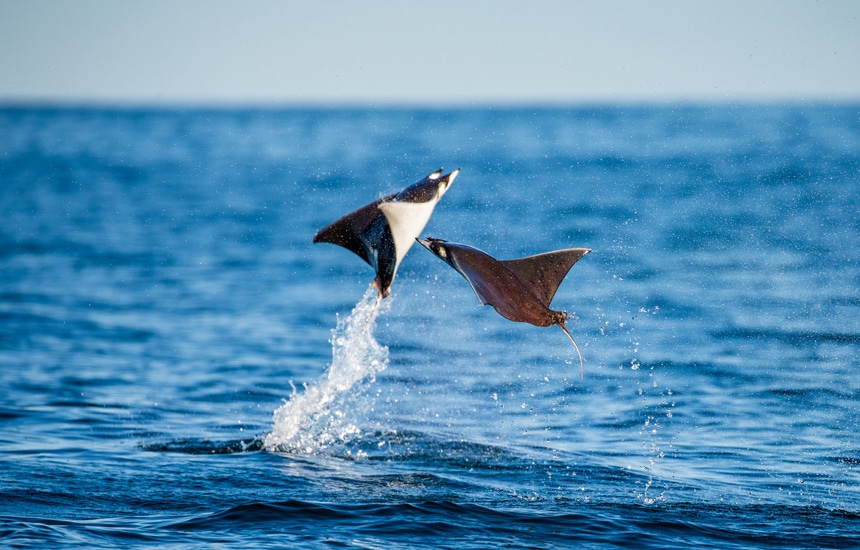 So, When is the Best Time to Visit Baja California?
Considering the information above, we'd say you can't go wrong visiting during the cruise season from December through May, where good weather and wildlife viewing opportunities align. Because of the comfortable weather, it's also a great time to include a Baja California multi-day tour before or after your cruise. If gray whale watching is on your bucket list, then target the height of their calving season, mid-January through mid-March.
There are Baja seasons for every interest; activity lovers, wildlife enthusiasts, or travelers just looking to escape for some sunshine and relaxation. For more advice on sailing Sea of Cortez, view our How to Choose Your Baja Cruise guide. If you are still looking for advice on the when to go to Baja California, just give us a call, our experts can advise when to plan your trip depending on your interests.
MORE BAJA RESOURCES
Baja Vacations
Baja Cruises
Baja Cruise Reviews
How to Choose Your Baja Cruise