The North Pole vs the South Pole? Polar bears vs penguins? Arctic vs Antarctic cruises? Many travelers will ask whether their first polar cruise should be to the Arctic or Antarctica, or even confuse the two. While the two regions share some characteristics—for instance they can both be cold—these icy landscapes are truly "polar opposites" in many regards. Whether you are looking for an Arctic or Antarctic cruise, here's a look at what makes each pole unique.

ON THIS PAGE – Arctic vs Antarctic:
Travel Seasons
Climate
Location & Accessibility
Animals
Landscape & Living
Cruise Ship Sizes
Bucket Lists – What You Can See & Do
Arctic vs Antarctic Travel Seasons
One of the most basic differences between an Antarctica cruise and an Arctic cruise is the travel season. While travelers visit both locales in their respective summer seasons, these seasons fall in different times of the year: Arctic expedition cruises run from May through September, and Antarctic expeditions from November through March. See our Arctic cruises and best time to visit Antarctica pages for more information on seasonal variations and when to go.
Antarctica vs Arctic Climate
In the battle for extremes between the Arctic versus Antarctica, the latter takes the win here. Antarctica holds the coldest temperature record at -129F, and winds in the winter here can reach up to 200 miles per hour. Thankfully, our Antarctic travelers will never experience such extreme weather as expedition cruising takes place in the summer months when temps average 20-50F. Temperatures are similar in the Arctic summer, and both Antarctica and the Arctic offer loads of sunlight, up to 24 hours a day, in their summer seasons.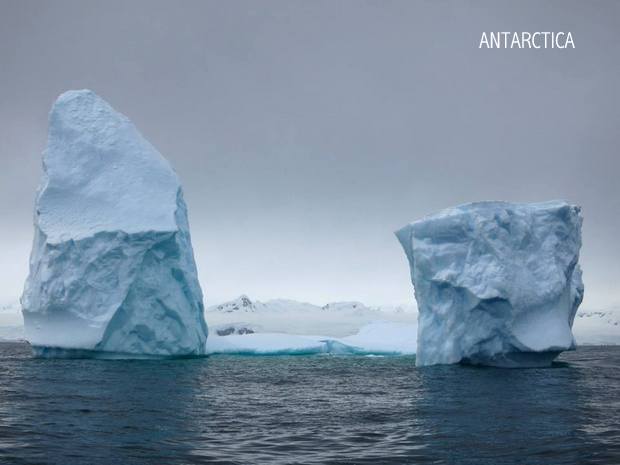 Location, Landmass & Access
The Arctic encompasses a vast frozen ocean around the North Pole, surrounded by the landmasses of North America, Greenland, Svalbard, Northern Europe and Russia, while Antarctica is a frozen continent anchored by the South Pole and surrounded by vast open oceans. While the Arctic comprises 8 countries (Canada, the US, Greenland, Iceland, Norway, Russia, Sweden and Finland), the Antarctic comprises 0 technically, with the 1959 Antarctic Treaty freezing territorial claims and allowing the land for shared research at scientific bases only.
The Arctic region is most often accessed from Scandinavian Europe, and Antarctica from the tip of South America.
As for getting to the Arctic, the most common access point is from Scandinavian Europe, but there are also routes from Murmansk, Russia, Alaska and Canada. Antarctica is most commonly accessed from the tip of South America: most often from Ushuaia, Argentina, for traditional cruises and Punta Arenas for air-cruise itineraries that fly over the Drake Passage.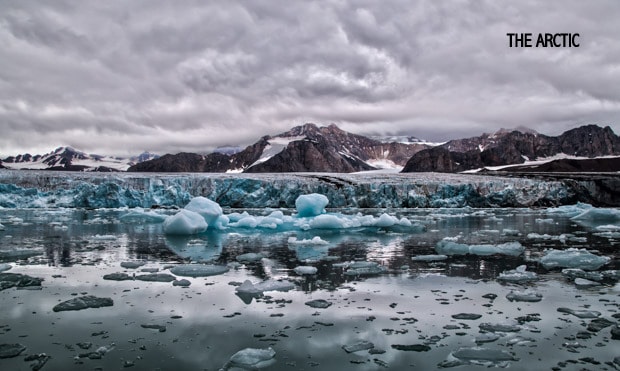 Animals: Polar Bears or Penguins
The Arctic is home to polar bears; the Antarctic is home to penguins. Except for animated movies and zoos, you will never see them together in the wild. If you go to Antarctica, you're practically guaranteed to spot a penguin as they reside in giant colonies and are abundant on almost every landmass. The polar bear, however, is a different tale, and spotting one is often the sought-after goal of a trip, one that's not always realized but quite possible. For instance, on one of our staff's Arctic expeditions to Svalbard, he saw 4 polar bears over 11 days. Our experts who recently went to the North Pole though, saw about a dozen polar bears (read the trip report).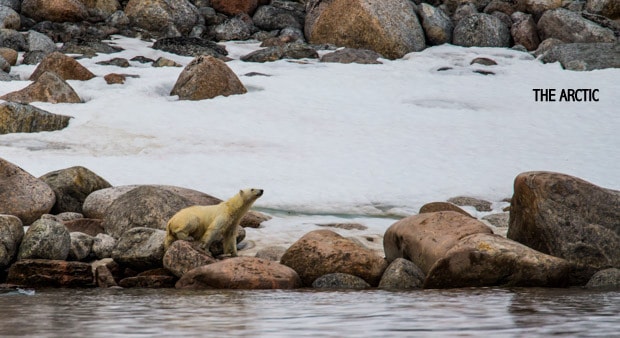 Other wildlife unique to the Arctic besides the polar bear are the walrus, musk ox, reindeer, arctic fox, beluga whale and narwhal, as well as a greater diversity of shorebirds. Unique to Antarctica beyond the many species of penguin are the leopard seal and albatross. You can spot whales in both polar regions.
Landscape & Living
While the Arctic sees tundra and flowering plants, in Antarctica there is almost no vegetation save for lichens. And while the Arctic offers glaciers, icebergs and mountain landscapes, there is much more ice in Antarctica, hence it's White Continent moniker, as well as the chance to see giant tabular icebergs in the Weddell Sea. Antarctica's tallest peak is Mount Vinson at 16,066 feet, and the Arctic's highest point is Greenland's Mt Gunnbjörn at 12,119 feet. Another key difference: The Arctic has a strong human presence with indigenous populations and enduring settlements; for instance, remote Svalbard's capital city of Longyearbyen is home to around 2,000 people. The Antarctic has been historically deserted, though several impermanent research stations house scientists.
The Arctic has a strong human presence with enduring settlements, while the Antarctic has been historically deserted.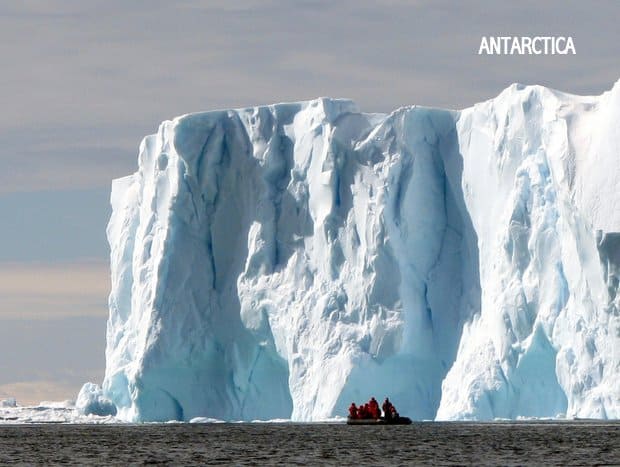 Ship Sizes
While the vessels sailing in the polar regions are often the same expedition ships, like the Expedition, Plancius, National Geographic Explorer and so on, the Arctic does offer a few small sailing vessel options that simply cannot sail the long ocean crossings of the Antarctic. The 32-guest Rembrandt van Rijn is one such intimate sailing vessel our travelers sail on. This ship is particularly popular for late-season Northern Lights itineraries.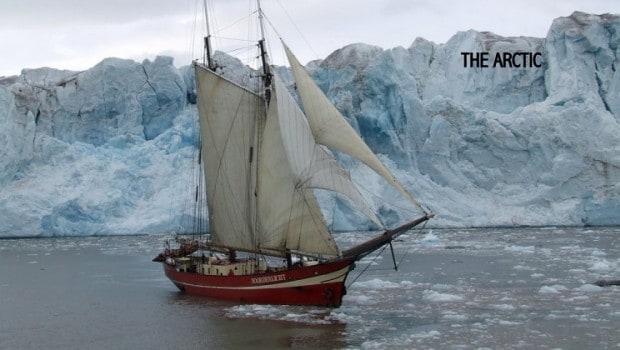 Arctic vs Antarctic Bucket Lists
While most Antarctic itineraries have you setting foot on the Antarctic Continent, only a few reach the Antarctic Circle and none go to the South Pole. On the other hand, most Arctic expeditions reach the Arctic Circle and a few even reach as far as the North Pole.
Part of what makes travelers excited for their cruise are all the adventure activities that get them even closer to the region they are exploring. Antarctica cruises and unique activities have long gone hand in hand. If activities are at the top of your bucket list, it's easy to find and get aboard an Antarctic vessel that offers active items like camping, kayaking, mountaineering, skiing, paddleboarding or even scuba diving.
Every year we are seeing more and more Arctic vessels offering breathtaking and adrenaline-pumping activities.
Arctic cruises and Iceland cruises on the other hand have taken a much slower approach to offering activities outside of the usual hiking and Zodiac rides. And depending on the exact Arctic itinerary some cruises have activity restraints due to polar bear safety. But before you judge the activity level of Arctic cruises, know this: every year we are seeing more and more Arctic vessels offering breathtaking and adrenaline-pumping activities. On select Arctic itineraries you can now participate in helicopter-assisted excursions, kayaking, and overnight camping just like you could in Antarctica. And what's even more exciting, polar vessels like the Ultramarine and Le Commandant Charcot now offer a range of Arctic activities not found on their Antarctica cruise itineraries like ice fishing and mountain biking.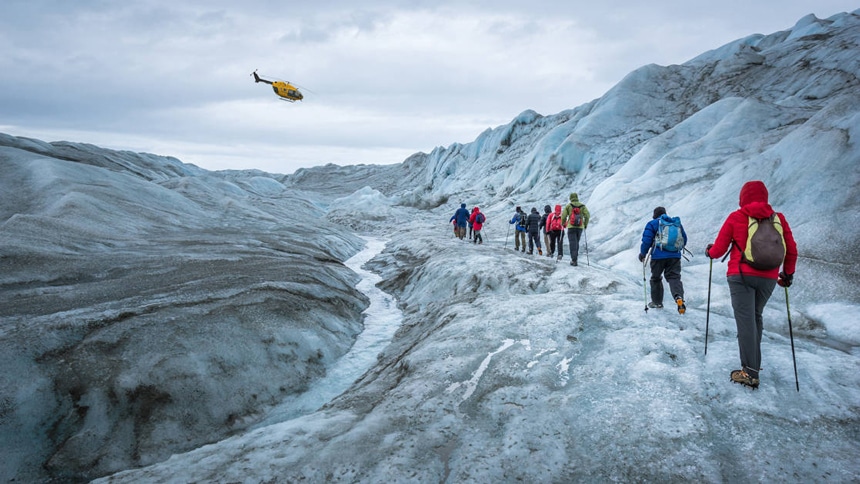 For those of us lucky enough to have traveled to both, Antarctica and the Arctic are difficult to compare and overall experience is often dictated by the circumstances and encounters of each cruise. In our experience, most travelers will visit Antarctica first, but this could be simply because it is better known. Contact one of the Adventure Specialists at AdventureSmith to further explore the differences of Arctic vs Antarctic cruises.
MORE ARCTIC VS ANTARCTIC RESOURCES:
Antarctica Cruises
Arctic Cruises
Iceland Cruises
Svalbard Cruises
North Pole Cruises
Antarctica Cruise Deals
Arctic Cruise Deals
Antarctica Cruise Reviews
Arctic Cruise Reviews
Antarctica Travel Guide
Best Time to Visit Antarctica
How to Get to Antarctica
Things to Do in Antarctica
Antarctica Ships
Best Antarctica Cruise Lines