AdventureSmith Explorations Adventure Specialist Andrew Browning reviews his 11-day polar bear cruise, which included a full circumnavigation of Svalbard's Spitsbergen. Read on for his expert review and photos regarding the trip and 134-guest Expedition ship.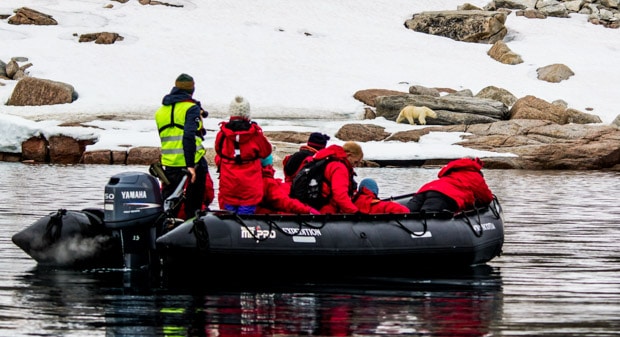 Arriving to Oslo, Norway
From the Western USA to Svalbard is no short journey. Connecting through Amsterdam I landed in Oslo on August 6. I planned for a couple nights in Oslo to make sure I would make my flights north to Longyearbyen on August 8. This allowed for a full day to see some of Oslo, which is worthwhile for any traveler. During my time in Oslo I went to a few museums, the highlight for me being the Fram museum, which houses Amundsen's famous polar expedition vessel, Fram. Besides being able to go aboard the famous vessel itself, there are countless displays dedicated to polar exploration and history. Next to the Fram Museum lie the Kon-Tiki Museum and the Norwegian Maritime Museum, and just a short walk away is the Viking Ship Museum. You can see them all in a few hours; allow for more time if you can. You can access the museums via a short ferry from the main Oslo pier across from city hall or by bus. I took the bus one way and then the ferry back, which worked well.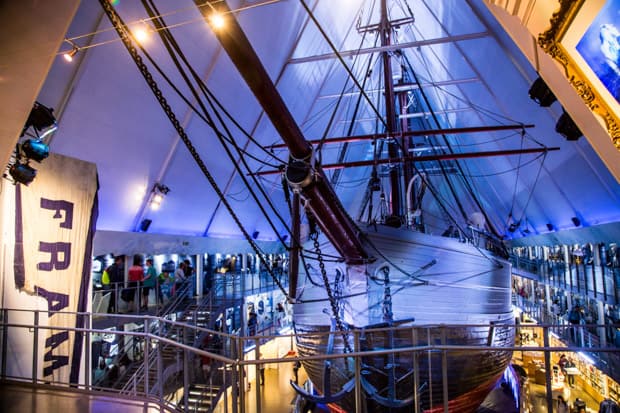 I explored the waterfront area a bit and also walked around the Akershus Castle fort before heading to the Vigeland Sculpture Park. The sculpture park was much bigger than I expected, and since I arrived around sunset I ended up staying well into the night taking photos and checking out the different areas of the park. After dark is a great time to visit the park for photography. There are fewer visitors at that time and the park has lighting that makes for some interesting shots. There are more than 200 bronze and granite statues in the park with the biggest being a monolith of humans supporting each other on the top of one of the hills.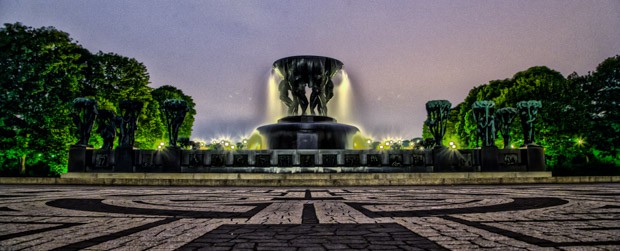 Embarkation in Longyearbyen
I enjoyed my time in Oslo but it was time to head even farther north, by plane to Longyearbyen. After a short stop and customs check in Tromso, I arrived to Longyearbyen at about 9pm. During my stay in August the sun doesn't set so we had 24 hours of light. I explored Longyearbyen, which is small but interesting. I also went aboard the Plancius for a vessel inspection since it was in port on the same morning I was there. The Longyearbyen port area is very industrial but the town itself has very colorful houses/buildings set on a green hillside overlooking the waterfront. I found it to be a nice place to take some pictures in the morning before I boarded the cruise. I also visited the Svalbard Museum, which is worth a visit.

As is typical with Arctic small ship cruising and most cruising in general, we boarded in the afternoon. After a short safety briefing we were underway and headed out to explore Svalbard. The MS Expedition is a polar expedition ship with a seasoned Captain and crew at the helm. The expedition team onboard has a variety of backgrounds including Marine Biology, Ornithology, Geology, History, Botany, Photography and more. They are with you during excursions, while travelling onboard, during meal times and also when they are giving their lectures/talks about topics relevant to our Arctic expedition. Many of them have decades of experience guiding and studying in both the Arctic and Antarctic. They did a good job of providing clear information but also being available for questions if some passengers wanted to get more in depth into scientific discussion.
Our Ship: the Expedition
The 134-guest Expedition has 5 cabin categories, most being twin cabins but also having a few cabins with quad or triple occupancy. The cabins all have private bathrooms and individual temperature controls. I was in a Category 3 twin cabin, which is what most of the cabins are onboard. It was comparable to other polar expedition vessels in terms of size and comfort. It is not a luxury vessel but the cabins are well suited for an expedition ship, and with the big mudroom for outerwear/boot storage there was plenty of space in the cabin. The common areas of the ship have plenty of space for passengers to spread out, and the Expedition Lounge, Dining Room, Polar Bear Pub, and Library all have big windows so you can see outside.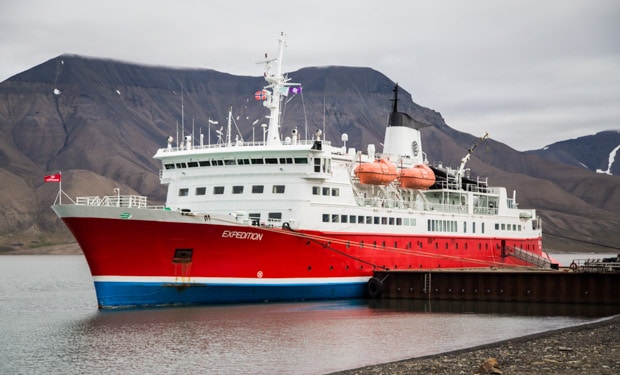 There is an open bridge policy and passengers are welcome to visit the bridge except when the Captain is doing complex navigation. Meals are served at single-seating times with breakfast and lunch being buffet, and dinner being plated courses (appetizer/salad, soup, main course and dessert). The food was a mix of European and international dishes made with high-quality ingredients. The breakfast and lunch buffets have many choices for travelers with different diets/preferences, and dinner always had a choice of a fish entrée, a protein entrée (beef, pork, lamb, duck) and a vegetarian entrée. During our first dinner as you walked in, the staff asked if you had any dietary restrictions/allergies, which was a nice touch since they were actively trying to address these from the start of the trip. The hospitality team is friendly and efficient. Many of them have been working onboard since the ship started expedition cruise operations in 2008.
Life On Board
The first morning on board we had a briefing on zodiac operations, a briefing on what to expect during excursions, group signups and an intro to the mudroom (the place to put on boots and life jackets, etc before going on excursions). During our voyage the boots and a parka were provided, but it is important to verify this when booking your Arctic expedition so you know how to pack.
That first afternoon we had a zodiac excursion, and during the excursion we saw a walrus haul out as well as a lot of harbor seals. The walrus are huge animals and we saw them pretty close from the zodiacs both hauled out on land and swimming in the ocean. It was a nice afternoon excursion. Upon returning to the ship, the expedition leader and captain had decided to head north to the sea ice in search of polar bears so we were off for that in the evening as we sat down for dinner.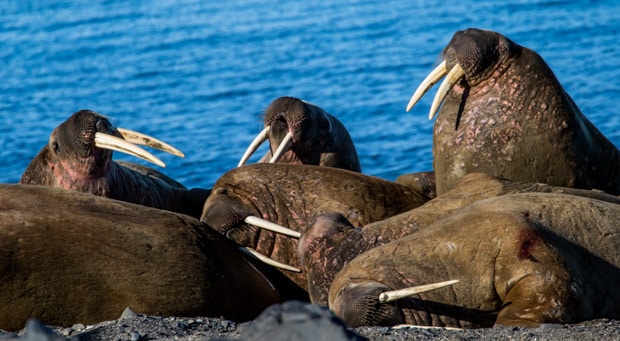 We had to head far north to reach the ice, so much so that this was the farthest this vessel had been before, at above 81.37 degrees!
The ice conditions change rapidly at this time of year with ice melting and passages clearing that had not been open just days before. As such we had to head far north to reach the ice, so much so that this was the farthest this vessel had been before, at above 81.37 degrees! The morning brought us to the ice edge and we were moving through dispersed sea ice and bergie bits as the crew and passengers kept a lookout for polar bears. Foggy conditions came and went, and we were able to see a fogbow, which is like a rainbow but from the mist of the fog instead of rain. The fog got stronger in the evening and after no luck with bears in this area, the Captain and Expedition team decided to head southeast along the ice edge and head toward the Seven Islands all the while spotting for bears en route south.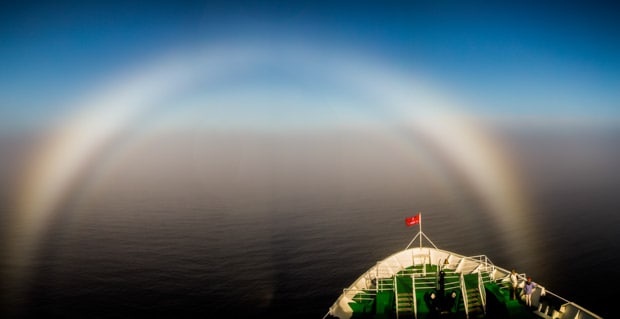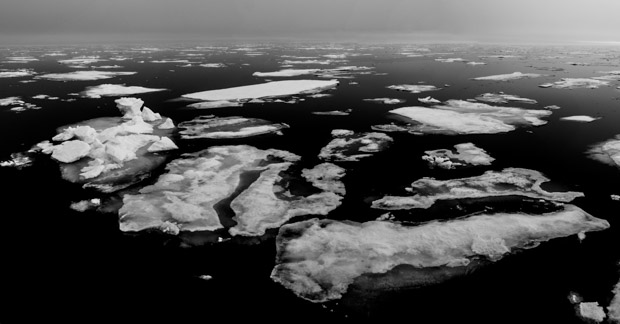 The morning brought a fresh start and we spotted a fin whale off to starboard. The expedition team announced the whale siting and also gave some information about fin whales as we watched from the bow. It was an exciting morning, and as we approached the Seven Islands from the North, we were all on the lookout for more whales and wildlife.
Safety & Sightings in Polar Bear Country
In order to do shore landings in polar bear country, first scouts are sent out to make sure the area is clear and you cannot clear the area with foggy conditions. It is just not safe for passengers or the bears (since the crew carry rifles just in case). The fog persisted so we were not able to make a landing here, but we were able to do a zodiac cruise. We had split into 4 groups earlier, and they call the groups in a rotating order so if your group is not the first to go on the first outing, it is rotated to make sure everyone has chances to go first. It also doesn't matter too much because if your group goes last, you will also be the last to return. Sometimes the later groups had better encounters than the first group. It was managed very efficiently and with the rotation, you were never waiting in a long line to get off the boat.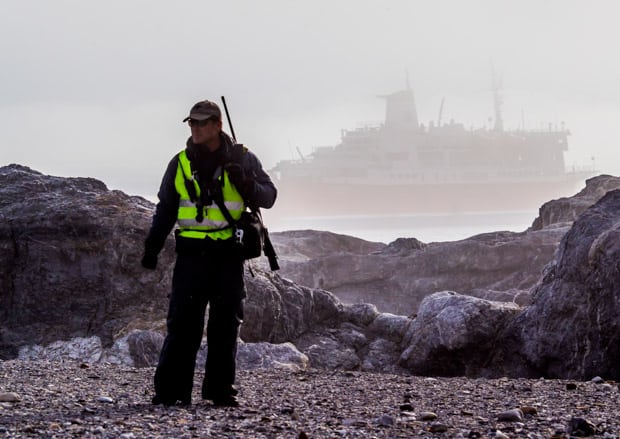 Our zodiac cruise in the Seven Islands yielded our first polar bear encounter. One of the crew spotted the bear from a long way off as we were watching a lone walrus in the water. The zodiacs had all spread out so we could look for bears and wildlife, and once the bear was spotted other boats were notified so that all of the passengers could see the polar bear. Our zodiac was the first to approach and we saw the bear walking near the waterline. We slowly crept closer to get a better view and some other zodiacs started to arrive as well. The expedition team keep a certain distance so as not to disturb the bear's behavior because they do not want the bear to waste precious energy by fleeing or by coming toward us to investigate. Food sources are scarce for bears during the summer months and they need all of their energy to survive until winter when the sea ice returns and their food sources (mainly seals) are more available.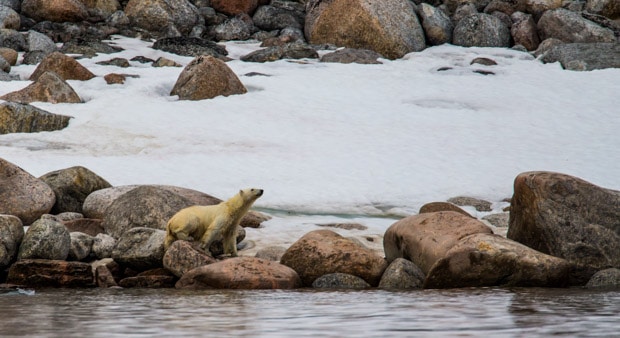 All of the passengers saw the polar bear, and there was a certain amount of relief for the passengers and especially the crew. Many passengers book Arctic cruises specifically to see polar bears and though it is not guaranteed, the crew and captain are absolutely focused on finding bears while also exploring the ice and islands. It was nice that we saw a polar bear on day 3 and that we still had many days left of the voyage with more opportunities to see wildlife and arctic landscapes.

Each Spitsbergen voyage is an expedition and no two will be the same. The crew and captain work together to maximize the experience. Weather, sea conditions, ice conditions and wildlife sightings all come into play for this. Jamie, our expedition leader would inform us of the general plans for the day or next couple days but the specific would often change. We had a lot of fog during our voyage and a few places we tried to go, the fog was too thick to see or to operate excursions so we would change plans and go somewhere else. We also had wildlife sightings that changed our plans. So it is important to consider that these changes will likely occur frequently during the voyage and that travelers should have an open mind and trust that the Captain and crew are making the changes to better the experience.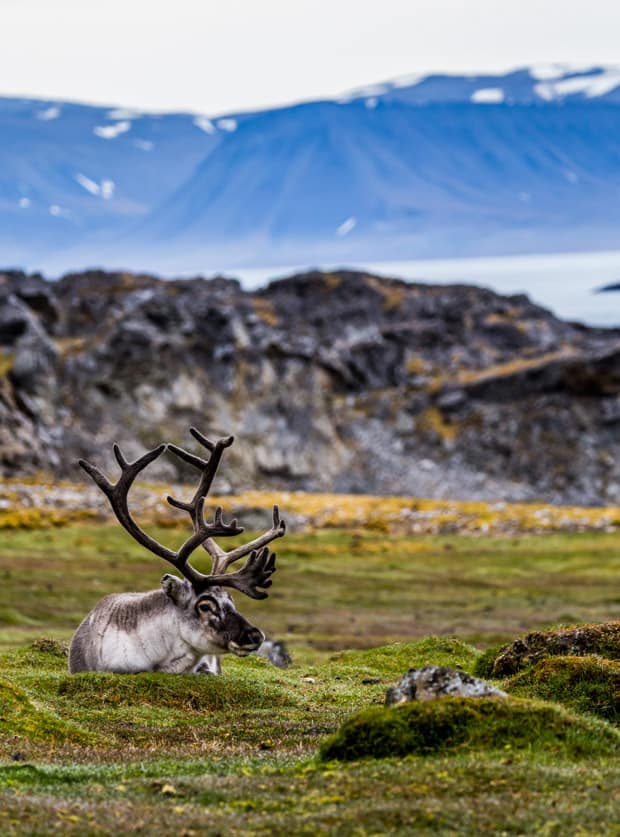 Some of the whale specialists travelling with us estimated that there were at least 50 beluga whales around our zodiacs.
During the voyage we ended up seeing 4 polar bears including a mother and cub. We also saw arctic foxes, reindeer, walrus, bearded seals, a fin whale and beluga whales. We saw the beluga whales up close from the zodiacs, which was a surprise since they are not seen at all on most voyages. We had gone out in the zodiacs to get a closer look at a polar bear mother and cub who had been drawn near the shore from a walrus carcass, and during that outing a pod of belugas we had seen earlier from the ship came through our path. Some of the whale specialists travelling with us estimated that there were at least 50 of them. You could see them surfacing all around us in groups of 10-15.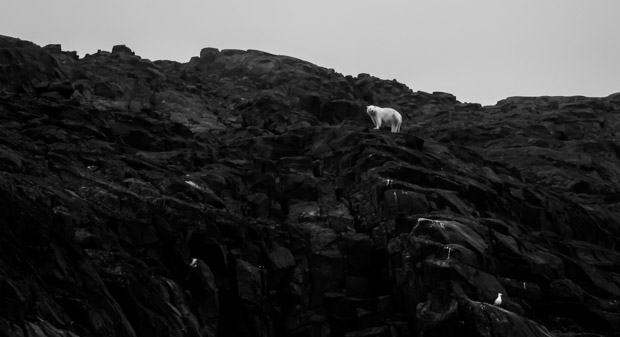 A Purpose-Driven Arctic Expedition
"No one comes to Svalbard by accident," exclaimed Jamie our expedition leader to me one night at dinner. Onboard the ship were travelers from the UK, Germany, France, Norway, Thailand, India, the USA, the Netherlands, Australia, New Zealand, Brazil and Portugal. All had come deliberately to experience Svalbard for the wildlife and ice. A voyage like this brings together likeminded, well-traveled passengers seeking a unique experience.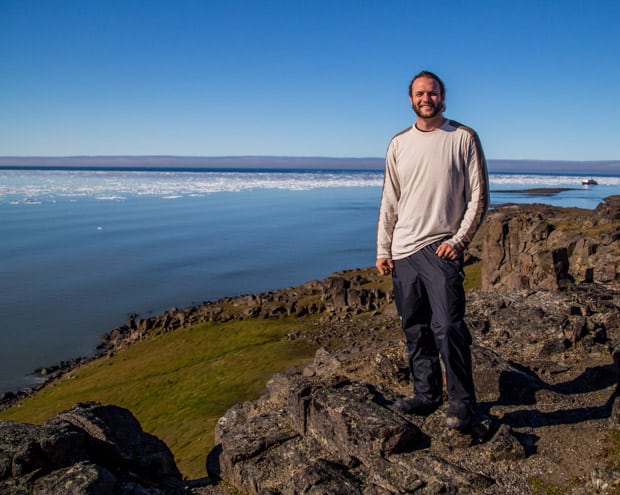 About a third or half of the passengers were very interested in photography. We had some excellent opportunities for wildlife shots, and the landscapes were also varied and visually breathtaking. The color and occasional lack of color make the Arctic a great place to experiment and get creative with light and composition. My favorite shots from the voyage are landscape shots more so than wildlife ones. The wildlife ones remind me of the animals we saw, but the landscapes bring me back to the place and to the feeling of being in the Arctic.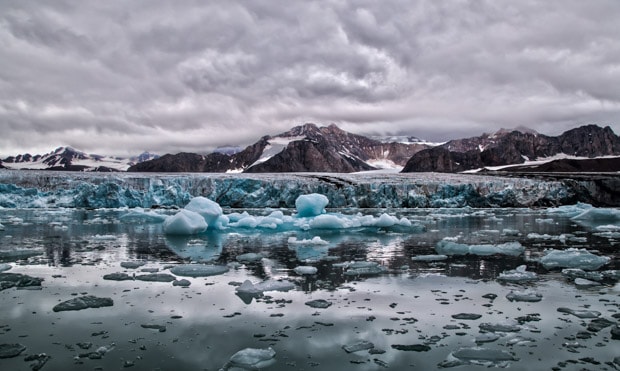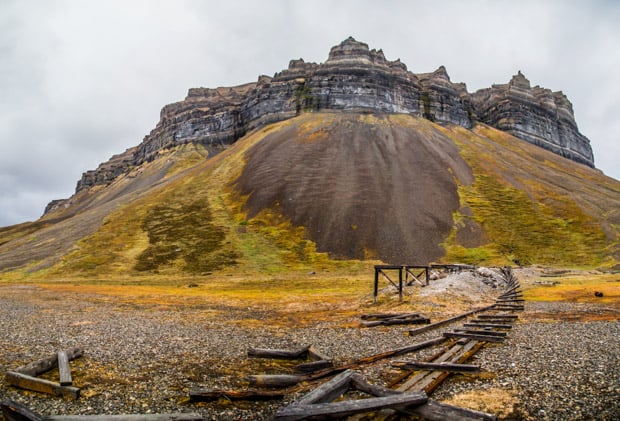 I was excited to take this voyage and I tried to not put any specific expectations on what I would see. I have been on a lot of small ship cruises and the Spitsbergen was really special. It has similarities to Antarctica and Alaska but it is also completely unique. I think my photos can convey some of this better than words and I ended up with more than a few that are special to me. For travelers interested in wilderness and wildlife, I can highly recommend a Spitsbergen voyage. If possible I would recommend that travelers book one of the longer voyages both for the variety of experience, but also for the added days to have more wildlife encounters. You simply have more chances to see the polar bears and other wildlife if you are on a longer voyage (like the 11 day version that aims to circumnavigate Spitsbergen).
To view more photos from my expedition, see my AdventureSmith Facebook albums: Realm of the Polar Bear In Depth Album 1 and Album 2.
MORE ARCTIC RESOURCES:
Arctic Cruises
Iceland Cruises
Arctic Tours
Arctic Expedition Trips
Arctic Animals
Arctic Cruise Deals
Arctic Cruise Reviews

This Realm of the Polar Bear cruise review was written by an AdventureSmith Explorations crew member. Read all AdventureSmith small ship cruise reviews for more trip reports, or contact one of our Adventure Specialists to learn more about these small ship cruises and wilderness adventures: 1-800-728-2875.