AdventureSmith Explorations Adventure Specialist Andrew Browning details his Fiordland National Park cruise. Read on for insight about what it's like on a New Zealand small ship cruise with AdventureSmith, and how to get aboard.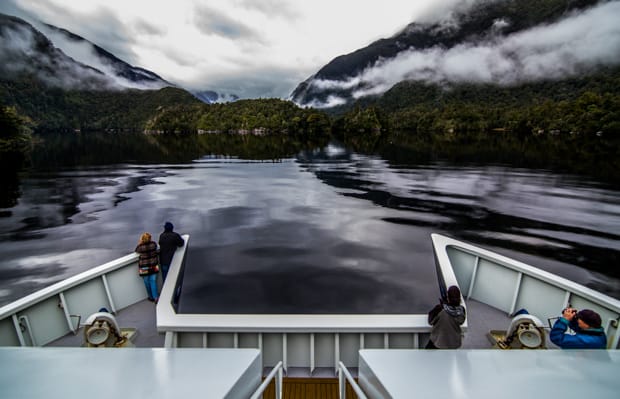 ON THIS PAGE – New Zealand Fiordland Cruises:
The Benefits of Fiordland Overnight Cruises
How You'll Get There
Activities
Fishing
Views & Wildlife
Cruising Beyond Fiordland
View All Fiordland Cruise Itineraries
New Zealand is a beautiful country and experiencing Fiordland National Park by small ship is an excellent option to include in your overall itinerary. There is a big variety of environments to be seen in New Zealand and this is certainly one of the highlights.
I began my journey on New Zealand's South Island, to experience the Fiordland National Park Cruise aboard the Island Passage catamaran. While this incredible ship has since sold and now continues its journeys for private passengers elsewhere, my insights here from my time aboard this ship can give you an idea about what similar New Zealand Fiordland cruises are like. Read on for my trip highlights and to learn more about your current options for a New Zealand Fiordland National Park cruise if you do not already have one in mind.
The Benefits of an Overnight Fiordland Cruise
Fiordland National Park is a wilderness area in southwest New Zealand that is best accessed/seen by small ship. The rugged, steep and heavily forested fjords do not have many trails, and the road access is limited to only a couple of the ends of the fjords. Traveling aboard a small ship or yacht allows for unhurried exploration of the more remote fjords from the comfort of a luxury vessel.
You can take a day cruise here, but your experience will be limited to Milford Sound, the most famous fjord in the region thanks to its road access and amenities. It's certainly worth it to go beyond the day boats and crowds to seek out the hidden gems of this iconic coastline: Doubtful, Breaksea and Dusky Sounds, as well as Preservation and Chalky Inlets. To give you an idea of the scale, Milford Sound cruises cover about 10 miles, while Fiordland National Park cruises can span 120 miles and see much more of the park's 3 million acres.
Milford Sound cruises cover about 10 miles, while Fiordland National Park cruises can span 120 miles & see more of the park's 3 million acres.
Weather in Fiordland is typically rainy, which is what makes the area so lush and is also why there are so many waterfalls. These are also best seen from the water as dramatic fjord walls allow for rivers and streams to cascade down dramatically to the ocean.
Finally, the weather here is similar to the climate in the Pacific Northwest or Alaska's Inside Passage. It's incredible to have your basecamp right alongside you as you navigate this remote region. Just imagine your warm shower, hot meals and bed never being more than a few miles away!
How You'll Get There
Most Fiordland cruises start from Queenstown, which is set next to a beautiful lake surrounded by mountains. From Queenstown you get to Fiordland by air or road depending on your itinerary. As the crow flies, Queenstown is almost due east of Milford Sound, but to get there you have to zig and zag around the mountains. Choosing how you arrive and depart is a key consideration when researching your Fiordland National Park cruise options.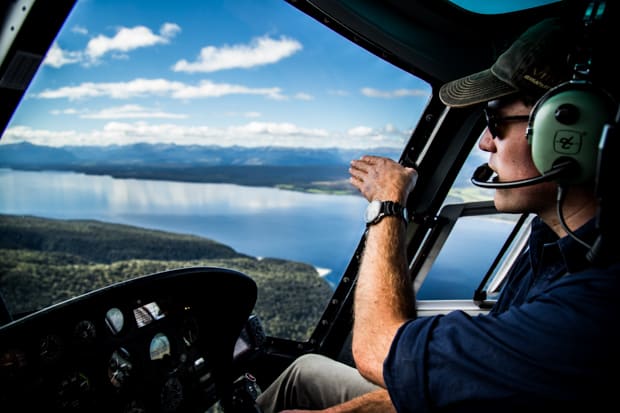 For the Fiordland cruise I did, we started with a private transfer to Te Anau followed by a helicopter flight from Te Anau to Caswell Sound. Quite an impressive start to the trip! The helicopter flight was incredible, flying over the mountain peaks and then dropping into the national park to land on the ship and sail away.
Other itineraries may include a boat ride across Lake Manapouri to embark, or may just sail in from longer routes exploring more of the South and North Islands.
Activities on Fiordland Cruises
Aboard small ships here, look for included, guided activities like fishing, walks on trails, kayaking and tender exploration. For the shore walks on my trip, we went on some primitive trails for short distances through the dense forest. There were some historical huts we went to as well. Captain James Cook explored here in the 1770s, so it's fun to follow in the footsteps of such famous explorers and see wild lands still so untouched.
Most of the trip is on the water and I found that to be the best part of seeing these areas. Because the forest is so thick, there are not many places to land or walk. The ship carries a few kayaks and stand-up paddleboards for passengers to use and those can be nice during the calm times in the fjords.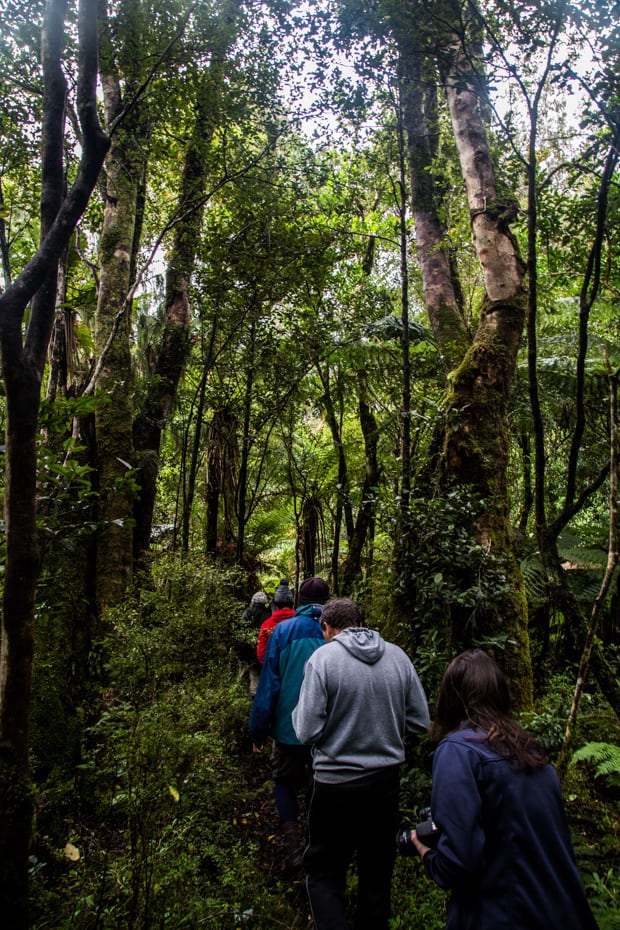 Fishing on a Fiordland Cruise
Be sure to see if fishing is available on your trip. Select cruises may offer it, and it's a real bonus for seafood lovers and those who like to fish.
There was fishing offered during my trip, and the catches typically ended up in the kitchen. The crew also did some free diving for New Zealand crayfish (the size of lobsters), and paua (known in the U.S. as abalone). So with those plus the tuna and blue cod that we caught fishing, there were some excellent seafood options served onboard.
Fishing on a Fiordland cruise can be done in a few different ways. The first is that when moving between the different sounds, the crew can set up a couple deep sea trolling rods off the back of the ship and passengers can reel in the catches from those. We caught a nice tuna one day, which was pretty exciting for everyone onboard.
Another way is to do some drift fishing near the mouths of the sounds. About 8 people at a time can be fishing during the drifts. The Island Passage also carried its own fishing boat, so using that 4 passengers on my trip could go out on fishing outings away from the main vessel.
I mainly did the drift fishing and it was a great time. Everyone caught fish and there was a lot of action during those times. From my own experience, first I caught a blue cod with a small shark biting my fish, and the second time I hooked a bigger shark that was difficult to reel in. There were times I thought I hooked onto the boat or the bottom or something because I could not reel it in. It was pretty wild.
The Views on a Fiordland NZ Cruise
The scenery in these remote sounds is stunning. We had some mornings with very calm waters deep in the fjords. Surrounding the narrow waterways are mountains, steep cliffs and waterfalls. Nearly every inch is covered with vegetation except for where landslides have swept it away.

When you go out into the Tasman Sea to go between the fjords, there are a lot of sea birds, including albatross that tend to follow the ship, especially when fish are being caught. You can also see dolphins, typically near Milford Sound. Fur seals can also be seen in some areas of Fiordland.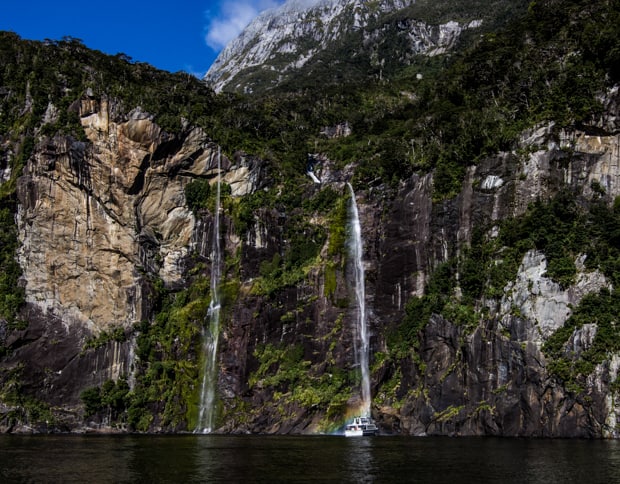 Cruising Beyond Fiordland
Look to some longer expeditions upwards of 9 to even 22 days to include further exploration of New Zealand's South Island and Stewart Island; to include the North Island and its famed Auckland, Napier and Bay of Islands; and/or to include New Zealand's sub-Antarctic Islands of Macquarie and Campbell. AdventureSmith's specialists are here to help you sort through the many itineraries available.
For more photos from my Fiordland cruise, view my Facebook albums: New Zealand Fiordland Cruise and New Zealand South Island. To learn more about traveling here, head to our New Zealand cruise page.