AdventureSmith Specialist Arielle Lightcap writes this trip review of her Svalbard polar bear cruise aboard the 134-guest Expedition. She lends her insight on both her Arctic cruise and what you can expect aboard any small ship polar bear cruise in the Arctic Svalbard.
After traveling to Antarctica just over a year ago, I had a compelling desire to visit the northern polar region of our planet. Coming from the western U.S., the Arctic seemed even more distant and remote than Antarctica. To me the Arctic has a certain mystery and allure to it. Picturing the sea ice blanketing the landscape, experiencing the midnight sun and seeing a variety of wildlife only found in this harsh corner of the world is my idea of a great vacation. Unlike Antarctica, which has certain regulations to keep the continent healthy, the Arctic's situation is much more hanging in the balance of our changing world and climate. And being on a polar bear cruise expedition out of Svalbard is a great way to learn about the region, and how we can become ambassadors to protect it. I chose to sail aboard the 134-guest Expedition on its Realm of the Polar Bear cruise round-trip from Longyearbyen, Norway, in August. Below, I'll recap my trip alongside what you might be able to expect on your own journey.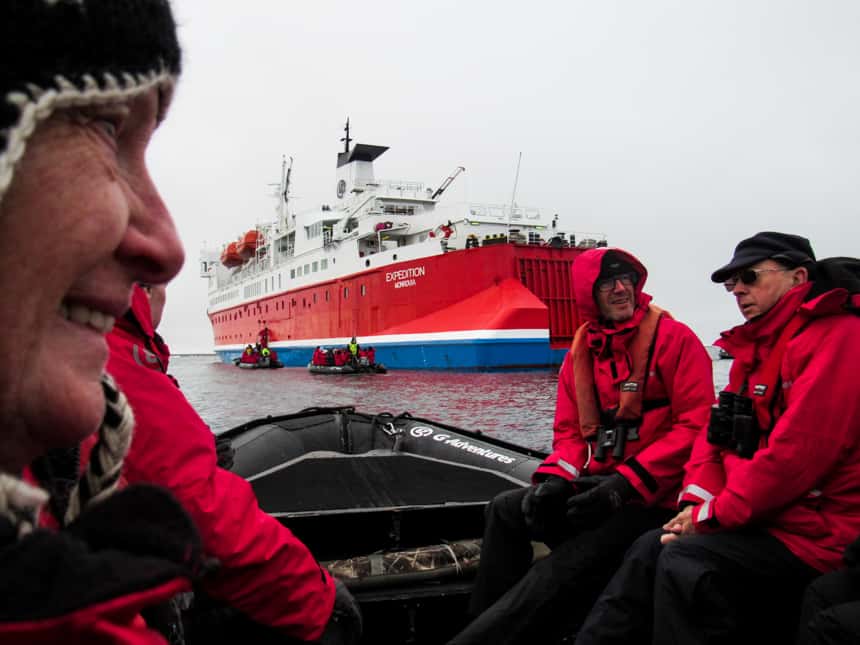 The Midnight Sun
The journey to Svalbard can be a long one, especially for me with around 15 hours of flight time from my home base of California. Upon landing in Longyearbyen, Norway, at around 1:00am, I had my first taste of the midnight sun. The town was noticeably sleepy given the hour, but it looked as though it was more like 4:00 in the afternoon. Sleeping was an issue for the first few days of my trip due to a combination of excitement, time zone differences and the ever-present sun. Even after my mostly sleepless night I woke up excited and feeling ready to begin my voyage around the island of Spitsbergen. My early-August polar bear cruise was the first departure of the Expedition's 2019 Arctic season to circumnavigate Spitsbergen, so there is something to be said about the ice conditions going later in the summer allowing for further exploration, but each year is unique, and circumnavigation is certainly not necessary to spot polar bears.
There is something to be said about the ice conditions going later in the summer allowing for further exploration.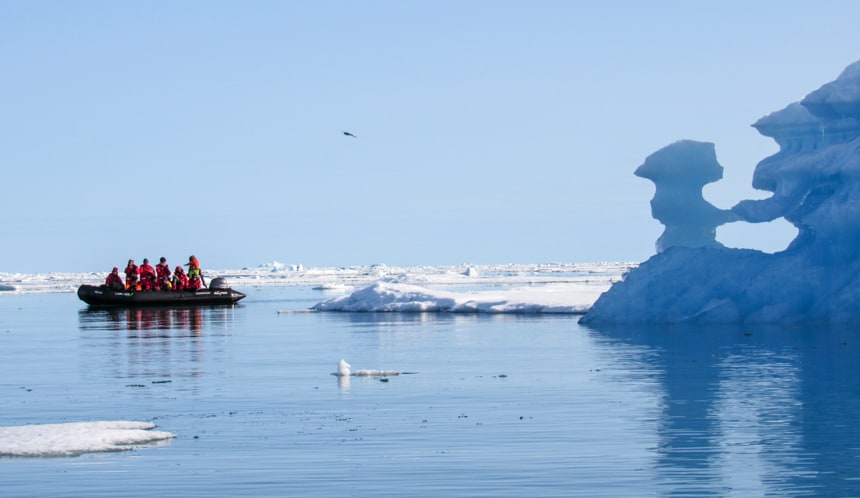 Safety First & Being Flexible: Distance is Key for Polar Bear Viewing
For most of the cruise we were lucky to follow the day's itinerary as scheduled, but we were briefed upon embarkation to expect that the itinerary can change daily due to ice conditions, wind and safety. Our first landing in the northern region of Spitsbergen went off as expected with a hike and a Zodiac cruise. During the hike, the expedition team was peppered along the designated walking area, armed with rifles just in case a polar bear was near. As much as we all want to see polar bears up close, safety comes first and is very important in the Arctic. Since polar bears are carnivores, the best encounter you can have is one from a distance. Thus, before each shore landing, the expedition team went out to scout the area for polar bears. If a bear is seen, the landing will most likely be cancelled. Lucky for us, we were able to land at Magdalenefjorden, which offered not only beautiful views of the nearby peaks and glaciers, but also our first encounter with the Atlantic walrus. This significant wildlife sighting on day 2 of the trip was a welcomed delight and ignited an interest among the passengers for what was to follow.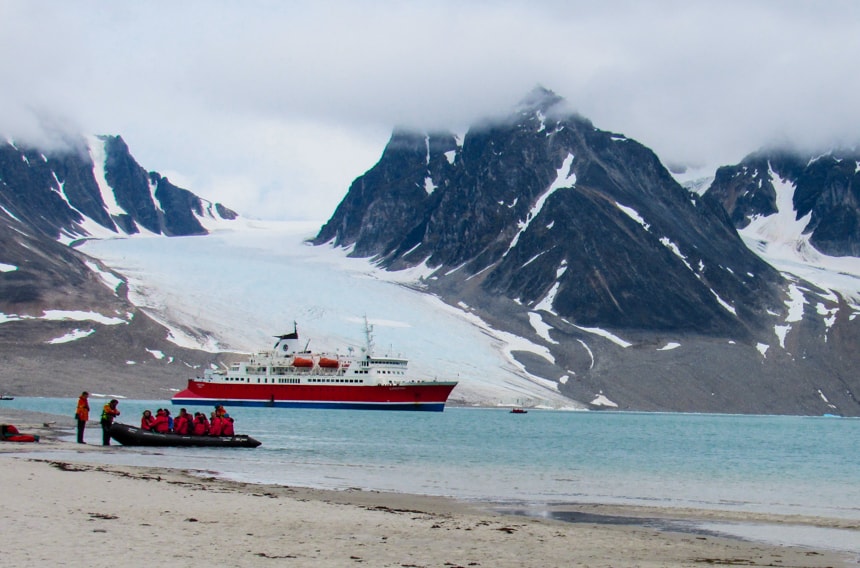 A Dedicated Search for Polar Bears
A lot of travelers ask me and my fellow AdventureSmith specialists how many bears they can expect to see, and it's really hard to say. What I can say is that seeing polar bears is the most important thing to the cruise's expedition team because they know the guests anticipate this. From what me and my fellow teammates have experienced, once you actually achieve seeing polar bears, the intentional search for them is over. Some departures get really lucky and experience polar bears more than once. The departure after mine saw 5 bears all at once feeding on a carcass; another late-season departure from the year prior saw over 30 bears during the cruise.
Time on Ship & at Sea on Your Polar Bear Cruise
For many Arctic travelers, seeing polar bears is the driving force for enduring the potentially long travel experience and cold weather that comes with visiting this region. Since polar bears use the sea ice as a hunting platform it makes sense to spend some time cruising as far north as possible, deep among the ice floes. The idea of spending a full day on the ship is not what typically excites small ship enthusiasts, but to my surprise this was one of my favorite days of the journey.
Since polar bears use the sea ice as a hunting platform it makes sense to spend some time cruising as far north as possible, deep among the ice floes.
To be nearly at the top of the world–we made it to 80 degrees and 50 minutes north, roughly 630 miles from the north pole–looking out to what felt like an alien landscape was a delight in and of itself. It was foggy, but the high Arctic sun was trying mightily to break through, which added to the mystique. The seas were calm other than the wake of the ship and the small disturbance she caused as we pushed aside and broke through the ice sheets ahead of us. It was an experience best had at the bow of the Expedition where you could feel the vibration of the colliding forces. The stillness of the water was unexpected. The polar bears did not present themselves during our time among the ice, but no one seemed too disappointed. What we saw today was truly something special and brought about a new appreciation for the ice.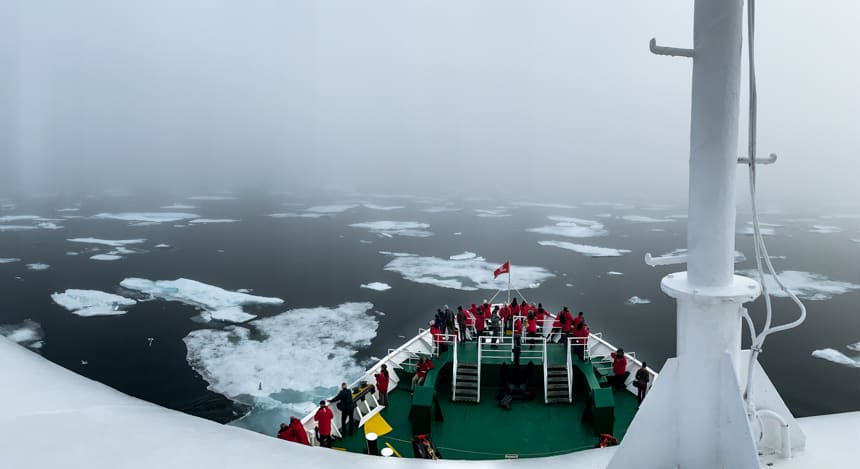 Fog, Ice & Cubs: A True Polar Bear Expedition Day
Following the serene day aboard the ship, we set out the next morning for a visit to the small, almost sea-level island of Lågøya (which literally translates to low island in Norwegian). Lågøya was supposed to be our afternoon landing site, but the fog prevented us from visiting Sorgfjord in the morning as planned. We boarded the Zodiacs and set off for the shore. It was a cold day, which was made colder by the wind brought on by the fast-moving Zodiac and splashing of the sea. Our Zodiac driver informed us that today would be a true expedition day; we didn't really know what to expect.
Approaching the little island did not yield much to look at, but after scanning the rocks we spotted a large white mass. This first look at the mighty polar bear had us all quietly staring in awe. The bear wasn't doing anything particularly interesting, and yet our eyes were glued to it. Over the radio one of the guides alerted the others that a mother and two cubs had been spotted just around the bend. The flotilla of Zodiacs made their way to where the bears had been seen. Again, we sat admiring them from the safety of our small vessels. My fingers were freezing from holding my camera, but I didn't care. After an hour or so we left the bears to their business of foraging for arctic tern eggs and we headed back to the ship.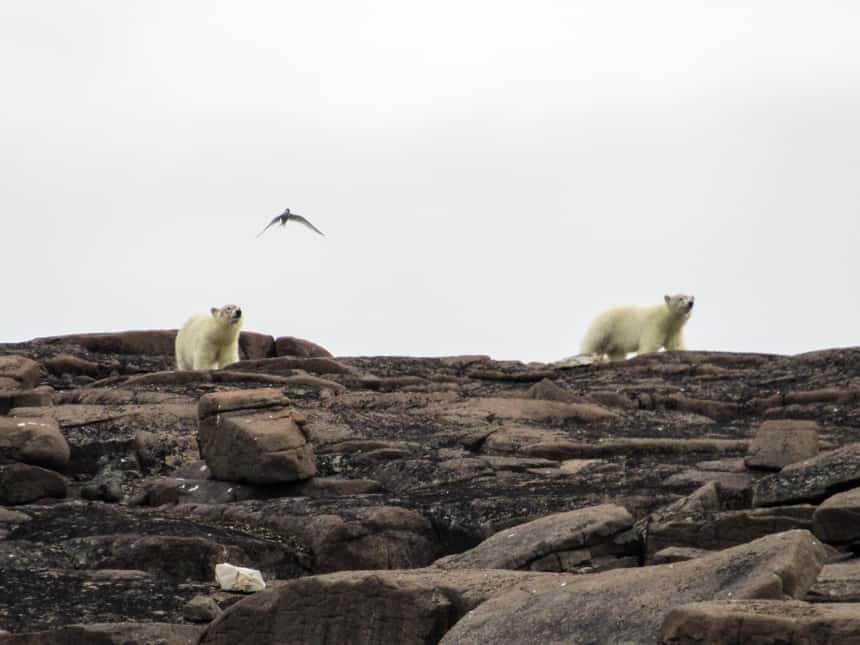 Warmer-than-Imagined Arctic Weather
Surprisingly, the Arctic was not as cold as I expected. Our coldest day was around 35 degrees and our warmest day was close to 50 degrees, so warm we even enjoyed an outdoor BBQ in front of a massive glacier. On average, we hovered somewhere between 40-43 degrees throughout my August journey. View our Arctic Climate details to see averages for when you expect to travel.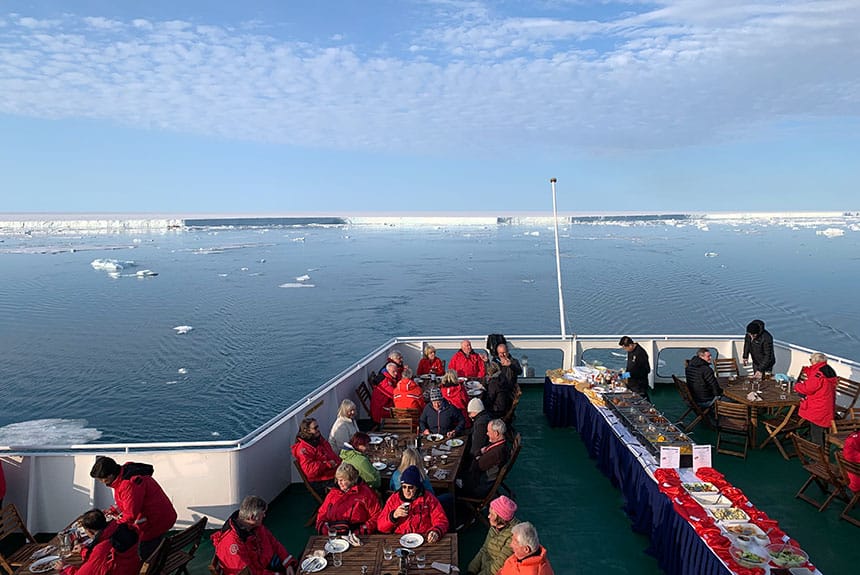 Wildlife, Glaciers & Memories Beyond Polar Bears
One would think the sight of polar bears would mark the peak of an Arctic cruise, but for me it just kept getting better. From the tens of thousands of breeding pairs of Brunnich's guillemots and handful of arctic foxes at Alkefjellet, to the unforgettable glaciers of Brepollen in Hornsond and cruising up close to the massive Bråsvellbreen ice cap, each day was more impressive than the last. We saw an incredibly large walrus haulout on Torellneset numbering some 80 walrus, as well as a few Svalbard reindeer at two different landing sites. The reindeer were hardly bothered by our presence. They would observe us and then continue about their business of snacking on vegetation. The jury is still out as to which smells worse: a penguin rookery or a walrus haulout!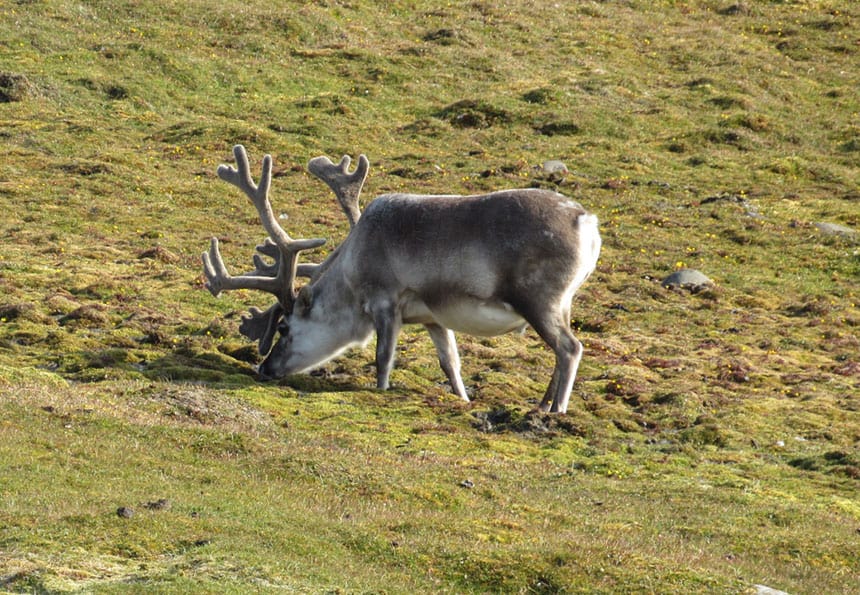 To top it all off, our expedition team members provided narration and educational presentations along the way, and we visited five different protected historical sites, so I learned a lot about birds, glaciers, polar bears, photography and the culture and history of the Arctic region.
The Arctic is wild, untamed and seemingly vast. Something special is around every corner, within each fjord and among the ice.
With what I now know about visiting the Arctic, it's no wonder explorers and scientists alike have been drawn for centuries to this often-untouchable region of the world. The Arctic is wild, untamed and seemingly vast. Something special is around every corner, within each fjord and among the ice. So with this polar bear cruise review I say get out there and explore this region! Not everyone will have the same experience, but the memories will last a lifetime.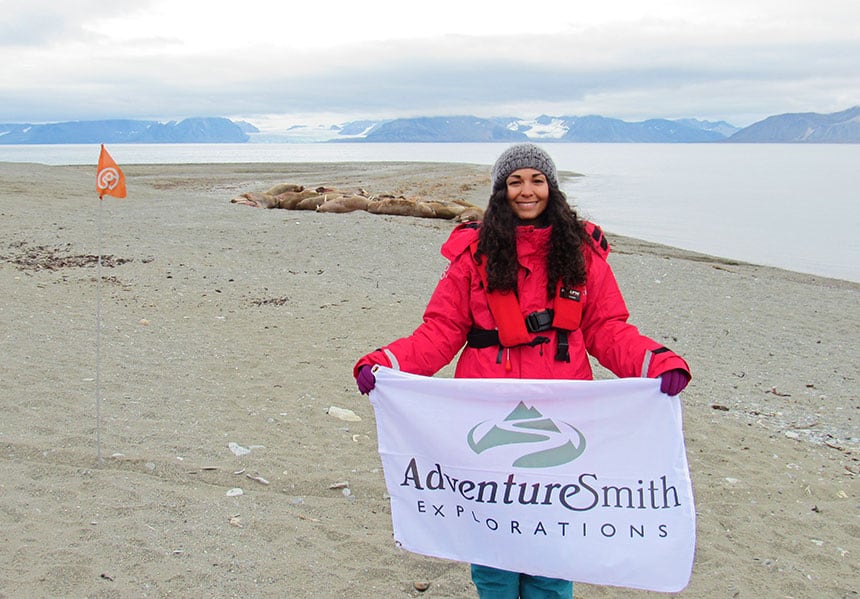 For more photos from this polar bear trip view my Facebook album on AdventureSmith Explorations' Facebook page.
This polar bear cruise review was written by an AdventureSmith Explorations crew member. Read all our Small Ship Cruise Reviews for more reviews from our team, or contact one of our Adventure Specialists to learn more about our Arctic cruises and wilderness adventures: 1-800-728-2875.
MORE ARCTIC RESOURCES:
Arctic Cruises
Iceland Cruises
Arctic Tours
Arctic Expedition Trips
Arctic Animals
Arctic Cruise Deals
Arctic Cruise Reviews