USA Today
July 10, 2014
There's been a major run to rivers lately. Everyone's hopping on a river ship. Here are 10 ways to love your river.
7) Amazon adventure

The Amazon River has rock star magnetism of late, with both sea and river cruises setting their sights on this very long river. Some river cruises sail from Brazil's Rio de Janeiro more than 1,000 miles to Manaus.

The new, daring Amazon sail is via small luxury ship up Peru's less-explored Upper Amazon. New shallow draft ships such as Delfin I, Aria and Aqua carry small numbers of passengers. Piranha-fishing and night expeditions are included. Avalon Waterways and AdventureSmith Explorations point the way to the sails on Peru's Upper Amazon.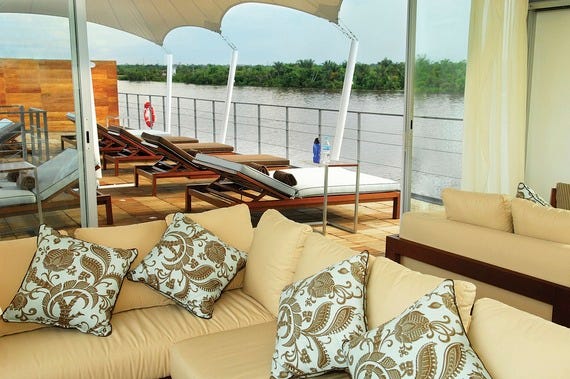 Viewing the Amazon from the deck of the MV Aqua keeps the mojito within reach and the pirahna a nice distance away. Photo Credit: AdventureSmith Explorations
9) Mekong medleys

Vietnam and Cambodia cruises on the Mekong River are an efficient way to see both countries; some land travel is included. AmaWaterways, Avalon Waterways, Uniworld River Cruises and Viking River Cruises all offer Mekong journeys.
Read the full article at USA Today or view all of AdventureSmith's recent press and awards.