National Geographic Adventure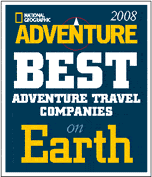 By Costas Christ and Claire Martin
February 2008
The majority of AdventureSmith's boats sleep no more than 20, which creates notably small group sizes by cruising standards and provides ideal perches for, say, spotting hawks and blue cotingas during a crossing of the Panama Canal or watching polar bears and walruses in Svalbard, Norway. On these wildlife-focused itineraries, you'll troll the waters of the world, while recharging each night in the comfort of one of the company's plush ships (a few even have hot tubs).
Signature Trip: Active Inside Passage Cruise, Denali Backcountry Explorer
Destination: Alaska
Activities: Boat cruising, hiking, kayaking
Duration: 13 days
Price: $5,395
Countries Visited:
Australia
Oceania: Australia, Fiji, Micronesia, New Zealand, Samoa, Solomon Islands
Europe: Greenland, Iceland, Norway
Latin America: Argentina, Belize, Chile, Costa Rica, Ecuador, Guatemala, Panama, Peru
The Poles: Antarctica, Arctic
U.S. and Canada: Canada, United States
Website: www.adventuresmithexplorations.com
Rating Criteria Scores
Overall Score: 92.9
Quality of Service: 97.0
Sustainability: 88.0
Spirit of Adventure: 89.0
Education: 92.0
Client Experience: 98.3
Best Adventure Travel Companies on Earth
When planning the adventure trip of a lifetime, the most important decision isn't where to go, but who to go with. To help you pick the right outfitter, we have conducted the world's first authoritative rating of adventure travel tour operators. Each of the 157 companies presented here qualifies as "best," it's up to you to select which one is best for you.
The ADVENTURE Ratings: The First Authoritative Rating of Adventure Travel Companies
By Costas Christ and Claire Martin
When planning the adventure trip of a lifetime, the most important decision you'll make is not where to go, but who to go with. Think about the stakes: weeks of your time, thousands of your dollars, even, potentially, your own safety. If an outfitter fails to deliver on the dark side of the moon, you don't get a do-over. An expert tour company, on the other hand, can give you access to remote lands, introduce you to those who live there, and make sure you not only see the world, but also experience it.
Today there are outfitters running trips in just about every country on Earth. To help you pick the right one, we've conducted the world's first large-scale rating of adventure tour operators. It's extensive. It's user-friendly.
As part of the National Geographic Society, we have a unique take on travel. We appreciate fine meals and high thread counts, but we also want to know who's teaching their clients about the places they visit, who's pushing the frontiers of discovery and adventure, and who's giving back to the planet. So we surveyed over 200 outfitters and scored them on the criteria that matter to us most: education, sustainability, quality of service, and spirit of adventure. We evaluated gorilla-safari specialists and Grand Canyon rafters, Napa Valley cyclists and Himalaya trekkers. As expected, most of the top scorers excel in multiple areas. But we were pleasantly surprised to find that almost all of them consider their environmental impact a fundamental part of the trips they offer.
Each of the 157 companies featured here received an overall score of 80 or higher in our survey and, therefore, merits your consideration. Now it's up to you to decide which one is best for you.
The Methodology: How We Did It
With assistance from the Adventure Council, Adventures in Travel Expo, the Adventure Travel Trade Association, and other travel and tourism organizations, we reached out to hundreds of tour companies around the world. The outfitters were asked to complete a comprehensive 28-question survey and were scored from 1 to 100 in each of the following categories:
Education: The extent to which clients learn about destinations (geology, culture, history, etc.) from guides, locals, and pre- and post-trip information
Sustainability: The emphasis outfitters place on practices that help protect the planet's cultural and natural heritage while also benefiting local communities
Quality of Service: How well outfitters take care of clients, from providing up-to-date gear and high-comfort accommodations to developing solid emergency plans
Spirit of Adventure: The degree to which trips involve outdoor physical activity and introduce clients to innovative experiences in classic and emerging areas
References: Customer reviews of a company's education, sustainability, service, and adventure (multiple clients were interviewed for each outfitter)
Each outfitter's overall score represents the average of these five scores.
A team of Adventure editors, travel writers, and experts vetted those with overall scores of 80 and above and, from this pool of candidates, chose the "Best Outfitters on Earth," 55 of which were profiled in the November 2007 issue of National Geographic Adventure, divided into the six major categories below. The rest are listed online.
Do-It-All: Operate on multiple continents and offer a wide range of outdoor adventure activities
Biking: Operate in multiple countries and specialize in road cycling and/or mountain biking
Hiking + Trekking: Operate on multiple continents and specialize in trekking tours
River + Sea: Operate on multiple continents and specialize in flat- and whitewater paddling
Safari: Operate in one or more African countries and specialize in wildlife viewing excursions
Luxury: Operate on multiple continents and deliver adventures with first-class services and amenities
About the Authors
Costas Christ serves as the Chairman of Judges for the World Travel and Tourism Council's Tourism for Tomorrow Awards, which recognizes best practices within the global travel industry. He is a contributing editor and columnist with National Geographic Adventure magazine and was a founding member and former Chairman of the Board of the International Ecotourism Society. He is on the advisory board of the Adventure Travel World Summit, is co-founder of the Adventure Council, and also serves on the board of directors of Sustainable Travel International. His travels and work have taken him to more than 120 countries across six continents, including expeditions to some of the world's most remote wilderness areas and archeological sites. In addition to National Geographic Adventure, Christ's articles and essays on travel and tourism have appeared in publications, including the International Herald Tribune, New York Times, Boston Globe, and Sunday Times of London. He is the lead author of, Tourism and Biodiversity: Mapping Tourism Global Footprint and a contributing author in Wilderness: Earth's Last Wild Places.
Claire Martin is a Los Angeles-based freelance writer and editor. She's the former travel editor of several consumer magazines and has written for the New York Times.