Outside Magazine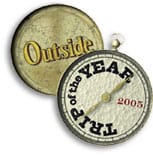 By Outside Magazine
Best Trips of 2005
Outside 38 Best Trips of 2005 – The High Road
What do you want-a printed invitation? OK. here it is: We've scouted the year's coolest travel offerings – from new classics like cruising the ARCTIC, exploring the wild CARIBBEAN, and journeying across RUSSIA's heartland to bold new frontiers like trekking LIBYA and track wildlife (and luxury lodges) in SRI LANKA. Going somewhere? We thought so.
Belize Adventure Cruise
Best Trips-Caribbean, Mexico & Central America
Spend eight days aboard a sweet four-cabin luxury yacht, exploring intimate coves that full-size ships can't get anywhere near. An onboard naturalist will point out the seas turtle nesting sites and the manatees as you cruise along the Caribbean coastline from Belize City. You'll take a nighttime walking safari up the Sittee River, past Garifuna villages, visit Maya caves and an excavation site, and paddle kayaks with see-through acrylic bottoms over the world's largest barrier reef.