AdventureSmith Explorations' Lis Larson reviews her Baja California's Whales & Sealife Cruise (formerly Baja's Bounty) aboard the 66-guest Safari Endeavour. Learn what it's like aboard an active Baja cruise, what wildlife Lis saw, plus insights into making the most of your cruise. 
It's only fitting that when you visit the Sea of Cortez—the body of water that Jacques Cousteau dubbed the aquarium of the world—that you travel by water. There is just so much to see over a week at sea. I traveled aboard the Safari Endeavour on the 8-day Baja California's Whales & Sealife Cruise last month, and below I'll review a few highlights from my experience, as well impart a few tips and travel advice from my time exploring by water and land.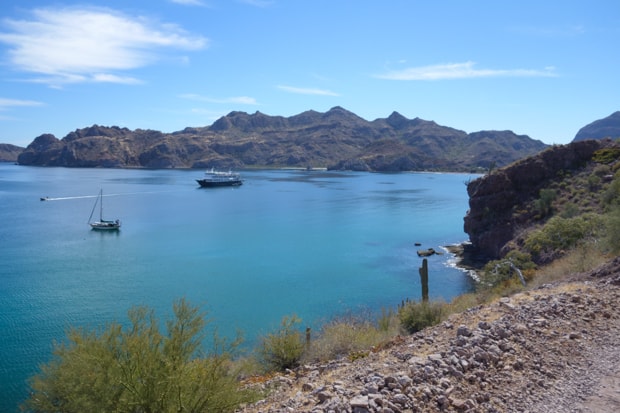 Get Active
Aboard the Safari Endeavour, the guides make it so easy to be active. Multiple options each day had me doing an array of activities, including waking up early for sunrise yoga most days, stand-up paddleboarding, kayaking among mangroves, snorkeling, hiking a stunning ridgeline over a perfect semicircle beach on Isla San Francisco and even riding a mule! My steed was named Hormiga, which means "ant" in Spanish since she was the tiniest one of the bunch. UnCruise Adventures, the ship owner and operator, is the only one to hire this local family to bring their herd to Bahia Agua Verde, and the family walks overland two days to get here. Be sure to bring pesos or dollars ashore here as the family has a small tent to sell their handmade jewelry and shirts.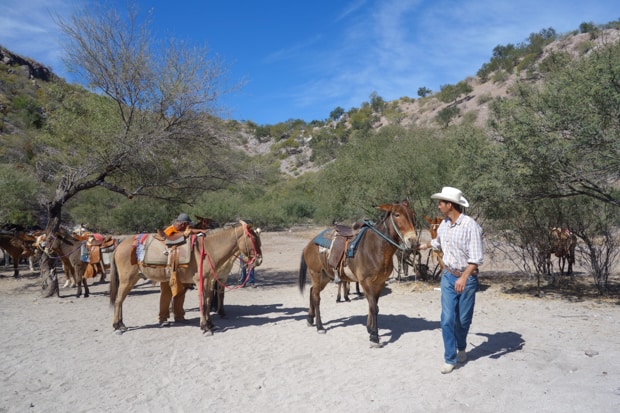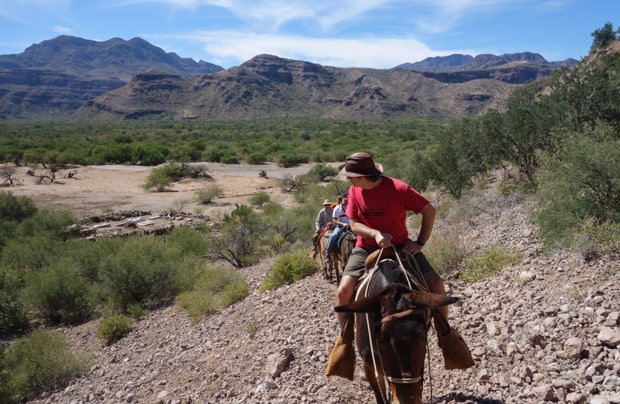 I loved the multiple adventure options as my whole family was able to do what they wanted at a level they were comfortable with.
While most activities offered are very much guided, and "soft" (as in, geared for all levels), many times there are options for those who want to explore farther, at a faster pace. As I was traveling with my family I loved the multiple adventure options as my whole family was able to do what they wanted at a level they were comfortable with. For instance, my 62-year-old father was able to do a gentle snorkel from the beach but opted to take a guided skiff ride instead of a more advanced snorkel later in the trip. From his skiff, he was able to tour in the same region we were snorkeling and see us in the water. In Baja in particular, I highly recommend you take advantage of the warm early morning hours. Yoga on the top deck as the sun rose was a highlight, as was a sunrise photo-themed skiff tour where the light was just perfect.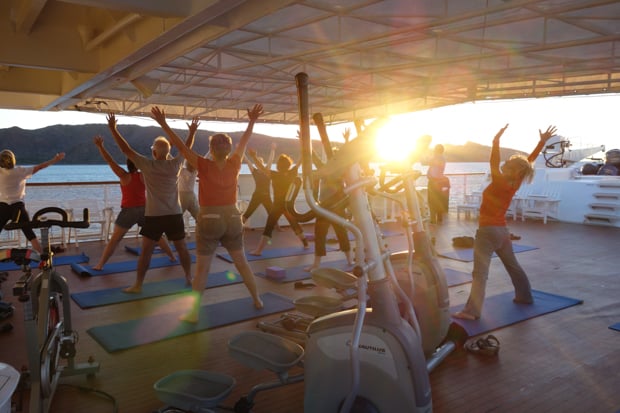 There are also plenty of "beach parties" scheduled on the route, where they set up shop in a cove (snacks, beers and sangria and/or an alcoholic punch option) and offer open use of the kayaks, paddleboards and snorkeling (with boundaries set so guides can always see you). I loved this time to sunbathe, read and draw on the beach and just enjoy the unique environment of cacti and desert hills surrounding us. The beach time on Isla Partida, Ensenada Grande, was my favorite as the water was the most turquoise and the rocks the reddest!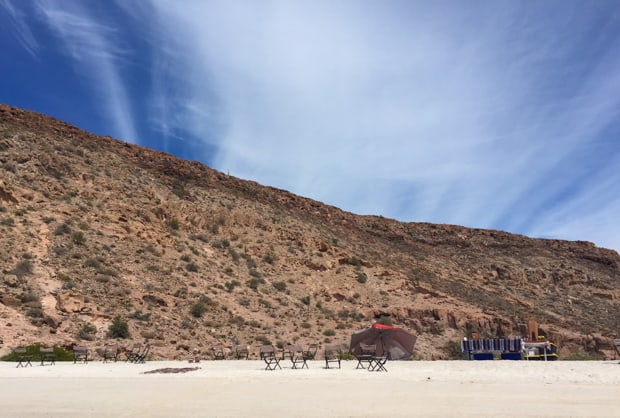 Be Prepared for the Unknown
You will see an itinerary listed for this trip on the AdventureSmith website. But while we visited most of those islands, it was not exactly in the order listed, and it was fun each day to see the new surprises that would come our way without having the constraints of a fixed itinerary. Day 1 had us detouring to follow a pod of sperm whales, a super rare sight, identified by their unique sideways spouts! One day we were set to visit an abandoned salt mine, but some red tape with the caretaker of the property threw that plan aside so we enjoyed a morning of "cruising for critters" and were lucky to have a pod of dolphins surf our bow's wake, followed by a blue whale spotting just before lunch. And the biggest surprise of all came when my family took a skiff tour exploring the shoreline off Bahia Agua Verde, on the Baja Peninsula mainland, and spotted a bobcat, who was right on the shore beside a sea lion carcass. Photo below taken by my brother, James, who thereafter became jokingly known onboard as "bobcat."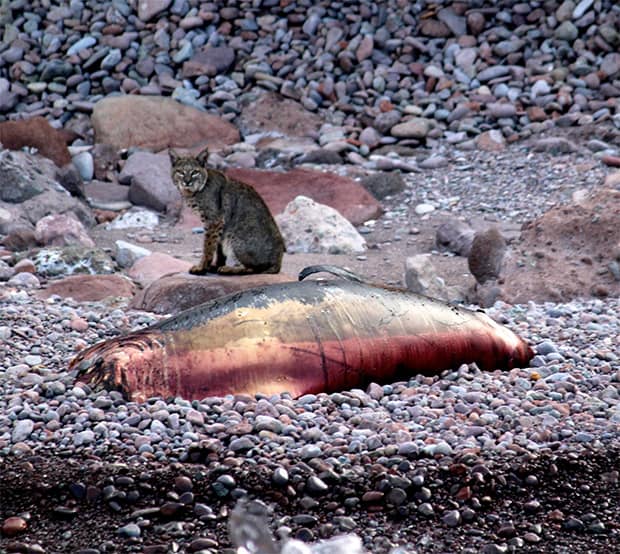 Close Encounters of the Marine Mammal Kind
One of the highlights of travel in the Baja Peninsula is the chance to get up close to whale sharks, gray whales and California sea lions. The Baja California's Whales & Sealife Cruise always, weather/conditions permitting of course, includes a snorkeling excursion to Los Islotes, a popular sea lion haulout. And depending on the season, guests either have a chance to visit a gray whale calving lagoon on the Pacific Ocean, or to swim with whale sharks in the Sea of Cortez outside of La Paz. Both excursions are done through an outside operator.
During my visit in February, it was smack in the middle of gray whale calving season (typically mid-January through mid-March) so we were driven from Puerto Escondido across the peninsula 2 hours to Magdalena Bay on the Pacific shoreline. We entered the bay from the town of Puerto Lopez Mateos, which was really our only chance to see a rural Baja Peninsula town. The drive through town had us passing schools, a cannery, restaurants and some military presence, and over speed bumps made of large fishing ropes.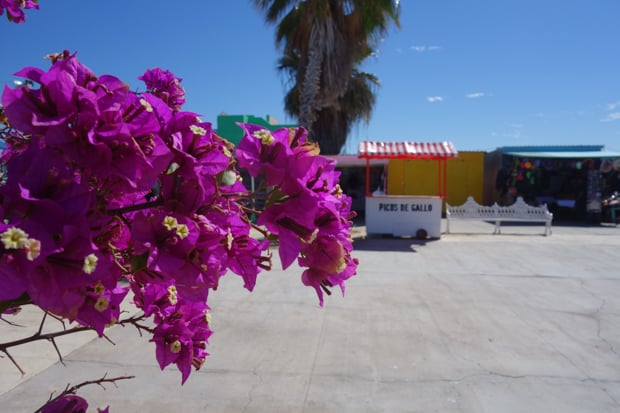 Farther out toward the mouth of the bay, the whale pairs were so many we could hardly count them.
The dock is surrounded by simple structures and pop-up tents serving food and selling souvenirs. From here the group gets on small boats to then explore the bay in search of gray whales. We quickly learn how little of a search it is as the bay is full of mother and baby pairs! In a mellow part of the bay, the gray whales even interact with the boats, swimming up and nudging their babies up near the boat to view us. It was slightly unreal! And curious how they are so friendly considering the whaling history in this bay. The Safari Endeavour's guides are aboard each boat and while guests are eager for a close interaction, it's important to let the whales approach the boat on their own accord… not for the boats to approach them. This is regulated by law here, because in the past it's something that boat drivers would do to appease tourist demands. That's why it's so important to be an informed, conservative whale watcher and not demand anything of your guide and driver. The excitement is real here, but this gentle balance was in the back of my mind during this close interaction.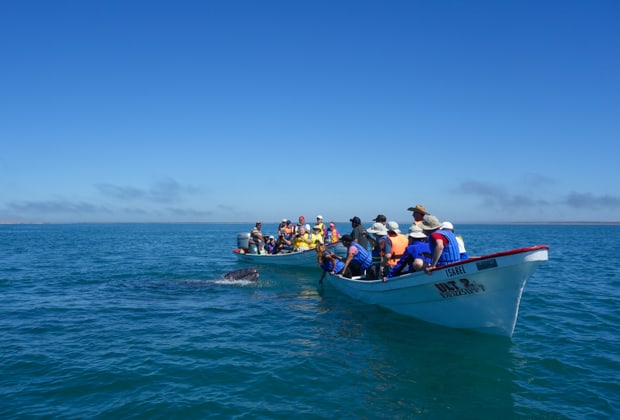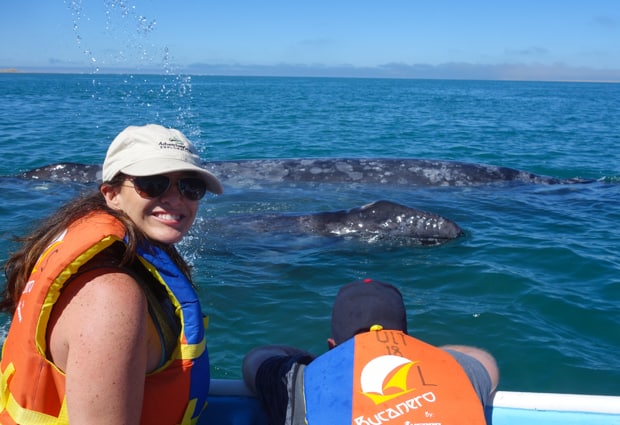 Farther out toward the mouth of the bay, the whale pairs were so many we could hardly count them. But here they were more actively swimming, without directly approaching our boat. It was exciting to see so many swimming by and spy hopping (popping up out of the water vertically to take a peek), and to compare the tiny backs of the babies against their mothers as they swam in unison by. Photo below by James Korb.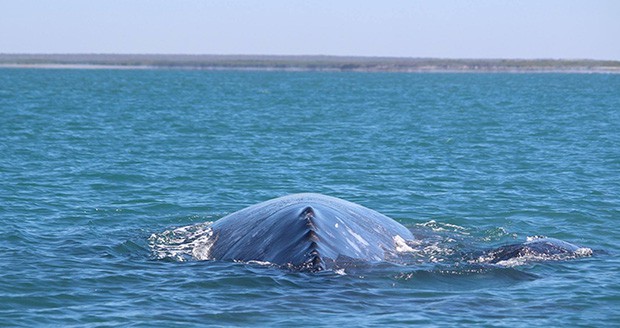 This day was further capped off by a seafood-filled lunch at a local restaurant in Lopez Mateos, a gorgeous drive back through the mountains and, when back onboard at sunset in Puerto Escondido, jumping mobula rays giving us a show!
Letting the wildlife approach you is an essential consideration on this cruise as the encounters are many! At Los Islotes we were able to swim with sea lions, interacting with the curious ones as one would a playful puppy. They literally swim and dart around you if you show interest, but again it's important to only do so with the ones who approach you first.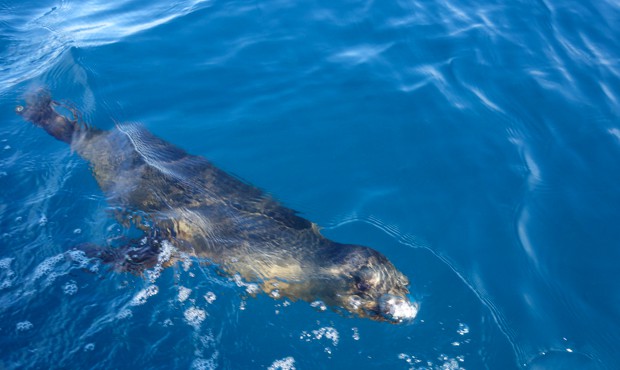 While we did not get to see whale sharks on my cruise, this is supposed to be another incredible experience as the behemoths swim along beside you in the water. Whatever season you travel in—whether gray whale or whale shark—I would highly recommend adding a pre- or post-cruise excursion to experience the other. The AdventureSmith specialists can help you plan this with our trusted Baja partners.
Safari Endeavour Ship Review
The 66-guest Safari Endeavour is very much an expedition vessel with a casual onboard atmosphere, but it has a few touches that make it extra comfortable, like fine linens, plated meals, an included massage and excellent wellness staff. Rooms are very spacious with loads of built-in drawers and cabinets for storing clothing, and nice touches of unique art or photography on the wall. The bathroom has less storage space than other small vessels I've been on but has all the essentials.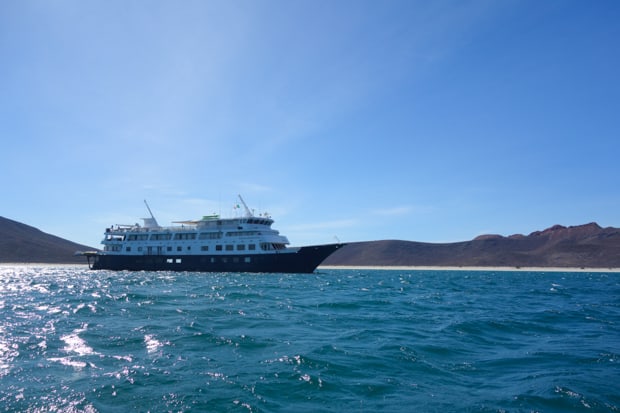 A note about the rooms and decks: 200-100 level rooms have interior entries (doors are located in an interior hallway), while 300 level rooms have entries on the exterior deck, placing the door in between the cabin windows. I could argue it both ways, depending on how much privacy is of the essence for you. My 300-level Commander Cabin provided super easy access to the deck for wildlife spotting, Jacuzzi use and excursions, but I did have to close the curtains a bit as other guests were always passing by my window getting to/from excursions, and standing to view wildlife from the deck. The lower level cabin windows have no walkways outside of them so it's just straight views and probably less curtain closing needed. But in the end, I preferred the easy outdoor access as I spent more time out of my cabin than in it.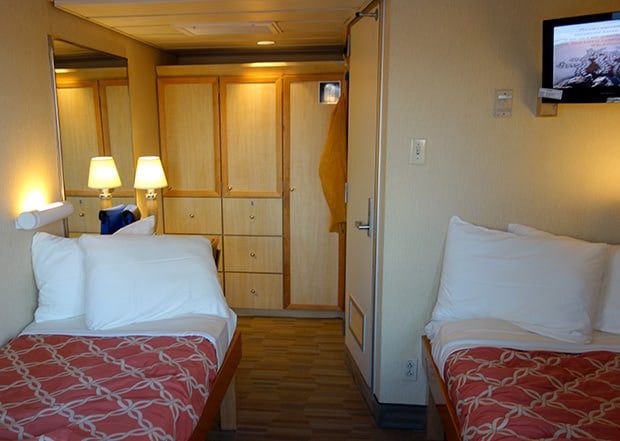 For a ship cruising in this warm weather destination I was surprised that there were no reclining lounge chairs on the top deck, but the Adirondack-style options with footrests sufficed, and we were mostly off the ship anyways so not a lot of time was spent lounging on deck in general. I loved that they provided binoculars in every room and down in the lounge for wildlife spotting, and the two Jacuzzis on the aft third level provided welcoming warmth after lengthy snorkels. I definitely was happy they provided wetsuits as the water was refreshing from the beach but definitely chilly when snorkeling from the skiffs. Dining onboard is excellent, with options for everyone and fresh choices like red snapper that they bought off of local fishermen on my departure. It's easy for them to accommodate special diets with notice, and they were always happy to do half-and-half entrees for the indecisive, and even bring extra dessert for my sister-in-law who was "eating for two"!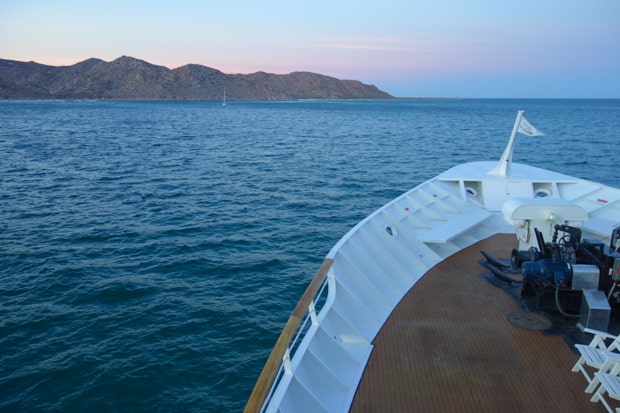 As for pre- and post-cruise accommodations, you'll fly into San Jose del Cabo, where you can choose from a number of inclusive beachfront resorts, or a more boutique hotel experience at Casa Natalia in the old town. All guests meet at Barcelo Grand Faro, a large all-inclusive resort, for a land transfer up to La Paz, where the ship is docked. Cordone cacti are everywhere on the drive north from Cabo, with views along the Pacific coastline around the surf town of Pescadero, so it's a beautiful drive. If you care to explore more, AdventureSmith Specialists have traveled extensively here and can recommend some options and custom tours.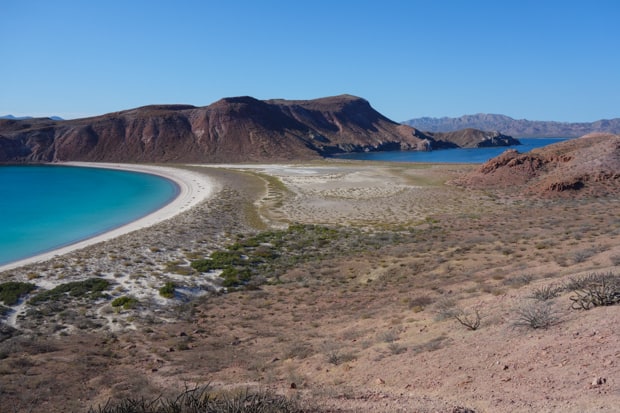 All Aboard
But what really makes the Safari Endeavour stand out in my opinion is the crew. They are lively and knowledgeable, make you feel very comfortable and welcome, and go out of their way to ensure you are getting the most out of your time in Baja. The style of the boat operator, UnCruise Adventures, is very casual and playful. Educational talks by the super funny Ellie, dining room tricks from server Julio, giggling with our server Gina who always accommodated our requests, singing songs while watching the rays jump with Jose, skiff rides and general silliness with Thom, learning some salsa dancing moves with Heather and Laura, experiencing the thrill of a speedy skiff ride with Matt, and the friendship my family developed with the guest photographer Peter West Carey over the week were big highlights. Guides like Jeremy and Mark were extremely knowledgeable with Mark able to spit out names of plants and animals to me any time I asked. "What were the names of all those cacti we saw on the hike again, Mark?" "Cordone, prickly pear, hedgehog cactus, elephant tree, galloping cactus (which some call the sour pataya)" and on and on he would go.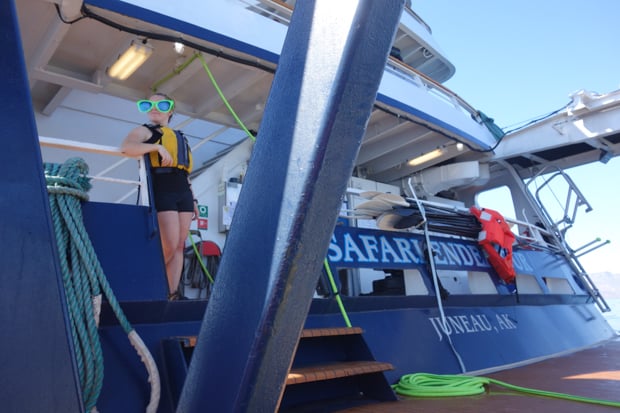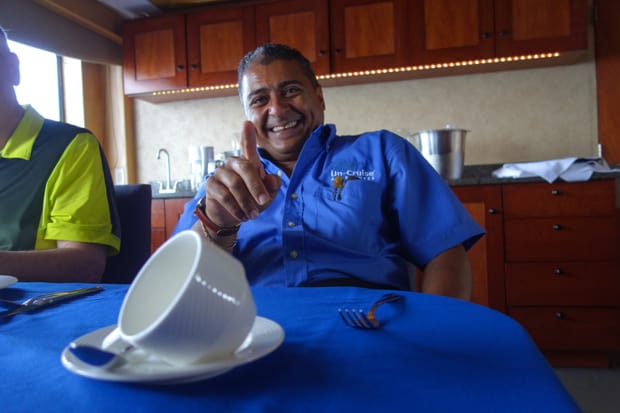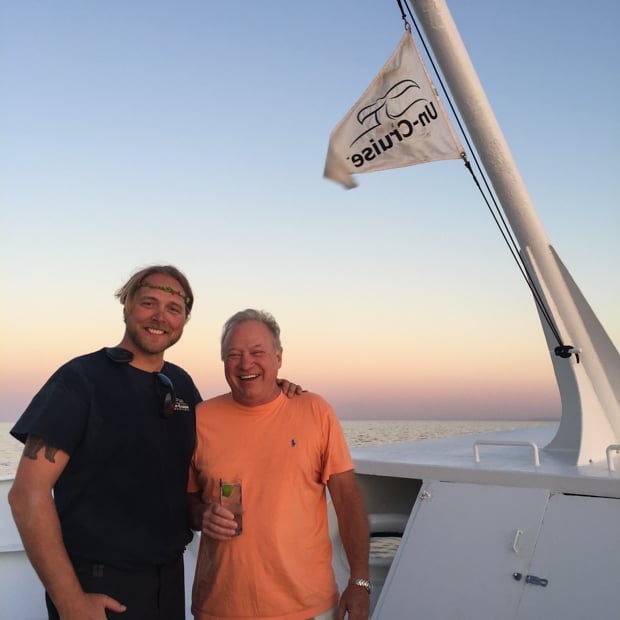 Two tips I learned on this trip: 1) Take photos of your guides! Guest photographer Peter imparted this advice and I was thankful for the reminder to take photos of not just my family I was traveling with but of all the people (crew, guides and other guests) that make your journey special. 2) Start your goodbyes early! On the morning of departure it's easy to miss one of your favorite guides or staff members as they're working different shift hours. Avoid the rush and compliment them for a job well done when you have the chance.
For more photos from my Baja cruise, see my Baja's Bounty Facebook album. For info on how to make this trip happen, and more UnCruise Sea of Cortez reviews, view the Baja California's Whales & Sealife Cruise page on AdventureSmith and contact one of our small ship cruise specialists.
This Baja cruise review was written by an AdventureSmith Explorations crew member. Read all AdventureSmith Expert Reviews for more trip reports, or contact one of our Adventure Specialists to learn more about these small ship family cruises and adventure trips: 1-800-728-2875.