Travel aboard the iconic 8-guest Westward yacht in this Westward Voyages in the Sea of Cortez cruise review—penned by Adventure Specialist Nick Mitchell. Learn more about this unique Baja cruise, Nick's up-close wildlife experiences, and his appreciation of the amazing crew and fresh onboard cuisine.

I've often heard Baja described as the "Galapagos of the North"; I disagree. They are definitely worthy of comparison but there are some notable differences: In Baja, the whales are friendlier; the mountains are higher and more dramatic; the cacti are fatter, taller and pricklier; and for me personally, my mother was with me on this trip. Like the Galapagos, Baja is wild and untamed and the wildlife is abundant. If you've been to the Galapagos and enjoyed it, then you'll enjoy Baja too. However, you won't have experienced a boat like the Westward. This trip is the epitome of small ship cruising.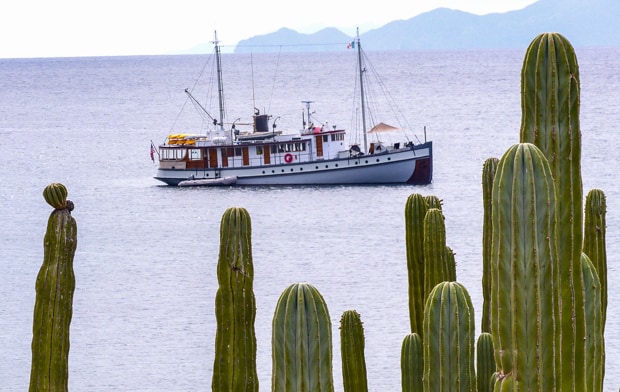 Sailing Baja Aboard a Historic Vessel
Westward is a timeless classic. Don't take my word for it; she is registered with the US National Register of Historic places. Built in 1924, she can lay claim to be the first small ship adventure vessel. She entertained the rich and famous on hunting, fishing and adventure vacations in Alaska and British Columbia in the 1920s and '30s. If you go on this boat, you can count yourself with Bing Crosby and Walt Disney as past guests. You feel this history when you board her, and you hear it when you are underway. She is powered by her original engine—a testament to the engineering quality of a bygone era. Westward was rescued from dilapidation and lovingly restored by Bill Bailey, the captain and owner. He points out that guests who sail on her play their part in saving and helping to maintain this historic vessel.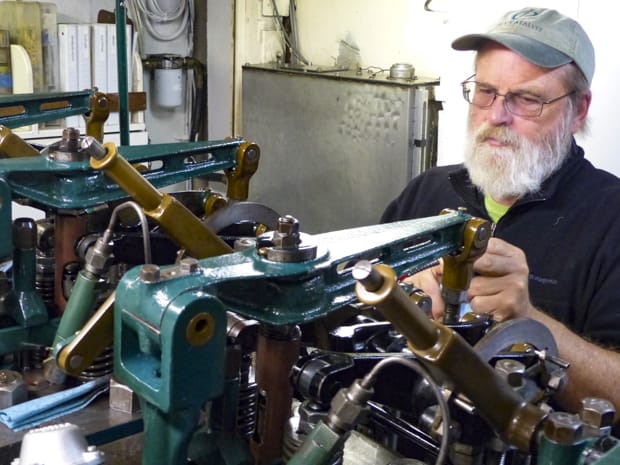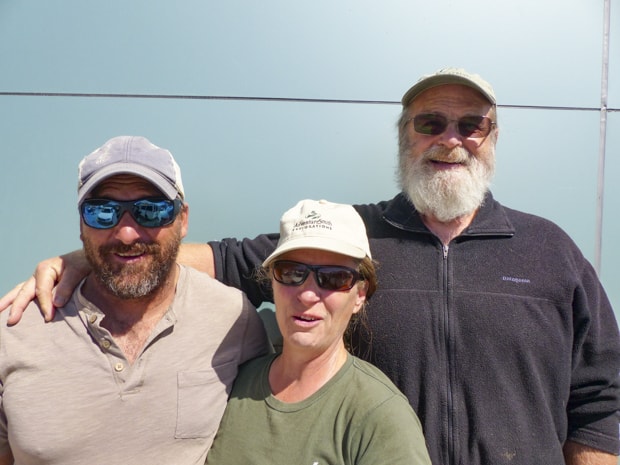 With 8 guests and a captain, chef and guide it feels like you are VIP guests on a private yacht, which is exactly what you are. Captain Bill and Chef Tracie live full-time on the Westward. She is their home. They spend summers in the sheltered and wildlife-rich waters of southeast Alaska and warm winters in the Sea of Cortez. They enjoy having you on board as much as you'll enjoy being there. Through years of experience they know the best places to visit. With the help of Carlos, Westward's naturalist guide who grew up in La Paz and who has spent years exploring the islands and peninsula by kayak, they know intuitively where to go. Their goal is to give an unforgettable and unique experience and to exceed your expectations.
Eye-to-Eye on a Baja Whale-Watching Cruise
Our trip started with a night in La Paz, Baja del Sur's capital city, which is on the Sea of Cortez side of the peninsula. My mum and I had flown in to Cabo International airport a day before the trip started and spent the night in Todos Santos, on the west coast of the peninsula. If you arrive on day 1, then you are met at the airport and transferred to the included hotel in La Paz. After meeting other guests, and our three hosts at dinner at a local restaurant, we turned in, looking forward to a two-day pre-cruise land-based trip across the peninsula to the Pacific Coast to see the gray whales and their recently born calves in Magdalena Bay.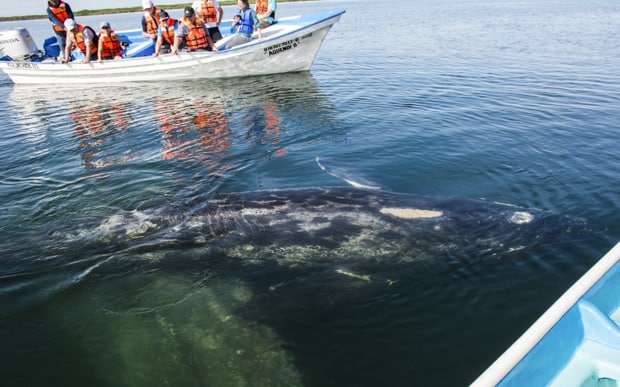 Nothing compares to having a 40-foot long, 30-ton gray whale introduce her two-week-old calf to you. I can't imagine ever topping that.
Bill put it well when he said the gray whales really do their part in getting things off to a good start. I like to think I've had more than my fair share of incredible wildlife encounters in my life, but nothing compares to having a 40-foot long, 30-ton gray whale introduce her two-week-old calf to you. I can't imagine ever topping that.
One of the great things about visiting the gray whales on a Westward trip is that you get to go twice, each time avoiding the busiest time of the day. You go out once in the afternoon after lunch, when most people on day trips, who left La Paz before the crack of dawn, are coming back. We left La Paz at a more social hour after a leisurely breakfast. The journey to Magdalena Bay takes about 4 hours in an air-conditioned van.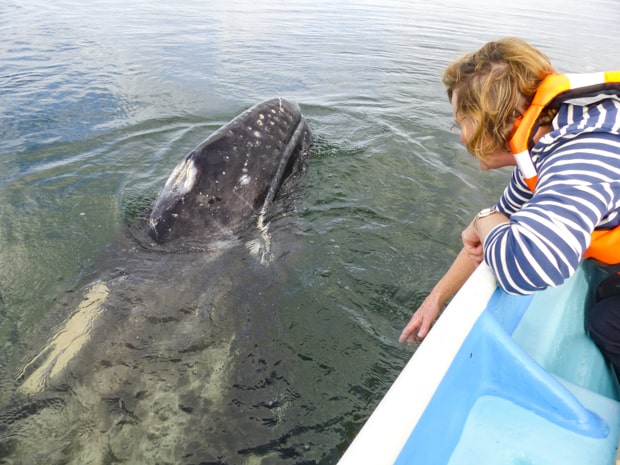 Our first outing in the afternoon took us out to the mouth of the bay where we were surrounded by male gray whales spy-hopping all around us. Spy hopping is when a whale rises and holds a vertical position partially out of the water, exposing its entire rostrum and head. They do this to get a good look at their surroundings. There were too many whales to count. It was exhilarating being out in the sea amongst them in the rolling waves, a stark contrast to the calm, millpond waters of our second outing the next morning.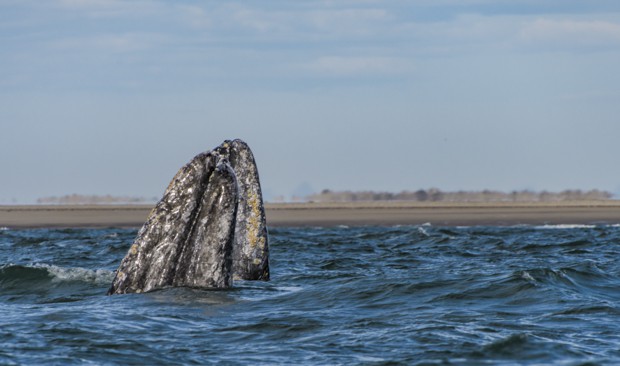 We spent the night in Lopez Mateos, in a hotel by the backwaters of the bay that had great bird watching from the deck of our room. Spending the night there meant we were the first to get on the water the next morning, ahead of other tourists who were still making their way from La Paz on day trips. This time we were lucky enough to have a friendly encounter with a cow and her calf. After a number of whale sightings that didn't involve whales coming to the boat, finally a mother pushed her calf towards us, encouraging her little one to say hello. The calf excitedly bobbed up and down, enjoying the attention, while mom kept close by, occasionally spraying us when she sighed.
The eye-to-eye silent communication was visceral and moving.
The eye-to-eye silent communication was visceral and moving. As there were only 6 of us on a boat with the capacity of 18 and no other boats around us, we all had plenty of time to meet the mother and calf. After half an hour or so, other boats started to show up and it was time for us to let others have the chance to meet the whales. We were certainly happy travelers—Captain Bill too, saying everything from here on "was gravy" with such elated guests—and we hadn't even got on his ship yet.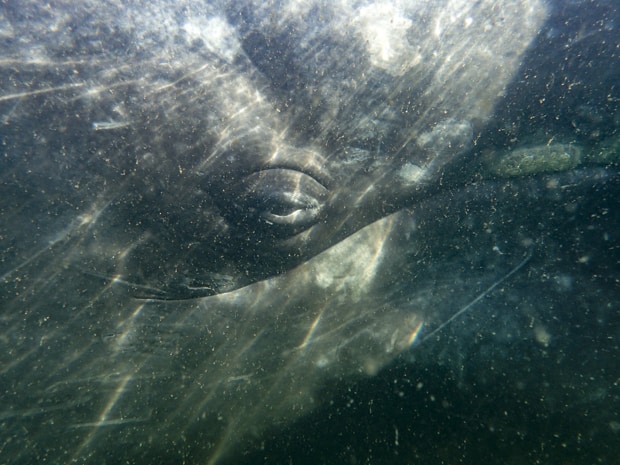 Getting My Heart Rate Up Swimming with Whale Sharks
Little did we know that this was only one of several close wildlife encounters we would have. At dinner in a restaurant in La Paz the following night Bill announced that we would be going on an unplanned excursion before we embarked the Westward the following day. We were to go swimming with whale sharks. Carlos was great at tempering expectations, just as he did with the gray whales, so we were all excited when we came across several of the giant fish that were hoovering among clouds of plankton and algae.
After all this we could hardly believe we still had a week of adventure ahead of us. The first three days had already knocked it out of the park.
We were provided with snorkeling equipment and wetsuits and soon were given the green light to jump in the water and swim with them. Some were 30 to 40 feet long.It was quite different to the gray whale encounters, more a feeling of adrenalin than connection, but equally unforgettable. After all this we could hardly believe we still had not even seen the Westward and we still had a week of adventure ahead of us. The first three days had already knocked it out of the park.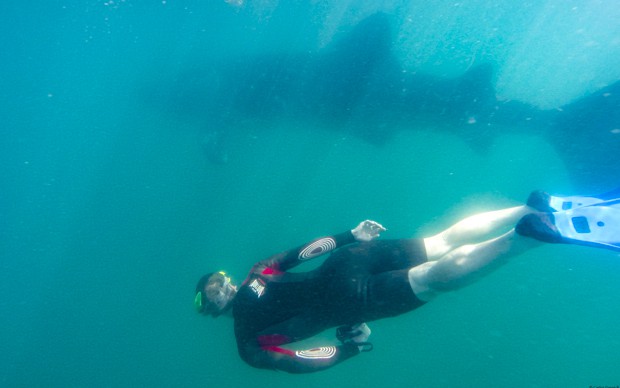 The Westward: The Epitome of Small Ship Cruising
The Westward has four staterooms on the lower deck. The identical cabins are outfitted with a double and a single bunk, a settee, sink, toilet and shower. The cabins each have three portholes that can be opened for ventilation. Being at waterline they are naturally cooled by the water. There are fans you can use to keep the air moving. There's no air conditioning on this boat. Instead the night's sea breezes cool you. There's no cruising at night and the generators are turned off, leaving the sounds of the sea free to lull you to sleep. On this boat you hear and feel the wilderness around you.
Bill is an entertaining and charismatic captain. One night he read to us from John Steinbeck's Log from the Sea of Cortez.
The Salon, as it is called, has a fireplace. I think that says it all! We had fires on the cooler nights. February is Baja's coolest month and isn't as warm as you might expect. It wasn't cold, but you needed a couple of layers when underway on deck. We enjoyed after-dinner fireside chats with Bill about the history of the boat and Baja. One night he read to us from John Steinbeck's Log from the Sea of Cortez. He is an entertaining and charismatic captain and his presence, along with Tracie and Carlos, really made this cruise special. You spend your days with them, you eat with them and you are made to feel like their valued guests. You just don't get that connection with the crew on larger boats.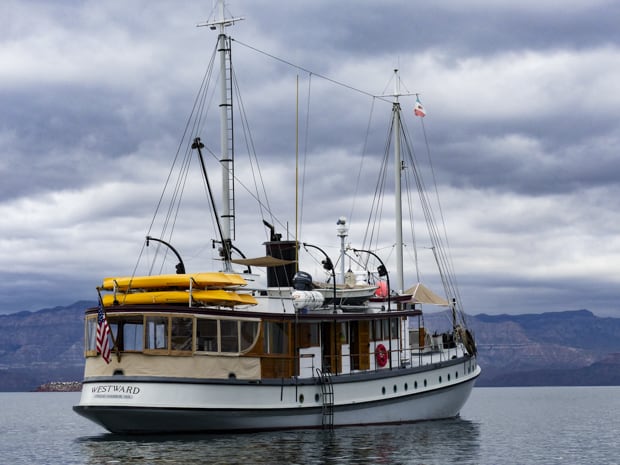 This is the personal touch that smaller captain-owned-and-operated vessels can provide in abundance. They gently share their experiences and knowledge with you and they are equally interested in you. It works both ways. Carlos's guiding style is organic and natural—a great quality for a naturalist guide! He is incredibly knowledgeable and a charming fellow to boot. He is also an accomplished photographer and shares his photos with you at the end of the trip if you aren't inclined to take photos or if you aren't that great behind a viewfinder. He was also kind enough to show me how to dive for scallops, which we ate for dinner.
Fresh Picked & Expertly Prepared Food
Which brings me to the food. This was hands down the best food I've ever had on a cruise, and I've been on a few. It was delicious, varied, fresh and healthy. Dishes were supplemented with freshly picked greens from Tracie's onboard garden on the roof of the wheelhouse. The dishes were perfectly portioned, so you enjoyed every bite of every night's three courses, all paired with wines from the Westward's varied wine selection. Tracie was happy to share her trade secrets with us all and welcomed us into her efficient galley if you wanted to see how she did it all. If you have any dietary requirements you'll be taken good care of and be asking for her recipes when you disembark. Bill and Carlos act as her waiters, theatrically announcing each course before serving you. Every dinner was a special occasion thoroughly enjoyed by everyone.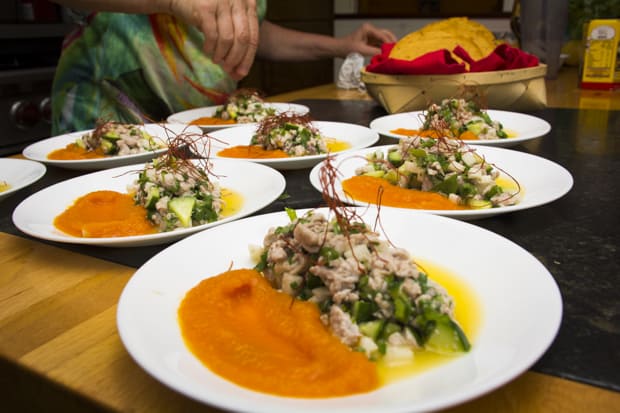 Walking the Perfect Line of Relaxation & Adventure
But what of the activities on this cruise? We hiked, kayaked, stand-up paddleboarded and snorkeled. I haven't yet mentioned swimming with sea lions. That this experience is relegated to third place after the gray whales and the whale sharks says lot about this trip! We also took a few Zodiac cruises to see sea turtles and a frigatebird colony. One of the many wonderful things about being such a small group was that going on excursions was very relaxed. The call to prepare to disembark would usually come from Bill or Carlos with a simple "Shall we go?" No designated time, no designated Zodiac. When everyone's ready to go, you go. It's very simple and unscripted.
This is a true unscripted small ship cruise; our small group of 8 doesn't overwhelm a deserted beach or cove.
Then there's the benefit of maintaining the sense of wilderness and the personal attention of the guide with a small group. A group of 8 doesn't overwhelm a deserted beach or cove. The places you visit on the islands and the peninsula are unscripted too. Bill and Carlos keep their eye on the weather and finger on the barometer; they choose the activities and places you anchor to give you the best experience possible. They have it all very well dialed.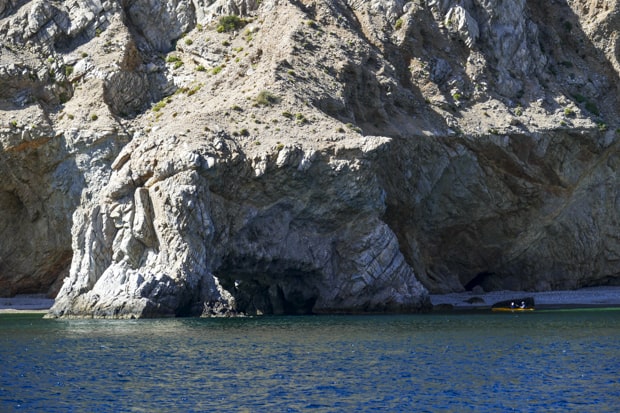 For example, one day we kayaked downwind along an incredible coastline on the eastern coast of an island that had towering arches we could paddle through. The Westward motored down the coast to pick us up so we didn't have to paddle back, into the wind and waves. We hiked up arroyos and around giant cactus gardens on Santa Catalina Island. We snorkeled a couple of times, although Carlos said the best times to snorkel are later in the season, in March and April, when the water is warmer and clearer.
We visited a small fishing community and learnt about the recent efforts to encourage sustainable fishing. The Westward had established a supportive relationship with the fishermen; bringing them freshwater and buying fish from them. One night we had a small bonfire on a secluded beach. Tracie made us s'mores with marshmallows made from scratch, which we enjoyed under the stars. I particularly enjoyed taking my 70-year-old mother (sorry Mum!) paddleboarding for the first time. She nailed it!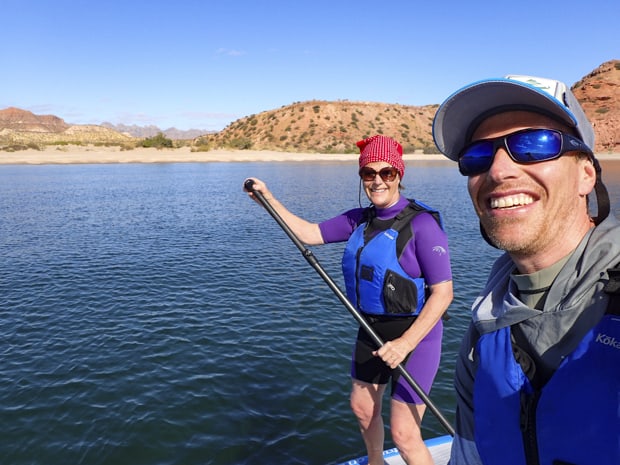 Mother & Son Bucket-List Checks
Between our off-boat excursions we cruised the Sea of Cortez, soaking in the beauty of our surroundings. I found it remarkably relaxing. It is a rugged and wild place and the scenery is stunning. The jagged peaks of the Sierra de la Giganta on the Peninsula were dramatic in the low morning and evening light. I enjoyed the relaxing pulse of the Westward's old engine as we cruised and looked out for whales and dolphins.
Westward realized my lifelong dream of spotting a blue whale, and for my Mum, it got her closer to her goal of doing 70 new exciting and adventurous things in her 70th year.
Westward has a two-person bench on the large bow deck which was a wonderful place to soak it all in. We saw bottlenose dolphins that appeared at the bow. On our way to San Catalina Island we spotted sperm whales, identifiable by their angled spouts. On our way to our final anchorage we saw blue whales, identifiable by their tall straight spouts that can be 35 feet high. It has been a lifelong dream of mine to see these huge creatures—the largest animals ever to have lived. Once Carlos had verified that the spouts I had spotted were indeed from blue whales, Bill changed course and we got close enough to see their mottled blue backs and get a sense of their 100-foot-long glory.
My Mum had the idea of doing 70 new exciting and adventurous things in her 70th year. Going on the Westward got her much closer to her goal in the space of 11 days. I think we should continue the theme and go on the Westward in Alaska. If you're looking for a little adventure and wilderness from your vacation, then you should sail on her too. You'll be so glad you did.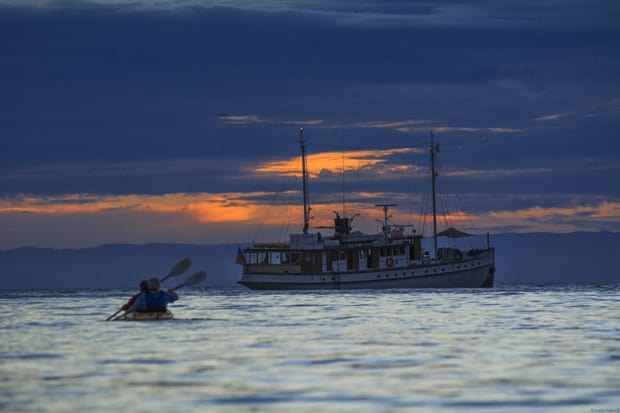 For more photos from this trip, including cactus, whales and epic Baja scenery, view my Baja Facebook album on AdventureSmith Explorations' Facebook page.
This Baja cruise review was written by an AdventureSmith Explorations crew member. Read all AdventureSmith Expert Reviews for more trip reports. For dates, rates and booking information on this trip, see Westward Voyages in the Sea of Cortez, or contact one of our Adventure Specialists to learn more about our small ship cruises and wilderness adventures: 1-800-728-2875.