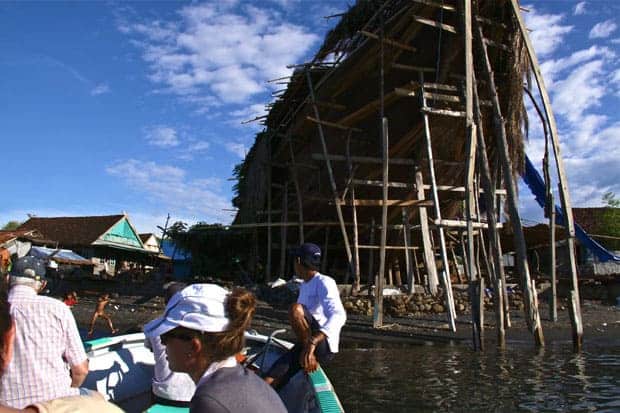 A few months ago, guests on the Sailing Indonesia: Bali, Komodo & Flores cruise were treated to a very special experience… witnessing the launch of the pinisi ship Al Fatah in the village of Wera on the Indonesian island of Sumbawa. This island is well known in Indonesia for its boat builders, who custom craft vessels by hand right at the shoreline and then launch them. Very little has changed over the centuries with this process. AdventureSmith Operations Manager Chris Harter and his wife, Alanna, got to climb around on this very ship while it was under construction last year, and many of our travelers on the same itinerary over the past three years have been able to see it in various stages of construction. Below, we detail a bit more about the ship, and Chris offers up a firsthand account of his time visiting the village. All accompanying photography is from Chris's visit last year, and be sure to watch the drone video footage of the launch at right via this link: The Grand Pinisi Boat Launch.
The Grand Pinisi "Al Fatah"
The vessel's name, Al Fatah, means "opening doors." It's the first time a boat of its size (150 tons, 98 feet long, 36 feet wide) has been built in the Wera shipyard. Six main boat builders spent 1.5 years on the project, using Sulawesi ironwood as their primary material. When launched, Al Fatah came in at a cost of $250,000 US dollars to build, with a 800-ton cargo capacity that she'll utilize once she's fully outfitted for work on the high seas.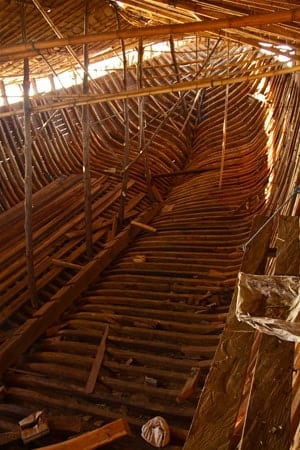 Visiting Wera Village – A Firsthand Account from AdventureSmith
AdventureSmith Operations Manager Chris Harter went aboard the Ombak Putih on the Sailing Indonesia itinerary in April of 2014. Below are his words on the experience of seeing the Al Fatah in Wera:
Before anything else we saw the ships of Wera. From a long distance away that was the very first thing we could make out as the bows towered high over everything else in the village. Once ashore we were able to climb scaffolding and ladders to take a closer look at the beams and structure of a vessel still in the works. What struck me most when inspecting the shipyard was that each and every piece of wood used in building the frame of these vessels were unique. The workers were taking large pieces of hardwood and carving each one into a custom fit for each adjoining piece of wood. It was as if we were visiting a shipyard with master craftsmen from a time long, long ago when there were no power tools or prefabricated woods.
I've really never seen anything like it before, and don't expect I ever will again.
They have been building vessels this same way for centuries, and in that time have elevated their work into an art form. I've really never seen anything like it before, and don't expect I ever will again. And by the reaction of the villagers in Wera it was clear they have rarely seen anything like our visiting group in their bright clothes and fancy cameras that were wandering around their streets. After spending time in the shipyard area we were free to wander the streets for an hour or so, which provided a wonderful opportunity to meet and interact with the families and children. Having traveled several times to Indonesia in the past, it wasn't lost on me how difficult these types of places are to access, and in large part, that is exactly why this visit, and this trip, are so special.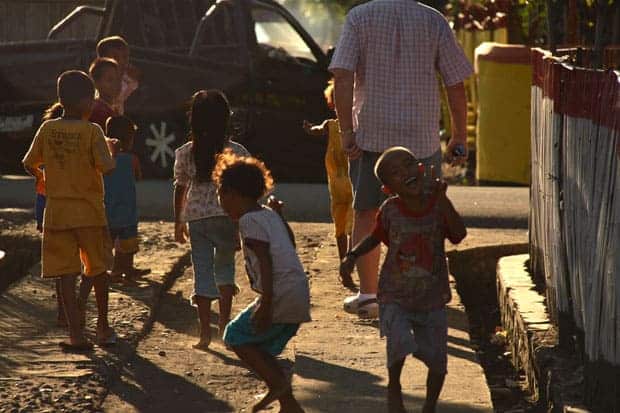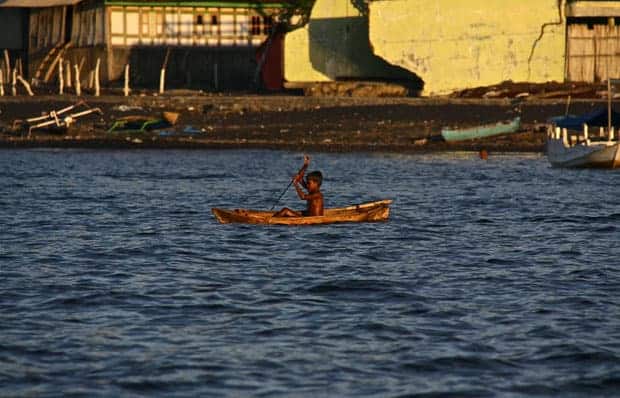 This Indonesia small ship cruise expedition report was written by an AdventureSmith Explorations crew member. Follow @adventure_smith on Instagram for more live updates from the field, and read all AdventureSmith Reviews for more trip reports.