AdventureSmith's Lis Larson shares her insight from Sailing Indonesia's Undiscovered Frontier aboard the 24-guest Ombak Putih. Learn her insights on the various routes and the highlights of a Sulawesi cruise and get inspired to cruise Indonesia.
Sulawesi Is Off-the-Map, Remote Indonesia
If you want a real, raw and a true cultural and nature-focused experience of remote Indonesia, this is the trip for you. The large island of Sulawesi is, like the trip name says, a mostly "undiscovered frontier" for travel, and it's a place that is far from sugar-coated for your arrival. But that's what makes it so charming and each encounter so special. Most places we visited on this itinerary were not even on the map of Sulawesi on board, so I had fun drawing out my own as we went. It felt like a true exploration, but with amazing local guides who made us feel safe and informed, kept us active and translated for us along the way. Being able to connect with so many local residents through their translation was a big advantage of choosing this trip since English is not spoken widely in this region.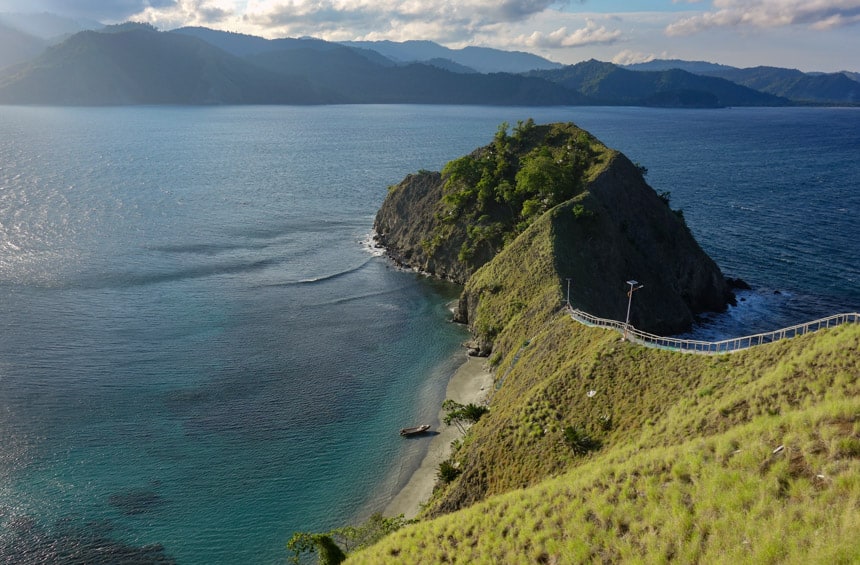 Choosing Your Cruise Itinerary: Birds-of-Paradise vs. Komodos
I sailed the Corals, Cultures & Dragons itinerary, which positions the ship from the Northern Sulawesi down to Flores. This route spans around 1,000 nautical miles over 14 days—equal to the coast of California, or the full length of Baja California. While I've driven both of those coastlines, I've never sailed that far, so it truly was a special experience to travel by sea over such a distance. I'd recommend this Corals itinerary for those who don't mind some extra time at sea and want to see more of Indonesia efficiently. This "positioning" route occurs only once each year and takes you on a rarely traveled stretch of Indonesia, finishing with the grand finale of Komodo National Park and the lush, volcanic landscapes around Flores. From there, it's a quick domestic flight to the hub of Denpasar, Bali.
Alternatively, the main Undiscovered Frontier 14-day itinerary sticks to northern Sulawesi, Halmahera and other islands in the Moluccas (Spice Islands) and has several departures each year. This would be a great choice for travelers who have perhaps already seen Flores, or plan to travel there afterwards (I'd suggest the Bali, Komodo & Flores Cruise). You'll spend the same amount of time on the ship as the itinerary I sailed but travel over far less of a distance and be able to seek out more birdlife: namely, the famed birds-of-paradise. Either route you choose, you can't go wrong as this is truly a solid ship, crew and operation. It really just depends on your overall travel goals and timing, which the AdventureSmith team can discuss with you when discussing your overall Indonesia travel plans.
Local Guides & Likeminded Passengers
Our two guides aboard, Arie and Kees, were simply amazing and became our friends over the week as you eat your meals with them, learn from them on excursions and during evening lectures. Likewise, all fellow passengers became friends. We were all active, inquisitive travelers who truly enjoyed seeing the real Indonesia. And notably, many of the passengers were repeat-cruisers. This ship and its parent company is just that special that travelers want to return. Aboard with me were a few two-time cruisers and one couple who was on their fifth sailing!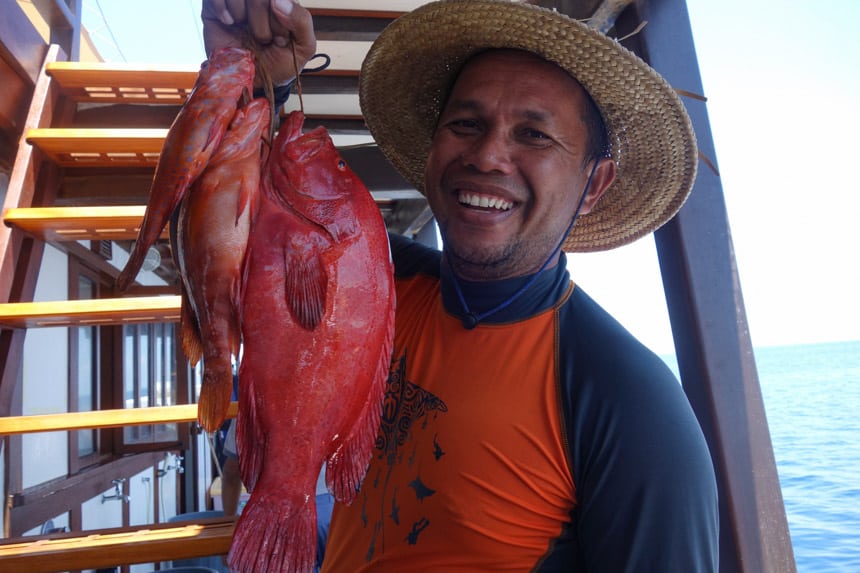 A Note About Relaxation & Cruise Length
What I love about small ship cruising in general that was never more true for me than on this trip is that you have such a strong connection with the outdoors. It feels like camping—rather, glamping in the case of the Ombak Putih and Katharina ships—as so much of your time is spent outside looking at the horizon, the moon and the ocean. Watching the night clouds move in the moonlight is a relaxing picture I still carry with me to this day from this cruise. In my journal on day 7, I noted how happy I was that I wasn't packing my bags/thinking about the trip back home. I think the length of this trip is really quite ideal to do Indonesia justice, and to truly unwind and relax. And with all your meals expertly prepared and fresh smoothies served to you after excursions, you can very easily do just that.
I think the length of this trip is really quite ideal to do Indonesia justice, and to truly unwind and relax.
Activities, Agility & Aesthetics Aboard
Aboard Ombak Putih and Katharina, you are off ship typically twice daily, and mostly for snorkeling and village visits (not a lot of heart-pumping activity). We did a bit of light hiking, on varied/sometimes steep terrain, e.g. lava, rocks, some concrete steps, and took kayaks and stand-up paddleboards out one day. And I'd say that the ship itself is best for the surefooted as there are steep stairs between the decks and no public restroom on the main deck so guests must return downstairs to their cabins a good bit. All of it is part of the charm of these traditionally built ketches, and a feature that should not deter you but instead encourage you to book a cruise on this ship. They are truly works of floating art as the gorgeous ironwood and meranti interiors are not just for show; the nails, stairs, cabin walls, mast and even the tracks that your bathroom door slides on are all wood. Yet there are all the creature comforts modern travelers have come to expect as well: hot showers, daily maid service, in-room USB chargers, fine linens, etc.
Underwater & Other Indonesian Animal Highlights
Underwater headliners were giant clams, sea turtles, rays, eel, colorful fish, grouper or dugong (hard to say what I spotted) and even some reef sharks. Manta rays can also be encountered on this itinerary, but my cruise did not see any due to some full-moon tides that made the current too strong to swim in the areas they frequent. We also had the incredible opportunity to snorkel with sting-less jellyfish – an experience I will never forget!
Above the sea, I was enchanted by the experience of seeking out the famed light-pink-chested maleo bird, where we had to climb up into a tower and be very silent as we watched them dig out their nests in the sand. We also spotted nobbed hornbills, flying foxes sleeping in trees, water buffalo, Timor deer, macaques and of course the largest lizards on earth: the Komodo dragon. Did you know that 10% of an adult Komodo's diet is its own babies? Be sure to pack your binoculars as there is a good amount of wildlife to spot!
Conservation in Action & Sights of the Real Indonesia
Nothing on this trip was insulated or designed for tourists, and that's a good thing in the end for a healthy worldview of our planet in my opinion. The snorkeling areas are not famous nor pristine (we saw evidence of dynamite fishing, overfishing and unfettered resort growth) and you WILL absolutely see trash in the ocean and on the shorelines. One would think this is not how someone would like to spend a vacation, but I have come home feeling like I really saw how Indonesians are living, for better or worse. And I carry this with me to be an agent of change in the world around me. This is the core essence of traveling the world – to become aware of the greater world around us. The little luxuries on this trip combined with these real-world experiences make this a truly unforgettable journey that's one of a kind.
Nothing on this trip was insulated or designed for tourists, and that's a good thing in the end for a healthy worldview of our planet .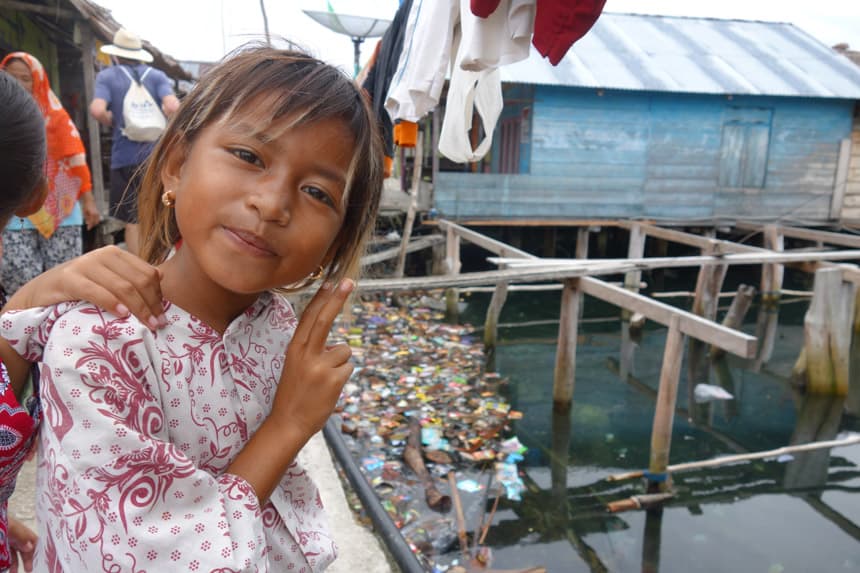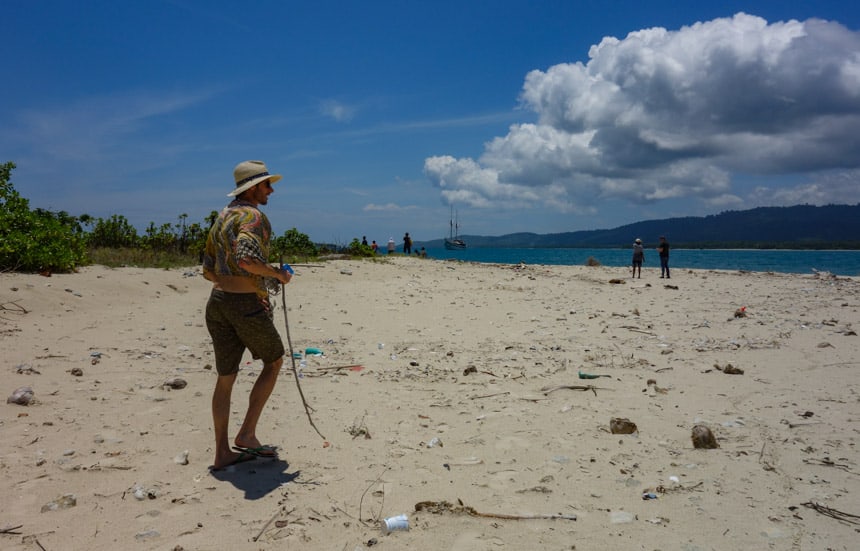 Aboard this trip, you will learn about threats to the seabirds you will see: loss of habitat, over-fishing and dying in nets via bycatch. You will learn about the challenges the Komodo dragon faces: loss of prey and mass tourism. And you will be taught how to be a responsible, respectful visitor by the guides aboard, who themselves are locals active in conservation. Our guides took us to visit a giant clam restoration project, to a Bangaii cardinal fish hatchery and to a protected nesting zone of the maleo bird. We were told of the dangers of tourists seeking those close-ups with Komodo dragons. Even something as seemingly simple as a wildlife selfie can promote the type of tourism that is ultimately harmful for these endangered creatures. Not every conservation effort we saw was flawless; sadly, the giant clam area we snorkeled in had debris from a local construction project's waste. But I was very impressed to see how our guides handled each situation: with concern, transparency and a plan for action if anything we encountered went against their company's goals (the ships' parent company SeaTrek Sailing Adventures is a member of Signing Blue, a WWF-Indonesia initiative for responsible marine tourism).
I Saw More Tourists in Antarctica
True statement. And I even had WiFi in Antarctica on my Antarctic Express Air Cruise, which I did not have here. It's an interesting juxtaposition of place to think about, but I should note that in Antarctica you don't see other living, working humans (just your fellow ship passengers and a few researchers) like you do in Indonesia. Even in other locations in Indonesia vs. Sulawesi, it's rare to visit villages so far off the map that the locals haven't seen tourists before.
And the kindness and curiosity of the people we met was really special. Out of my two weeks on the ship, there was only one souvenir for sale that I came across: a beautiful hand-woven and embroidered cloth on Wakatobi Island. Certainly, nothing was sugar coated for our arrival and that's what made it so special. Each day that we pulled into a village, our guides would go ashore in person to connect with the town's chief to ask permission for us to stop in. The answer was always yes, and that first contact was always in person. No radios, no fanfare for our arrival. Just casual walking of streets, playing an impromptu volleyball match with the local women, stopping in classrooms, meeting who we met each day and, of course, inevitably at each village, holding hands with the local children who wanted to walk us around.
My Sulawesi Cruise Review Takeaways
The key to preparing for this trip is to know that it's an entirely unique, uncut adventure each time, but there will always be a cultural/snorkeling focus. You are sailing along the famed Wallace Line, which has deep roots in natural science history, yet the region is almost entirely void of tourists so you have an Indonesia travel experience that's like stepping back in time. It's far from what the typical traveler sees, and especially unique that you're sailing aboard a ship like the Ombak Putih or Katharina, steeped in local culture and history yet complete with serious comforts (cold towels and smoothies upon return to the ship). Get ready for an adventure you will not forget!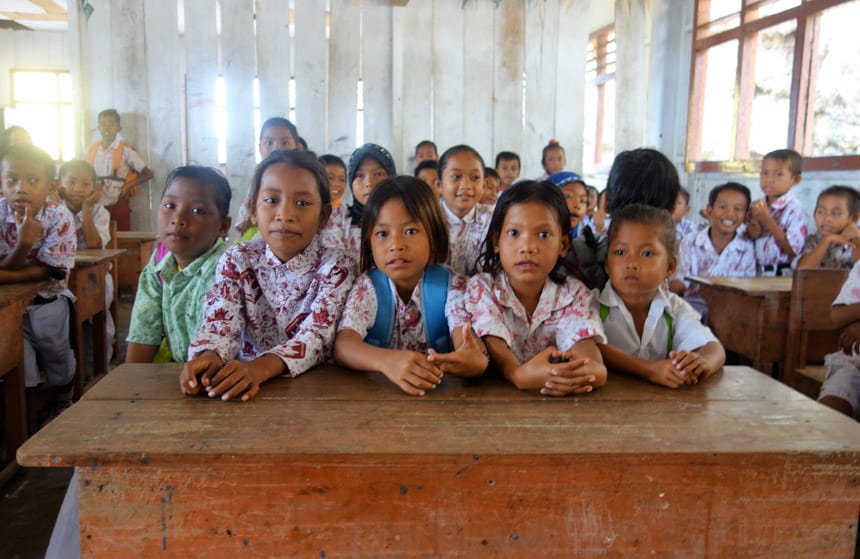 Travel Logistics & Other Insider Tips for Indonesia Travel
There are water-bottle filling stations at the Denpasar airport (DPS), both in the international and domestic terminal areas, but the domestic terminal surprisingly had better shops for souvenirs.
Prepare for flight delays on your domestic flights around Indonesia. And there are typically no gate agents there to provide info, so you just wait.
The ship offers lightweight rashguard tops on board, but I was happy to have my shortie wetsuit with long sleeves. The water was surprisingly much colder around Flores, and my suit offered added protection from the small plankton (sea lice) that can sting sensitive skin.
Be flexible & open to the unknown!
This Indonesia cruise review was written by an AdventureSmith Explorations crew member. Read all our Small Ship Cruise Reviews for more trip reports, or contact one of our Adventure Specialists to learn more about these small ship cruises and wilderness adventures: 1-800-728-2875.