AdventureSmith Explorations Founder and President Todd Smith reviews his stay at Chile's Explora Atacama. Read on for his expert review and photos.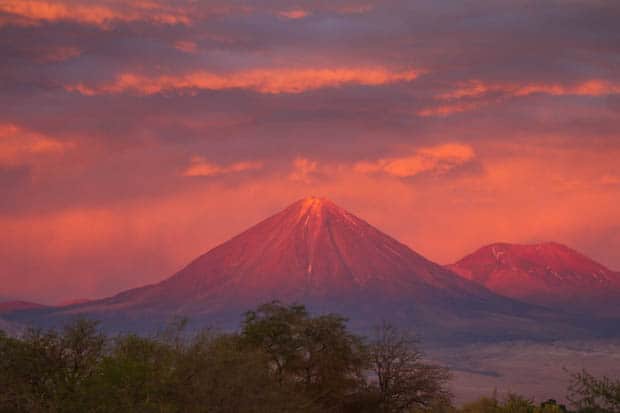 Although Atacama is the driest desert on Earth, one sees the presence of water everywhere. The landscape is covered with deep gorges, wide arroyos, vast salt flats, spires and fins of rock towering over the sandy desert. It must have taken eons to shape this starkly beautiful landscape. I had four days to explore it.
The Atacama Desert has enough to offer to make it a standalone trip, but most travelers from North America will combine it with a larger Chile itinerary. Flights arrive from Santiago at the copper mining town of Coloma, a 2-hour flight from Santiago. The quaint town of San Pedro de Atacama is another hour's drive north. On the private transfer from the airport another guest commented about the altitude, and we later learned that the road traverses over 12,000 feet before arriving to the lodge at about 8,200 feet above sea level. Upon arrival at Explora Atacama Lodge I was greeted warmly by the friendly staff and quickly introduced to the guides.
The size of the guide's area at the lodge indicated right away how important active exploration is. Just beyond the spacious lobby, lounge and bar was a large operations desk, numerous small meeting tables each adorned with a map of the region under glass and a wall of route descriptions with elevation profiles and distances. Nearby is another large meeting room with a screen for evening programs and an interpretive wall worthy of a national park visitor center.
My week's activities focused on highlights of the Atacama Desert that would acclimatize me to the high altitude required for a 18,000-foot summit attempt.
I was advised to return at 5pm for a briefing and was shown to my room. After a relaxing dip in the pool and hot tub I surveyed the thoughtful architecture of the lodge before visiting the bar for a welcome drink (alcohol is included in the price at Explora lodges). One of the guides, Luis, soon found me and ushered me to one of the glass tables to outline my adventures for the days to come. "What do you want to do?" he asked. "What is there to do?" I replied. He then rattled off a dizzying array of options (there are 41 distinct adventure activities to choose from) before probing me further for my interests. "You look like an active traveler," he surmised, "would you like to try to summit a volcano before the week is out?" "Sounds great," I answered, and with this goal in mind he drew a grid on the glass table where we outlined activities that would include many of the highlights of the Atacama Desert while at the same time acclimatizing me to the high altitude required for a 18,000-foot summit attempt.
Explora Atacama Lodge
The Explora Lodge in Atacama, like all Explora lodges in Chile, is deeply rooted in the environment, culture and history of the place. Modern yet rustic architecture accents sweeping views of nearby desert and distant volcanoes. My spacious room was halfway between the lodge and the pool area and overlooked horses grazing in a picturesque field with a dramatic mountain backdrop. The extended lobby has several fireplaces always crackling against the evening chill. Indoor and outdoor dining options feature delicious cuisine inspired by local traditions but with an elegant, international flair. Most impressive is the dedicated guide areas with a garage-like closet full of packs, trekking poles, sunscreen, snacks and a huge water dispenser to fill stainless bottles to keep thirsty travelers hydrated in the desert climate. Each evening the guides gave an educational and entertaining lecture in the library. One evening the program took us to the private telescope where we gazed at stars and distant galaxies. The food and service are five star and make any stay absolutely worth it. But it is the guides and the adventure that truly make Explora Atacama unique.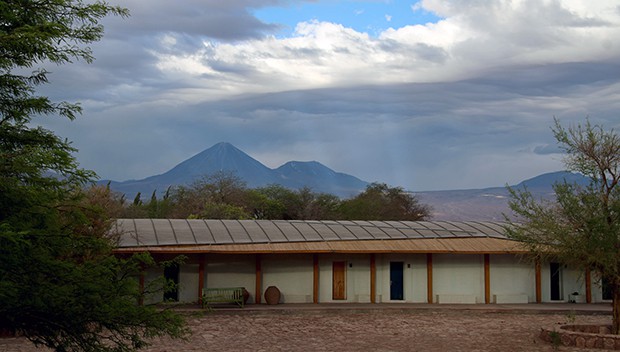 Guatana Puritana Hot Springs & Valley of the Moon
My first acclimatization hike was to the beautiful Guatana Puritana canyon and hot springs. The hike reached an elevation of 11,145 feet and the reward was well worth the effort. Our hike began with a slight rise among stereotypical desert landscape with tall barrel cactus and breathtaking landscapes. We soon descended into a dramatic rock gorge filled with pompano grass taller than our heads. A clear stream ran through the gorge and to our surprise the water was warm! We hiked up the gorge, in places needing to use our hands and feet to scramble over rocks where the cliff walls came close to the creek. Some in our group needed frequent stops to catch their breath at this altitude, but soon we sighted the hot springs in the canyon above us. The reward for our effort was a soak in a warm pool at the Puritana hot springs. Because the land surrounding the springs is owned and conserved by Explora we were treated to a secluded pool complete with picnic snacks, cold drinks and a private changing area, away from the crowds of locals and tourists. We returned to the lodge for lunch and had time to relax for our afternoon/evening activity.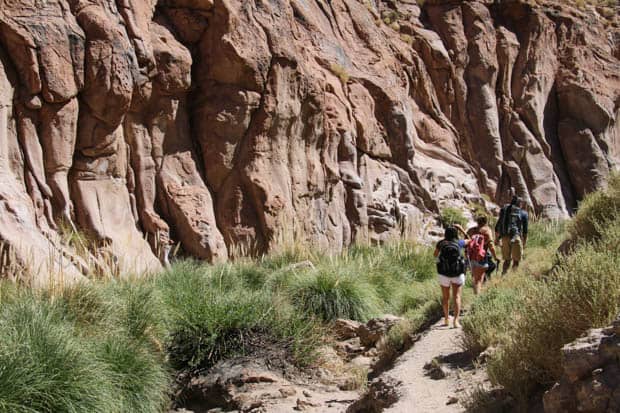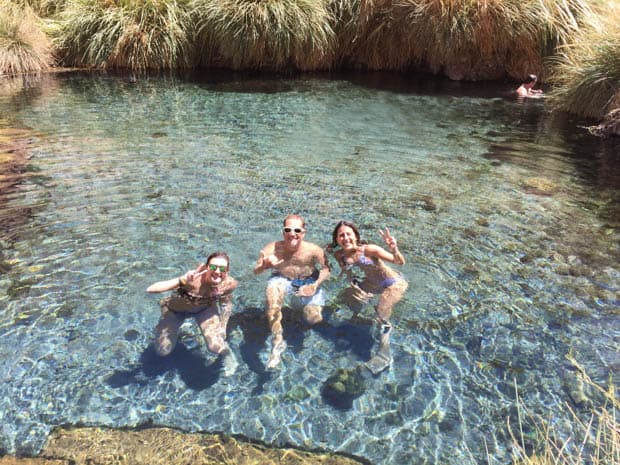 The Valley of the Moon was one of the most dramatic landscapes I encountered in the Atacama Desert. The name suits it well, as the ever changing rock, sand and desert landscape seemed out of this world. We began by ascending a large sand dune punctuated by huge rock outcroppings. At the top we were treated to sweeping views over a strange lunar-like landscape. Across a gorge we could see about a hundred tourists at the popular nearby lookout; however, we had our vantage point all to ourselves. We then descended into an area where conspiracy theorists suggest the USA filmed the 1969 lunar landing. Towers of rock rose strangely from the sand creating an unearthly environment. We hiked one last dune and watched a blazing sunset over an amazing landscape. Finally, we ran, jumped and practically sand skied down a huge dune to where our Explora van was waiting with cold juice, beers and snacks—a ritual we would come to enjoy and even expect in the coming days.

Biking to Laguna Cejar & Death Valley Dunes Hike
Today I chose a mellow bike ride to Laguna Cejar. The ride began right from the lodge and covered 18 kilometers over flat dirt roads. The morning was cool and the scenery was spectacular. Because I was the only person signed up, I got a private tour and my guide and I were able to ride at our own pace.
Laguna Cejar is a popular saltwater lagoon that is home to flamingos. One of the two lagoons is deep enough for swimming, and reaches an astounding 16 meters deep. Because of the 85% salt content, swimmers float high on the surface of the water; the sensation of floating is very unusual, but the cold water means most swimmers don't stay in for long. Another group had just left so we had this unique desert swimming hole all to ourselves.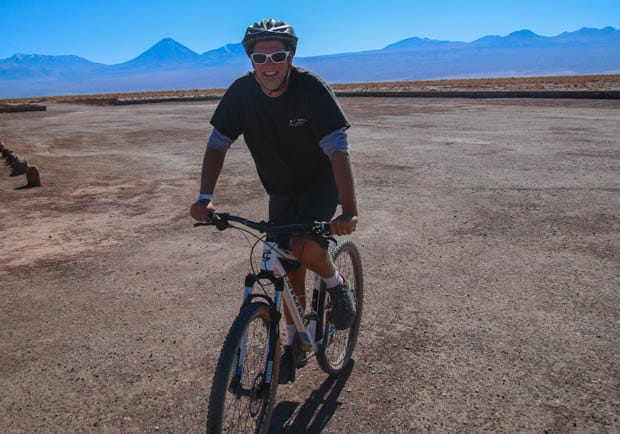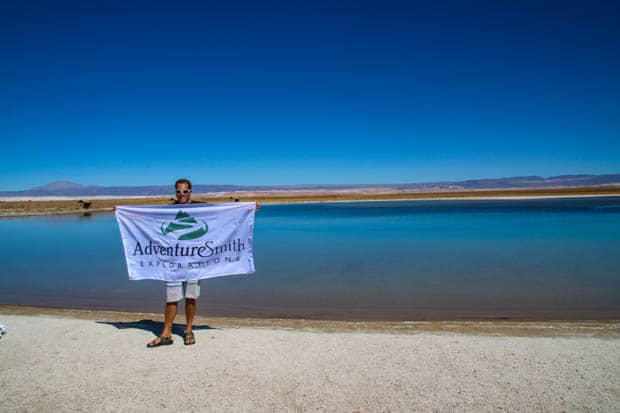 The evening hike took me to Death Valley and indeed it reminded me of Death Valley in California. We walked high on a ridge above a dramatic gorge full of huge dunes and rock formations. We could see sand boarders, like tiny ants below us, hiking the dunes and using snowboards to descend the slopes. It looked like a lot of work, and again we were separate from this crowd by the exclusive Explora guided routes. The hike concluded with our own steep descent down hundreds of meters of fine sandy dune. We took of our shoes and enjoyed the massage of cool sand between our toes.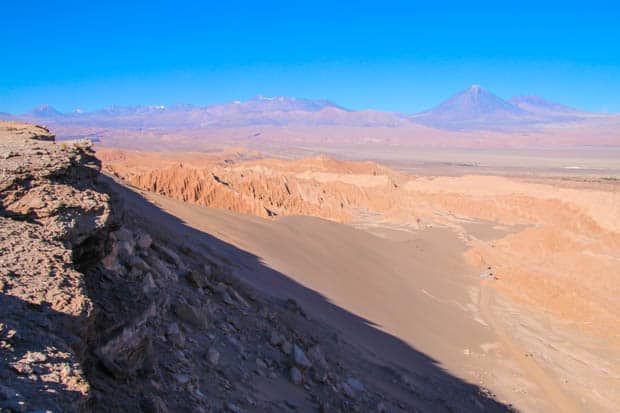 Explora Atacama Activities
There are 41 activities to choose from at Explora Atacama, and it would take a full three weeks to enjoy them all. There is a wide variety of half- and full-day hikes to explore hot springs, geysers, salt flats, lagoons, cactus forests and dramatic desert landscapes. Explora is also famous among equestrians and offers a wide variety of horseback rides for experienced or novice riders. Its rider training program is especially popular with beginners, and expert trainers will have you galloping in no time. More active travelers appreciate full-day hikes, assorted mountain bike rides and the opportunity to challenge oneself by summiting a nearby volcano measuring 15-20,000 feet high. Highlights not to be missed include the Valley of the Moon, Atacama Salt Flat, Tatio Geysers, Puritama Hot Springs, stargazing and the town of San Pedro de Atacama.
Highlights not to be missed include the Valley of the Moon, Atacama Salt Flat, Tatio Geysers, Puritama Hot Springs, stargazing and the town of San Pedro de Atacama.
If one wished to ascend a volcano, as I did, there is a scheduled progression of activities designed to acclimatize the traveler and allow the guides to assess each guest's ability to safely conquer the next activity. The staff of 18+ guides and the company pride themselves on their unique and exclusive routes designed to explore up close away from other groups.
Kulemar Full-day Hike
This was the most stunning scenery of the trip so far, and that is saying something because every day up to then had been spectacular. A two-hour drive from the lodge led us to the high altiplano environment above 12,000 feet. This walk descended into a salt-flat lagoon with flamingos, and other birdlife. Along the way we also saw vicuna, which is a smaller cousin to the llama that thrives in the high-desert environment. A challenging but gradual climb led to 13,779 feet where we ducked behind a rock wall to hide from the cold wind. At the top of the saddle, the view down to the second lagoon was more dramatic than the first with the white and green of the lagoon complemented by a rainbow of rocky landscapes from yellow, orange and red to grey, green and black. With the vivid blue sky above, it is difficult to envision more color in any natural scene on earth.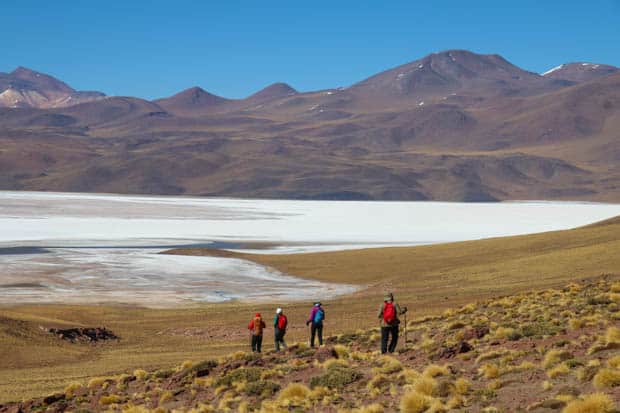 Tocanao & Flamingo Salt Flats
Trying to squeeze as much in as possible, I departed again on an evening activity as soon as I returned from the full-day hike. The evening activity was an easy tour to the nearby oasis town of Tocanao and the Flamingo Salt Flats. Tocanao is a shock of green garden in the lifeless desert. A nearby freshwater spring has been channeled into a shared garden where residents grow mangoes, papaya, guava and other tropical fruits that are known to be the best in the Atacama due to the salt-free water that flows here. A quaint town square and humble church typify Atacama lifestyle, and we stroll the streets and into the garden. After a cool verdant walk, the path suddenly opens into the harsh desert landscape once more where the river runs dry.
We proceeded by van to the Flamingo Salt Flats and received an education on the salty environment and ecosystem it hosts. Harsh salt rock formations stretched for miles, but smooth, easy paths allowed for up-close exploration of the unique landforms. We viewed hundreds of flamingos in nearby ponds, and as the sun set over the mountains, the salt flats and surrounding mountains exploded into a vividly natural polarized light that seemed to glow from within the Earth itself.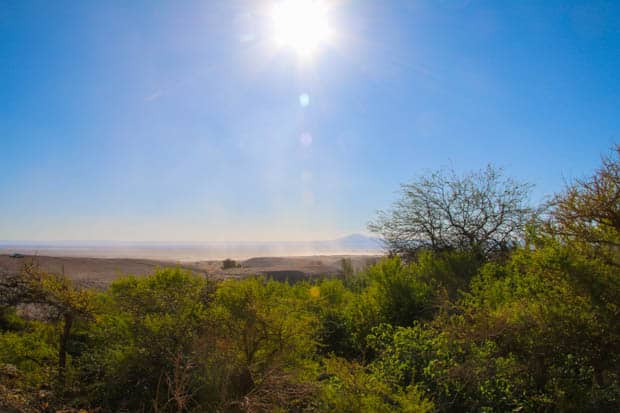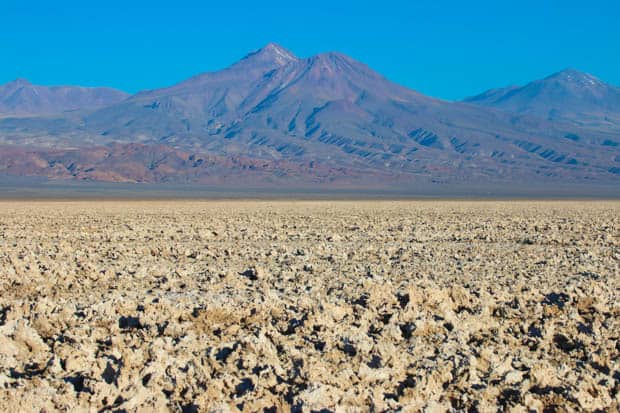 Cerro Toco Sur & Departure
Because I had an evening flight I was able to participate in one more activity and it would prove to be the most exciting and most challenging. Myself and one other active traveler, whom I had become friendly with because she was also on many of my acclimatization hikes, were to summit the dramatic Cerro Toco at 18,386 feet. We departed early hoping to beat the wind, but when we reached the starting point it was quite windy and cold. We didn't let that stop us, and our guide helped us slowly and safely ascend the peak. It took more than two hours to walk the short 2-kilometer rise of about 400 meters, every step a challenge in the thin mountain air. In places the wind gusted at 90 kilometers per hour and sometimes blew us over. Our guide Ignacio "Nacho" prodded and encouraged us until we finally reached the summit. Our reward was a sense of personal accomplishment and inspiring 360-degree views over the entire Atacama Desert, the perfect cone of the Licancabur volcano, views into Bolivia and the ALMA (Atacama Large Millimeter Array) observatory. This type of hike is by no means mandatory, but for me it was the perfect way to end an exciting and active trip to Chile. I returned to the lodge for lunch and a soak in the hot tub before transferring back to Calama for flights to Santiago and back home to the United States.
Our reward was inspiring 360-degree views over the entire Atacama Desert.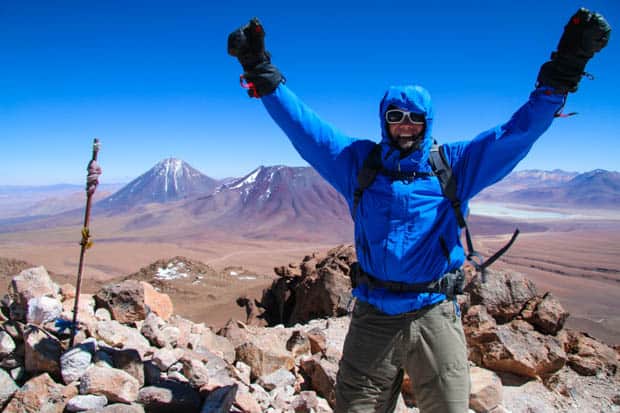 Atacama Is Diverse, Active & Rewarding
If you had told me upon arrival that at the end of my adventure, I would summit an 18,000-foot peak I would have said you are crazy. But that is in fact what happened, and the outstanding guides at Explora Atacama guided my adventure perfectly. The trip flowed with ease, and while it was very active, the lodge, service, spa and food provided the rest and nourishment to keep going strong each day.
It is rare to want to return to a place as soon as I have departed, but this is how I felt about Atacama.
It is rare to want to return to a place as soon as I have departed, but this is how I felt about Atacama. There was so much more to see including the El Tatio Geysers, mysterious petroglyphs, ancient Inca trails and many, many more volcanoes to climb. As I drove back to Calama for my flight home I reflected again on how wind and water sculpted the Atacama over millennia. I contemplated the unexpected heights I had reached only a few hours earlier and smiled, proud of what I had accomplished. I also decided that four days was not enough. I will be back.
View more photos from this trip on my Explora Atacama Facebook album.
This Atacama travel review was written by an AdventureSmith Explorations crew member. Read all Trip Reviews for more trip reports, or contact one of our Adventure Specialists to learn more about these small ship cruises and wilderness adventures: 1-800-728-2875.