AdventureSmith's Chris Harter reports from his time in Chile at EcoCamp Patagonia and on a 5-day Australis Patagonia Expedition Cruise. While the Via Australis is no longer operating in Patagonia, her sister ship Stella Australis offers extensive cruises in the region in a similar style.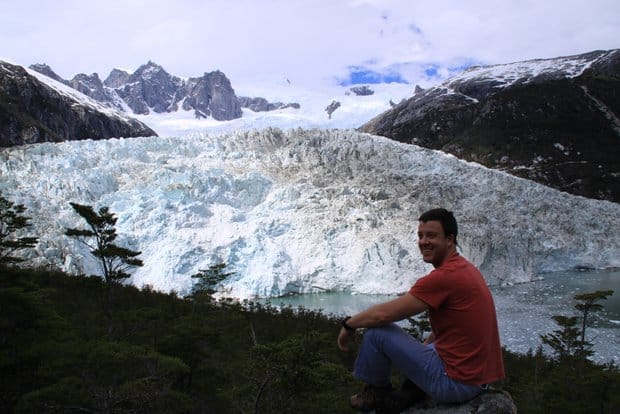 Have you ever looked at Chile on the Map? It's incredibly long with almost 2,700 miles between the northern deserts of Atacama and the island studded coast in the most southern parts of the country. All that north to south distance make Chile one of the most ecologically diverse countries in the world, but with an average width of only 115 miles it packs it's diversity into a very narrow and compact space with the dramatic Andres framing it's eastern boundary and the Pacific coast framing it's western boundary. On a recent trip to our newest and most exciting destination I was privileged to see just how wonderful and diverse this country truly is.

I began my tour in Chile with the requisite stop in and around the Santiago area. Again, because of the narrow width of this country you can see and do a lot in the Santiago vicinity without spending too much time on the road. After a long couple of days inspecting hotels and meeting with local tour operators I was eager to explore. My free time in this central region of the country was spent exploring the largest port of Chile in Valparaiso, the prolific wine growing valleys of Maipo and Casablanca and taking in the all of the charms of Santiago with it's plazas, museums, old colonial architecture, and very distinct barrio neighborhoods. Valparaiso was a lovely surprise, as a walking tour of the city is an open air museum of sorts with incredible murals and sophisticated graffiti presenting itself at every turn.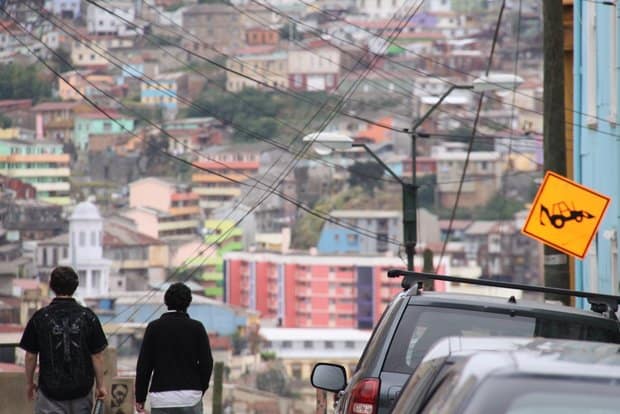 Before returning to Santiago we also managed to fit in a visit to the old, eclectic home of Nobel Prize poet Pablo Neruda. Living in California, I was especially impressed with the amount of wine tours available in the immediate area, and the educational discourse provided while sampling all the incredible Malbec and Carmenere varieties in the region. With it's proximity to the coast, farmlands and wine regions, it's no surprise that Santiago has a great emerging gastronomy scene. And I took full advantage of that scene! Santiago is a gorgeous city made all the more beautiful framed by the Andes rising dramatically as a snow capped wall to the east. It has countless neighborhoods with 32 distinct barrios. Each has unique charms such as the bohemian neighborhood of Bella Vista with it's galleries and sidewalk bistros and bars, the historic neighborhood of Concha Y Toro with it's narrow streets and colonial architecture or the up and coming neighborhood of Providencia with it's boutique shops and upscale restaurants. Santiago certainly warrants a couple days to take in all of this diversity.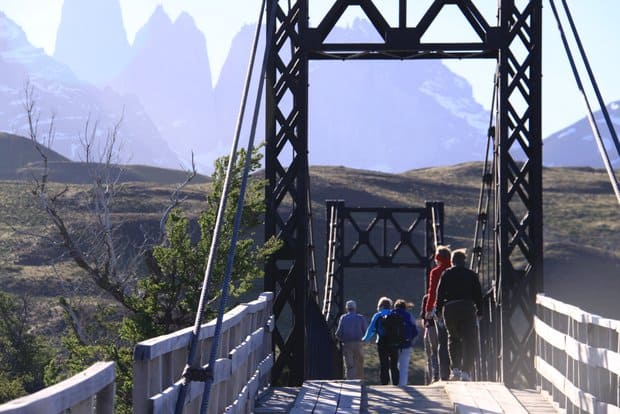 As with any trip, I wish I had more time to explore, but my demands further south in Patagonia required leaving Santiago and all it's charms. I then made my way down the country by convenient flights connecting to Punta Arenas, the gateway for Torres del Paine National Park. Having seen the iconic images of the towering Paine Massif for years in everything from travel brochures to bank calendars to say I was excited is an understatement. Upon arrival we were met and escorted on the long drive north to Torres del Paine National Park and the incredible EcoCamp lodge. Although the drive was long, it was broken up well with lunch in scenic Puerto Natales and a brief hike into a massive cathedral cave where prehistoric giant sloths were found. As we made our way further north and entered the park the mountains gained relief and the excitement grew considerably amongst our group. Arriving at the property we found ourselves in one of the most scenic locations in the world as the EcoCamp property sits directly below the vertical wall of the Paine Towers. After a tour of the grounds highlighting the lodges sound conservation practices we were provided with a safety briefing and operational presentation on the activity options available to us during our stay. I opted for the more rigorous 9 mile hike to French Valley for my first trek the following day with the more leisurely excursion to Grey Glacier the day after that.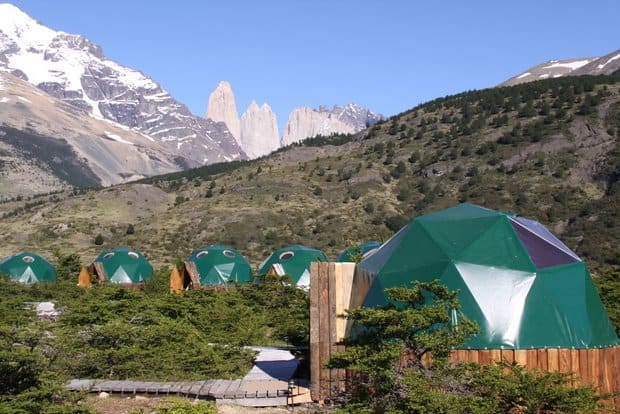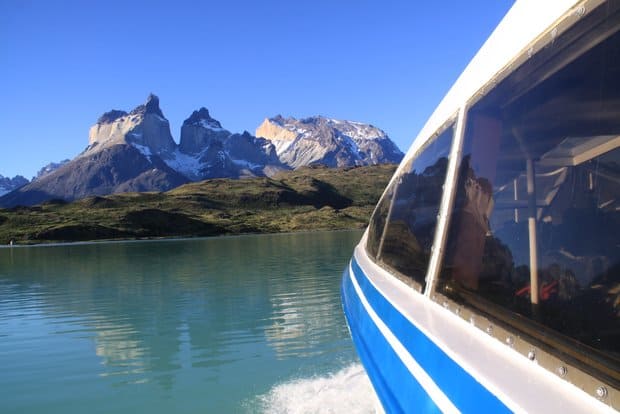 With the many alpine glaciers and significant snow pack at elevation, there are dozens of lakes scattered throughout the park. And accessing the French Valley trailhead required a ferry crossing on gorgeous teal green Pehoe Lake before the hike got underway. These lakes of many green and blue hues became a common theme throughout my stay in the park, and we passed three more lakes during the course of the hike before we arrived at the French Valley, and it's impressively blue hanging glacier. Fortunately, we had enough time to sit and take in this incredible day and location before heading back to the return ferry crossing. Our guides did a wonderful job with geologic and historic interpretation of the area during our trek, and also kept us on task with the trek arriving back in time for a beer with an incredible alpenglow sunset before dinner. As with all of our evenings at the lodge, this one provided an exceptional dinner with local foods and Chilean wines before retiring to our incredibly cozy dome cabins. The only problem with cabins and beds this cozy is it makes getting up a bit of a chore. Thankfully, the incredible staff at Ecocamp makes getting out of bed easy with a stoking of the each cabin's fireplaces and coffee service delivery.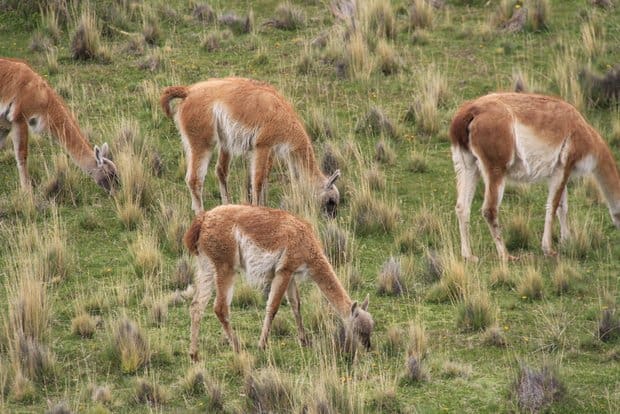 The following day we got underway with a long drive to the most famous waterfall in the park, Salto Cascada. Along the way we were fortunate to see many groups of the llama like guanacos, flamingos, Andean condors and at least one guanaco fox. I did not expect to see this much wildlife! In addition, our photographers in the group were delighted to see galloping gauchos framed with the Paine Massif as a backdrop. Photogenic does little to describe the sights and beauty seen at most every turn. After a short hike to the famous waterfall, we then made our way to Grey Glacier where we boarded a vessel for the three hour sailing to the glacier at lake's end, and along it's 5 kilometer moraine. Having been to glaciers in Alaska, Antarctica, Europe and Asia, I was very surprised at just how impressive the Grey Glacier (more sapphire blue) was. After a very classy cocktail service complete with fresh glacier ice we made our way back to the lodge where yet another outstanding meal was served.

Having a small idea of what was waiting for me on a coastal cruise through southern Patagonia made departing the EcoCamp and it's incredible mountain scenery a bit easier to stomach. Making my way back down to Punta Arenas I had time to explore Chile's most southern town before boarding the luxurious 128 passenger Via Australis for my 5 day cruise ending in Ushuaia, Argentina. After our safety and operational briefing we were introduced to no less than seventeen different nationalities during our festive gourmet dinner seating. The countries represented by passengers on our cruise were impressive, and the fact that crew and guides were on hand to accommodate all of those countries and languages was even more impressive!
Our first landing the following day was in lovely Ainsworth Bay for a hike through many varied ecosystems, including forest, bog, beach and tidal flats. The hike itself was impressive in it's own right, but was made all that more enjoyable with the glaciated Darwin Range soaring above a beach full of the largest elephant seals I have ever seen. That afternoon we again boarded our fleet of zodiacs for an hour cruise amongst the Tuckers Islets where we were able to see and photograph a large rookery of Megellanic penguins, large skuas and the uniquely marked rock cormorants nesting in precarious cliff alcoves. Our first full day aboard provided an impressive display of coastal Patagonian wildlife.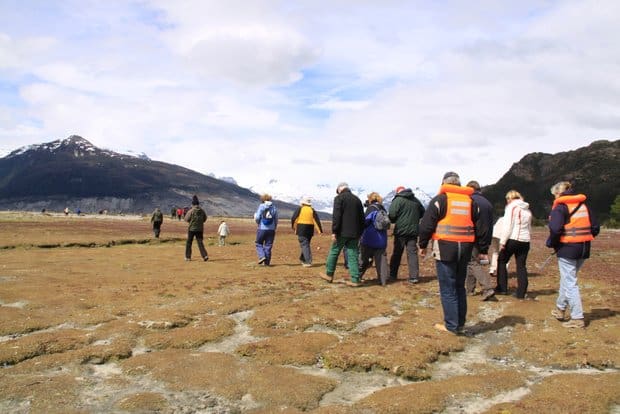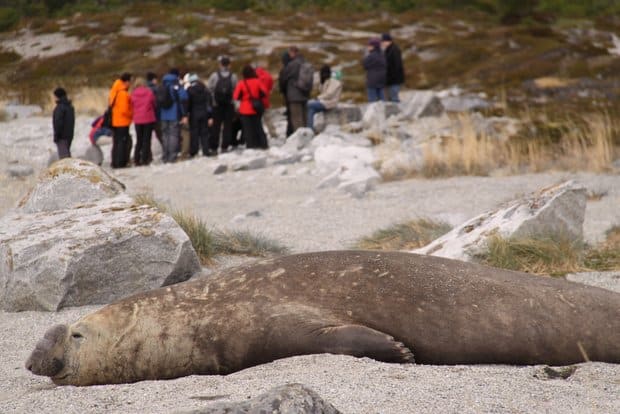 Our next two days provided fantastic hikes and scenery. First, with a hike to observe the actively calving Pia Glacier where the ocean meets with many glaciers, then later our longest hike with historical perspective at gorgeous Wulaia Bay, and finally at the infamous Cape Horn where we navigated steep staircases to access a massive, humbling albatross sculpture monument that commemorates all those lost at sea rounding the notorious horn. The naturalist discourse on our hikes, the on board lectures with slide shows, the fresh cuisine and on board revelry all provided by crew and guides was nothing short of incredible for the entirety of the cruise. Beyond the very capable guides, spectacular food and breath taking excursions and scenery, what also impressed me was the great care that was taken to ensure that safety was paramount to each excursion and the handling of each and every passenger. And this special courtesy was extended to the very end as each of us disembarked in Ushuaia on our final morning for our flights home.

That same care with travelers aboard my cruise was encountered throughout my stay in Chile. It speaks volumes about it's people, and the pride with which they serve visiting travelers. Honestly, I have not been this excited about a destination and it's travel opportunities for quite some time. And I know we have only scratched the surface with many other regions and activities to be enjoyed by our clients. If you have even a passing interest in a future trip to Chile I would be happy to discuss my experiences there, and help you navigate all of the options to develop the perfect trip, a trip of a lifetime.
This Chile travel review was written by an AdventureSmith Explorations crew member. Read all AdventureSmith Expert Reviews for more trip reports, or contact one of our Adventure Specialists to learn more about these small ship cruises and wilderness adventures: 1-800-728-2875.