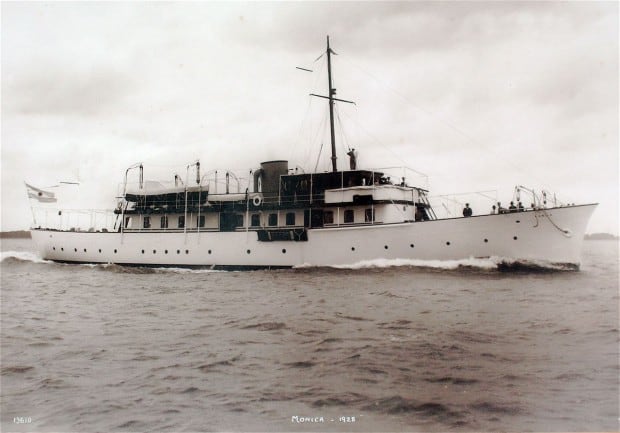 Although M/Y Grace looks as young and chic today as the princess who honeymooned aboard her in the 1950s, she is nonetheless what the French call "une femme d'un certain age."
Although M/Y Grace looks as young and chic today as the princess who honeymooned aboard her in the 1950s, she is nonetheless what the French call "une femme d'un certain age": born in 1928, just before The Crash silenced the Roaring Twenties, she's surrendered none of her youth's glamour to the scars and wrinkles of a gallant life, including a stint chasing submarines during World War II. Combat aged on her, but benefactors like Aristotle Onassis, John Issa, and Prince Rainier ensured she was kept in the style to which she was accustomed. Now, as the M/Y Grace, she plies the waters of the Galapagos Islands, once again the elegant hostess to carefree, adventurous, perfect parties.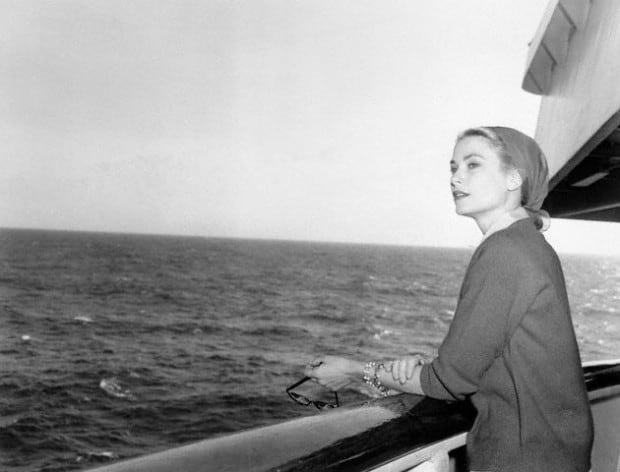 M/Y Grace bore many names since Santiago Soulas, an Argentinean, commissioned her in Southampton. She weighed 298 tons, was 147 feet long, with a 23-foot beam and a draft of 12 feet. Soulas named her after his daughter Monica, and kept her four years before selling her to Zarch Couyoumbian, a Greek gentleman who named her Rion. In 1938, Sir George Tilley, chairman of the Prudential Insurance Co., acquired and enjoyed her until 1939, when the British conscripted her for the war effort.
The War Years
The Royal Navy – well-heeled in warships – needed smaller vessels for coastal patrols and snatched yachts from the Mediterranean and the Caribbean playgrounds. Rion found herself in a Tynemouth shipyard, stripped of her furnishings and paneling. She was strengthened to carry a 12-pound quick-firing gun on the forecastle, twin 40mm Oerlikons alongside the bridge and a rack on the stern holding eight 300 lb. depth charges. The corporate crew quarters were removed and hammock-hooks were welded to the deck. The forward suite became the operations and sonar room, another suite became the radio room, and the aft suite was an ammunition magazine.
On October 21, 1939, she joined the Royal Navy with a crew of 20 under the command of Lt. T. Brydon, RNVR. She and 15 other vessels patrolled the entrances to the Solent and along the Isle of Wight: calm waters with the Germans focused on the skies. On patrol off the Nab Tower, however, a Dornier 110 returning from a bombing raid strafed Rion. She took some damage to her superstructure but suffered no casualties.
In 1940, the yacht made three 39-mile runs from Dunkirk to Dover, each time delivering 300 soldiers.
On May 26, 1940, during Operation Dynamo, Rion was dispatched to the beaches of Dunkirk to evacuate the British Expeditionary Force. She made three 39-mile runs from Dunkirk to Dover, each time delivering 300 soldiers. On her third run, a near-miss from a bomb off her starboard bow killed 14 soldiers and one sailor and left shrapnel holes in the hull. Repaired in Portsmouth, she resumed duty in the channels from Portsmouth to Southampton.
Rion's finest hour came on November 22, 1940 with a daring nighttime capture. She was patrolling south of the Isle of Wight with HMS Shemara and HMS Valera. At 2:44 a.m. radar contact was obtained 10 miles southwest. Lt. Brydon ordered pursuit and discovered a German E-boat floundering in the swells, and Rion and Shemara opened fire from astern of the boat. The Germans returned small-arms fire but surrendered when a shell from Rion hit her bridge. Rion escorted the E-Boat to the Portsmouth Harbour naval base.
Rion had not finished yet: she discovered a submarine on the night of March 23, 1941, and made numerous depth charge runs, but the large oil slick seen at dawn was insufficient evidence to confirm that Rion had destroyed the U-boat.
By June 3rd, Rion's port engine had been crippled, and she was decommissioned for three months before returning to duty: stripped of armaments and refitted with three-tier bunks and a red cross painted on her sides and upper deck, she became an annex to the Royal Navy Hospital. Here she remained until the war's end, when she was rechristened HMS Noir. On October 1945 she was decommissioned and 17 months later she arrived at her original builders—Southampton's Camper & Nicholson—for restoration. On September 16, 1947 she was returned to Sir George Tilley.
After the War: High Life on the High Seas
The royal couple honeymooned aboard the boat along the coasts of Corsica and Sardinia.
Upon Sir George's death in 1951, Aristotle Onassis' charter firm acquired HMS Noir and renamed her Arion. Two years later, the yacht became property of Prince Rainier and Princess Grace of Monaco as a wedding gift from Aristotle Onassis. The royal couple honeymooned aboard the boat—which they christened Deo Juvente II—along the coasts of Corsica and Sardinia. They kept her until 1958, when a Monegasque businessman purchased her and renamed her Daska.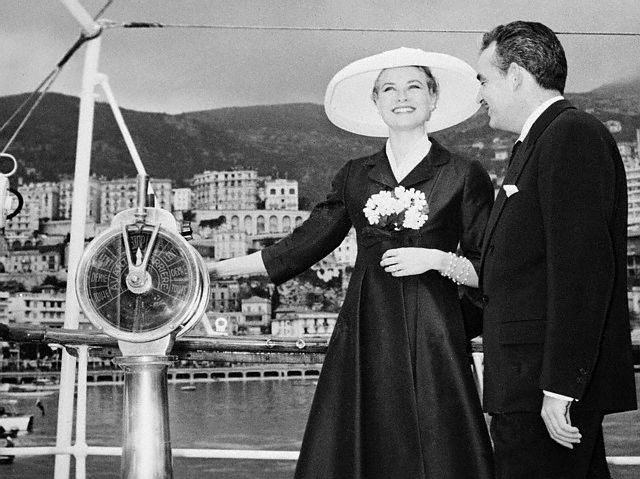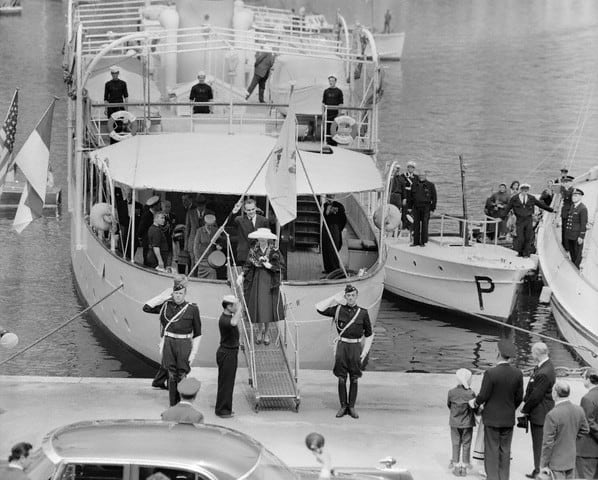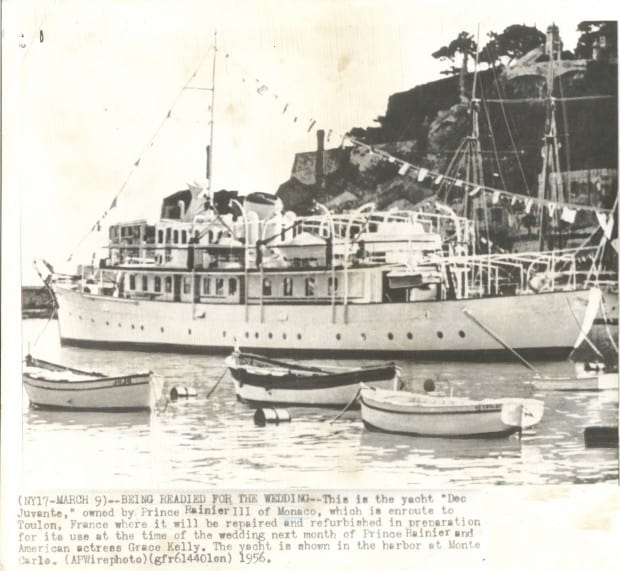 Crest Shipping's charter business brought her to the Bahamas in 1960. In 1965, she joined Cove Shipping in the Caribbean as Angela, headquartered in Montego Bay. She again became Daska in 1983, before seizure by the Jamaican government for non-payment of taxes. She languished in Montego Bay until 1985, when John Issa, chairman of SuperClubs, discovered her at auction. Thoroughly refitted in Tampa, Florida, she cruised along the East Coast, bearing the name of one of John Issa's daughters: Zein.
M/Y Zein arrived in Negril for the opening of Grand Lido Negril in 1989 and remained there until 2006, tempting buyers from around the world, including Paul Allen, co-founder of Microsoft, who hoped to use her as a shadow boat for his mega-yacht. In 2007 Quasar Expeditions acquired the M/Y Zein and rechristened her the M/Y Grace: a name that would take her back into her history, to her most elegant times. Over the course of the next 2 years the yacht was refitted to embark her new era as one of the most elegant and tasteful yachts to sail the enchanted Galapagos Islands.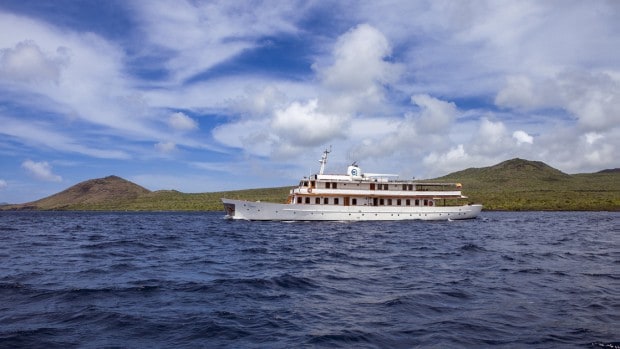 To sail aboard this historic ship today in the Galapagos Islands, visit Grace Galapagos Cruises for more information and booking details. This blog detailing the history of the M/V Grace is among AdventureSmith Explorations' extensive travel resources. The Grace is on our curated list of Galapagos Luxury Cruises and is perfect for a full boat charter, read more about Galapagos yacht charters. Read all our Galapagos Cruise Reviews and worldwide cruise reviews for more trip reports, or contact one of our Adventure Specialists to learn more about these Galapagos cruises and wilderness adventures: 1-800-728-2875. Visit our Small Ship Cruise Guides page for even more tips and inspiration to plan your small ship cruise.