AdventureSmith's founder and president, Todd Smith, interviews the captain aboard the now-retired Coral Expeditions II during his family's Great Barrier Reef Cruise in Australia. Learn about captaining a Great Barrier Reef small ship, including the currently in service Coral Discoverer. Read our guide to the best Great Barrier Reef Cruises.
I have worked for many captains as a naturalist and guide and Captain Gary Walsh immediately struck me as a captain that I would want to work with. A naturalist himself, Captain Gary knows a lot about the area he sails and is passionate about giving his guests the best possible small ship cruise experience through the Great Barrier Reef off the Northern Coast of Australia. From my experience working with many captains over the years I have surmised what makes a great captain, and Captain Gary fit the bill. As a nice, worldly and approachable guy he made not only the wheelhouse, but the entire Coral Expeditions II ship an ideal place to be for a curious, nature-focused traveler like me to be.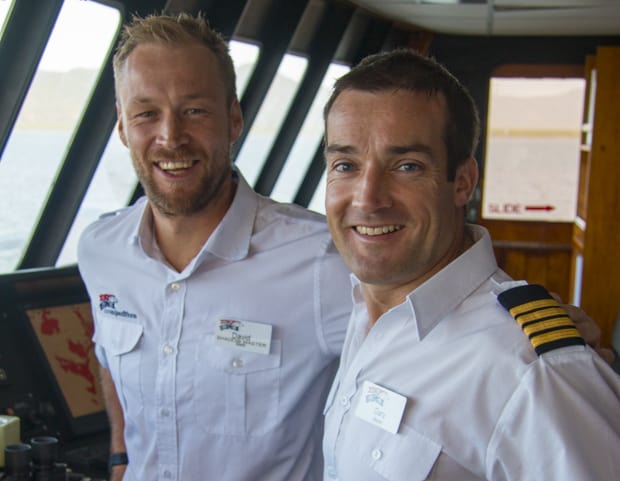 With all my time spent aboard small adventure ships, I have learned that often the best place to be on a small ship is in the bridge with the captain and crew, and this is a tip I recommend to all small ship cruise travelers – get up there and hang out, don't just stop by. When you spend time in the bridge you get the opportunity to witness how the captain is constantly looking for and finding interesting wildlife.
Often the best place to be on a small ship is in the bridge with the captain and crew.
This certainly was the case with Captain Gary Walsh. He would point out flocks of birds as indicators of whales, various changes in currents and how that affects feedings of fish and would constantly be looking out for reefs – the safe havens to hordes of sea life. Spending time in the wheelhouse with great captains such as Gary, provides travelers, such as myself, the incredible opportunity to become better naturalists, offers special insights about the area we are traveling in and gives us a behind-the-scenes glance into the operations of these unique voyages.
When a captain is so focused on providing a quality guest experience it permeates throughout the ship, and because this was true of Captain Gary, our time aboard was truly special. I just had to sit down and chat with the source of this experience to find out more about Captain Gary Walsh.
How did you become the Coral Expeditions II's captain?
I'm from the South West of Ireland. A place called Cork and I guess, I've always had the sea in me. I started sailing when I was young and I've always been involved in diving and the sea. I was a diver coxswain in Ireland. When I came to Australia, I worked with a number of dive operations out of Cairns and I drove a number of charter vessels. To progress my career, I wanted bigger tonnage vessels and Coral Expeditions II was a large tonnage vessel. An opening presented, and I applied and got it.
How long have you been working for Coral Expeditions?
On and off, all around about 6 and a half years. I worked for Coral Expeditions for a year as master and then I moved around to the different vessels, worked on Coral Discoverer, master on Coral Expeditions I, and I've been back here on Coral Expeditions II for the last year.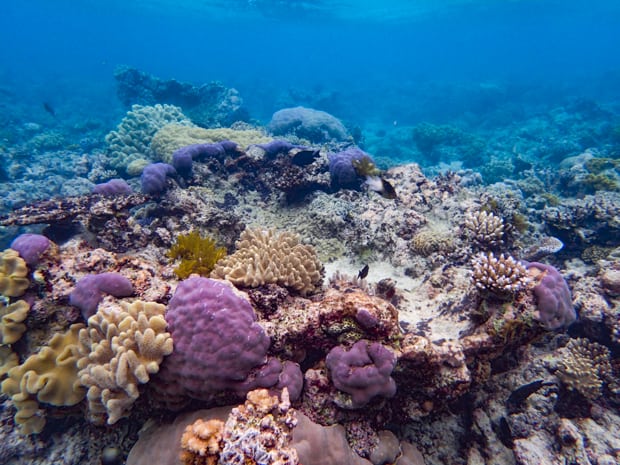 What's your favorite thing to show travelers in the Great Barrier Reef?
I like showing them some of the reefs you can't access from a day boat or from another vessel. I like going to the places the others don't go to. Like on this particular trip, Ribbon Reef #9 is right up there and it's a remote sort of diving and snorkeling. It is out of the way of all day boats making it a little bit more remote. It's on the Continental Shelf and it's cracking diving, that's what I like to show. On our Southern trips, there are a number of reefs which are similar. Definitely out of the way of everybody, you won't have traffic out there. They are difficult to get to, but obviously we have the means to get to those places. I also like on the Great Barrier Reef that we can go from a mangrove or a rainforest walk to an outer reef in one day. That's unique.
What's the most unusual thing you've seen on Great Barrier Reef cruises?
The people are unusual (laughs). But on the actual reef itself, I have seen a Potato Cod on Ribbon Reef #10 almost eat a Cuttlefish. A Potato Cod, what is it? You call it a Grouper where you come from. Big fish. We call them Potato Cod and Cuttlefish is like a squid, a large squid. Cuttlefish is sitting there doing its thing, minding its own business. Potato Cod comes up behind it about to eat it, I thought "wow this is fantastic." Massacre, right in front of my eyes. The cuttlefish inked the Potato Cod, covered it in a cloud of black ink and bolted. Just disappeared, boom! Gone. It took the Potato Cod maybe 10 seconds to even realize what had happened and then off he wentthinking " I got inked by a small squid the other day. That's cool." Yea, it was neat. I've never seen that before.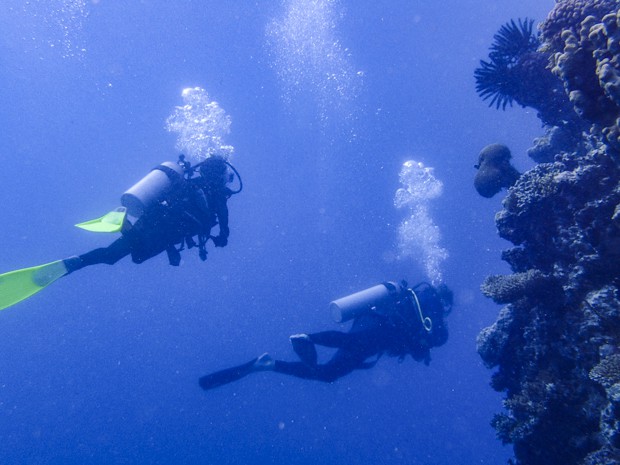 What are your thoughts on the state of the Great Barrier Reef?
What can I tell you about the reef…I think the message for us, and we are learning also, but I think the message from us is something that the world maybe doesn't know through media, is that the Great Barrier Reef has had a lot of regrowth and although it has had bleaching events in the past, which has affected it greatly, there is regrowth and there is still pristine reef, is it still the Great Barrier Reef. It is still something that is fantastic and will continue to be. I think the most important thing I know about the Great Barrier Reef is that it's surviving and that it's continuing and it's regrowing. And it's still a fantastic place to come on holiday.
What do you think travelers should bring with them on a Coral Expeditions II cruise for the best experience?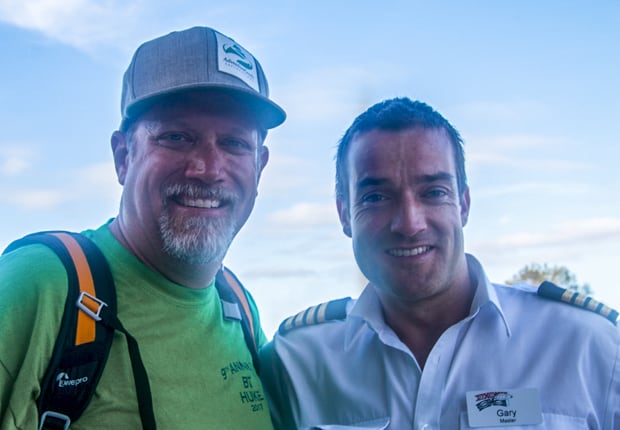 Be familiar with the equipment that you might use. It's a good idea. For travelers, they don't bring equipment, but even something as simple as bringing a mask that suits you, that fits you, that you're comfortable with. It makes a little bit of difference when you're actually doing the thing. With the waves or whatever it is. It's nice to have something that suits you and fits you well. It's like wearing a pair of trainers, isn't it. If you rely on someone else's trainers then your run won't be quite as fantastic. But if you're used to something it makes a big difference. I think for people traveling here, they all use our equipment, and that's absolutely perfect, but maybe if they have somethings that suits them specifically, that might help them enjoy the reef a little bit better. It could be the difference.

Is there any reef or Australian slang that you'd like to share?
To the reef specifically, little lumps of reef they call them Bommie's (from the aboriginal word Bombora). When I came here to start, I thought what the heck is this Bommie business? It's just a little bit of reef, so say something that might be 30 meters in diameter, if it comes up to the surface, that would be a Bommie. Not a reef itself, but a little piece of a reef that's a Bommie. That's a good one that they use all the time that I see. In some of the briefings and dive writings, they will talk about Bommie. The crew will talk about Bommie and you will have some people scratching their heads thinking "what's going on there with that Bommie?"
What do you like to do when you aren't aboard the Coral Expeditions II?
I have a 1.5-year-old so I spend a lot of time playing with him, I like mountain biking and trail running. I love the rainforest, so much. I spend a little bit of time at the reef, but I love the rainforest far north Queensland. It has lovely waterfalls and trails and fantastic mountains and living up here allows you to explore that stuff all the time.