We all know the power of travel, that is why we are frequently sharing, planning or reminiscing about a travel adventure. But often we forget the nitty-gritty logistics that can steal from our desired experiences of meeting new people and visiting new places. Here at AdventureSmith Explorations, we have done our homework enough to know there's an easier way. How? Travel by small cruise ship.
The variety of experiences offered by a small ship cruise leaves us fulfilled, relaxed, satisfied and ready for the next trip. These transformational travel experiences emerge from not only the water below—with the ability to travel alongside the likes of dolphins and whales—but also above deck with like-minded travelers and incredible guides. Read on for our top reasons on why to travel by small ship.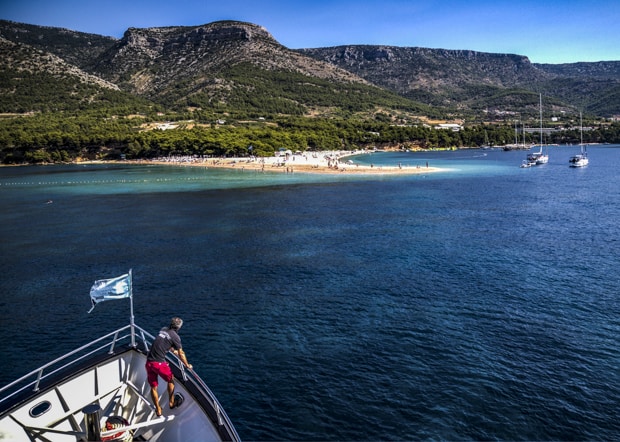 Unpack One Time
One of the biggest hassles of traveling is the constant unpacking, repacking and searching to find that one item that you need in a darkened piece of luggage. Imagine only unpacking one time into nice compartments in a built-in dresser in your cabin. Only having to do this once, you now can read your book, learn about the local culture or look for wildlife off the bow. An additional advantage: you don't even have to carry your luggage on board; it's placed in your cabin when you embark.
Logistics-Free Adventure
Travel is full of decisions: what should we do next? Where should we go next? Eat? Stay? And if you're in a big group, forget it. Two thirds of travel can be taken up deciding and searching. What if instead of this back-and-forth your captain sailed you to all the best spots, with the best food, and the biggest decision you must make is over a croissant or bagel for breakfast. For big groups and the indecisive, ship travel can be an adventure saver.
Relaxing Transportation
You may think this is an oxymoron, as travel usually includes stressful train stations, taxis, car rides and/or buses but relaxing transportation does exist! On a ship, you get to kick up your feet, read, sleep, grab a drink or even in some cases ease into the spa while puttering onward to a new epic location.
Meals Are Catered, Authentic & Varied
The incredible chefs aboard small ships know how important food is to guests, and the small number of passengers means the chefs can source local, fresh and high quality ingredients. Think fresh fish from Alaska or uniquely prepared Ecuadorian locro de papa soup in the Galapagos Islands.
No Money, No Worries
Even if you're not on an all-inclusive ship, charges are always settled at the end of the voyage, creating a worry-free atmosphere where you never need your wallet or tips at the ready. On select vessels, tips are even included.
Extraordinary Experiences
Small ships allow ordinary travelers to have extraordinary experiences. The logistics of kayaking in front of a glacier, snorkeling with sea lions or riding a small craft among whales can be challenging, if not impossible for day-trippers who have less time to explore a place. Ship travel makes these experiences safe and accessible, with a glass of wine and a hot shower to boot.
Unique Vantage
Looking at shorelines from the outside in offers a unique view of a place. It makes you feel like you are a part of the wilderness, linking you to the landscape. Plus, many of us spend most of our time on land, yet so many of us are drawn to water. Traveling by small ship can offer a variance to our daily life by giving us the experience of living on water.
Avoid the Crowds & Access Hard-to-Reach Places
No one likes to travel in an overcrowded location, but we often do it because the place is just that cool (ahem Taj Mahal). Fortunately, there are so many unbelievable places in the world the crowds just can't get to—and many are only accessed by water. Ship travel makes these expeditions possible, and the only likely heavy population you will see will be the massive penguin colonies in Antarctica or the other-worldly marine iguanas of the Galapagos.
Get Up Close Worry-Free
Aboard a ship, you can get close to things like glaciers, whales and wildlife while being safe and contained. This is great, especially for families. You are no longer in charge of worrying about packing lifejackets or what's around the bend in the trail. On a small ship you are in the hands of experienced experts who know the location in depth. This doesn't mean you should stop using common sense, but the general anxiety around travel can be lifted. Parents, you can rest a bit more easily.
Active Travel
You may think that traveling by ship would mean a lot of lounging. While that does happen, travel by small ship can offer all sorts of interesting dynamic activities. Canoe up an Amazonian tributary, swim through a cave to a special swimming hole in Indonesia, kayak near an Alaskan glacier or snowshoe to a penguin colony in Antarctica.
Variety of Activity
Not only is there a variety of activities, but also the activities are tailored for varying levels of movement. Short hikes, skiff rides and beach walks are available for the less mobile, or those who just want a relaxing day. More challenging options, such as lengthy guided kayak tours or ridgeline hikes, cater to the more active passengers, or those who need to burn off the breakfast bacon. This creates an excellent opportunity for families of different generations, movement capabilities and interests to enjoy their vacation together.
Educational Travel
Aboard a small ship where guides are near-constant companions, your experiences are continually being enhanced with education. The question ventures from where do I find an excellent guide to what kind of guide experience do I want to have? The 18-guest Tucano cruising in the Brazilian Amazon hires guides for their authenticity, skills and knowledge from growing up in the rainforest, whereas National Geographic ships offer highly educated, highly trained naturalists boasting specialization in certain fields. No matter what you choose you will walk away more informed, energized and excited to share your knowledge with everyone back home.
Sunrises & Sunsets
No matter where you go when you are traveling by ship you are not just viewing but are also within every sunrise and sunset as it reflects upon the water around you. Just imagine the long five-hour sunsets and sunrises that can be experienced at the tips of the earth in Antarctica and the Arctic.
Connect with Shipmates
Ship travel offers unique opportunities to meet like-minded people. People that don't like to whale-watch, hike and kayak are not going to be on your small ship cruise to Alaska; they might be on the bigger ships but not on your adventure cruise. Due to the size and intimate nature of small ships, it is easy to find opportunities to meet compatible friends. Who knows, on your next small ship cruise you may even meet your new favorite travel buddy, even your soul mate.
Go Where Everyone (will soon) Know Your Name
We all love when the barista remembers our coffee order, and this can actually happen on a small ship as well. When traveling with the same people over a period of time, time is spent getting to know the crew and vice versa. A personal experience is created every time the restaurant staff greets you by name and knows your dietary needs or when the bartender has your preferred wine ready to pour.
The Guides Are Your New Best Friends
The friendships you form with guides aboard a small ship is amazing. It's like a summer camp for adults, as one of our travelers put it. Your guides are on board taking in the sites with you, often eating at your table and of course out on every excursion, which means endless learning and many new friends made. This camaraderie can have a more bespoke feel on a ship like the 40-guest Aqua Mekong with celebrity chef and naturalist guest hosts on select departures, or can be really camplike with the fun, adventurous group of guides you often meet on expedition vessels in Antarctica and Alaska.
Digital Detox
None-to-little WiFi can give us a much-needed screen break. Technology has permeated so many aspects of our life that taking a break can be a healthy opportunity. Small ship travel is often to remote places, so while some ships offer WiFi, many vessels have none at all, including no cell service. At sea, you can truly reconnect with your natural surroundings. Less looking down at status updates and selfies equals more time for spotting whales, dolphins and unusual birds.
Need More Reasons? Ask Us
At AdventureSmith Explorations, our crew loves sharing the transformational travel experiences available aboard small ships, so contact us to receive a personalized small cruise ship recommendation. Our founder started as a guide on a small ship in Alaska and learned firsthand how powerful the voyages were for passengers and wanted to translate this form of travel to other incredible destinations. Many years later, AdventureSmith offers small ship cruises and land extensions in more than 20 destinations worldwide, showcasing myriad climates, cultures, flavors, wilderness experiences and wildlife interactions. Each trip provides guests ample opportunities to get off the boat for exploration, leading most travelers to find that their experiences aboard a small ship have been unmatched.
This blog detailing why to travel by small ship is among AdventureSmith Explorations' extensive travel resources. Visit our Small Ship Cruise Guides page for even more tips and inspiration to plan your cruise.