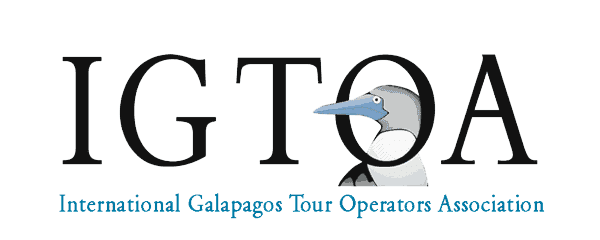 The International Galapagos Tour Operators Association (IGTOA) is a nonprofit association of travel companies, conservation organizations and other groups dedicated to the complete and lasting protection of the Galapagos. Their mission is to preserve the Galapagos Islands as a unique and priceless world heritage that will provide enjoyment, education, adventure and inspiration to present and future generations of travelers. Membership is open only to commercial and nonprofit organizations, but they also welcome the involvement of individuals.
Who is IGTOA?
IGTOA is comprised of the world's premiere Galapagos Islands tour companies who are dedicated to providing the highest quality and most environmentally responsible tours in the Galapagos Islands. IGTOA members recognize the challenges facing the Galapagos Islands and actively support IGTOA's mission to preserve and protect the region. Guests who book with IGTOA members travel knowing that they are supporting conservationism within the Galapagos Islands.
Galapagos Conservation Partner Program (GCPP)
The GCPP is an invitation-only category of IGTOA membership, exclusively for liveaboard vessels that actively support IGTOA's mission and help ensure that tourism remains a positive force. GCPP members make a significant contribution to Galapagos conservation through their ongoing support of IGTOA's Galapagos Traveler Conservation Fund, which provides critical financial support to the people and organizations working on the front lines of Galapagos conservation. Read more about IGTOA's Galapagos Traveler Conservation Fund and how donations from AdventureSmith travelers contribute.
IGTOA Conservation Efforts
While tourism has been the driving force behind conservation efforts and scientific research initiatives for decades, IGTOA and its member companies recognize that it has also been the catalyst for many unfavorable changes. In 1979, the Galapagos Islands were designated a UNESCO World Heritage site, signifying their "outstanding value to humanity" due to their exceptional biodiversity and pristine ecosystems. In 2010, the World Heritage Committee recommended that Galapagos be removed from the List of World Heritage in Danger, citing the significant progress made by Ecuador in addressing various problems. However, these problems still exist, and AdventureSmith Explorations agrees that the travel industry and travelers have an obligation to help solve them. With the generous support of its member companies and thousands of travelers, including many AdventureSmith travelers, IGTOA has contributed over $600,000 to critical conservation initiatives in the Galapagos archipelago since 1997.
Why Travel with IGTOA Members?
IGTOA members must qualify to become part of the nonprofit, which means their standard of quality meets conservation standards. Member companies must commit to preserving and protecting the Galapagos and they are insured and bonded so that guests can travel with an extra sense of security. Guests who travel with ITGOA members also have the satisfaction of knowing they are contributing to the conservation of such a historical, geographical and biodiverse region.
IGTOA & AdventureSmith Explorations
A cornerstone of AdventureSmith Explorations' business model is sustainable travel and supporting conservation programs. We have been a member of IGTOA since our founding in 2004 and are proud to support grassroots conservation organizations in all of our travel destinations. Part of our mission is to give back to the individuals, communities and environments encountered on every AdventureSmith Explorations trip. We achieve this by connecting our travelers with a network of grassroots and global nonprofit partners worldwide.
"If visitors care about a place, they are more likely to want to protect it," says Todd Smith, AdventureSmith founder and IGTOA Board Member
Not only is AdventureSmith Explorations an IGTOA member, our Founder Todd Smith serves on the IGTOA Board. As a former naturalist guide, Todd is working to improve local guides' ability to tell the Galapagos story. "Creating connections between the interests of the visitor and the meanings inherent in the Galapagos is critical to successful guiding," says Todd. "If visitors care about a place, they are more likely to want to protect it."

AdventureSmith Explorations is dedicated to protecting unique UNESCO World Heritage Sites, including the Galapagos Islands. To find out more about which IGTOA member small ship cruise companies AdventureSmith recommends, contact one of our Galapagos Adventure Specialists.