AdventureSmith Explorations' Chris Harter reviews his Sea Wolf Glacier Bay Adventure small ship Alaska cruise aboard the 12-guest Sea Wolf.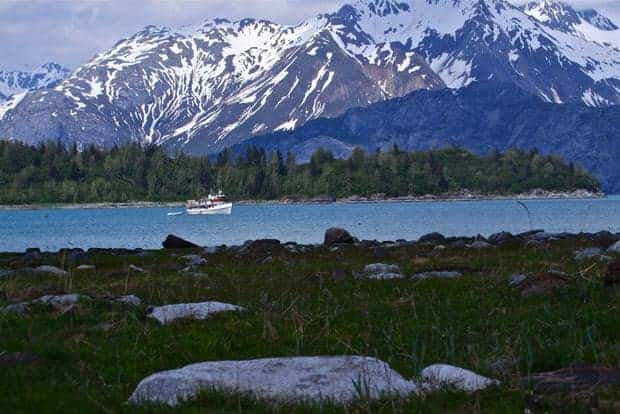 The Inside Passage in Southeast Alaska is certainly one of the premier wildlife and wilderness destinations in the world, and the jewel in this North American crown is Glacier Bay National Park in the most northerly region of the Inside Passage. Glacier Bay was established as a National Monument in 1925 by presidential proclamation, largely in part to the conservation efforts by famed naturalist John Muir. It wasn't until 1980 that the Monument gained status as a National Park covering almost 3.3 million acres (roughly the size of Connecticut) with more than 400,000 visitors annually. Considering that most view the park high up and removed on the observation decks of large cruise ships, only a very small portion of travelers truly get an up-close view of the wonders this magnificent park holds. On a recent trip aboard the 12-passenger renovated historical yacht the M/V Sea Wolf, I was one of the fortunate visitors able to get off the vessel to explore and play in this American jewel firsthand.
Glacier Bay National Park unfolds like a greatest hits of Alaska, and doing it all from the comforting base of the Sea Wolf really makes it an experience like no other.
Gustavus, Alaska, a quintessential small Alaskan town, is the jumping-off point for this expedition voyage. Accessing Gustavus requires a bit more effort to access with a mandatory 30-minute puddle-jumper flight from Juneau. The rewards of such a flight are immediately apparent once you gain elevation as the views flying over Icy Strait and the Chilkat Range are spectacular, even providing for wildlife sightings such as I saw, glimpsing surfacing humpback whales and harbor porpoises en route.
Once in Gustavus, there are several lodging options ranging from rustic bed and breakfast accommodations to more luxurious lodges, like the Bear Track Inn that we use for our land-based Glacier Bay Adventure. Although Gustavus is a charming place in its own right, the real draw here is getting out into nature for kayaking, whale watching, hiking, glacier viewing and to simply experience a true wilderness that is seldom seen or explored. After a spectacular salmon dinner at the Bear Track Inn, I called it a day in anticipation for what lay ahead on my 6-day cruise aboard the Sea Wolf.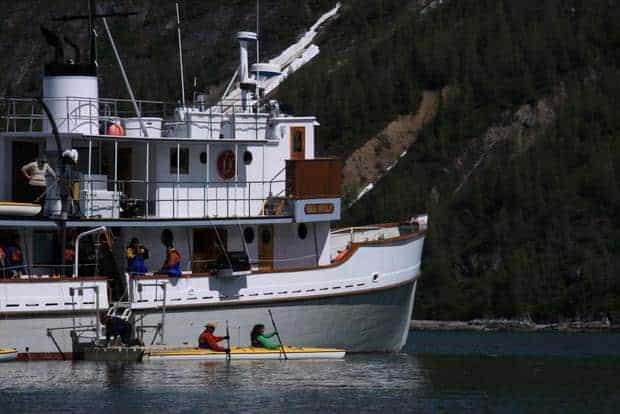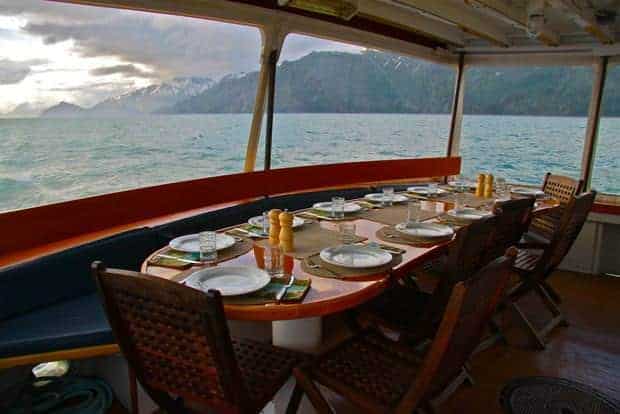 The new day brought blue skies, a welcome relief from my rainy stay in Juneau. With several mountain ranges protecting Glacier Bay from the coastal climates, Glacier Bay often provides more favorable weather than the rest of southeast Alaska. Meeting at the Bartlett Cove dock, I met my fellow passengers and acquainted myself with the vessel. Straight away I could tell this was going to be an epic trip! Passengers and crew immediately gelled with laughter and stories as we made our introductions. Once settled in our cabins we got underway and began our safety and operational briefings, listening to the nuances and considerations of our new home. This was followed by a kayaking instructional lesson as we motored to Shag Cove for our first excursion. Paying attention to our lessons was difficult with several rafts of sea otters passing on either side of the vessel. At the mouth of Shag Cove we dropped anchor and loaded into the two-person kayaks for a 2.5-hour paddle into this seldom-visited cove that we had all to ourselves. During our excursion we spotted eagles and nests, harbor seals, one black bear scrapping the shoreline for blue mussels and many, many birds, including oyster catchers, sandpipers, glaucous gulls, guillemots and a few merganser and harlequin ducks. The birders in our group were immediately impressed, and rightly so.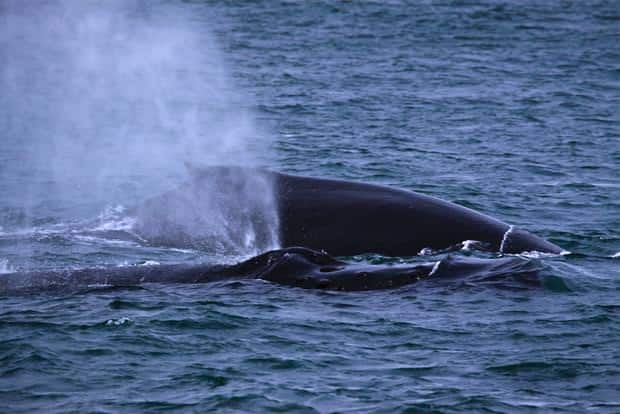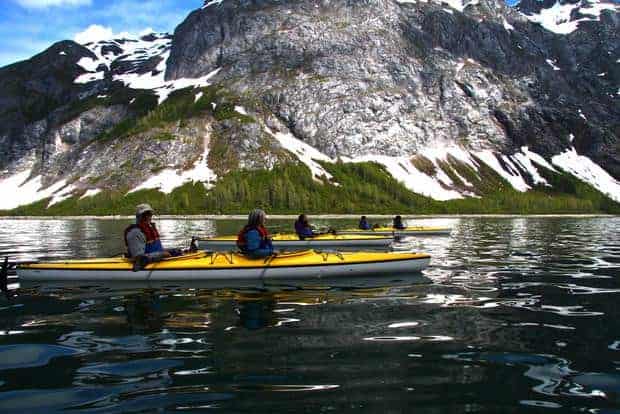 Once back aboard we made our way farther into the park, dropping anchor for the evening right in front of Reid Glacier. The recent glacial retreat in this fjord was immediately apparent looking at the perfect U-shaped inlet we were lucky enough to spend our first night in. With the Reid Glacier in sight during dinner we feasted on halibut with fresh vegetables straight from two crew members' gardens. After an active day in such breathtaking locations and incredibly comfy memory-foam mattresses awaiting in all the cabins, we were all snoozing before 10:00pm in anticipation for the surprises and beauty in the coming days. What a first day, and what an amazing vessel!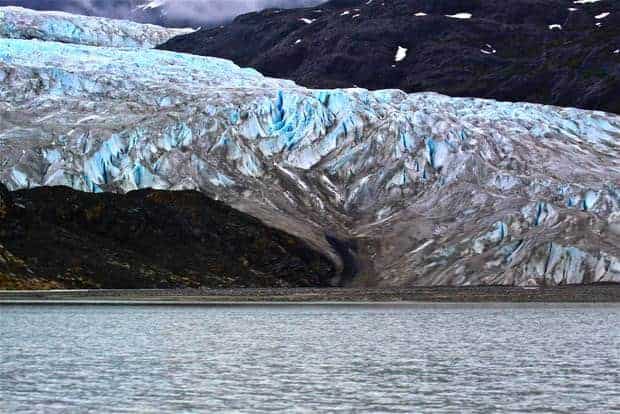 After a leisurely breakfast on our second day aboard, we pulled anchor and made our approach to Marjorie Glacier and the Tarr Inlet, spotting larger and larger icebergs en route. As one of the larger tidal glaciers in Glacier Bay, Marjorie did not disappoint. Sapphire-hued blocks the size of office buildings calved off the face of this mile-wide glacier with regularity providing for a lot of "ooooh and "ahhhh" moments on board. After the show we made our way slowly back along the northern shore of the Tarr Inlet spotting orcas and at least three brown bears before arriving at Gloomy Knob, a high rocky bluff rising directly from the shoreline. It's a geologic feature made famous by the many mountain goats using its craggy cliffs for safe terrain when rearing kids (baby goats). And our visit did not disappoint with a couple dozen mountain goats and kids spotted high on the dangerous cliffs above.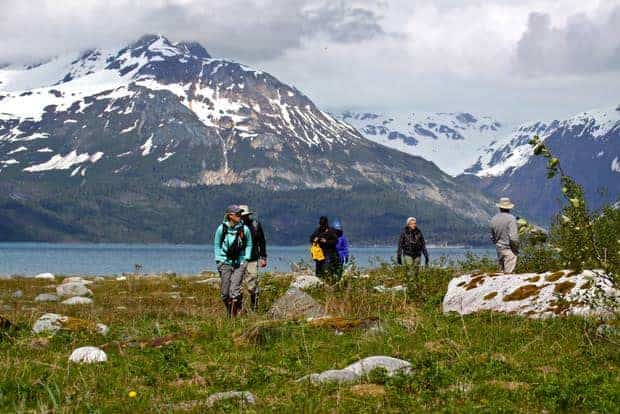 This afternoon we made our way ashore for a rugged hike up the back side of Gloomy Knob. Once atop, the views we gained across the main Glacier Bay waterway were spectacular with views of several glaciers, eagles circling below and at least one mountain goat playing a game of one upmanship, searching for ever-higher vantage points as we hiked. As we made our way back to the vessel the weather turned for the worse bringing heavy cloud cover and rain. Beyond creating a prolific and rich ecosystem, the advantage of rainy weather in coastal Alaska is that the glaciers and icebergs gain a surreal blue palette, making for even better photos for those willing to risk a quick photo with their cameras.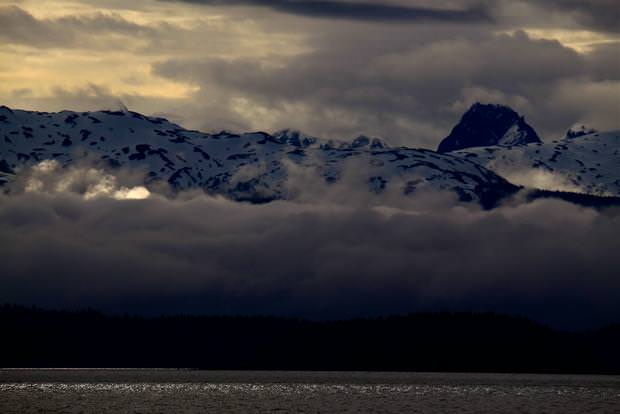 Having been to Alaska several times, I expected spectacular scenery and wildlife sightings during the course of the sailing, but the sheer volume and magnitude of the wildlife and scenery encountered in just two days was staggering.
Tonight we made our way to Blue Mouse Cove with a low cloud ceiling and persistent rain. Once anchored with dinner served, a pair of humpbacks arrived on cue providing for our dining soundtrack with surfacing and breathing sounds as they tracked food for their dinner between the Sea Wolf and the shoreline. Having been to Alaska several times, I expected spectacular scenery and wildlife sightings during the course of the sailing, but the sheer volume and magnitude of the wildlife and scenery encountered in just two days was staggering. Glacier Bay National Park unfolds like a greatest hits of Alaska, and doing it all from the comforting base of the Sea Wolf really makes it an experience like no other.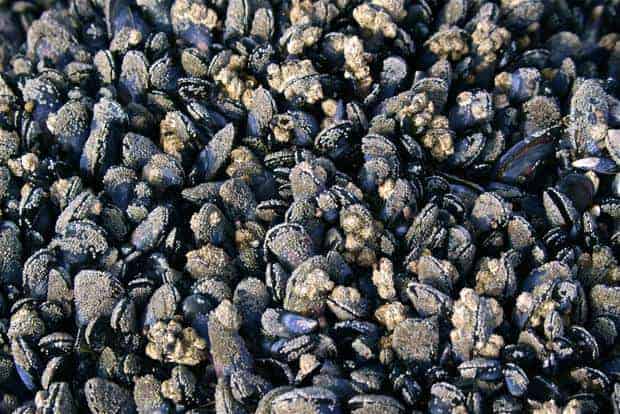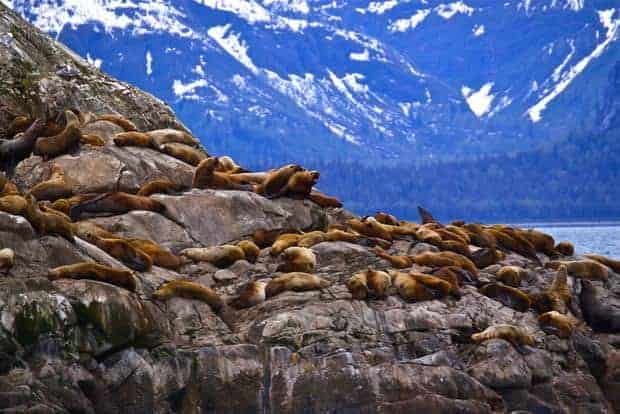 Our cruise progressed in this manner for four more glorious days aboard the Sea Wolf. The crew educated us, made us completely at home and spoiled us rotten throughout the voyage. The wildlife sightings continued every single day adding wolves, stellar sea lions, coyote, Dall's porpoise, countless birds (including puffins) and at least one curious shrew to our list. The coastal mountain and glacier scenery unfolded with staggering beauty every day, and the activities and excursions allowed us off the vessel as much as we had all hoped for. The experiences on the Sea Wolf are quintessential Alaskan, experiences that only a lucky few get to enjoy. I am still reeling from our short time aboard many weeks after our voyage. I cannot recommend this trip highly enough to clients, friends and family. Being on a small yacht without the entertainment and amenities found on a large ship is not for everyone, but for those willing to spend a bit more and willing to travel a bit further the 6-day Sea Wolf Glacier Bay Adventurevoyages are nothing short of a trip of a lifetime. For those interested in hearing a bit more about this unique experience please give us a call. I would love the opportunity to share more about this spectacular, one of a kind Alaskan voyage!
This Sea Wolf Glacier Bay Adventure cruise review was written by an AdventureSmith Explorations crew member. The Sea Wolf, one of our small ships to Alaska, is on our curated list of best Alaska cruises for families and Alaska yacht charters and is perfect for a Glacier Bay cruise full boat charter. Read all AdventureSmith Expert Reviews for more trip reports, or contact one of our Adventure Specialists to learn more about our Alaska trips: 1-800-728-2875.