AdventureSmith Explorations Adventure Specialist Aaron Gaines reviews his Amatista Amazon Cruise in Northern Peru aboard the 30-guest Amatista.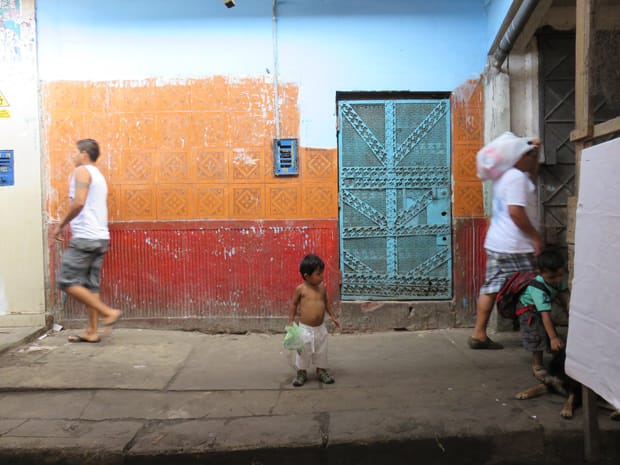 In mid-July I traveled to Northern Peru to join a four-day itinerary of the 30-guest riverboat Amatista, a short version of our now newly redesigned Amatista Amazon Cruise. Just two hours flying from the coastal capital, Lima, is the jungle city of Iquitos. It may as well be on another planet: Lima's gray misty days are replaced by the tropical humidity, heat and immense wildness of the jungle immediately surrounding Iquitos. I was met at the Iquitos airport by one of the ship's guides, Robinson, for the 20-minute transfer to downtown Iquitos.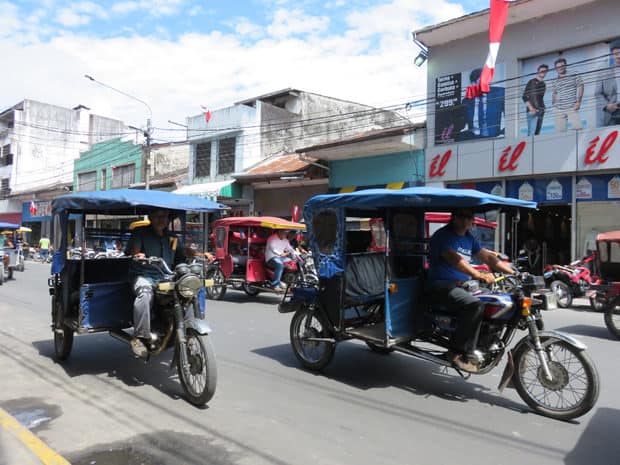 Day 1
Before we met the ship, my fellow travelers and I visited a local market in the city neighborhood of Belen. If your time in a new city is limited, a visit to a market is a great way to immerse yourself in the atmosphere and culture of the place. This area contains blocks of ramshackle buildings on the edge of the city and then an extensive shanty town on the adjacent floodplain a few hundred feet elevation below.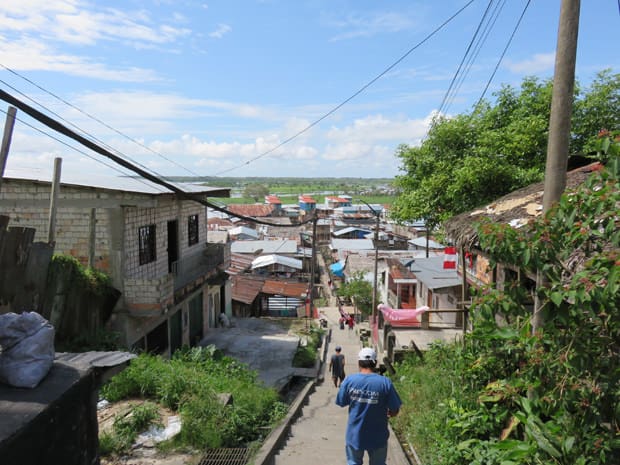 The market occupies a wide swath of the urban section of the neighborhood, with vendors operating little booths on both sides of the streets. Approaching the area, there is a chaotic blur of activity from people, dogs and tuk-tuks (three-wheeled motorcycle taxis). At various booths, I saw animal meat for sale: chickens, caimans, snakes, turtles, cows, pigs, goats, armadillo, monkey, ducks, innumerable kinds of large river fishes and other creatures I really couldn't recognize. There were many stalls with sizzling charcoal grills casting smoke and scents into the air. Women mixed large buckets of fruit juice concoctions and poured portions into little plastic bags to sell along with a straw. Plastic tarps were crudely hung above each stall to block the hot equatorial sun. People moved everywhere in the tight quarters of the market. Toddlers and young children walked around barefoot, women breastfed their babies while shopping or selling goods, old men sat and younger men worked at meat booths or drove tuk-tuks or motorcycles through the crowds. Everywhere we received curious looks and friendly smiles from the locals noticing us "gringos" in their midst. We passed booths selling hand-rolled tobacco cigarettes, fruits, vegetables, toothpaste, sandals, rice and much more. Our guides bought some jungle fruit for us.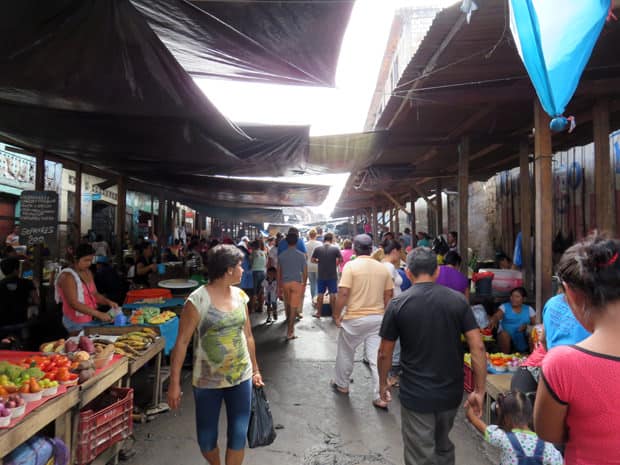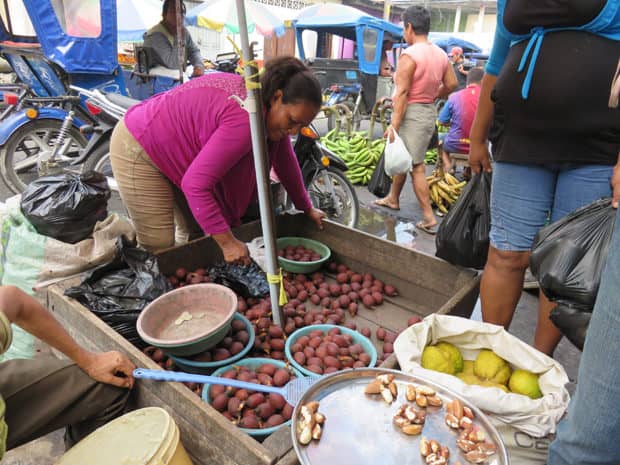 We boarded our air-conditioned bus and drove out of the center of town to the main port area of this river city. There, we met the Amatista, which in typical local fashion had been docked by having its bow driven into the mud banks of the river. We boarded by skiff and set sail, meeting the brown water of the Amazon River just a few minutes after leaving Iquitos. Settling in, I familiarized myself with the vessel and chatted with my fellow travelers.
The shores had small farms, villages and fishing camps. Fisherman and rice farmers worked the muddy shores in small wooden canoes
Most of our first day on the ship was spent sailing along the Amazon River toward the frontier jungle town of Nauta. Along the way I observed the human impact on this area of river. The shores had small farms, villages and fishing camps. Fisherman and rice farmers worked the muddy shores in small wooden canoes. Boats of various sizes buzzed past in both directions. The river appeared to be about 10-15 feet below the high-water mark of the recently-ended high water season. At 4:30pm, having gotten away from Iquitos and about a third of the way to Nauta, we undertook a skiff excursion near Panguana. Cruising the shoreline as the Amatista continued to sail upriver, we stopped to speak with several fisherpersons and one couple who was rice farming along the riverbank. The fishermen showed us their catch, which included large catfish species and another fish related to eels. In the evening we docked along the banks near Yacapana.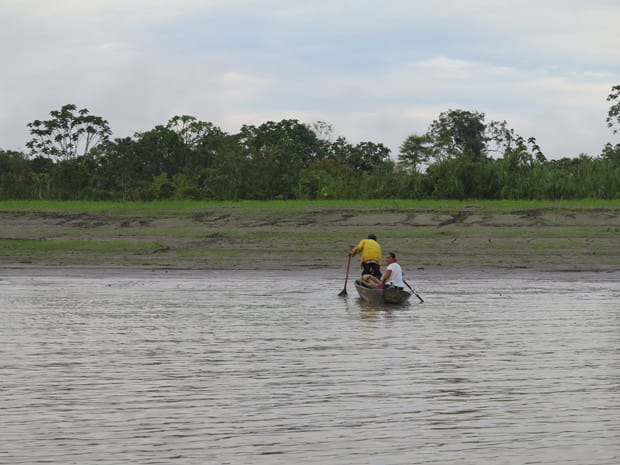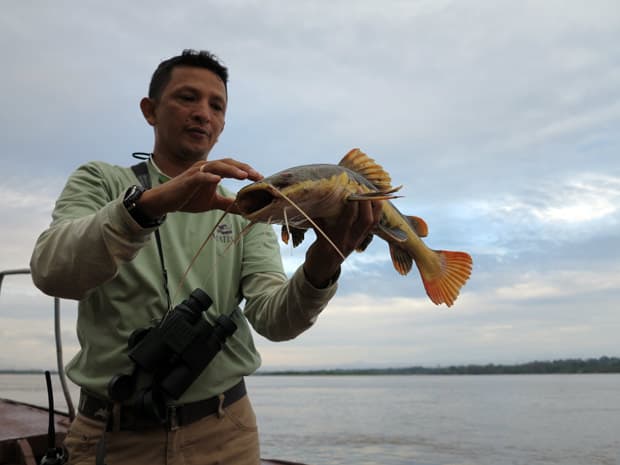 Aboard Amatista
Built in 1998, the Amatista is a replica of a colonial Spanish riverboat. Not meant to be flashy or luxurious, the boat provides a pleasant, comfortable home base for jungle exploration. The cabins are located on the first and second decks and are air-conditioned with comfortable beds and 220v and 100v outlets. Bottled water is provided in each cabin. On the second deck are the window-walled air-conditioned dining room and about a dozen cabins. In the dining room all meals are served at a buffet and the food is very good. The third (top) deck contains a large covered sun deck with tables, couches, chairs, a bar and an air-conditioned lounge with another bar. Above the sun deck is a small observation platform that can hold 6-8 people at a time. The ship interiors are furnished with wood floors that are creaky but valuable for the boat's character. Like all of the riverboats in this area, the Amatista has no anchor and uses a bow rope to attach to shoreline trees when docked in the wilderness. Two metal-hulled skiffs hang from the sides of the ship when sailing.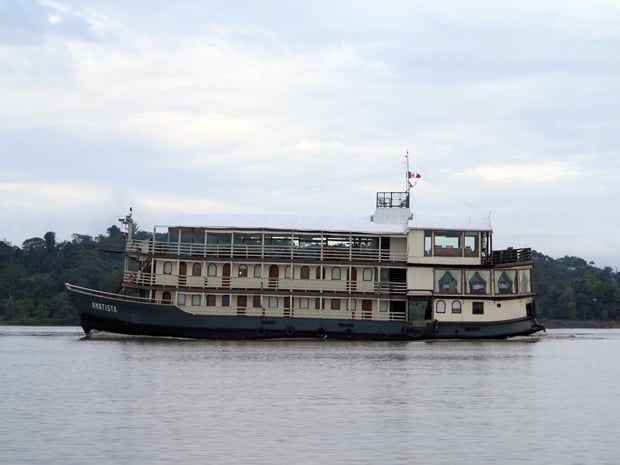 Amatista's chef, Blumar, and his staff created a very satisfying variety of dishes that travelers from around the world all enjoyed. Breakfasts consisted of items such as eggs, toast, fruit, juice and sausages/bacon. Lunch and dinners included various dishes of fish, beef, chicken or pork along with a generous selection of salads, rice, beans and steamed vegetables. The chef added plenty of Peruvian accents including many varieties of potatoes, homemade purple corn juice called chicha morada, pisco sours and (my favorite) the wonderful fusion of Peruvian and Chinese cooking called Chifa. A coffee, tea and water station was available 24/7. Dietary requests were handled gracefully by the kitchen staff, with the exception of kosher diet.
While the ship is a pleasant place to live in the jungle, the on-board experience was made immeasurably better by the presence of a really outstanding staff of crew and guides. Our two guides, Robinson and Hulbert, did a great job of communication, organization, creating a fun atmosphere among the travelers and, most importantly, interpreting the local forest, wildlife and people. On our trip, half of the guests spoke English and half spoke Spanish, but the guides were able to handle that very smoothly. The ship staff at large shared the famous Peruvian hospitality with their guests. On the first evening we were invited to hear three of the crew members play music, and everyone was shocked when they began playing and turned out to be incredible musicians. Truly, each man displayed fluency with acoustic guitar, drums, recorder, panflutes and singing to the point where all of the guests were left shaking their heads in awe, and cheering. The guys played again on our final night, and everyone made a point of telling them how much they appreciated the great addition of the music from "Los Chunky Monkeys."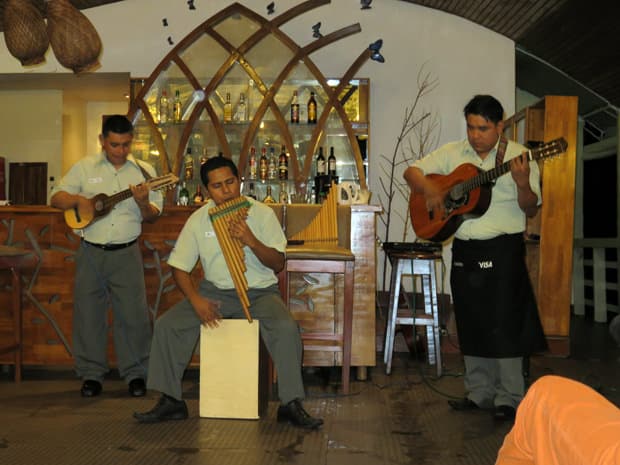 My group of travelers had several families with younger children, as well as several older people with somewhat limited mobility. The Amatista is generally easy to move about with railings on the staircases and good railings around the deck edges. On the river the ship never rocks or jolts at all, so belongings are safe to be left on tables and desks without falling down. Stepping onto skiffs from the ship is easy as the crew members assist with the step, and transfers between ship and skiff can even be made when both are in motion. Throughout the itinerary I noticed that the children were treated very well both on board and during all excursions; they had a great time (and their parents did as well).
Day 2
The next morning we motored for a few hours and then had a skiff excursion at San Joaquin. I saw that the riverbanks still contained a fair human presence with small settlements and farms. Nonetheless, we observed a sloth, a few squirrel monkeys, a troupe of parakeets and number of other birds. We spoke with some more fishermen on the river. One motorized contraption entailed a small wooden platform raft pushing a 50-foot long rectangular underwater netting enclosure in front. Three tired-looking men were sailing 5 days from the jungle into Iquitos to sell a haul of over 7,000 live catfish contained in the nets. Their food, gasoline and other supplies shared the space with them on the King-bed-sized platform.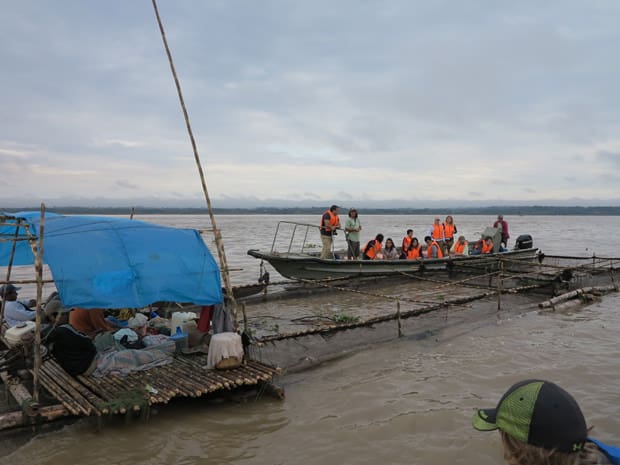 After a short pause, the ship docked near the small riverside village of Puerto Prado; by this point we'd exited the Amazon and were sailing along the Maranon River. We disembarked and walked to a small pond by the river, which contains a species of water lilies the size of hula hoops. We proceed up to the small community where members of the Kokama-Kokamilya tribe live. The family huts were made of the simplest possible wood construction, typically two-story platform structures without walls at all. A few homes were one-room concrete with a few square window openings and an open doorway. Entering the one-room school building, we were met by the smiling faces of about twelve young school kids and their teachers. With a genuine joy that put us tourists at ease, the kids sang us a song and introduced themselves one by one. When the guide indicated that the kids wanted us to sing a song (and no one volunteered), I was glad to sing a favorite song of my two-year-old son and the kids loved it. I showed them on a wall map where I lived and where they lived, and I shared some photos of my son and my dog. The kids started calling me "California." We had a chance to buy some crafts from the village families; I bought some colorful bracelets made of seeds. A tarantula waited for us on a tree along the path back to the ship. Back on board we enjoyed a nice lunch of beef with yams, rice and beans, with fruit for dessert.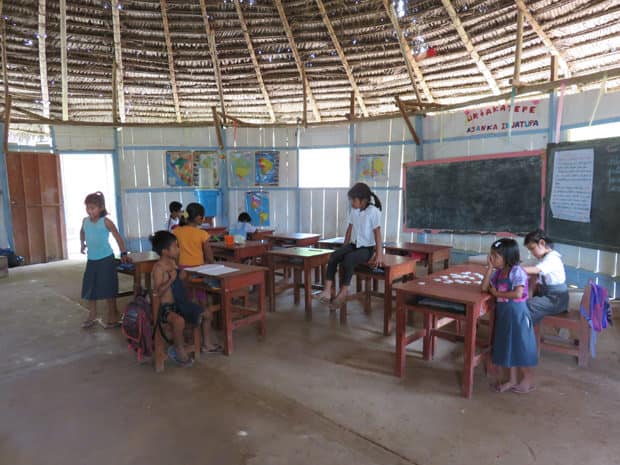 We sailed past the small outpost of Nauta in the mid-afternoon and visited a 20-hectare private forest reserve called Casual just outside of town. There, the local people were responsible for stewardship of that piece of forest, and several of their young men walked with us as we toured their jungle trail system showing us animals like tree frogs and snakes along the way. We saw termite nests, leaf-cutter ants, and a blue morpho butterfly. A highlight of the walk was the chance to sit on the exposed roots of a huge old tree.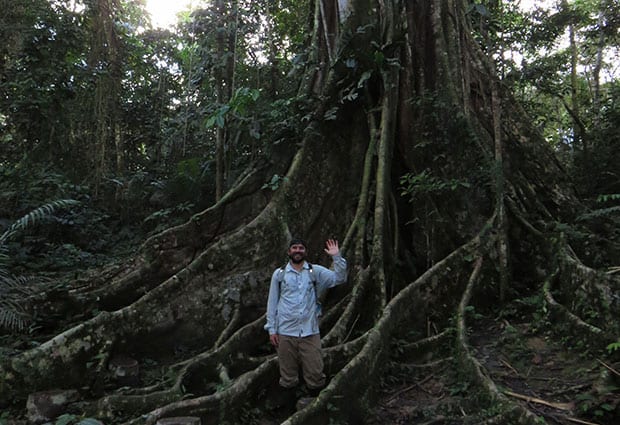 Back on the ship in the late afternoon we enjoyed pisco sours and dinner as the boat entered the less populated areas beyond Nauta. After dark we boarded the skiffs and entered well-known Nauta Cano inside the Pacaya-Samiria National Reserve. There were a number of small ships like Amatista parked in the area, their guests and guides also exploring this area. Our guide used a spotlight to search for caiman and birds as our skiff moved along the waterway. We saw herons, egrets, fishing bats and black-collared hawks. That evening the boat docked at nearby Las Palmas for the night.
Day 3
Our third day began with an early wakeup and an all-morning skiff excursion into Pacaya-Samiria Reserve. We entered through the Santo Domingo Ranger Station and observed pink and gray dolphins hunting fish in the river there. Skiffing on the Yanayacu de Pucate River, we had a pleasant morning spotting birds. We reached a spot where our guides knew that owl monkeys lived in a tree, but we weren't able to see them. Black vultures seemed to circle above the tree, perhaps keeping the monkeys from showing themselves to us. Our guide walked into the woods to collect sap from a certain species of tree which he planned to give to his ailing father to treat his hernia. Parked in a narrow dead-end waterway, we spotted a yellow-crowned brush-tailed rat peeking at us from a hole in a tree above our heads. Then, we had a nice breakfast in our skiffs. After breakfast, we moved to a different offshoot of the river and fished for piranha; most guests caught one or two red-bellied piranha, some of which were kept to eat later.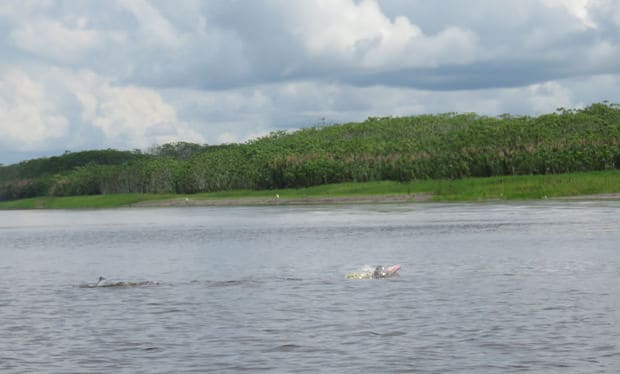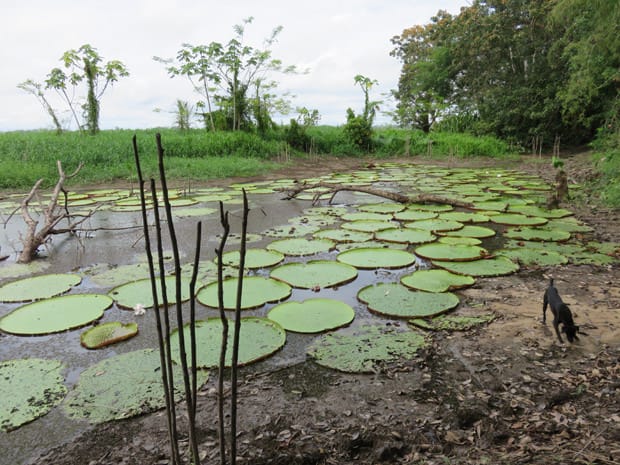 Dozens of little fish took a great interest in [us]. I was glad they didn't seem to have teeth, but very sobered by the brief experience of becoming part of the Amazon food chain!
Next, we returned to the Santo Domingo Ranger Station. There, we were able to observe and photograph the pink and gray dolphins at length. Several dozen dolphins were in the immediate area eating fish. The pink dolphins are a strange creature, as their heads have a bulbous lump on top and long toothy beaks at the front. These dolphins did not appear to be completely pink as some of them are in the Amazon, but were mainly gray on top with pinkish underbellies. A group of us grabbed our bathing suits and jumped into the river hoping to swim near the dolphins, but they mainly stayed about 10 meters away and we splashed in the river water. Dozens of little fish took a great interest in nibbling on my skin as I swam towards shore. I was glad they didn't seem to have teeth, but very sobered by the brief experience of becoming part of the Amazon food chain!
That evening, our final aboard Amatista, we had a nice party with dinner, drinks, live local music from Los Chunky Monkeys, and a recap our all we had seen in the past days. All of my fellow travelers and I expressed our satisfaction to the crew for their successful efforts. We docked on the muddy bank at Nauta to sleep for the night.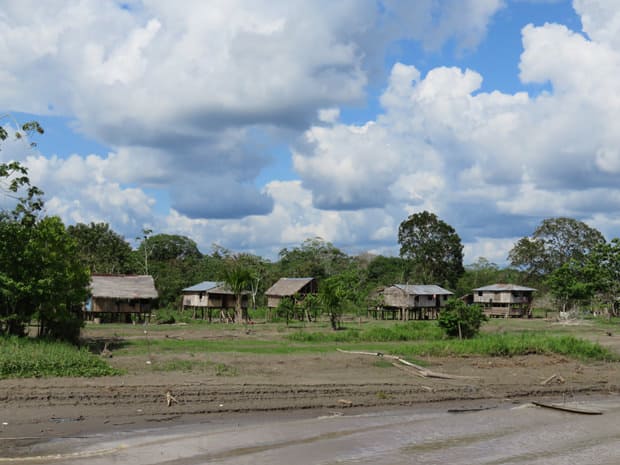 Day 4
In the morning after breakfast we boarded a bus to travel by road back to Iquitos. Nauta is a true frontier jungle town with rudimentary buildings and streets, garbage, building materials, tuk-tuks, street dogs and the ever-present heat. The two-hour drive to the airport was made longer by the temporary closure of the road as several villages hosted parades for a local holiday, but we did not mind this at all. We were able to get off the bus and enjoy the parades and celebratory atmosphere with the local people. Kids in crisp school uniforms goose-stepped down the (only) paved road as a man announced them on a loudspeaker. Families clapped for their children and friends as they marched down the crowded street. Each parade was short and when finished the crowds dispersed for food and drinks in nearby buildings. Driving from Nauta to Iquitos and seeing the villages of the jungle, which transition from extremely rural into a more urban feeling as the big city approaches, a traveler looking out a bus window can observe the profoundly humble living circumstances that are typical to the people in this area. These images stuck with me as I flew out of Iquitos on a big jet plane and was soon back in sprawling Lima with its crowded city streets and bustling, honking traffic. It did not feel like I had just visited the eastern edge of the same country, but like I had been on a different planet.
View the full trip details on AdventureSmith's Amatista Amazon Cruise page, or for more photos, see my Amatista Amazon Cruise Facebook album.
This Amazon cruise review was written by an AdventureSmith Explorations crew member. Find our full selection of Amazon cruises. Read all Cruise Reviews for more trip reports, or contact one of our Adventure Specialists to learn more about these small ship cruises and wilderness adventures: 1-800-728-2875.