AdventureSmith Explorations' Nick Mitchell writes this Introduction to Spitsbergen: Fjords, Glaciers & Wildlife of Svalbard cruise review from his time aboard the 128-guest Ocean Adventurer. Learn about taking an Arctic cruise or Svalbard Cruise in early season, what wildlife Nick saw and why he recommends kayaking in the Arctic, plus insights into the best time to visit Svalbard to see polar bears.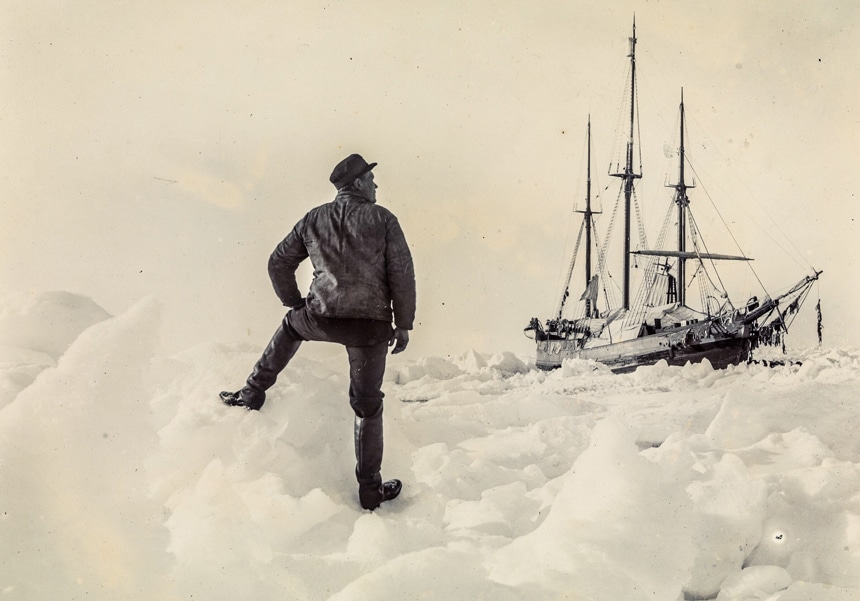 If you have an interest in the Golden Age of polar exploration, then the Norwegian explorer Fridtjof Nansen must be high on your list of favorites. I'm a fan. For those of you who aren't familiar with him, in 1893 he sailed a boat named the Fram into the Arctic ice with the goal of being the first person to reach the North Pole.
The plan was to sail into the ice, drift in the pack ice over the North Pole, drift out of the ice and sail home. Simple as that. The rounded hull of the Fram was designed to pop out on top of the ice when the sea beneath her froze, unlike Shakleton's ship, Endurance. They took supplies to last 5 years. After a year and a half of very slow drifting, Nansen realized they weren't going to drift over the pole as planned and he decided to go for it over the sea ice. He took sleds, some dogs and kayaks, and the ship's stoker with him.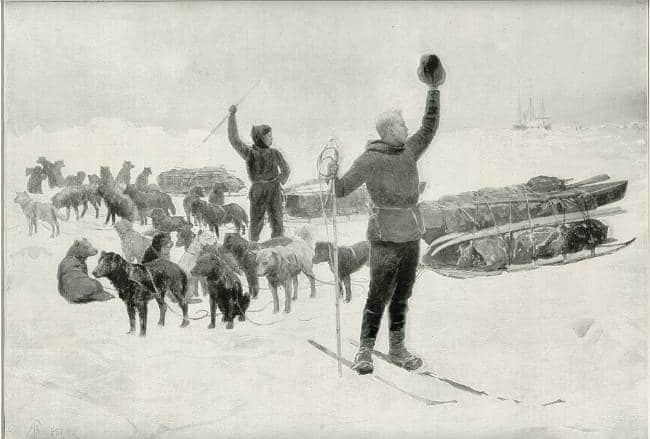 They didn't make it and spent a year and a half somehow surviving on the Arctic ice before bumping into another explorer, in the way Golden Age explorers did. The other explorer asked him if he was Nansen, and helped him get back to civilization. As soon as they got back to Norway they made preparations to find the still-missing Fram. She and her crew were fine and were released from the ice not far from the northeastern tip of Spitsbergen.
It was near here, by the broken edge of the polar ice cap, almost 80 degrees north, 600 nautical miles from the North Pole, that I did the polar plunge while I was on the Ocean Adventurer on the 10-day Introduction to Spitsbergen expedition cruise. This is the most northerly entry of my own exploration history, and I'm happy that I'm able to make this ridiculous link to Nansen's famous Fram expedition!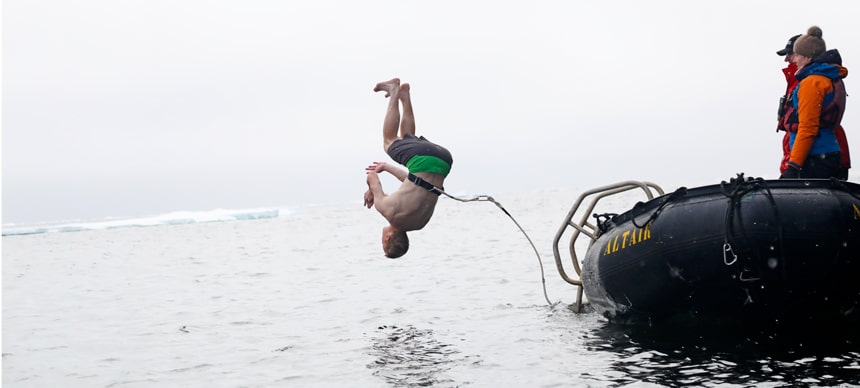 Visiting Svalbard in Early Season
Svalbard was the name the Vikings gave to the edge of the ice. It translates as "cold shores." An archipelago between Norway and the North Pole, Svalbard is known for its glaciers, fjords, frozen tundra and wildlife. Its three islands—Spitsbergen, Nordaustlandet and Edgegoya—are home to polar bears, walrus, Svalbard reindeer, arctic foxes, seals, whales and huge colonies of sea birds. The expedition cruising season for this region starts late May to early June, soon after Svalbard has emerged from winter, or the "dark season" as locals call it. The summer brings the "midnight sun"—sunlight 24 hours a day, as Svalbard is well within the Arctic Circle.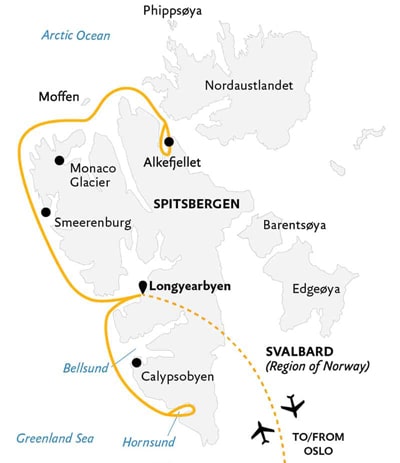 On the trip I was on we were going to explore the west coast of Spitsbergen, the largest of the three islands. On early season departures you'll see more snow on the mountains and ice in the fjords. If you love snow-covered scenery, then go early. This also means the sea ice is likely to be still hugging the northern coast, great for seeing polar bears but it prevents circumnavigating Spitsbergen, as you can do later in the season.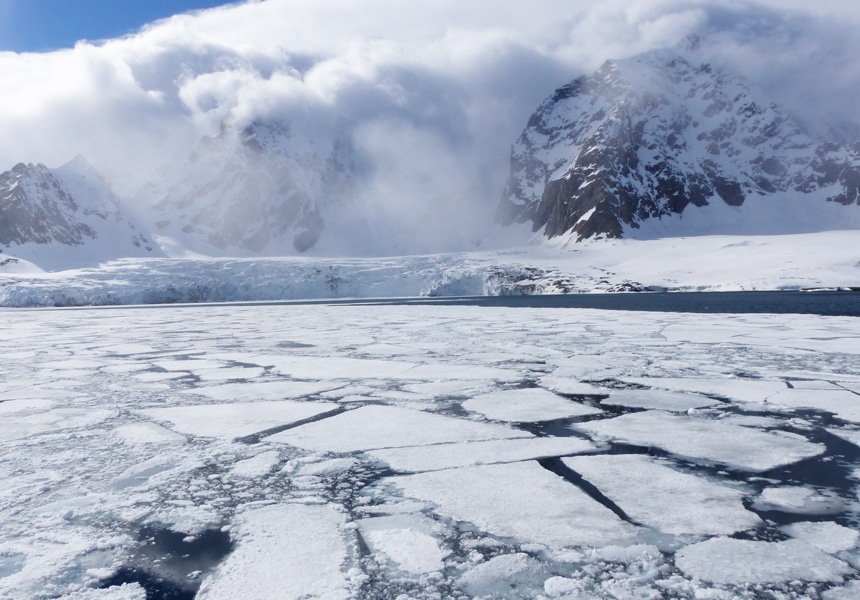 Getting to Spitsbergen & Pre-Cruise Activities
I flew to Oslo and from there onto Longyearbyen, the main town on Spitsbergen and the most northerly permanently inhabited place in the world. I really enjoyed my day in Oslo, visiting three wonderful museums that are home to small expeditions ships—all originals, no replicas. It was a fitting way to start my journey. I boarded and walked through the Fram, and saw Thor Hyerdahl's ship, Kon Tiki, and four Viking ships. There is much to see in Oslo and it's a friendly and beautiful city. I recommend buying an Oslo Pass, which you can buy at the Tourist office in the main train station, as it covers entrance to museums as well as public transport. I'd love to go back again one day and see the things I missed.
Longyearbyen is the embarkation point for all Svalbard expedition cruises. It's an old mining town that is now growing and changing with the times. There are a number of new hotels and restaurants, a museum and a university. It's worth a day's visit too. We were met at the airport by a cruise representative and transferred to the Radisson Blu, which was comfortable with a restaurant and a bar and in a great location.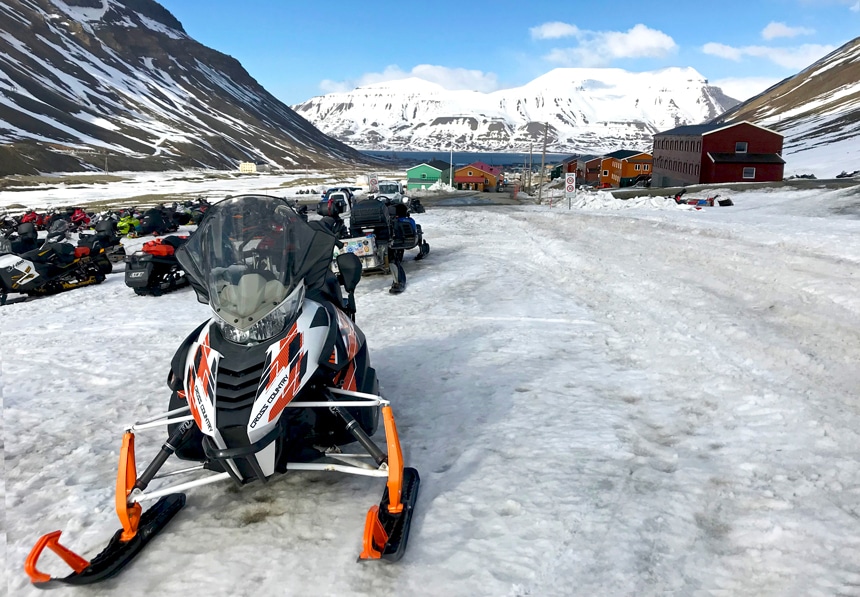 The Spitsbergen Marathon was being held the morning of our embarkation day, so I had decided to spend my time running the half marathon. It's held every year at the beginning of June and is the most northerly marathon on solid ground. If you're a runner choosing a departure that overlaps with the race, then it will be a fun bonus to your cruise.
My Ocean Adventurer Ship Review Notes
My time on the Ocean Adventurer was obviously different to Nansen's on the Fram but it's the closest I'll ever get. I love small ship expedition cruising for that very reason. Expedition cruising allows you to experience places steeped in exploration history. The Ocean Adventurer is very comfortable, the food and service are excellent, and you visit amazing wilderness areas rich in history, wildlife and natural beauty, learning from your guides as you go

Active, Wildlife-Filled Days on my Intro to Spitsbergen Cruise
While the ship served as the main base for our explorations, we were able to get off the boat and explore on shore excursions and Zodiac cruises. This is the same for all the Arctic expedition cruises that AdventureSmith offers. On the Zodiacs we got closer to the glaciers and the bird-covered sea cliffs. We even saw a pod of beluga whales.
On the shore landings you got to hike and feel the arctic snow and rock under your feet. Once on land there were several guided groups and everyone chose which group they went in, according to what pace they wanted to hike. There was a "chargers" group, for those who wanted to explore further afield; a couple of medium-paced groups, for those who didn't want to huff and puff as much but still wanted to cover some ground; and a contemplative group that would move slowly (photographers enjoyed the pace of this group).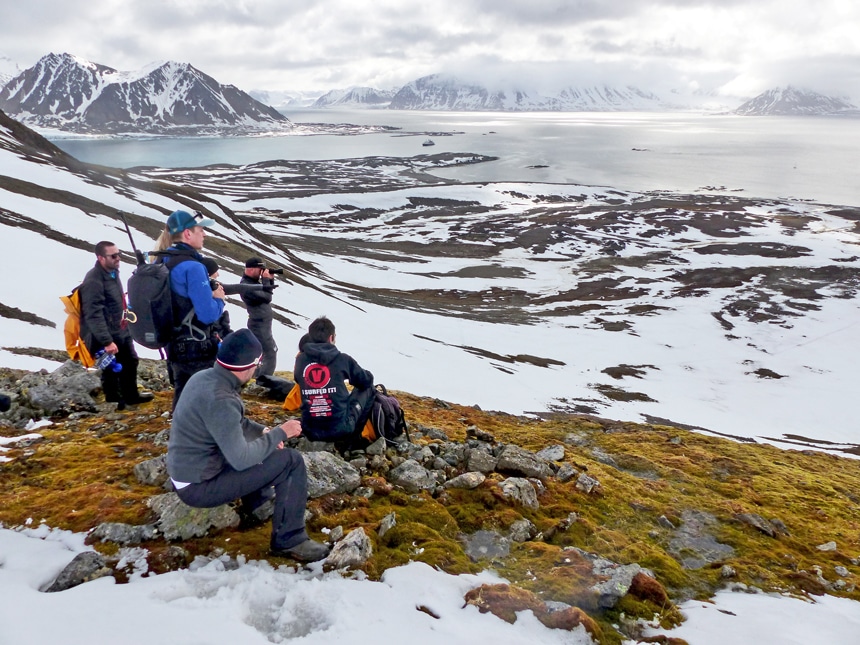 The Arctic animals we saw included stumpy-legged Svalbard reindeer grazing on the newly exposed vegetation and arctic foxes as they searched for a tasty snack. Thousands of little auks, guillemots and gulls, chaotically nesting on towering cliffs, often filled the air above us. I enjoyed closing my eyes and listening to them. My favorite hike was where we gained a ridge and got spectacular 360-degree views over the land, ice and sea.
I had also signed up for kayaking and I got to enjoy the serenity of paddling in a small group of 10 in the Arctic wilderness. If you think you might enjoy kayaking then trust me, do it, you'll love it. My 70-year-old mum kayaked with me. She was nervous before our first outing but she said she felt totally safe and was so glad she hadn't chickened out. I loved the serenity—so much serenity—definitely more serenity than on a Zodiac! We saw just as much wildlife as everyone else from the comfort of our kayaks—even foxes and some beach-going reindeer. We saw walrus too but we waited for them to move off before we got in our kayaks! Paddling along sea cliff walls, under a mass of birds was like living an episode of "Plant Earth."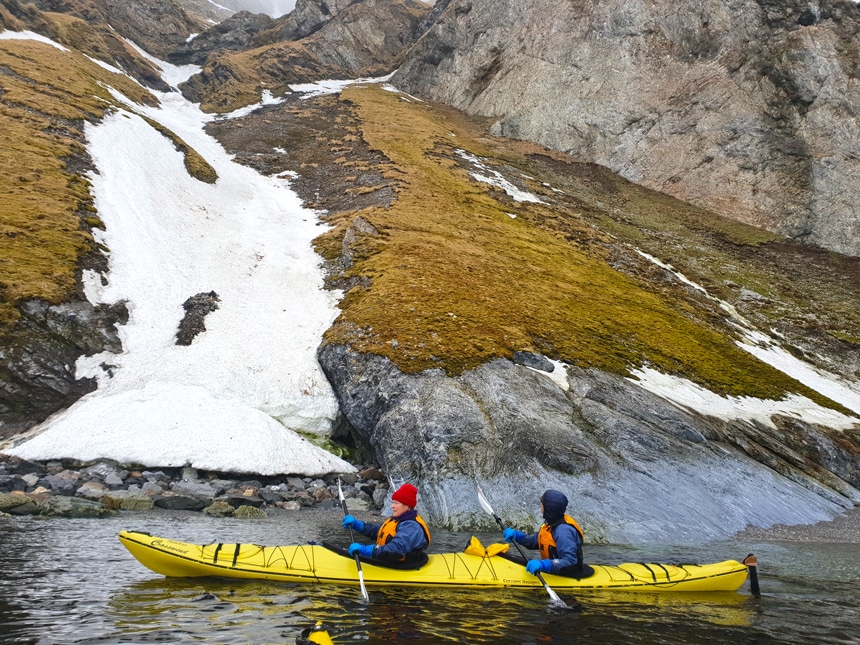 Polar Bears: A Svalbard Wildlife Highlight
While we were enjoying all that the Arctic had to offer, there was one animal that hadn't yet made an appearance—the polar bear. For many who pursue Arctic travel this is the main draw and by day 5 everyone was on deck giving the guides a hand with bear spotting, until finally we saw one.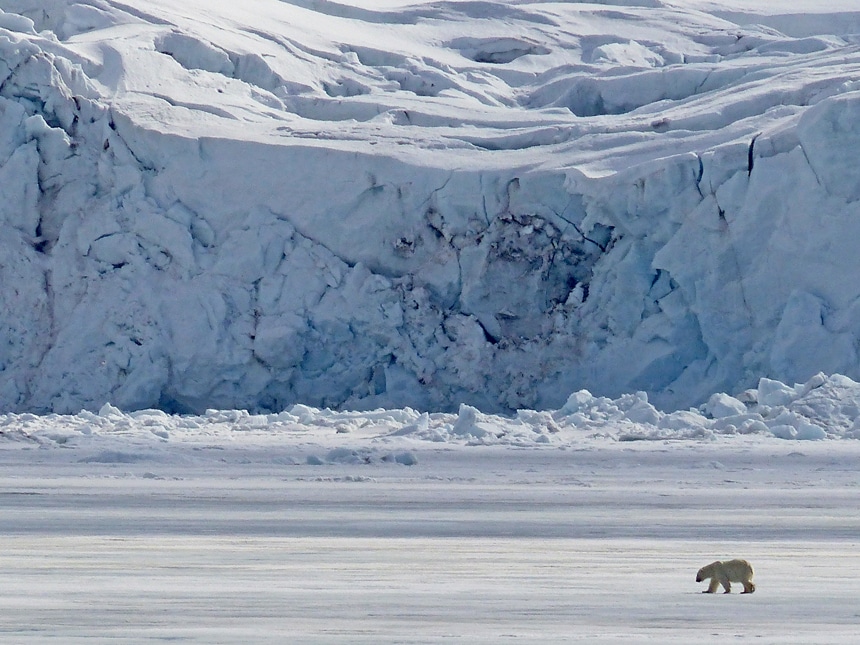 We saw five polar bears during our voyage, each siting better than the last. Our fifth bear was the closest. The bow of the ship was in the edge of a sheet of thick ice that extended out into the fjord from the base of a glacier. Everyone was on the bow deck in the sun, watching. The bear was patrolling the ice for seals and she even dived down a seal's breathing hole at one point. We all held our breath with her, but no dice. Polar bears need to eat a seal every 4-5 days to stay in good shape, and we were all rooting for her.
Clients often ask me: "When is the best time to visit Svalbard to see polar bears?" I asked the guides who are there all season. Their answer was as you might expect: Wildlife is impossible to predict. You'll most likely see at least one polar bear. You might get lucky and see 20. What I can guarantee is that you won't see them if you don't go!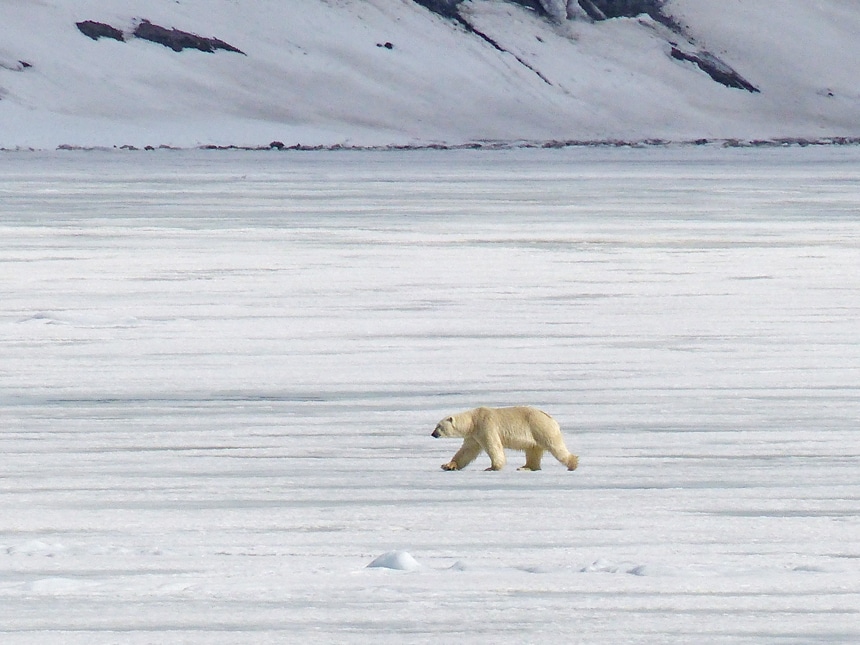 The Artic climate and environment is unique and rapidly changing. Going there and following in the wake of the Vikings and Nansen was a privilege. If these places and these animals are going to survive, we need to put environmental issues to the forefront of our choices. If we don't, then what we all saw while on the Ocean Adventurer will soon be gone. So go, enjoy it and come back as an ambassador for these fragile places.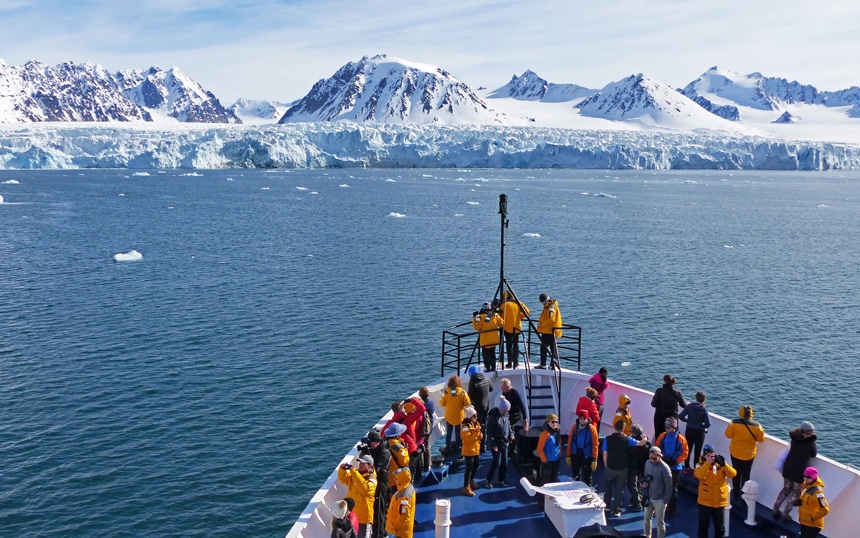 MORE ARCTIC RESOURCES:
Arctic Cruises
Iceland Cruises
Arctic Tours
Arctic Expedition Trips
Arctic Animals
Arctic Cruise Deals
Arctic Cruise Reviews

This Arctic cruise review was written by an AdventureSmith Explorations crew member. 1893 Fram Expedition Nansen photos from Historic National Library of Norway. Read all our Small Ship Cruise Reviews for more trip reports, or contact one of our Adventure Specialists to learn more about these small ship cruises and wilderness adventures: 1-800-728-2875.