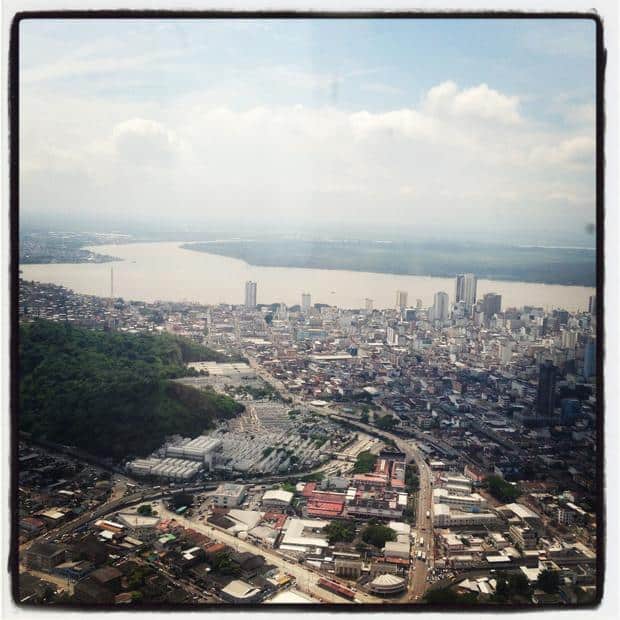 Guayaquil, Ecuador, is the gateway to the Galapagos Islands and is fast becoming the stopover choice for Galapagos travelers due to the convenience of its airport. Here's a short guide of things to do in Guayaquil, as I scouted out during my recent trip to the city.
Guayaquil City Sights
I took the private guided city tour available through AdventureSmith Explorations' Quito & Guayaquil Galapagos Travel Package, and was able to see many of Guayaquil's attractions in one day, including:
Palacio Municipal & Palacio del Gobierno
Located a block from the River Guayas, separated by a pedestrian walkway, are these two historic buildings. The Palacio Municipal is easy to spot as it has an arched interior hallway with a glass ceiling. The Palacio del Gobierno to the north is home to the model ship collection of the Museo Naval. Between the two buildings, look for the Monumento Sucre.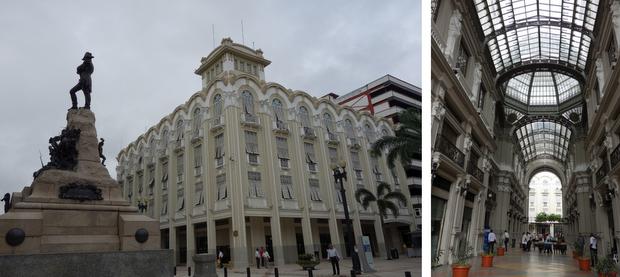 Parque Bolivar & Guayaquil Cathedral
If you had but one stop to make in Guayaquil, this city block should be it in my opinion. Presided over by a monument to Simon Bolivar, Parque Bolivar (also known as Iguana Park) is shaded by gorgeous trees. At first glance it's just a pretty city park; at second glance, there are iguanas. Everywhere. In the trees, by the pond, on the grass, on the monument. It's fun to spot them all, and watch them munch on lettuce and other goodies left for them around noon each day.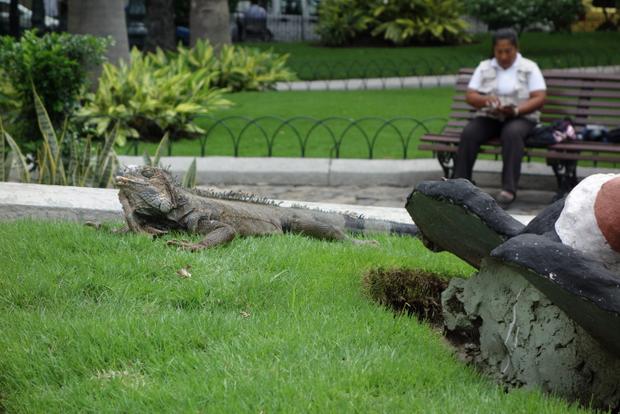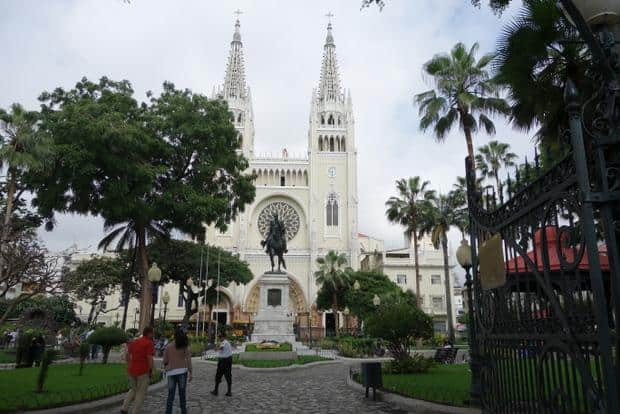 The city's gothic cathedral at west end of the park replaced a wooden one built in 1547. It's a beautiful, cool respite from the city heat. Also nearby here is the Municipal Museum, which focuses on the city's history but features everything from archaeology to modern art.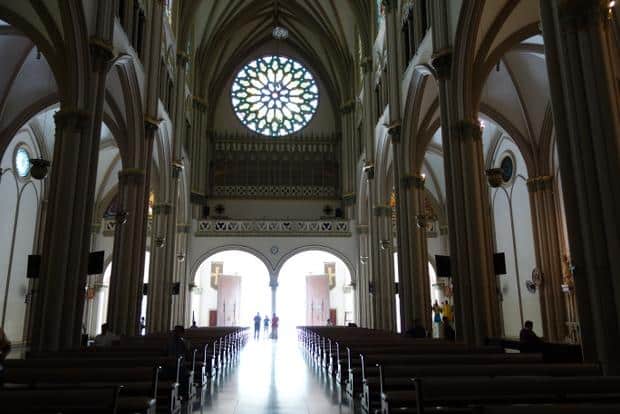 Malecon 2000
Guayaquil's riverfront got a major overhaul, turning it into Malecon 2000. This 1.2-mile pedestrian strip parallels the River Guayas and the entire length of the city center. Fountains, bridges, sculptures and monuments line the walkway, and being near the water really solidifies the Carribean vibe of this city (versus the Andean feel of much of the rest of Ecuador). Look for the Monumento Olmedo, commemorating Jose Joaquin Olmedo (Guayaquil's first mayor and celebrated poet), on the southern end and the United Nations Monument, La Rotonda monument, three-masted sailboat Guayas and Moorish Clock Tower farther north.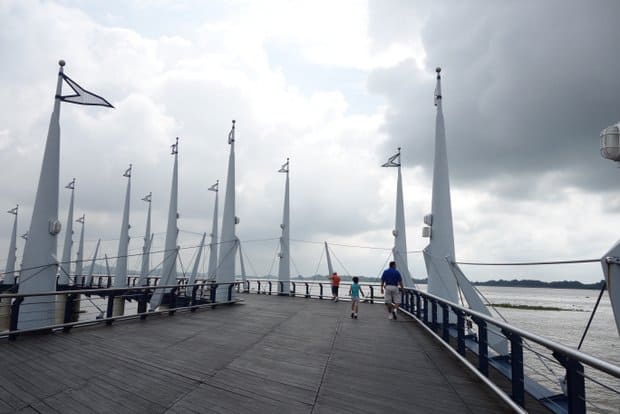 Las Peñas
Located on the slopes of Cerro El Carmen, a hill between the airport and the city (north of Malecon 2000), lies the historic neighborhood of Las Peñas. Colorful weathered houses and narrow, winding cobblestone streets are hallmarks of this neighborhood. Take all 400-some steps to the top for a great view at the Iglesia de San Vicente, the oldest church in the city, founded in 1548. I went here in the morning and it was a bit deserted. But this area is known for its bars, cafes and galleries, so perhaps an afternoon stop would be more lively.

Guayaquil Cemetery, Plaza Centenario & Mercado Artesanal
After my Las Peñas visit, we made some quicker stops by van to the artisan market, the Guayaquil cemetery (also called the White City) and Plaza Centenario, which spans four square blocks making it one of the largest plazas in Ecuador. At Plaza Centenario, look for the Monument to the Heroes of Independence in the center of the plaza. Surrounding it were tons of old portable photo booths, which could be a fun souvenir.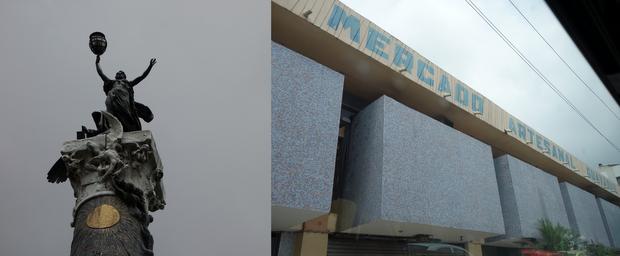 Guayaquil Dining
Upon the recommendation of my guide, I ate at La Canoa on my first afternoon in Guayaquil. This restaurant is in front of Parque Bolivar (Iguana Park) and near the Continental Hotel. This was a great spot, packed with lots of locals eating lunch here – very yummy and authentic dishes. I also ate at El Patio in my hotel, Hotel Oro Verde. The cuisine here felt a little more Americanized, but it was great and super convenient for my final night in Ecuador, when I was exhausted after my Galapagos cruise. There is a swanky bar in this hotel too.
I read good reviews of Arturo's, which is by one of the hotels we use, Mansion del Rio, in Las Peñas neighborhood. If you're up for a cab ride to what my guide says was the best Ecuadorian food in town, head to Lo Nuestro in the Urdesa suburb. Caracol Azul was also recommended. If you need a coffee fix and your hotel brew won't do, there is a place my guide told me about called Sweet & Coffee that is Ecuador's equivalent of Starbucks.

Guayaquil Accommodations
We primarily book travelers in one of two properties: Hotel Oro Verde downtown or the boutique hotel Mansion del Rio in Las Peñas. Hotel Oro Verde aims to be Guayaquil's premier luxury hotel, and you can expect the finest accommodations in this property's suite tower, and comfortable, clean rooms in the main tower. Hotel Oro Verde's lobby, amenities, spa/gym/pool and restaurants are all top class. Mansion del Rio offers suites on the shore of the River Guayas, decorated in an antique European style. This property has a lot of charm, but is not as centrally located within the city as Hotel Oro Verde.
I also stayed at the Hampton Inn Guayaquil for a night to review it for our travelers, and this standard property had the best location of all, in easy walking distance to Malecon and Parque Bolivar. The amenities don't compare to Hotel Oro Verde, but if you're in need of something basic, this hotel will do.
Guayaquil City Tours
To experience Guayaquil, Ecuador on a guided tour, contact our Ecuador travel experts at AdventureSmith Explorations for more information or see our Quito & Guayaquil Galapagos Travel Package.
This blog detailing what to do in Guayaquil, Ecuador is among AdventureSmith Explorations' extensive collection of travel guides. Find more on the AdventureSmith Travel Blog.