AdventureSmith Explorations Founder and President Todd Smith reviews his custom Panama travels planned by his team at AdventureSmith.
In December 2013 my family and I were invited to join the inaugural Costa Rica, Panama & Colombia cruise aboard the Variety Voyager. Wanting to explore Panama for the first time with my wife and young sons, age six and nine, we added a custom 8-day trip to Panama City, Bocas del Toro and Gamboa. This combination allowed us to explore many of Panama's top attractions including the Panama Canal, Caribbean beaches, indigenous culture and rainforest wildlife at a relaxed pace while staying in accommodations suitable to families with young kids.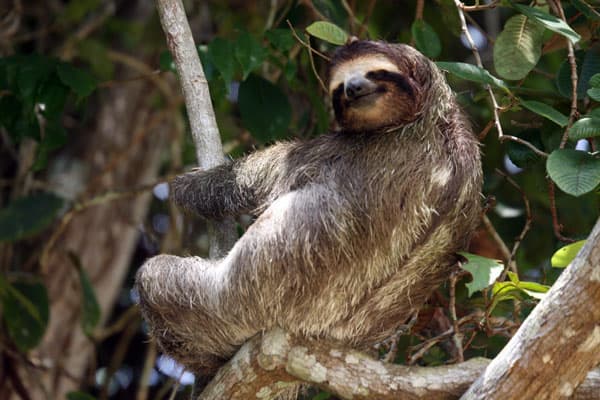 Day 1 – Arrive Panama City
I had known that Panama City had long been an important crossroads and financial center for Latin America and for the world. But I did not realize how important until I flew into Panama City. An easy 3.5-hour flight from Houston we landed at the Tocuman Airport and transferred 20 minutes to our hotel Altmann. With 1.3 million inhabitants the city seems larger with a lengthy skyline of glass and steel running for miles along the waterfront as if protecting the city from the sea or perhaps containing the jungle on land.
Day 2 – Panama Canal Excursion & Bocas Del Toro
We began our exploration with the obligatory visit to the Miraflores Locks to witness the Panama Canal in action. Ivan, our guide, quipped that it is the only crowded place in Panama. Of the 1.5 million visitors coming to Panama each year nearly all of them will visit this visitor center. After all, if you are only going to visit one place in Panama this would be it. Watching the huge cargo, container and tanker ships pass through the canal is quite a sight. While the canal itself is an engineering feat of historic magnitude, the immense size of the ships and their close proximity to the viewing area is equally impressive. While we would transit the locks later on during our cruise and visit them again on a larger tour, we appreciated the personal insights only a private guide can offer. After the locks, we moved on to visit the real Panama.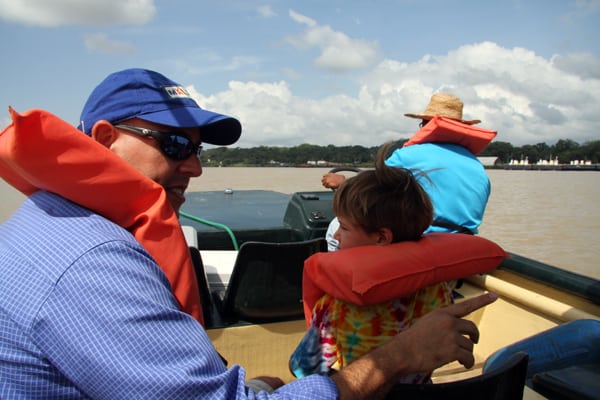 Panama City is surrounded by an immense rainforest. An extensive Canal Zone surrounds the waterway preserving untouched rainforest and making the Canal and Chagres River that feeds it a terrific place to spot wildlife. We launch our private canal wildlife excursion just up the Chagres River, an important waterway that provides all the fresh water to operate the canal, near the town of Gamboa. Our small skiff is dwarfed by the giant ships passing through, and our guide is a wealth of knowledge regarding the types of ships passing by. Leaving these metal monsters behind our boatman zips near the shoreline and we begin scanning small inlets and creeks for wildlife. Along the shore and out of sight of the main canal we have entered another world. Only minutes away from Panama City, we are surrounded by wilderness. We can hear howler monkeys in the distance and oropendolas overhead. It's not long before we spot a three-toed sloth perched only a few feet above our boat. I had seen sloths in the rainforest before but never so close. We soon zip across the canal in search of howler monkeys, which we see in the distance but the views are challenging. Our guide directs the boat driver deeper into the jungle and soon we are face to face with curious Geoffroy's tamarinds. These small monkeys are playful and again come right down to our boat. Our guide advises that this particular troop has been relocated due to construction of the new canal, and they are making a new home in this region. After a few more sightings of turtles, caiman and countless birds we stop for a picnic lunch in a scenic spot shaded by jungle and overlooking the canal. After lunch we spot more animals on our way back to civilization. We dock the boat and a few minutes later are at the Albrook domestic airport waiting for a flight to Bocas del Toro. I am amazed at how accessible the wild rainforest seems just past the fringes of the city. A short flight and we arrive in a different world altogether.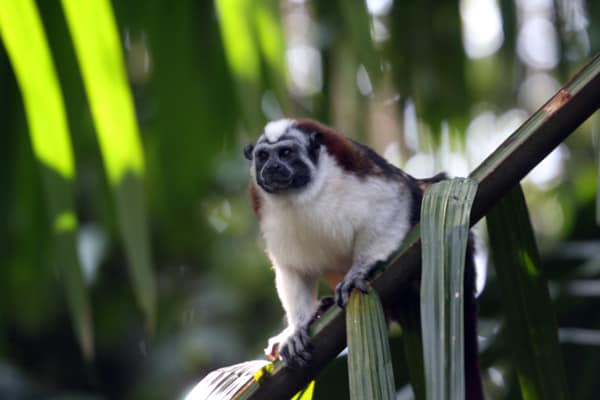 Bocas del Toro is my new happy place. Situated on the northeast corner of Panama, the name Bocas del Toro applies to the entire district and the bohemian Caribbean town on Isla Colon. Flying in illuminates an archipelago of green islands surrounded by long white-sand beached punctuated by rocky outcroppings and pounding surf, the sight of which got my heart pounding. Upon arrival we are greeted for the short 2-minute transfer to the Bocas Inn. Like many of the buildings in Bocas, the Inn is situated on stilts above the water and it was only a matter of minutes before my kids had their bathing suits on and were joyfully jumping off the deck into the tropical water.
The Bocas Inn is a quaint seven room seafront lodge located away from the busy core of Bocas town. Our upstairs room was simple with two double beds, air conditioning and a private bathroom. But the location was five-star with a hammock and chairs on a shared balcony overlooking the water. Learn more about our three day Bocas Del Toro Adventure trip extension.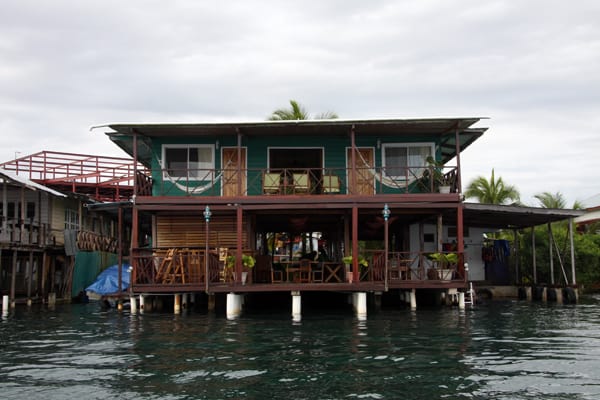 That evening the Bocas Inn prepared us a dinner that would be our best in Bocas. The dining room, lounge and bar are located just downstairs from our room and offer the same open-air Caribbean feel. With the water lapping at the rocks below us and the sun setting over the bay, we ate and our stress melted away with each bite. My kids described the shrimp dinner as the best of their lives.
The highlight of any stay at the Bocas Inn is the personal attention of the staff. Everyone made us feel welcome, as if we were a friend staying in their home, rather than guests at an inn. They shared smiles and stories of life in Bocas and by the time we left we felt a genuine connection to the people and the places of Bocas del Toro.
Day 3 – Salt Creek, Snorkeling, Red Frog Beach
The next morning a private breakfast was prepared at our requested time and just as we finished, Livingston our boatman arrived for our tour. Livingston, born and raised on the nearby island of Bastimentos, is the quintessential Caribbean boatman. With a hearty "Hey Mon," a bright smile and a quick laugh he is the perfect representative to show us his home. We departed in his covered skiff for the outer islands, stopping en route to place our order for lunch. Along the way Livingston would slow down to describe the life cycle of the mangroves, or to point out the bright-yellow flowers blooming atop trees in the rainforest canopy. On the south side of Bastimentos Island Livingston navigates our boat toward what looks like an impenetrable thicket of mangrove. As we slowly make our way along the shore a small inlet appears and he eases the skiff into it. Soon it has become so narrow we are surrounded by mangrove and soon enter a veritable tunnel of plants. Birds and crabs chirp along the shore and we slowly pass about a mile into the interior of the island.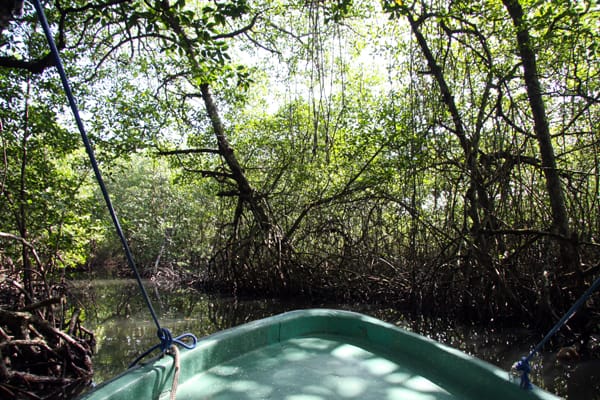 We arrive at Salt Creek, an indigenous Ngobe village of about 300 people. Our local guide Salino arrives at the dock to greet us and welcomes us to his home. We walk about a quarter mile into the town and see palapa-roofed huts with dirt floors each with a well-manicured garden and colorful laundry hanging outside. Salino leads us to the Caiman Trail that he helped pioneer to bring travelers and money to his village. Before we even begin, we see a three-toed sloth hanging in the tree at the trail's entrance. We had been warned that the trail would be muddy, even in dry conditions. But instead it had a rough layer of coconut husks ingeniously laid out to pave the trail and eliminate the muddy conditions – a technology also invented by Salino and now being used on trails across the nearby islands. We view a number of birds including the colorful Montezuma oropendola and a toucan. Salino has a lifetime of knowledge of rainforest plants and their medicinal uses. We view leaf-cutter ants, strangler figs, tent-making bats and more. A highlight of the hike comes when we begin to see a number of tiny red poison dart frogs about the size of the tip of a person's thumb. We learn that people used to use the poison from the frogs' skin on blow darts for hunting animals or warfare. On our return to the village we stop at an open pond where Salino tosses a few sticks to attract the resident caiman who lives in the pond. Sure enough the caiman swims out within our view to investigate and we get great views. Prior to this I had never witnessed a caiman in broad daylight, as they usually come out at night.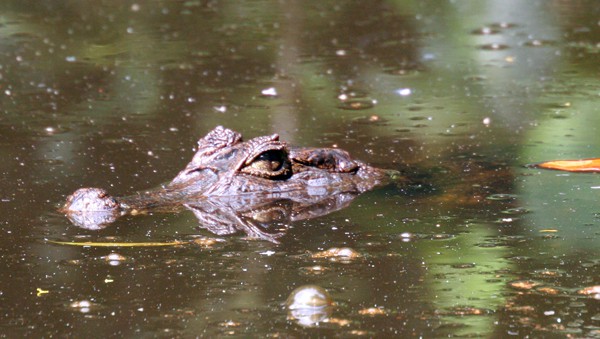 We return to the village and Salino shows us the school, the church and the community center as he answers our questions about life in such a remote location. Food and water are mostly harvested locally with some imports from Bocas and other nearby communities. Villagers in Salt Creek live a largely subsistence lifestyle or fish, but some do commute to nearby communities for work. He and a few others have developed the ecotourism initiative to attract travelers to Salt Creek to bring much needed money into the community and to provide opportunities for guides to work and connect with the outside world.
As we return to the dock, curious kids from the village descend upon my sons and they play together for a few minutes before we depart. Livingston navigates out the mangrove tunnel, and we are refreshed by the ocean breezes as we reach the Caribbean. We stop at a waterfront restaurant built on stilts for a delicious seafood lunch. The kids can hardly eat because they are distracted by the numerous starfish and fish swimming the shade of the restaurant. It's almost like snorkeling without getting wet. After lunch we return to Livingston's skiff and cruise toward our snorkeling spot.
Our first snorkel visits an underwater forest of brilliant corals. There must have been hundreds of species from fan corals to brain corals and every shape in between. We see numerous small fish darting in and out of the coral sanctuaries. It's clear that this is an undersea nursery where fish are safe from larger predators.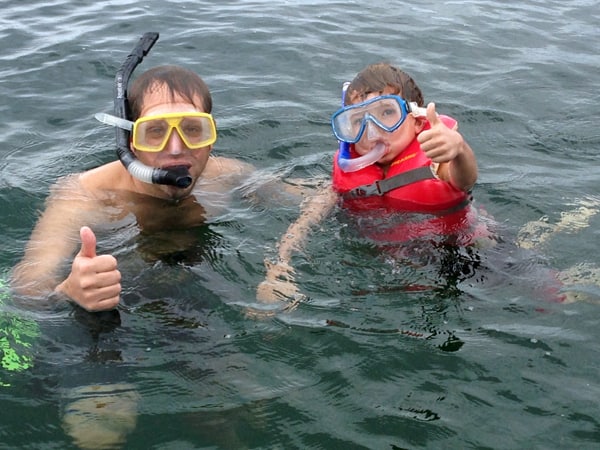 We return to the skiff and cruise a short distance to our second snorkel spot among the mangroves. I had never snorkeled near a mangrove before and it was an unusual experience. We saw only a few fish but the main attraction was seeing the underside of the mangroves and how they anchored the island to the seafloor. Cool water emanated from the dark shadows of the mangrove while harmless jellyfish pulsated below us in the deeper water offshore. It was a unique place to snorkel and worthwhile if you are interested in mangroves.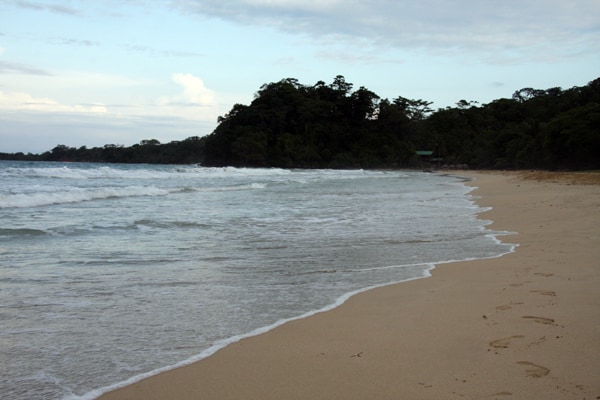 Our next stop was a thin isthmus on Bastimentos Island where a short trail led from the protected waters of the lagoon to the ocean side of the island. Along the short trail we saw hundreds of crabs and a number of the namesake red frogs. A trailside pond was home to at least 8 small caimans. The trail opened to a postcard-perfect Caribbean beach with large waves pounding on white sand. A couple of small inns with restaurants offered a chance for a drink or a snack, but we simply lounged on the beach and enjoyed the surf. There were only a few other locals on the beach and no other travelers.
On the way back to Bocas town, Livingston was proud to show us his home town of Bastimentos. This community, only accessible by boat, is smaller and a bit more laid back than Bocas del Toro. A few hotels and restaurants dotted the waterfront, and Livingston showed us his humble waterfront home.
After our tour we relaxed on our veranda and cleaned up for dinner. We walked into town looking for a restaurant among the many recommendations we had heard. As we passed through the main plaza we heard music and stopped to enjoy young local dancers in traditional dress perform on the stage and in the plaza. It was an unexpected treat and a terrific end to a fun-filled day in Bocas del Toro.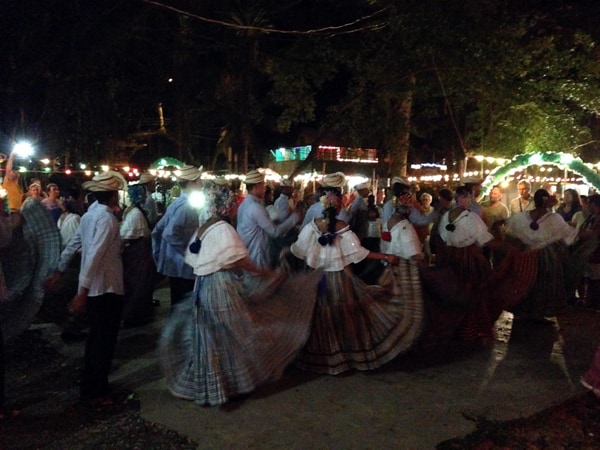 Day 4 – Bocas del Toro
Today we had a free day and we considered many options. We could head to Dragon's Cove beach by boat or by car. We could go kayaking, snorkeling or scuba diving. A water taxi to a nearby village sounded nice. Or we could just relax, swim and explore Bocas town. We lounged on the deck after breakfast and the incoming rain made our decision for us. With a strong downpour that looked like it might last all day we decided to relax and explore Bocas town. In the past 10 years this town has exploded onto the travel scene, and there are dozens of options for restaurants and plenty of shopping. We lunched at Lili's Café, located on a wharf over the water, strolled the streets, shopped for local artwork and enjoyed ice cream in the Plaza. We had dinner on an old boat tied to the dock that was filled with locals. After dinner the town was having their annual holiday parade bringing a colorful Christmas spirit to the tropical Caribbean town.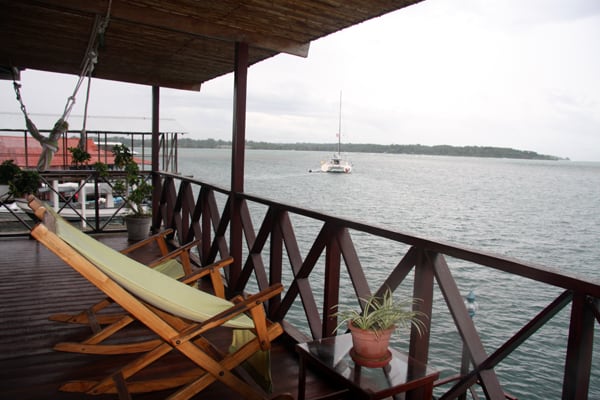 Day 5 – Embera Drua
This morning we said goodbye to the staff at the Bocas Inn, which by now had made us feel like part of their family. We transferred to the airport and returned to Panama City. We were met at the airport and transferred to the Chagres River for a dugout-canoe journey upstream to an Embera village. The Embera people were originally from Panama's Darien region but many have immigrated closer to Panama City in hopes for a better life. Disillusioned with life in the city, many have resettled in villages along the Chagres River in Soberania and Chagres National Park. There are three villages to visit along this stretch of river, and we chose the most upstream, Embera Drua, as we were advised it was the least visited and most authentic.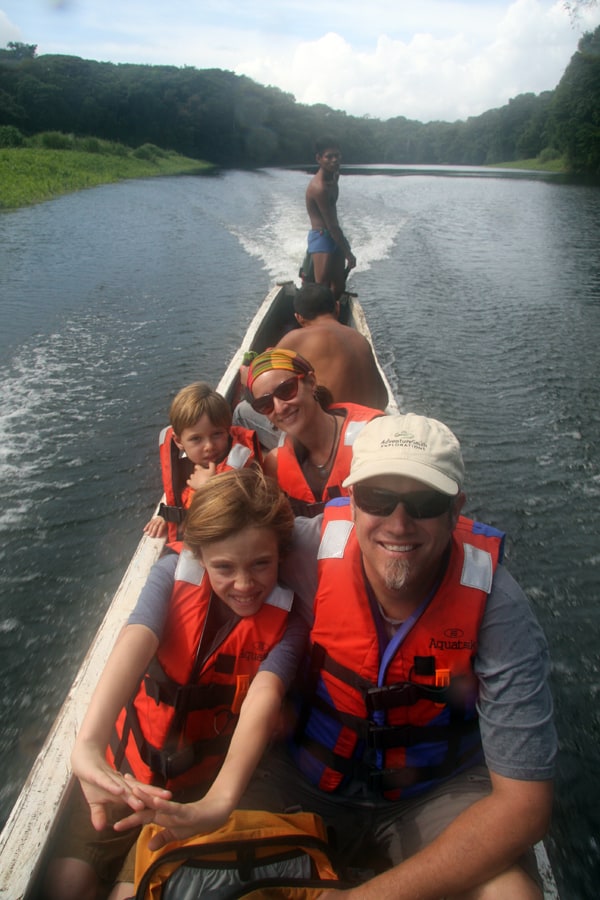 The men who guided our canoe, as all the men and boys in the village, wore simple loincloths. We would learn that this was not for our benefit but that they still wear their traditional clothing as a matter of daily life. The one-and-a-half-hour upstream excursion was beautiful. The Chagres is the main source of water for the Panama Canal and as such is protected by national parks and vast rainforest. We continued upstream, beyond the influence of dams, to where the river flows freely. When the water became too shallow to use the outboard motor, our guides used wooden poles to navigate upstream through the rapids. The canyon walls became narrower and the jungle closed in around us. Soon we came to a wide bend in the river with a shallow sandbar. We could see the village huts on the banks above the river.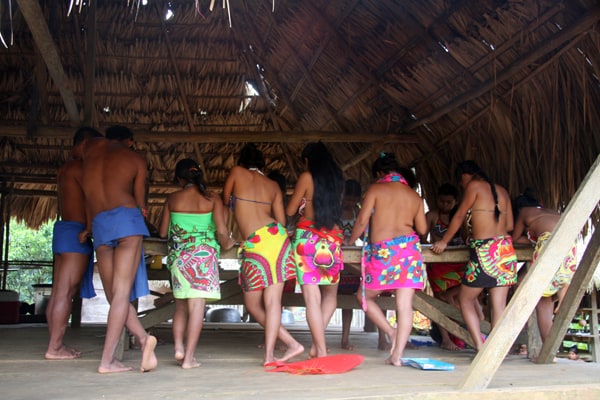 Instead of a staged tour where the people of the village performed or formally greeted us, we simply explored the village casually with our local guide. We visited the main plaza, which also serves as the soccer field and basketball court. Thatch-roofed huts built on stilts were scattered among the main plaza and extended up the hill into the jungle. The village had a school built of cinderblock that contrasted with the other wooden structures. As we explored, women and babies ambled by wearing colorful Paloma skirts, bead necklaces and silver coin ornaments. They smiled and waved, or kids would giggle and try to play with our kids. They had a gift shop with traditionally woven baskets and carvings crafted by village families. We made our way to a central palapa that was the center of village life. Here youths played games, women sat weaving and others prepared a traditional lunch for us. We learned the significance of the arm and facial tattoos many of them wore, while we received temporary tattoos of our own. The lunch of fish, plantain and fruit was eaten with our hands on the floor, and it was delicious. The informal nature of our visit and the warmth and ease of the Embera people made this one of the highlights of our trip to Panama.
We returned downstream and continued by van to the Gamboa Rainforest Resort. The kids were thrilled to jump in the pool and we enjoyed relaxing on the veranda of our Junior Suite.
Days 6 & 7 – Gamboa
As a traveler accustomed to jungle lodges where intimate access to surrounding environments is the priority, I was not sure what to expect of the Gamboa Rainforest Resort. Rainforest and resort are words that seem uneasy together. Only 45 minutes outside Panama City the resort is everything one would expect with a large hotel tower, swimming pool, several restaurant options, full service spa, concierge and a stunning atrium giving an outdoor feel even inside. Surrounded by rainforest overlooking Lake Gatun where the Chagres River meets the Panama Canal the wildlife and nature we encountered from the resort was surprising.
The options for activities at Gamboa Rainforest Resport are endless and we had a hard time deciding what to do. Choosing from an Aerial Tram Tour, boat expeditions on Lake Gatun and the Panama Canal, kayaking, fishing, birding, night safaris and more we tried our best to balance activities and relaxation. While it was raining we occupied the kids at the pool and a walk into the nearby town of Gamboa while mom enjoyed a massage and spa treatments. When the sun came out we enjoyed the Arial Tram and observation town, the onsite orchid garden, butterfly farm and serpetarium with caiman, turtles, iguanas and fish. Each evening the kids loved the night bus where we spotted sloths, capybara, opossums, crocodiles and even some sleeping birds.
While Gamboa is not a substitute for Panama's incredible jungle lodges and wilderness experiences, it is a good fit for travelers and families looking to escape the hustle of Panama City and experience Panama's nature in comfort. After a full day at Gamboa we easily transferred to Panama City in time for dinner and our next adventure.
Day 8 – Panama City
A trip to Panama would not be complete without a tour of dynamic Panama City. As we learned from our guide Hernan, Panama is actually three cities in one, two of which are UNESCO world heritage sites. Our first stop was the World Heritage archaeological site of Panama Viejo. Founded in 1519 Panama City was the first permanent European settlement on the Pacific Ocean and would later serve as the launching point for various expeditions into Peru. Much of the gold acquired by Spanish Conquistadors made its way to Panama City before being transported overland to the Caribbean and by ship to Spain. Panama Viejo is the nearly 500 year old ruins of the original city. In 1671 the city of 10,000 people was sacked by pirate Henry Morgan and was subsequently rebuilt nearby on a more easily defended promontory. Many of the stones from the original city were taken from this location and used to rebuild. Walking among the foundations our guide pointed out what used to be extravagant homes, the cathedral, town square and even bits of china among the rocks and soil at our feet. The park like setting of the ruins and the lack of other tourists belied the fact that we were actually in a suburb of modern Panama. Occasionally the juxtaposition of ruins, trees and towering skyscrapers in the background would remind us of Panama's past and present.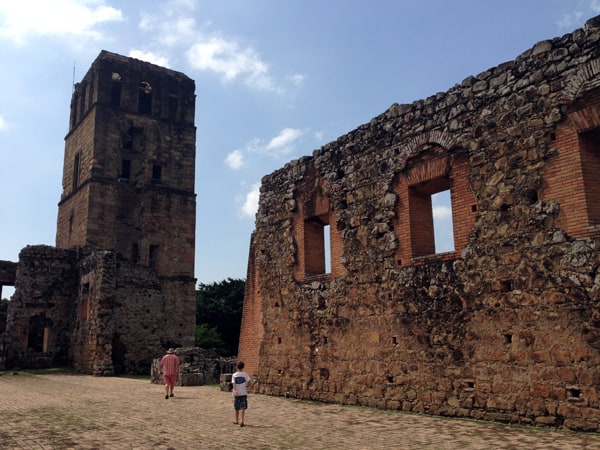 The contrast of Panama's past and present was on full display on the drive from ancient Panama City at Panama Viejo to old Panama City at Casco Viejo. Along the way our driver took us past downtown Panama's spectacular waterfront lined with an endless wall of steel and glass skyscrapers. Panama continues to be an important crossroads of commerce and is known as the Switzerland of Latin America. We are amazed at the towering banks, office building, apartments and hotels in Panama's vibrant downtown.
Casco Viejo is Panama's Old Quarter or old town. Originally settled in 1673 after the original city was sacked, it is now recognized as a World Heritage Site. The area is currently undergoing an extensive revitalization with historic buildings and streets being refurbished. As such it has the feel of a large construction zone, but it is an up and coming neighborhood and I anticipate that in a few years this will be the preferred place for savvy travelers to stay and dine in Panama City.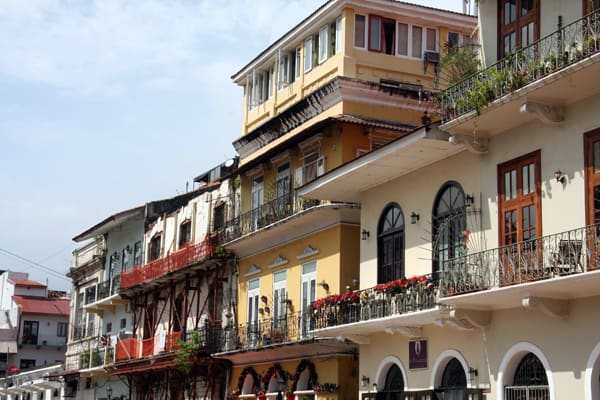 We began our tour with a delicious authentic lunch in a restored historic building just off the Plaza de la Indepencia. The Plaza is also flanked by La Cathedral Metropolitana which is the main Catholic temple in Panama City. We visited the Church of Santo Domingo with its flat arch which was an engineering marvel in its day. We saw the Panama Canal Museum which is housed in the original building of the French Panama Canal Authority. Walking among the narrow cobblestone streets we were taken back to Panama's colonial past. Our guide then took us to the waterfront where the defensive wall designed to protect the city has now been converted into a scenic walkway with shops and vendors overlooking the Bay of Panama with a grand view of downtown. In another nod to modern Panama the magnificent view was broken by a new causeway being built over the water completely surrounding Casco Viejo. This controversial project will ease the city's traffic congestion but may also threaten the neighborhood's UNESCO World Heritage status. We could have spent the entire day exploring the historic sites, shops and restaurants of Casco Viejo and next time I return to Panama I plan to stay here.
This concluded our Custom Panama Adventure to Panama City, Bocas Del Toro and Gamboa. From here we transferred to Colon and embarked the 72 guest Variety Voyager's Costa Rica, Panama Canal and Colombia cruise.
Travelers seeking other family travel options in Panama should consider the guided small group Panama Family Adventure or contact our Panama travel experts to craft your own custom Panama trip.
This Panama travel review was written by an AdventureSmith Explorations crew member. Read all AdventureSmith Expert Reviews for more trip reports, or contact one of our Adventure Specialists to learn more about these small ship cruises and wilderness adventures: 1-800-728-2875.