A Baja vacation is an excellent choice for wintertime migration from colder North American locales. Growing up in the snowy mountains of Northern California, I visited Baja each winter for a week or two with my family for an escape from shoveling and icicles. Even just a short visit makes a difference in a long, cold winter. Why should you go to Baja this winter? Culture, beautiful beaches, incredible sea life and tasty food are the quick answers, but here are our top 6 reasons to really get you packing: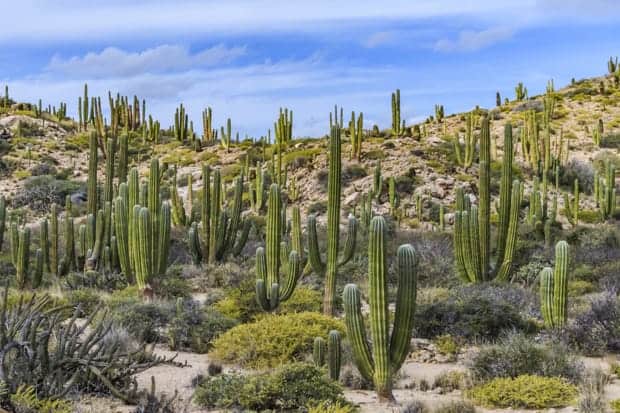 1. Baja Is Close to Home
Toes in the sand, a margarita in your hand and a warm breeze in your hair is not that hard to come across in the middle of a North American winter thanks to the Baja Peninsula's location just south of San Diego. The peninsula stretches south 760 miles to San Jose del Cabo, where the Los Cabos International Airport provides great access to either coastline (the Pacific Ocean or Sea of Cortez).
A 3-hour flight from SF, 4 hours from Chicago and 6 from NYC all make zipping down to Baja possible for even a 4-day weekend.
A three-hour flight from San Francisco, four hours from Chicago and six from NYC all make zipping down to the sunny peninsula possible for even a four-day weekend. This nearby place to visit allows North American travelers a respite from the piercing cold and a close option for relaxation.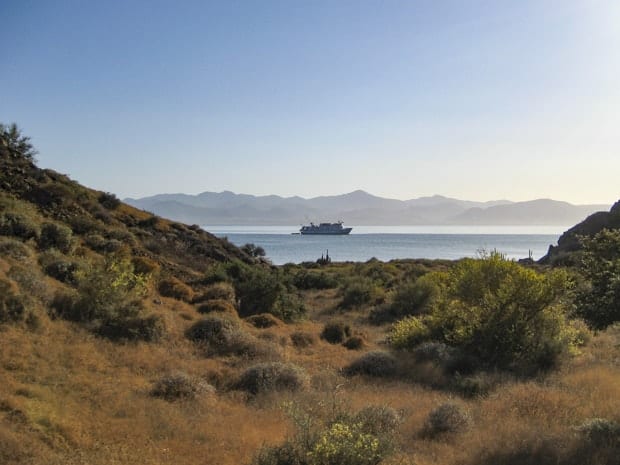 2. It's Easy to Book Last Minute
Many of our destinations—Antarctica, for example—must be booked far in advance, up to a year and a half before, requiring some forethought, whereas Baja vacations can be booked much closer to the departure date. The variety of land-based travel options in Baja also allows for more availability than cruise-only destinations. As with all last-minute bookings, however, you may not have the ideal accommodation or dates that you wish, but the likelihood of finding a trip that works for you is high. And whether you explore Baja by land, sea, or both, it is sure to be a memorable experience.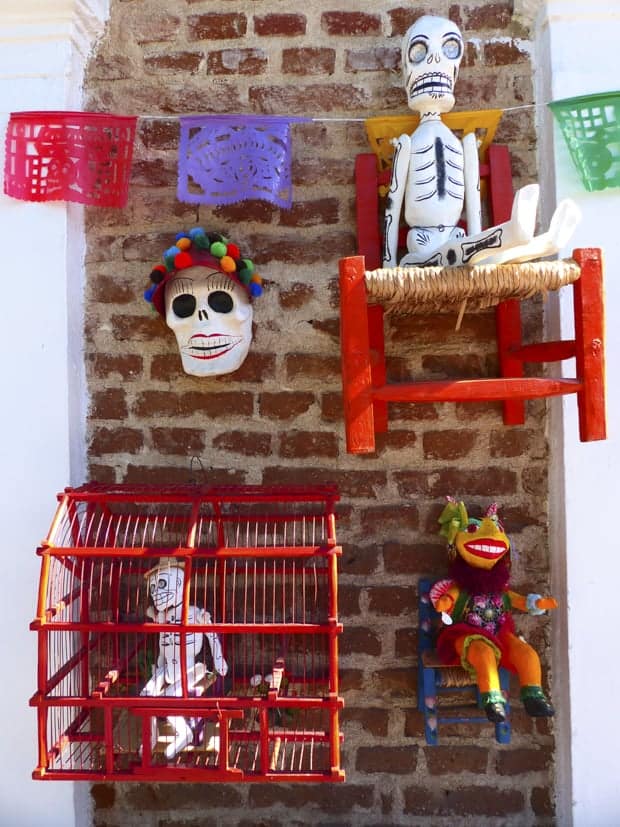 3. Baja Is Affordable
Baja is an excellent destination for travelers not wanting to break the bank but still be comfortable. In addition to affordable flights, the cost of cruises, hotels, food and transportation is a bargain when comparing to many other destinations.
In addition to affordable flights, the cost of cruises, hotels & transportation is a bargain when comparing to many other destinations.
For example, this small ship whale-watching cruise starts from $440 a day for an 8-day all-inclusive cruise while this luxury land-based option on a remote island starts at just $250 a day. All itineraries offered by AdventureSmith Explorations include excellent guiding and various included activities are packed with exciting adventures with wildlife, beautiful hiking and beaches.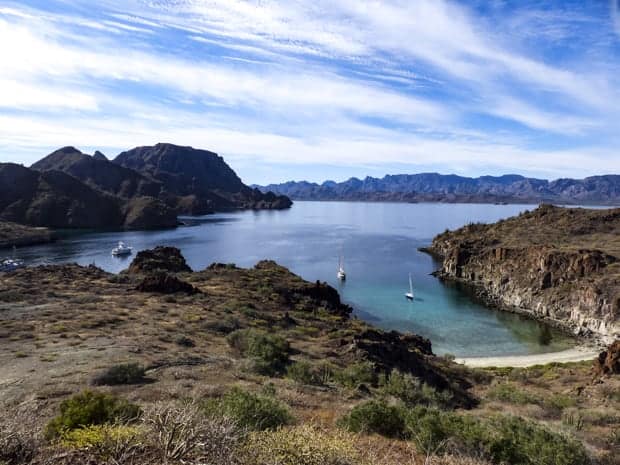 4. Traveling Around Is Easy
In addition to Baja being close, it is also a breeze to travel within. With the presence of many bilingual speakers, the new international terminal at Los Cabos and the influx in tourism infrastructure since 2014, this destination has never been better, or more carefree. And with AdventureSmith's offerings that include transfers to and from the airport, arriving in La Paz to embark your small ship cruise or in Todos Santos to start a land adventure is a relaxed experience.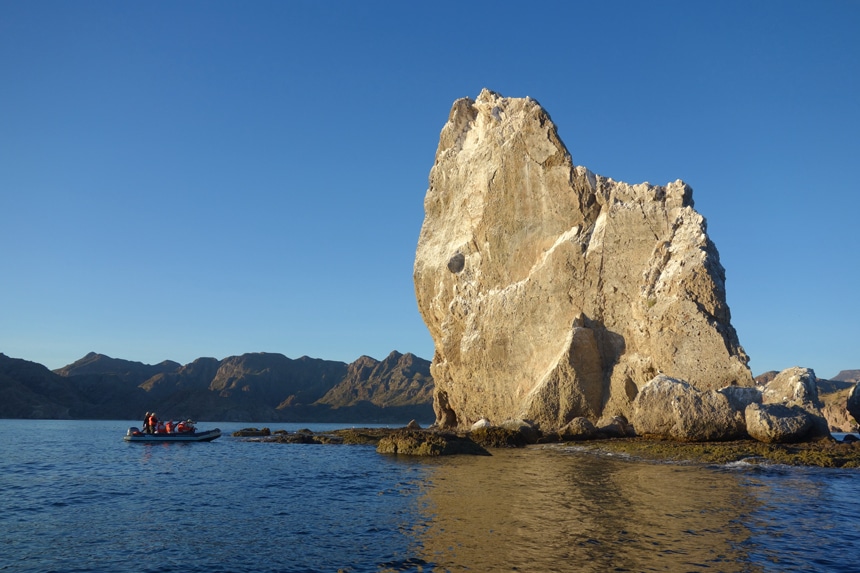 5. Exciting New Baja Travel Options Have Arrived
Now for my personal favorite reason. As a longtime Baja traveler, I always enjoy seeing the landscape in new, off-the-beaten-path ways. And thanks to my work at AdventureSmith Explorations, I'm well versed on what's new: Camp Cecil de la Isla on the island Espiritu Santo provides a new luxury glamping experience on a gorgeous remote desert island.
A wellness cruise on the Sea of Cortez, glamping on a remote island and an insider's view of Todos Santos are among the new offerings from AdventureSmith.
Either of these options can be combined with the newly redesigned Baja Intimate Insider itinerary. This 7-day trip offers travelers opportunities to experience the unique small boutique hotels and inns in the artsy town of Todos Santos while interacting with artists, ranchers and the talented chefs of this area known for its creativity. Travelers can further customize this trip to include excursions that match their interests. With these new Baja trips, finding an ideal offering that fits your desires and needs is entirely possible.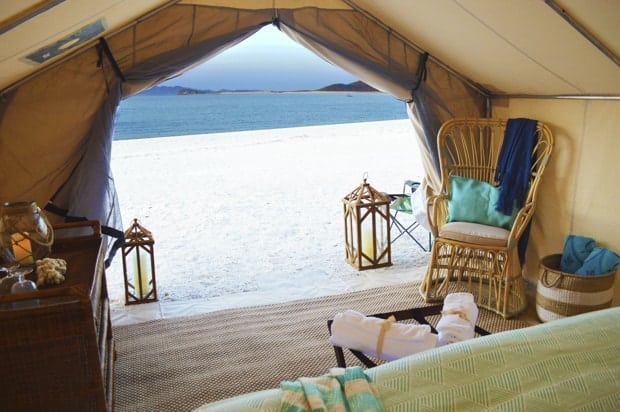 6. Swimming with Whale Sharks
Although whale sharks are found swimming all over the world, La Paz, Baja (a commonly used port for AdventureSmith's small ship cruises), is one of the easiest and closest opportunities to swim alongside them for North Americans. These fish (the largest fish in the world) have made a winter home on the sandy shallows just outside the La Paz harbor where snorkelers can test their swimming speed (and nerve) by trying to keep up with these massive fish. (Whale sharks swim like a shark but feed on plankton and other small sea life, offering no threat to swimmers.) Swimming with these majestic creatures is an experience not easily forgotten and just another incredible offering from a Baja vacation. Many of AdventureSmith's Baja trips offer this unique opportunity; it's time to get down there!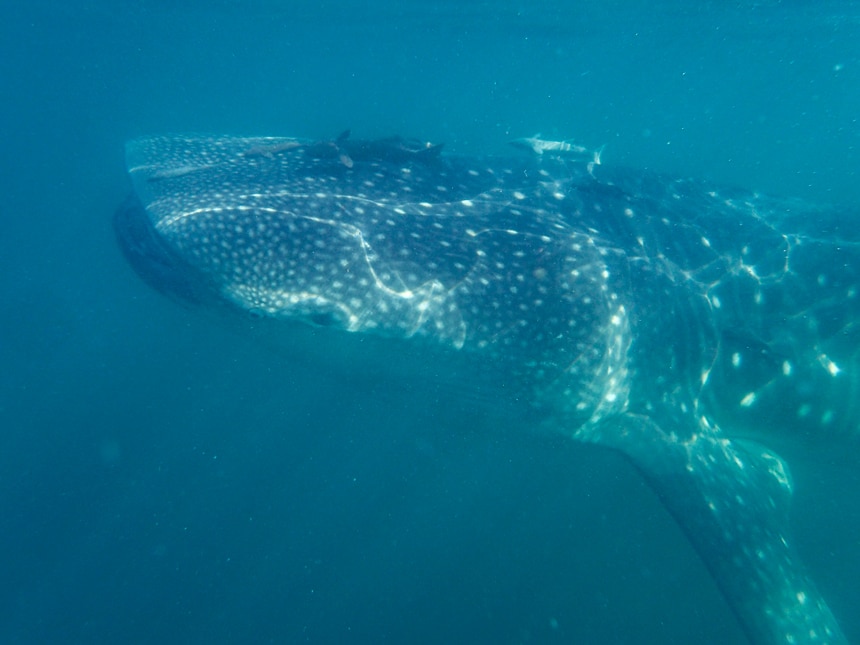 There are also opportunities for up-close sightings of gray whales on the Pacific side of the peninsula, in sheltered bays where mothers and their young safely swim. AdventureSmith cruises offer specific excursions for gray whale sightings in Magdalena Bay and/ or Laguna San Ignacio on the Pacific side of the peninsula. These curious whales are often seen up-close as they are just as interested in you, the traveler, as you are in them.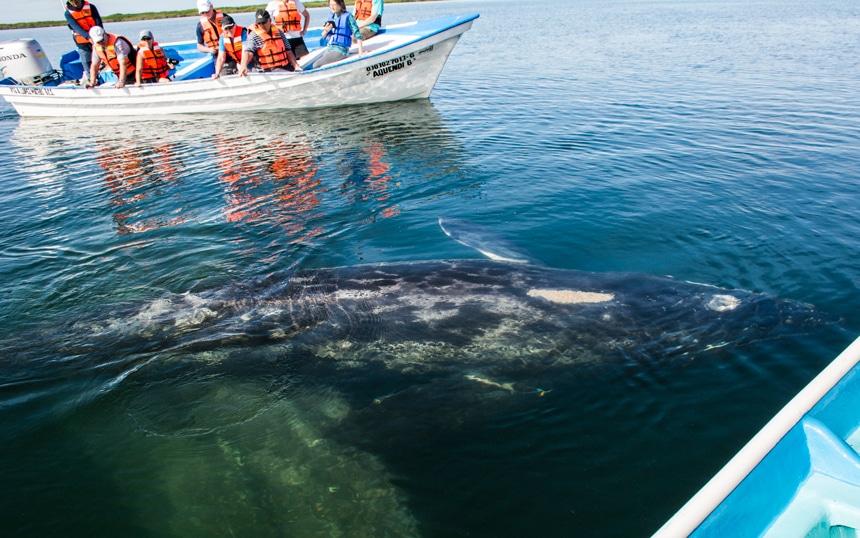 It's not too late to book your Baja vacation, contact AdventureSmith to learn what's available. To dig deeper into researching your Baja cruise and more on whale watching seasons, consult our comprehensive How to Choose Your Baja Cruise guide. This Baja guide is among AdventureSmith Explorations' extensive collection of travel guides on the AdventureSmith Travel Blog.