Marketing Manager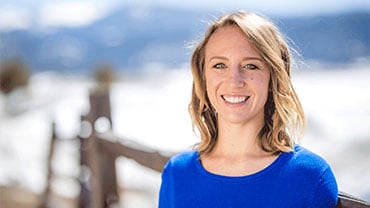 Kelly's passion for outdoor adventure can be traced back to her childhood during her family's frequent camping and fishing trips. Her activity-centered explorations have taken her to fish the deeps of Costa Rica, Baja, and Hawaii to the flats of Belize. She has sailed the fjords of Norway and the islands of the Galapagos and gone scuba diving in Thailand and Indonesia.

Kelly intends to put small ship cruising on the map, capturing and sharing news and stories that inspire travelers to consider our growing segment of adventure and expedition cruises. Her thoughtful campaigns, inspiring imagery and catchy design work can be found throughout our blogs, digital and print ads, social media, newsletters and more.
Kelly left her home in the bay area to get her B.S. in business with a minor in marketing from California State University, Long Beach. After interning for marketing and website departments at Southern California ski resorts and snowboard magazines, she returned north but kept her outdoor industry momentum by working many years at Sugar Bowl Ski Resort in the human resources department. She jumped aboard AdventureSmith finally combining her love of travel, animals and marketing in one. Using her professional experience and passion for the outdoors, Kelly is determined to drive our brand of small, sustainable travel.
Outside the office, Kelly enjoys the bounty of seasonal activities Lake Tahoe offers, from backcountry skiing to mountain biking and fishing to community co-ed softball, you can find Kelly with her Nikon camera and/or GoPro in hand and never without her dog in tow.