AdventureSmith's Kelly Gorrell shares her insights in this Horizon Galapagos Cruise review. Read firsthand details from her time aboard the 16-guest Galapagos Horizon trimaran (known as Camila when Kelly was aboard) with action-packed days on land and in the sea, led by a fantastic crew and naturalist guide.
My love for wildlife started in my childhood. I first wanted to be a veterinarian (too much blood); fine, a zoologist…ok, maybe a marine biologist? My bookshelves were filled with wildlife books; I wanted to visit the zoo, the aquarium… I even asked my parents for a horse (didn't happen). I'm older now but I haven't outgrown my love for wildlife.
So you can understand my excitement when I was sent on a Galapagos cruise of all places. Raw, unedited wildlife, legendary for its lack of fear. The only place where I could come within feet of the most unusual creatures (some found nowhere else on the planet) and witness their every move.
What wasn't so obvious was how the vessel that housed me, fed me and carried me from island to island would have a lasting impression on me.
I knew the archipelago would blow my mind. I knew I'd make friends with a sea lion and get up close to a giant tortoise. But what wasn't so obvious was how the vessel that housed me, fed me and carried me from island to island would have a lasting impression on me. And not just the vessel itself, but the people who day in and day out run this operation. This is my cruise review of my time on the 5-day Northern route aboard the Horizon Galapagos trimaran:
Horizon Ship Review: Living Large on a Small Ship
"Good things come in small packages" rings true for the Galapagos Islands' only trimaran, Horizon. The 16-guest Horizon should not be underestimated by her small passenger count—her rooms are huge, her food offerings are plentiful, and her naturalist guide and crew are worth their weight in gold. I found that with fewer people aboard you are more likely to get to know your shipmates and even develop a relationship with your guide. Unique advantages to this size class and type of Galapagos vessel.
With only eight rooms one may conclude guests are sacrificing size and comfort, but both couldn't be farther from the truth. Cabins aboard the Horizon are so large that you might forget you're on a boat!
In each stateroom, large wildlife murals adorn the walls, crisp white linens and comforters wrap the bed and panoramic windows keep you connected to the outdoors. And if that wasn't enough—private balconies for all! The Horizon makes decision making easy, only offering one cabin category so private balconies come at the same price for every guest. The modern shower and bathroom come stocked with eco-friendly and biodegradable toiletries, hair dryer and robes are at the ready and the overhead rain shower drops the hottest water your skin can bear at the perfect water pressure you could ask for.
I am as light of a sleeper as they come, so I came to the Galapagos prepared with my own ear plugs. I wasn't disappointed when I had to use them a couple nights—I almost expected it—but from pure expedition exhaustion (the best kind) I never failed to get a good night's rest. That said, in conversations with the crew, I learned that cabins three and four are the louder of the eight. So if you are a light sleeper and averse to putting squishy things in your ears, you may want to book one floor up.
Eating aboard the Horizon felt like attending a dinner party at a friend's place.
Just like her cabins, the social areas aboard the Horizon were also spacious. My favorite room in any home is the dining room. Good conversations are had, laughs are shared and memories are made. Eating aboard the Horizon felt like attending a dinner party at a friend's place; all seated around one large table, exchanging stories of our past or the day's excursions, even sharing a bottle of wine between multiple couples. And I'll tell you something else—I never thought I would cross paths with someone from my same hometown in the Galapagos; until I sat next to them during dinner on the Horizon. True story.
Another enjoyable area was the Upper Deck Bar—an outdoor, covered space that was made for our numerous al fresco BBQs. It was also here where, on more than one occasion, we all enjoyed watching the sun set over the horizon with our drink of choice (aka—sunset sippers). Go up one more set of stairs and you would find the Sun Deck, the host of the elevated jacuzzi. Give the staff an hour's heads up and in no time you could enjoy both the bubbles and panoramic views that the jacuzzi had to offer.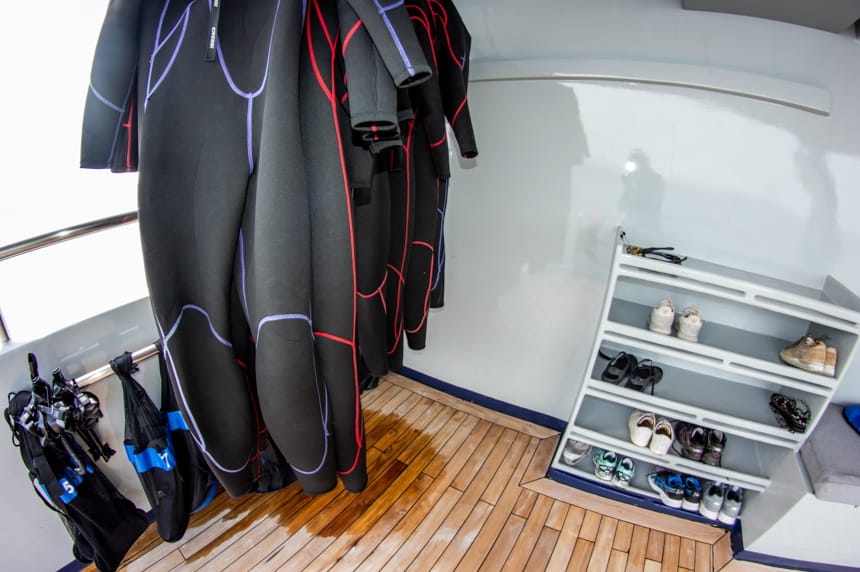 These spaces and amenities were glorious when the conditions were right of course. The climate conditions were something AdventureSmith prepared me for, two things in particular due to the month and route of my cruise occurred simultaneously: completing an (1) open-water crossing during the (2) garua season. Galapagos itineraries generally cruise close to land and between islands, which serve as protection from rough seas. Sailing north to Genovesa Island, however, crosses the open sea; combine that with the garua season's southeast tradewinds, and you can encounter some swells. My guide and crew aboard the Galapagos Horizon gave us a whole day's heads up, advised when to take medicine and were prepared and flexible to skirt the worst of it, limiting the rocking to 3-4 hours. I'm not sure the size of the ship would matter in conditions like these, but the pre-departure preparation I received from AdventureSmith and the skill and knowledge aboard the Horizon made all the difference. My take: seasickness fades but the memories of Genovesa Island and its bird life will not; if you ask me, it was worth it. (With some pictures to prove it)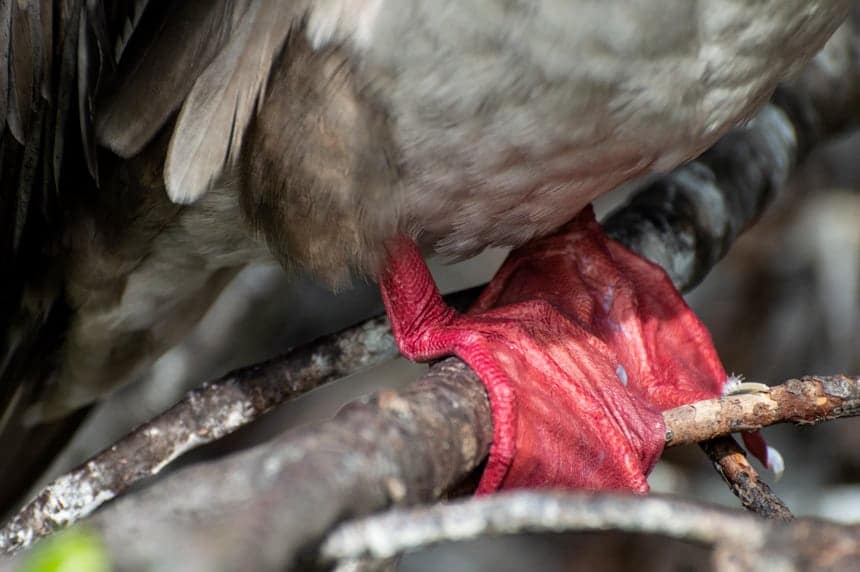 Rave Reviews For My Galapagos Guide
When you plan a Galapagos trip, you may have a Galapagos Islands animal checklist or an island bucket list, but wondering who will be leading your trip may not come to mind. Guides are an important component to making your trip a success and Cecibel Guerrero, my naturalist guide aboard the Horizon, was someone I will never forget.
Superior ships draw superior guides. With 20 years of guiding under her belt, Ceci oozed knowledge of the endemic flora and fauna. She was a true ambassador for the islands and her passion for her profession and contagious love of the Galapagos shined through every story she told. I watched her take photos and jot down notes of her observations in preparation for the report she would send to the park authorities after our cruise. As she worked to monitor visitor sites, doing her part to protect this ecosystem, I waited, thinking one day she may open her jacket to expose the Wonder Woman costume underneath.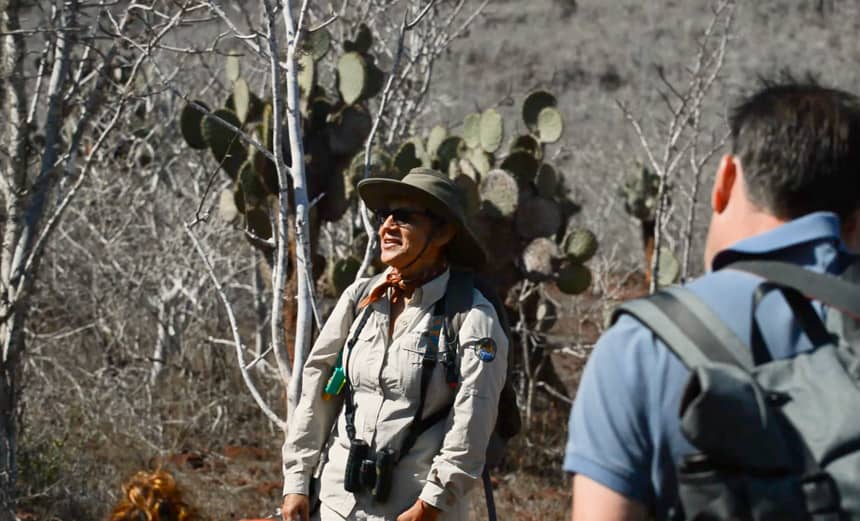 Ceci was friendly, highly entertaining, helpful and patient. In the water she assisted guests who weren't confident snorkelers and made sure they were comfortable and enjoyed their time. Her well-prepared nightly lectures started promptly at 7:00pm and her presence was welcomed at every meal of the day.
I'm not in my teens anymore, but I'd still hang a poster of Ceci on my wall; she's a Galapagos rockstar.
Ceci truly enriched every experience on board and off, I couldn't help but wonder how my cruise experience would have been had she not been aboard. I'm not in my teens anymore, but I'd still hang a poster of Ceci on my wall; she's a Galapagos rockstar. Ceci if you're reading this—I want your autograph!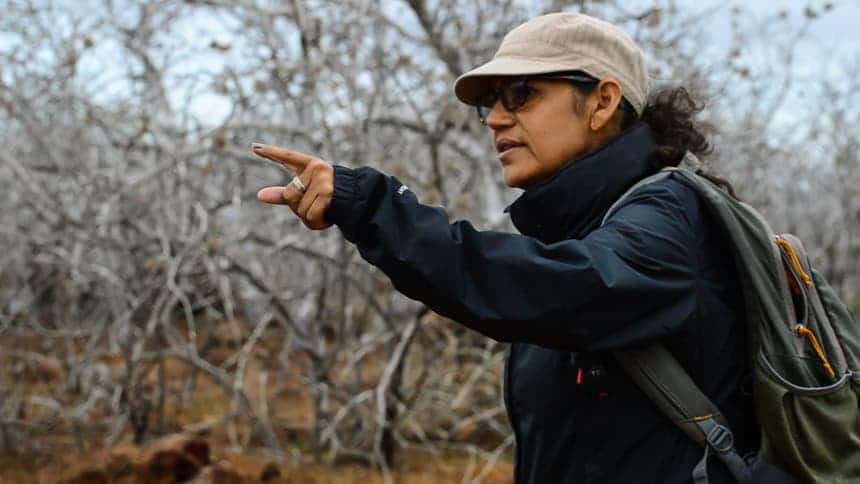 My guide experience also benefited from booking during the shoulder season, however. My September departure hosted only nine guests, and I felt spoiled knowing I didn't have to share Ceci with too many others. One thing to note is that the Galapagos National Park has established a guide-to-guest ratio that is capped at a max of 16 guests per guide. If the Horizon was at full capacity, you would split 8 guests into 2 pangas and could be separated from your guide for a ride. A 16-guest boat will not host 2 guides, so you can expect during high season and holidays to have a 1:16 guide to guest ratio on land, in the water, and among two pangas.
Galapagos Horizon's Welcoming Crew
A small ship makes it easier to know your hard-working crew and for them to get to know you in return. Without a doubt these relationships bettered my onboard experience, especially as a solo traveler.
The Horizon's crew of 10 constantly made themselves visible and available to guests, each one as approachable as the next. The sous chef and engineer would stand on the excursion platform and give you a helping hand in and out of the pangas (inflatable skiffs). Even the captain and housekeepers would hand out snorkel gear and collect and wash your wetsuit. I expected a skilled crew, but they all seemed to truly love their jobs, as evident by the smiles that they always had on their faces. I came to know everyone by name, an intimate element I don't think I would have had on a larger ship.
The Galapagos Horizon's open-bridge policy manifested in open doors with warm and welcoming staff on the other side. During my first visit to the bridge, a handful of crew members stayed and chatted for over 20 minutes. I enjoyed our exchange and returned to the bridge numerous times before my cruise ended. Every morning my cabin speaker would kick on; it started with a catchy song then our Cruise Manager Gabi followed, her smooth and charming voice telling us it was time to wake up, we had 20 minutes until breakfast. After the first morning I stopped setting my alarm and would wait for the morning jingle that my cruise mates and I would sing all day long (much to everyone's dismay).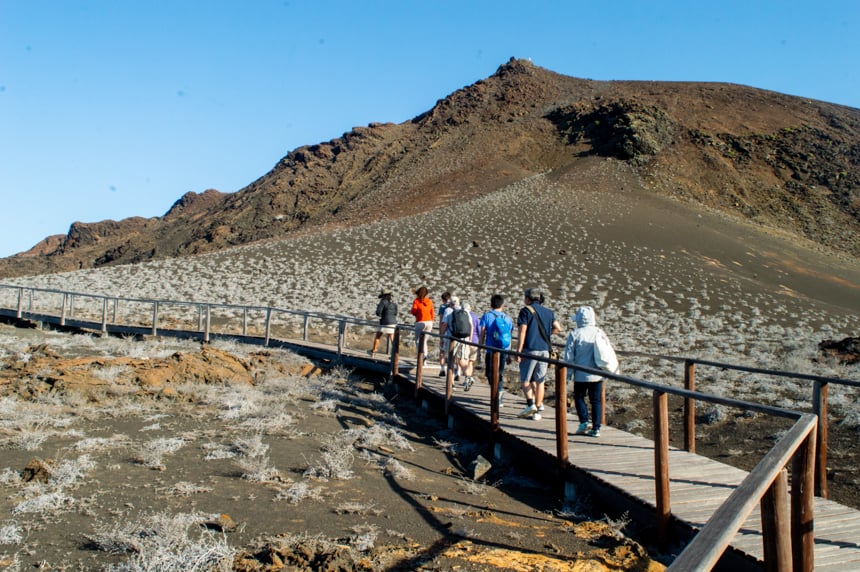 Be Prepared for Active Days Aboard the Galapagos Horizon
Daily activities ran smoother than a Galapagos sea lion underwater. Aboard Galapagos Horizon, our days were structured but seamless. In the Galapagos National Park, the maximum group size for any shore landing is 16 people, so the 16-passenger Horizon is as efficient as possible for off-vessel excursions. We boarded pangas when the schedule said we would, meals were never late and you'd get an urging knock on your door if you were running behind for an activity. Between shore excursions, snorkeling, kayaking, paddleboarding, lectures and meals, the Horizon kept you busy.
Snorkeling in the Galapagos…
It's true, there's a lot of water in the Galapagos. It's why small ship cruising thrives in this destination. And it's true, the underwater world is rich with biodiversity, making this activity an inherent part of any Galapagos itinerary. But what is also true is that even if you consider yourself a strictly land-based creature, the highly skilled guide and crew of the Galapagos Horizon do everything possible to ensure your safety and comfort. And what I hope you wouldn't do is let this optional activity get in the way of you visiting this incredible destination.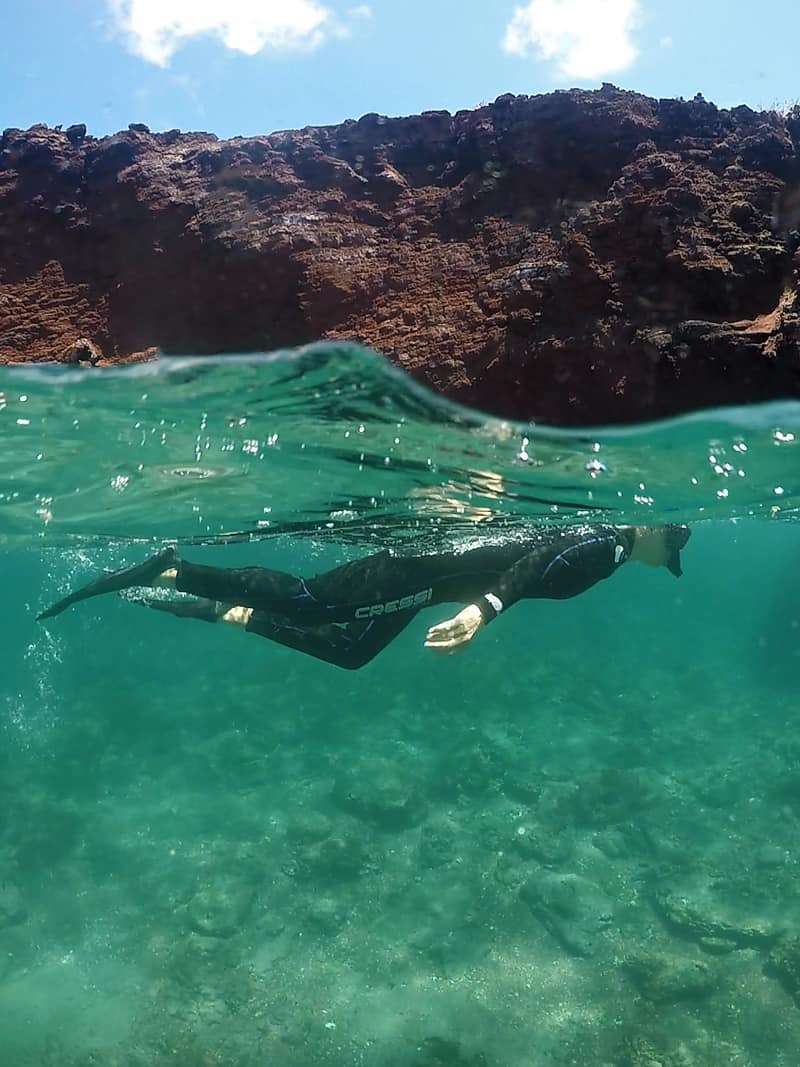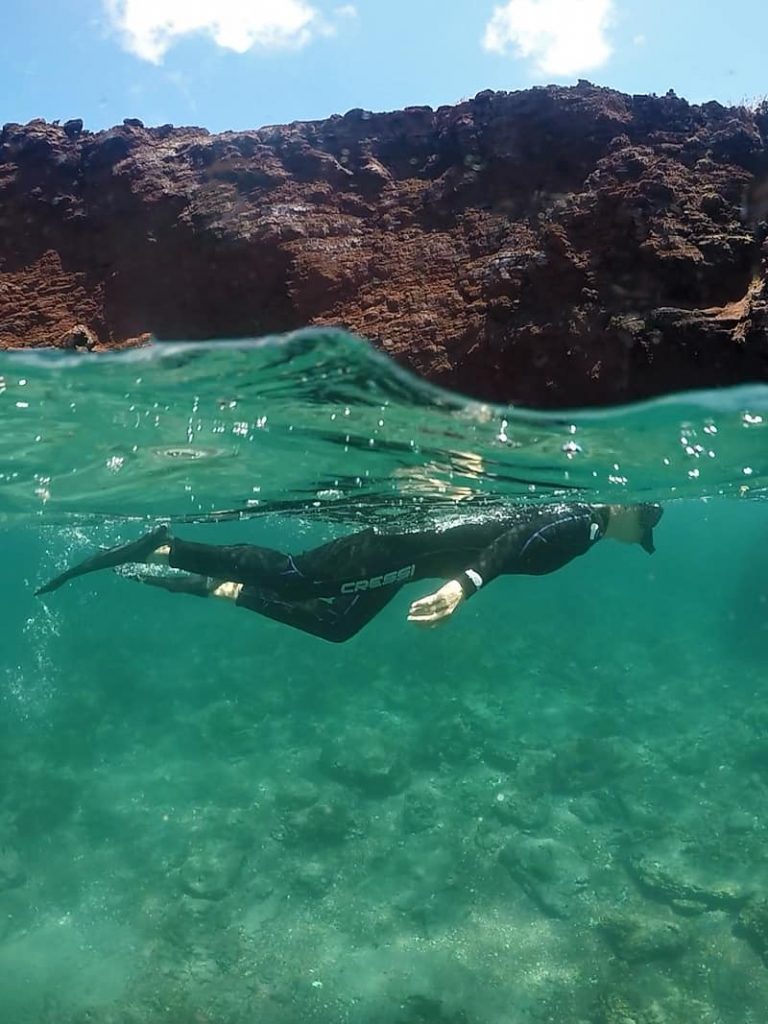 Panga drivers follow the group closely, waiting for a hand in the air—the symbol for "I'm ready" or "I need to get out." And whether you simply need to swap out for a new mask, fix your camera, want a moment to relax or if you've had enough, the pangas are there. The Horizon provides life jackets, safety rings and long wetsuits that can provide warmth and extra buoyancy. Ceci and the crew played an important role in the success of first-time snorkelers' experiences, and by the end of the cruise every single guest got in the water at least once.
…Darwin Didn't Snorkel (But What You Can Expect If You Do)
Guests who decided to stay on the panga were just as pleased with their experience. The cliffs are teeming with wildlife: birds are nesting, seals bask in caves, boobies dive into the water and turtles pop their heads up to say hi. Our two main panga drivers, Geoffrey and Ivan, were some of the guests' favorite crew members. They would point out wildlife, answer questions and take photos of those inside the panga.
For the aquatic lovers, you can expect a different experience every time you put on a snorkel, mask and fins in the Galapagos. And aboard the Horizon, you can also expect snorkeling excursions that are capped off with huge pre-heated towels, body-warming hot chocolate, tea, and a variety of appetizers and snacks. My advice: if you want absolutely nothing to stand in your way, invest in neoprene gloves, hood and booties. My trip was during the cool season (June through November) and I was happy for the extra bit of warmth. I can honestly say I was surprised by each underwater adventure and the landscapes and wildlife each one gave us—different from the next. Where else can you say that you've gone snorkeling with penguins?
My Horizon Galapagos Cruise Review Takeaways
The wildlife of the Galapagos speak for themselves. And the rumors are true: no matter what itinerary you choose or the Islands you go to, you are sure to be wowed. But what can change your experience is the vessel and the people who run it. An organization is only as good as the staff they employ, and aboard the Galapagos Horizon the naturalist guides and crew were second to none. It was not lost on me that they cruise day in and day out, but still somehow brought spark and passion to their work and, in turn, their guests. You can feel it. This trimaran was the entire package; I felt like a queen on board and a true explorer off among the wild. For my first and most likely only time in the magical archipelago, I couldn't be more satisfied.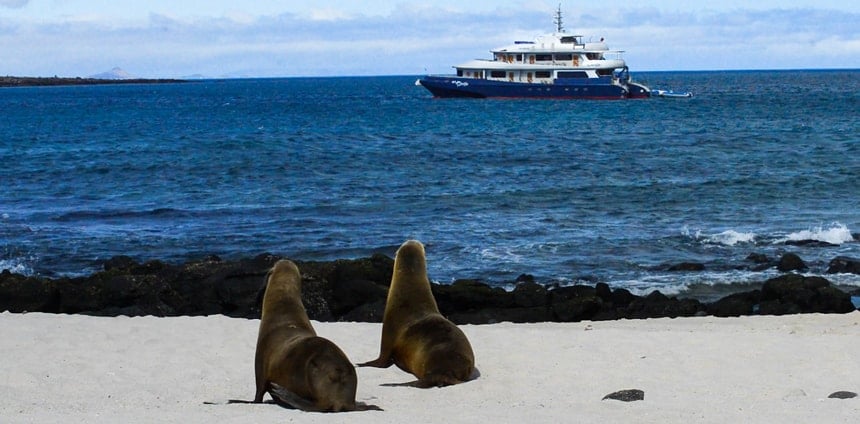 For more photos from this Galapagos cruise view my Facebook album on AdventureSmith Explorations' Facebook page.
MORE GALAPAGOS RESOURCES:
Galapagos Cruises
Galapagos Cruise Deals
Galapagos Islands Yacht Charters
Galapagos Luxury Cruises
Galapagos Family Cruises
Galapagos Diving
How to Choose the Best Galapagos Cruise
Galapagos Island Hopping or Cruise?
Best Time to Visit Galapagos
How to Get to Galapagos
Galapagos Islands Animals
Galapagos Trips
Galapagos Tours
Galapagos Cruise Reviews
Galapagos Travel Guide
This Horizon Galapagos cruise review was written by an AdventureSmith Explorations crew member. Read all our Galapagos Cruise Reviews and worldwide cruise reviews for more trip reports, or contact one of our Adventure Specialists to learn more about these Galapagos cruises and wilderness adventures: 1-800-728-2875.